When it comes to Vodka, for many brands marketing is even more important than the actual quality but Crystal Head has been delivering quality and innovation for almost as as this site has been around. In fact, they were one of the first brands to send us a sample to try more than 10 years ago. Today I continue to applaud their innovation as they push what vodka can be by introducing one of the first commercially available agave vodkas, Crystal head Onyx.
While some spirits such as grapa and pisco (grapes), whiskey (grains), and mezcal (agave) have very specific sources for the sugar that gets converted to alcohol, vodka is pretty wide open. However, while I have seen corn, wheat, rye, potato, and even vodka recovered from leftover pastries, this is the first agave vodka and I am very excited to try it once our bottle arives.
Crystal Head Onyx comes in a luxurious glossy black bottle with a matching crest debossed cap, a celebration of the powerful, warrior crystal: Onyx. Sharing its powers of intuition, focus, positivity, and protection to those who keep it close, Onyx holds a connection to our earth with its protective energy allowing in no light. It combines all spectrum colors and is said to absorb negativity; the darker the stone, the more energy it holds. The new skull bottle acts as a protector for Crystal Head's unique vodka expression and a symbol of the human journey. It focuses on positivity, calling on one's inner creative spirit.
Made with Blue Weber Agave sourced from a single farm in Mexico, Onyx connects the growth of super-premium
tequila to vodka. It is a line extension – an addition to the Crystal Head family, joining Original, produced from Canadian corn, and Aurora, crafted from English wheat. Like all Crystal Head expressions, Onyx is blended with the purest water from Newfoundland,
Canada, and filtered through over 10,000 Herkimer diamonds giving the final product a clean and semi-sweet finish. Onyx does not contain any oils, sugars, or additives.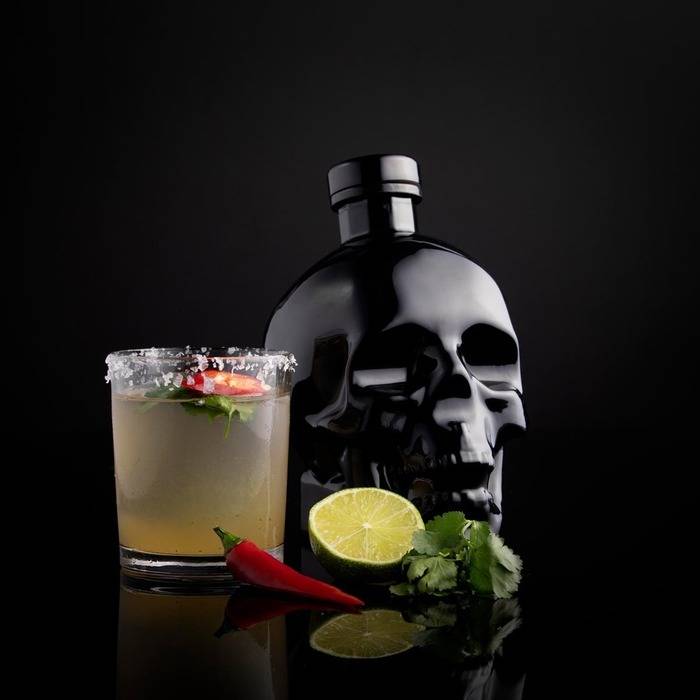 One Night In Jalisco
2 oz. Crystal Head Onyx
¾ oz. Fresh Lime Juice
¾ oz. Simple Syrup
Red Jalapeno
Cilantro
Method: Garnish a rocks glass with coarse salt rim. In a cocktail shaker, add Crystal Head Onyx, lime juice, simple syrup, jalapeno and cilantro. Muddle ingredients, then add ice and shake. Double strain into rocks glass with ice. Garnish with cilantro.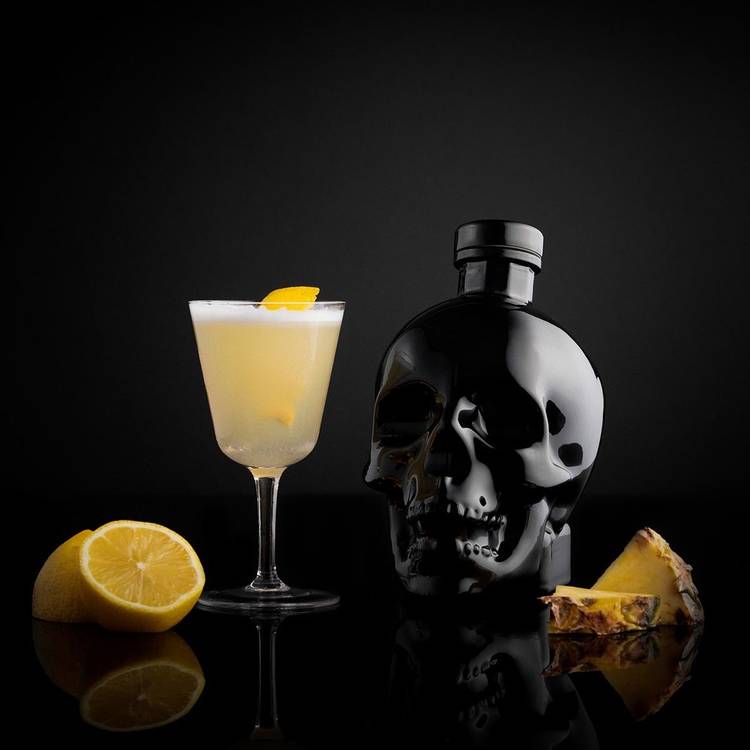 Viva La Piña
1 ½ oz. Crystal Head Onyx
½ oz. Giffard Caribbean Pineapple
1 oz. Fresh Lemon Juice
1 Bar Spoon of Caster Sugar
Pinch of Salt
1 Egg White
Orange Zest
Method: Add Crystal Head Onyx, Giffard Caribbean Pineapple, fresh lemon juice, caster sugar, a pinch of salt and an egg white into a cocktail shaker. Dry shake vigorously. Add ice, and shake again. Double strain into a rocks glass over ice. Garnish with orange zest.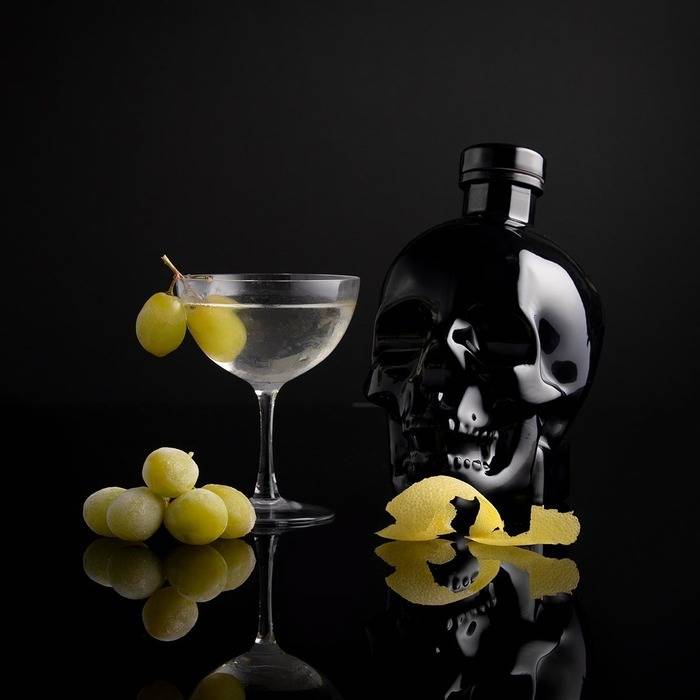 Onyx Martini
2 oz. Crystal Head Onyx
½ oz. Fino Sherry
Grapefruit Twist or Frozen Grapes
Method: Add Crystal Head Onyx, Fino Sherry and plenty of ice in a mixing glass. Stir until ice cold. Strain into a frozen martini glass and garnish with a grapefruit twist or frozen grapes.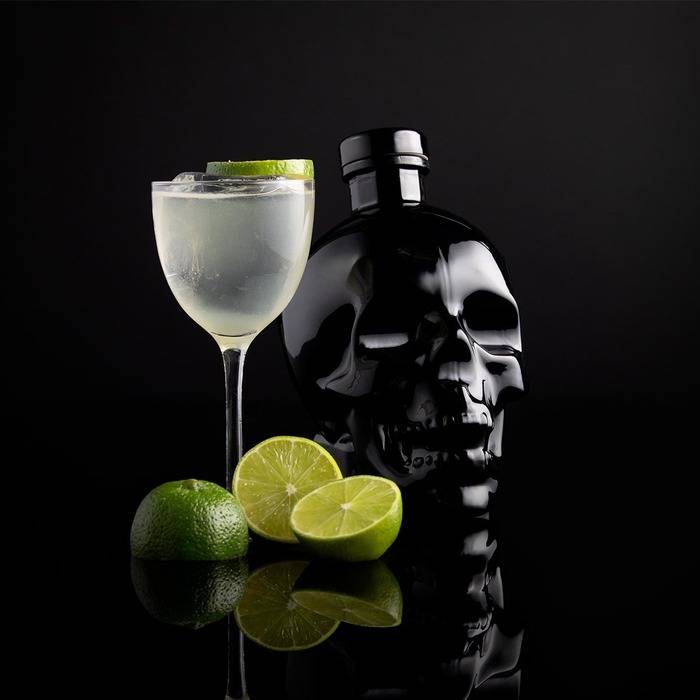 Onyx Gimlet
2 oz. Crystal Head Onyx
½ oz. Agave Syrup
½ oz. Fresh Lime Juice
Method: In a cocktail shaker, add Crystal Head Onyx, agave syrup and lime juice. Shake on ice, and strain into a rocks glass. Garnish with a lime wheel.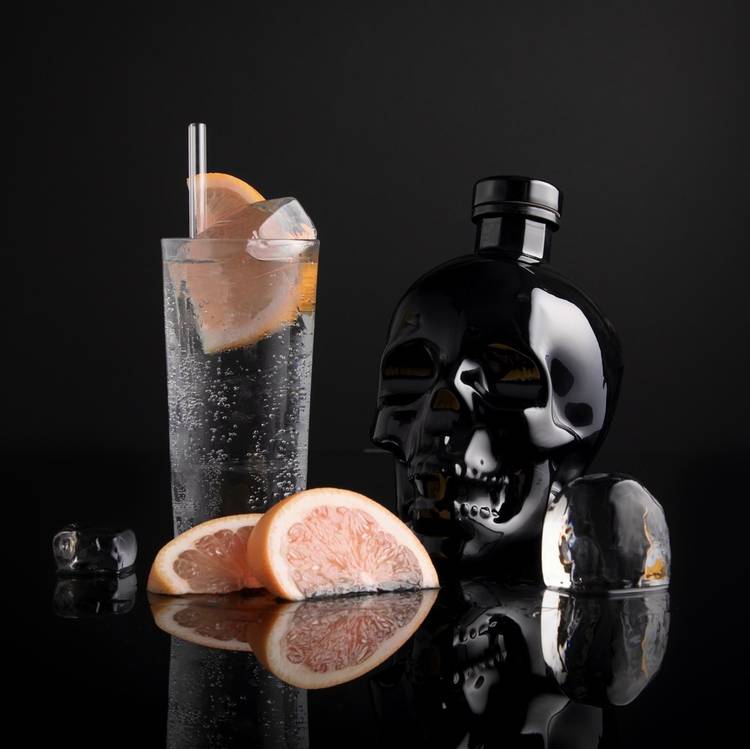 Spirits Run High
2 oz. Crystal Head Onyx
Club Soda
Grapefruit Zest
Method:
In a highball glass filled with ice add Crystal Head Onyx. Top with soda, and garnish with grapefruit zest