Are you hungry for something different when it comes to food on a cruise ship? Yeah, me too. While I love the tried and true mixture of buffet, main dining room, steakhouse, and Italian restaurant ... variety is nice too. Virgin Voyages is a disruptor in the cruise industry. When you take a look at the food offerings, you will see why that is going to be very exciting for guests when Scarlet Lady starts sailing this fall from Miami.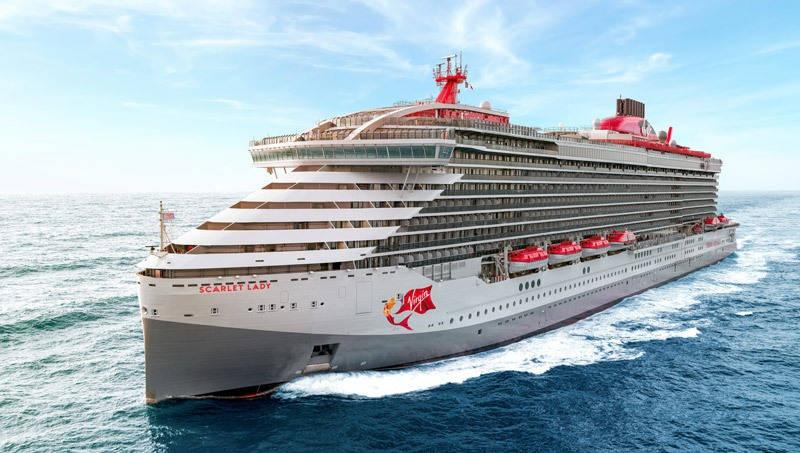 If you missed our last post about my upcoming voyage on the Virgin Voyages' Scarlet Lady, you really must go back and see why I am so excited. December certainly cannot get here soon enough so that I can see if this cruise experience can match the hype. Outside of getting a break and getting to enjoy some drinks in a relaxed environment, one of the most anticipated parts of a cruise is the food. While it may fill you, the traditional dining experience may leave you feeling a little lacking. Sir Richard Branson is looking to shake the dining monotony with a fresh approach aboard his Virgin Voyages. Here's a taste of what you can expect.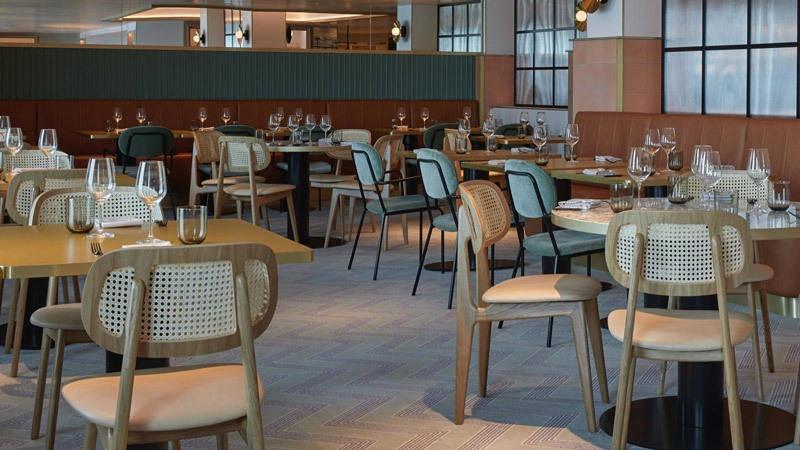 Solving Some Problems With Cruise Ship Dining
One of the major problems with dining on a cruise is the slotted time for you in the formal dining room. Even if you choose to do my time or any time dining as most cruise lines offer now, there is still that notion that you have to eat with a crowd of people all at the same time. Not only that but this experience turns food - undeniably a highlight of any vacation - into an experience that more closely resembled a banquet with thousands of people eating in the same space and time. For most people on most cruises, the dining experience is mechanical and mass produced.
Instead, Virgin Voyages' dining venues are all focused on small, "restaurant style" spaces and walk-up food counters. This provides a more relaxed experience but also a more personal one for guests and staff that ... hopefully ... will result in better service and quality.
There is never a shortage of food available on a cruise ship. However, outside of the main dining room and buffet, most other complimentary options are either designed for very casual "snacks" or lunch. Of course, there is also the premium dining restaurants onboard but when you consider the actual price for these, the cost is ridiculously expensive. For instance, consider the price of $30-40 for a steakhouse on most ships. That price isn't too bad till you factor in that when you dine there, you are saving the cruise line money in the main dining room. When that is factored in, your $30 upcharge becomes at least $50 total, a number that would be comparable to what you might find at all but the most expensive steakhouses on land.
Not only that, but many long-time cruisers have noticed that this drive for "premium dining" has eroded the quality of what they once enjoyed for free. Simply put, cruise lines are businesses and premium dining options are an easy way to get people to spend more money on vacation. Instead of upselling you, Virgin Voyages presents a fair ... but somewhat more costly ... cruise price so that you won't have to worry about upcharges.
Then of course is the issue of buffets. Before the pandemic required us all to re-think the idea of buffets, this style of dining was already experiencing a decline in popularity for a variety of reasons. Some of these include sanitation but they also lead to tremendous food waste as well as being of poor quality when it comes to the actual food being served.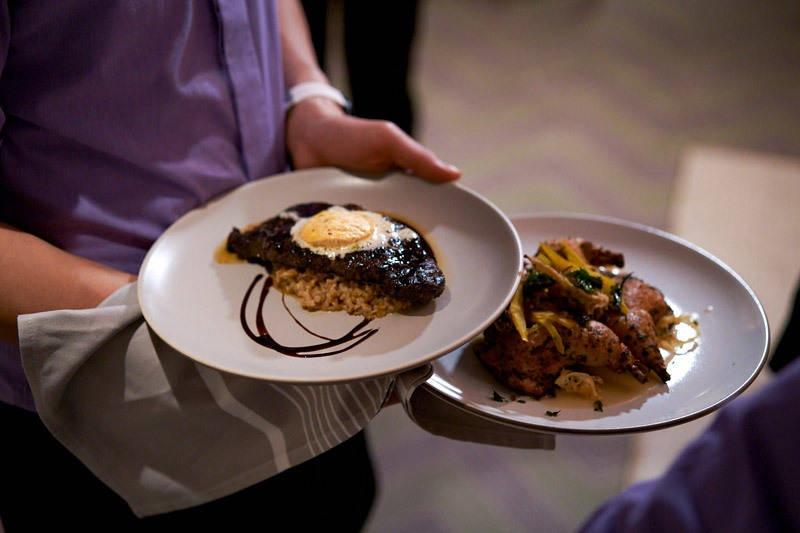 Branson has reimagined the dining experience on Virgin Voyages by eliminating "premium dining options" and the buffets. Instead, all food is included in your ticket price and also includes gratuity for your servers. There are a few exceptions such as special events, fresh-pressed juices, premium coffees, and alcoholic beverages but pretty much everything else is included in your cruise fare.
This means that there are no more surprise costs when you get a hankering for a little something different.
On Scarlet Lady, guests will never be hungry for long since there are more than 20 different dining options available. Plus, there are late-night bites available 24-hours a day as well as room service. Not only is there variety, but Branson has partnered with some Michelin-rated chefs to develop the menus, so you know they'll be great quality and presentation too.
Here are some Virgin Voyages Scarlet Lady food highlights that I know you'll be as excited as I am to try.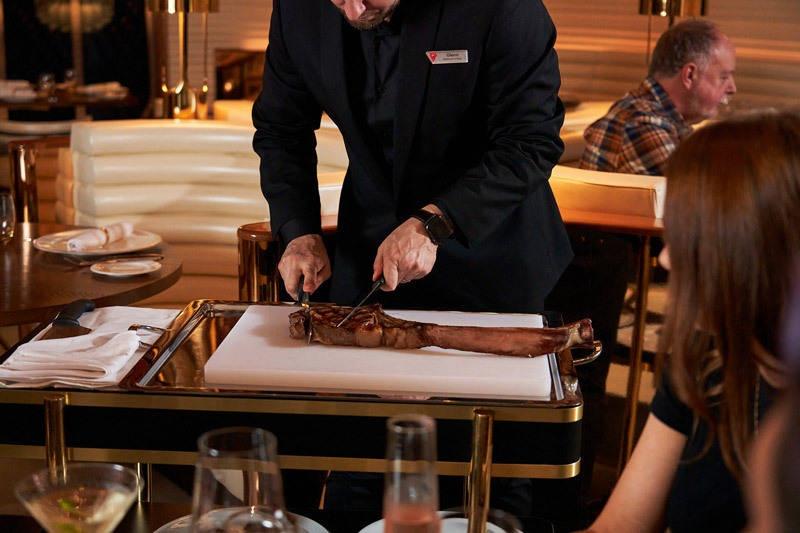 Steak and Seafood At The Wake
One of the benefits of cruising is getting some fine food that you don't have to cook for yourself or pay heavily for, including steak and seafood. If is this your forte, you could choose to have steak every day. You'll enjoy this at The Wake, which is an experience to just enter and sit down. The design reflects the old-fashioned, exclusive steakhouses of Madison Avenue. But it also brings a modern flare, less cigar smoke, and admission rights with any cruise ticket.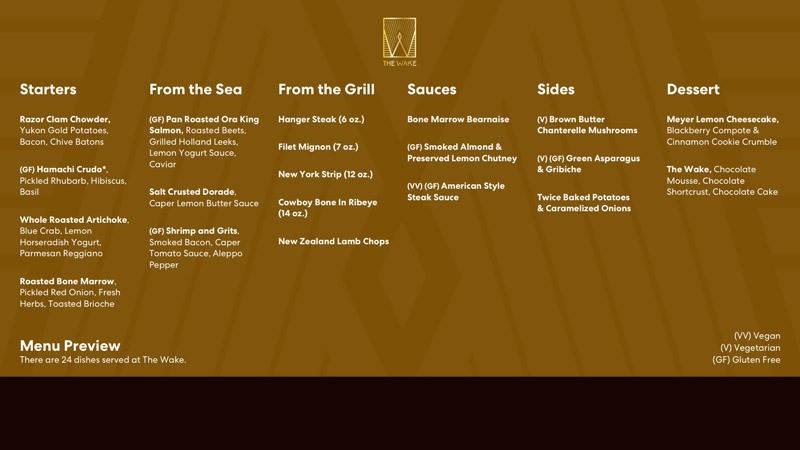 You're sure to find a treat on the menu with everything from filet Mignon, New York strip, and New Zealand lamb chops. From the sea you can enjoy shrimp & grits, pan roasted Ora King salmon, and salt crusted dorado.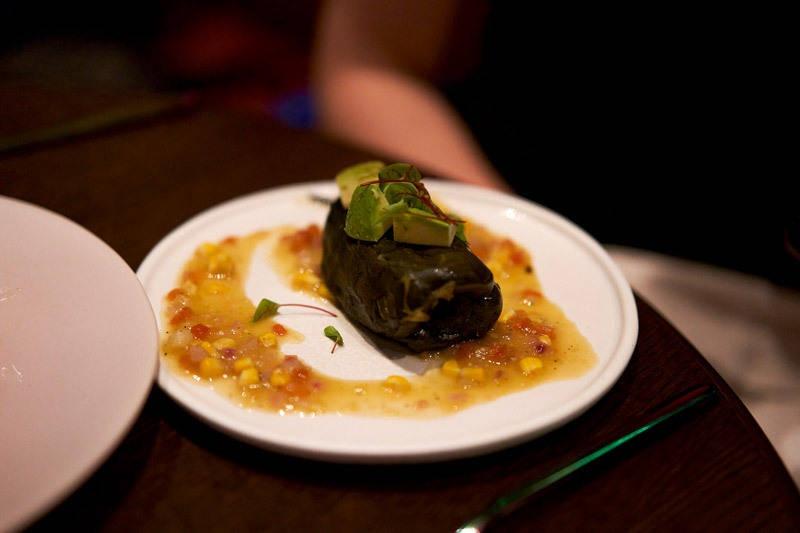 Let Your Taste Buds Travel To Mexico, Korea, & More
If you prefer tastes from around the globe, the Scarlet Lady has something from around every corner of the globe.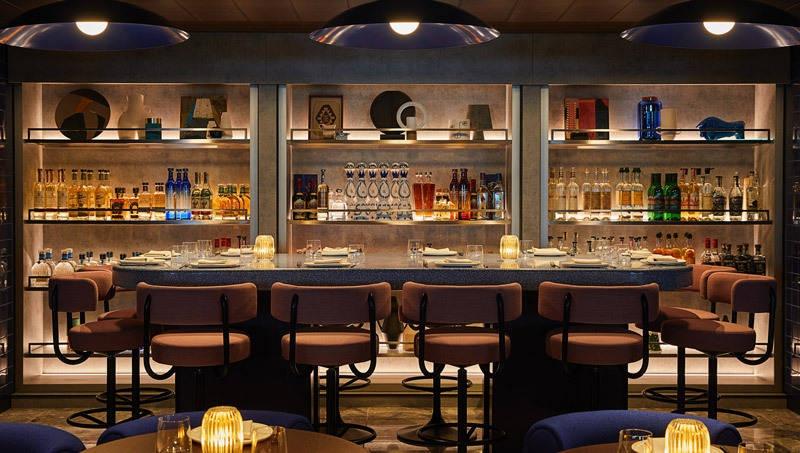 Pink Agave Elevated Mexican
Forget the common nachos and tacos when you visit the Pink Agave for a taste of Mexico. Rather, you'll treat your pallet to everything from enchilada de pollo to bistec marinero en escabeche (or Mexican rib eye).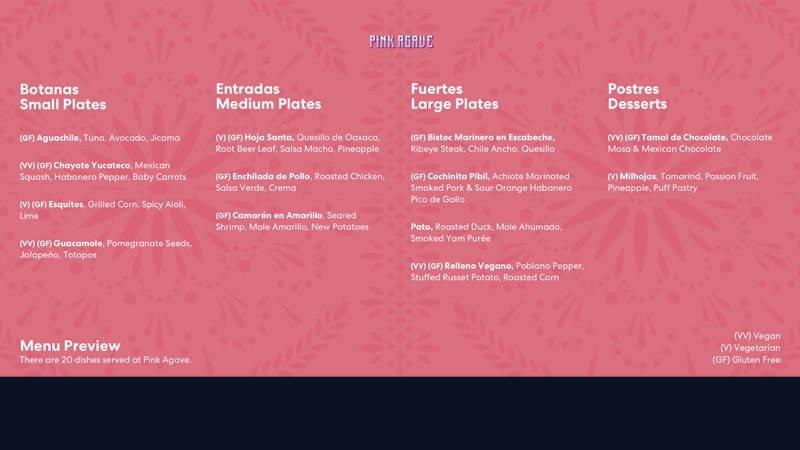 Personally, we can't decide between the Cochinita Pibil and the Pato with some Esquites! How about you?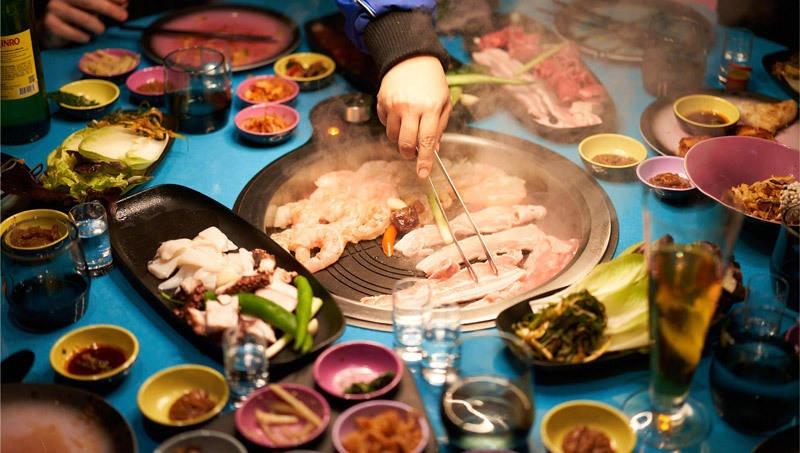 Gunbae Korean BBQ
If you've never tried Korean BBQ, then you must try Gunbae. Not to be confused with American-style Chinese, this BBQ offers both meat and vegetarian options with spices unique to the culinary style.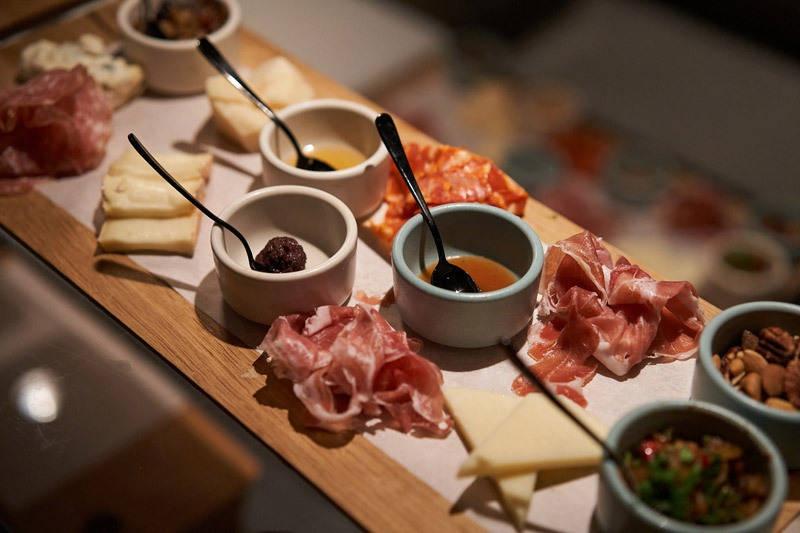 Extra Virgin Elevated Italian
Every vacation owes some homage to the carb gods, and you can do that perfectly at the Italian bistro Extra Virgin. Here you'll enjoy a four-course meal perfectly centered around the art that only pasta offers the daring chef.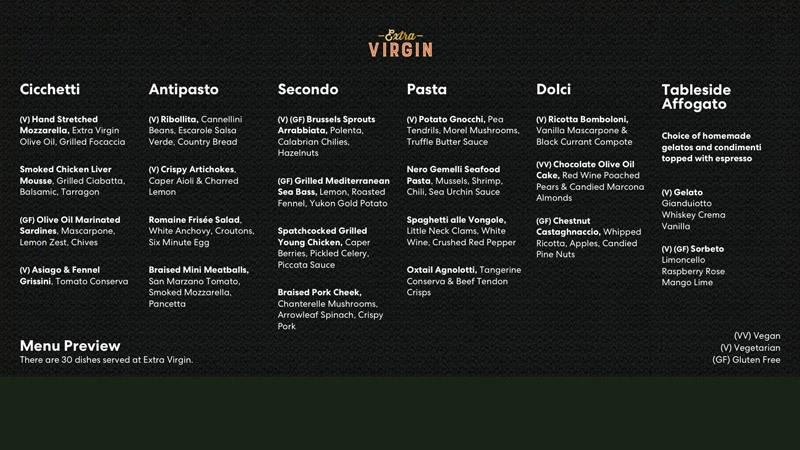 From Grilled Mediterranean Sea Bass to Tableside Affogato for after your meal, as you can see from the menu above, nothing here should remind you of the chain Italian restaurants. In fact, this is in itself is a clear departure from the red checkered tablecloth and jugs of chianti experience that many other cruise lines seem to be chasing with their Italian restaurant concepts at sea.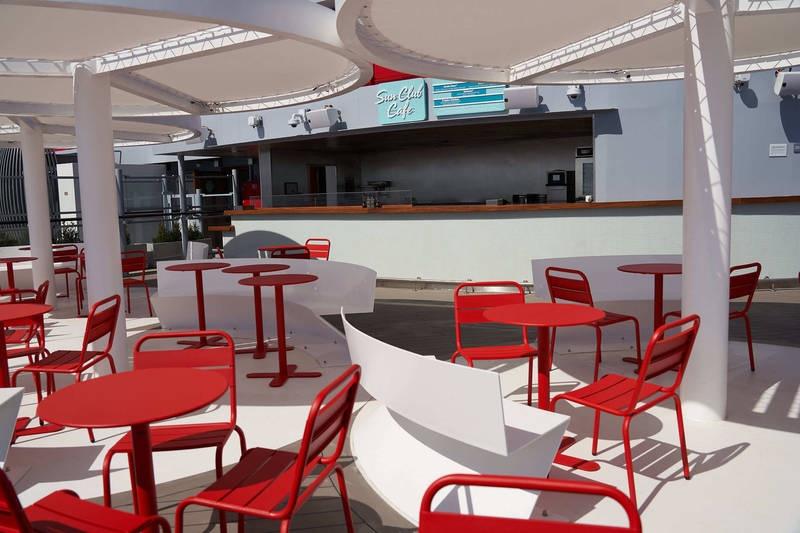 Sun Club Cafe
At the Sun Club Cafe you can enjoy lean Hawaiian poke bowls, with marinated tuna, chicken, or salmon over veggies or rice.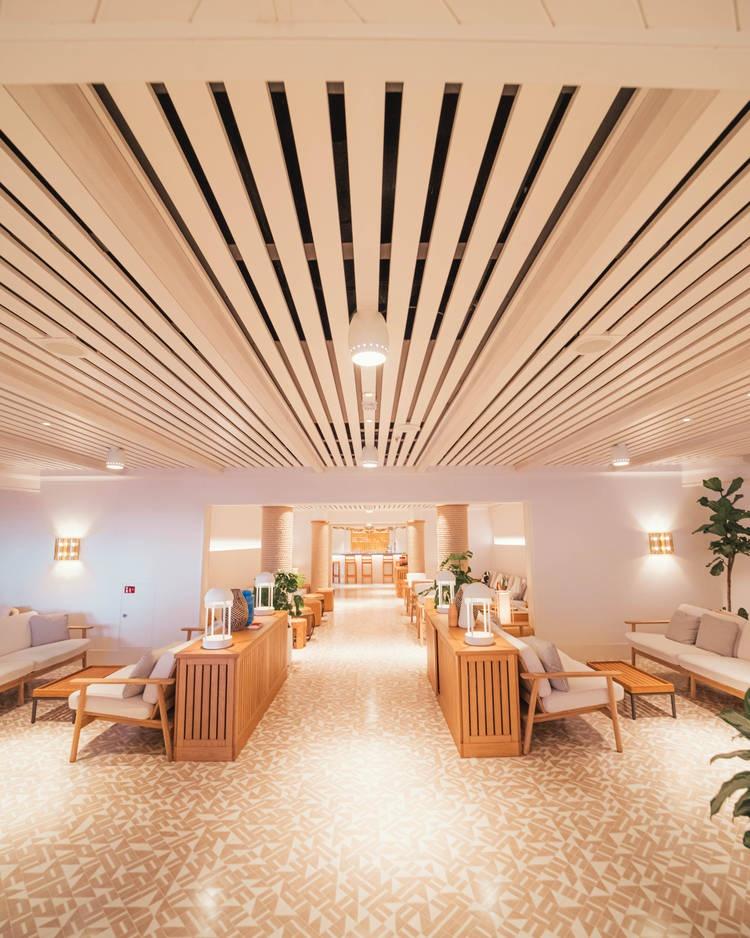 The Dock House
Mediterranean-inspired dishes that include fresh fish for the table over and open flame and light bites that include house-made pita with dips from the roving Mezze-cart. The Dock House is part elegant Ibiza cabana and part rustic-chic Mediterranean resort.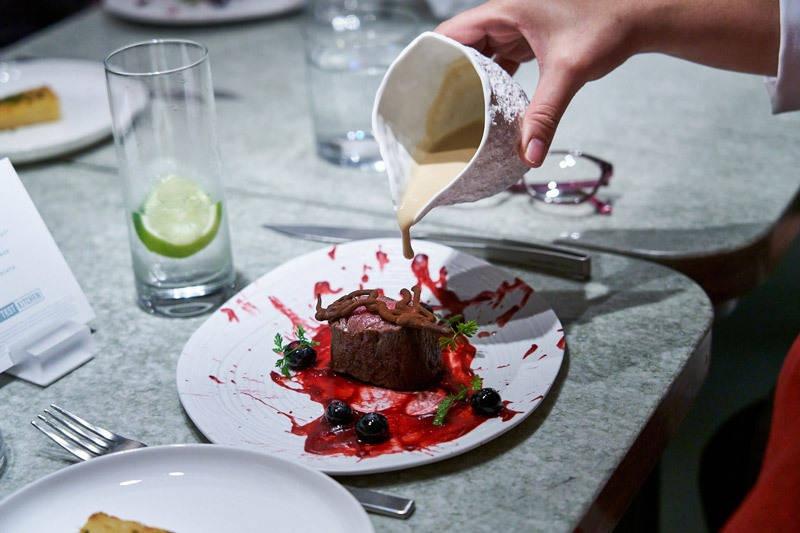 Get Bold and Experiment With Innovative Cuisine
If you've ever seen a movie with the "underground" experimental restaurants, and wished you could find one, here's your opportunity. The Test Kitchen makes you feel like you're dining in a culinary lab, complete with stainless-steel plates. The chef will surprise and challenge your perception of food, so only daring diners will venture here. Ingredients you might see in your food include eggs, mushrooms, scallops, venison, beef, blue cheese, and chocolate. Don't worry if you're a vegetarian, there are plenty of options for you too!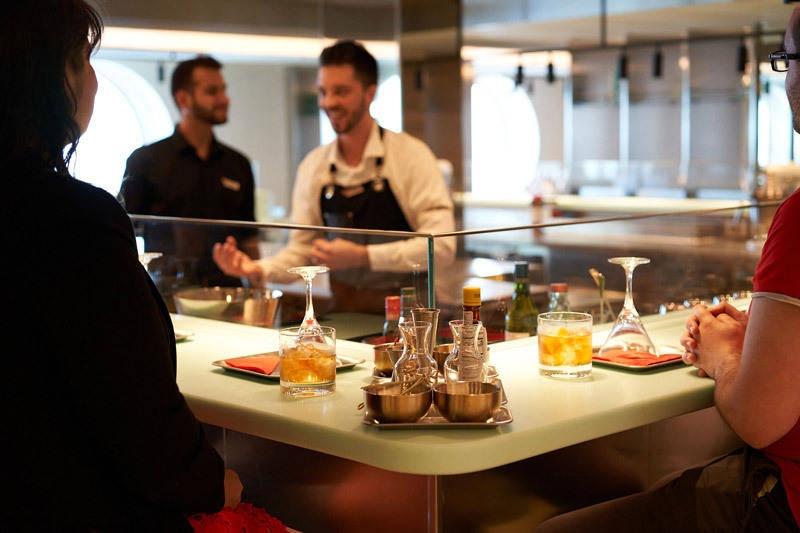 The Test Kitchen
Diners at this laboratory-like dining venue on Scarlet Lady are in for a unique experience that is part cooking school and part restaurant. The Test Kitchen is experiential and social taking guests on a journey to explore new combinations and unique ways of looking at food.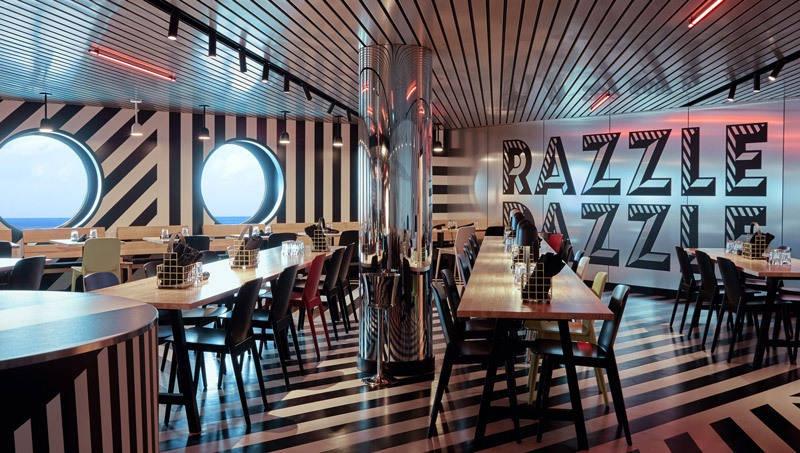 Razzle Dazzle
This vegetable-forward dining venue might be innovative enough to make even carnivores excited to visit. With light and healthy dishes that offer innovative twists on familiar dishes in a boldly designed venue, guests will be able to select from items on the "Naughty or Nice" menu. Those prefering to be "nice" will be able to enjoy plant-based vegetarian dishes while those who want to be "naughty" can indulge their craving for meats and sweets.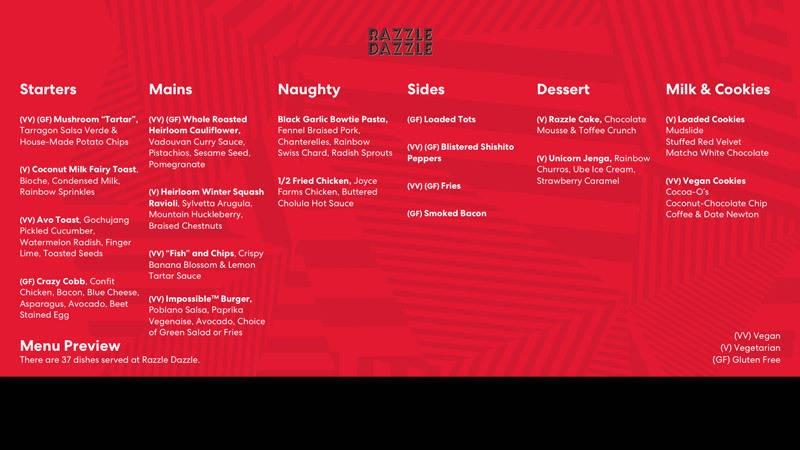 Menu items here are marked as either Vegan Vegetarian, or Gluten Free, so it is easy to find something that fits your lifestyle.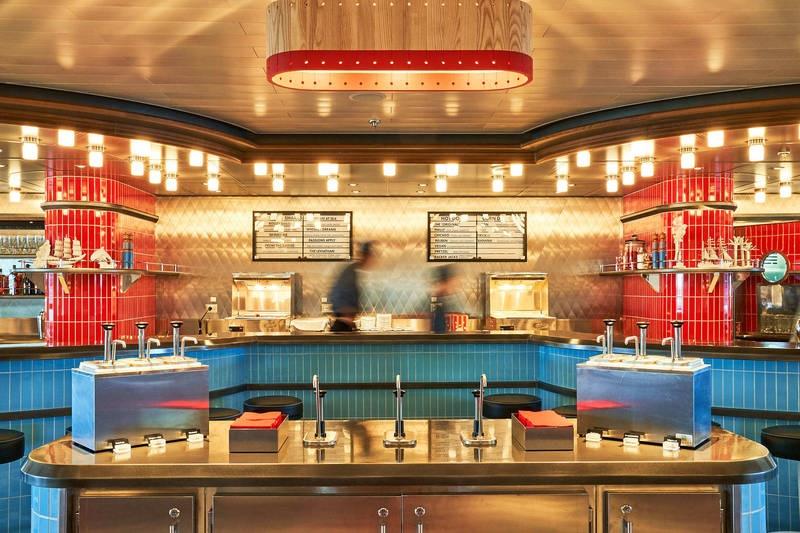 Authentically American Food With A Flair
If you prefer the comforts of classic American food, you won't be left wanting on this cruise. Try The Social Club Diner for all of your fairground favorites, and a few unique specialties like the freak milkshake. Don't think you'll have to spend your entire cruise without a slice of pie either, pizza pie that is. The Pizza Place offers all the classic favorites, and also allows you to create something uniquely you.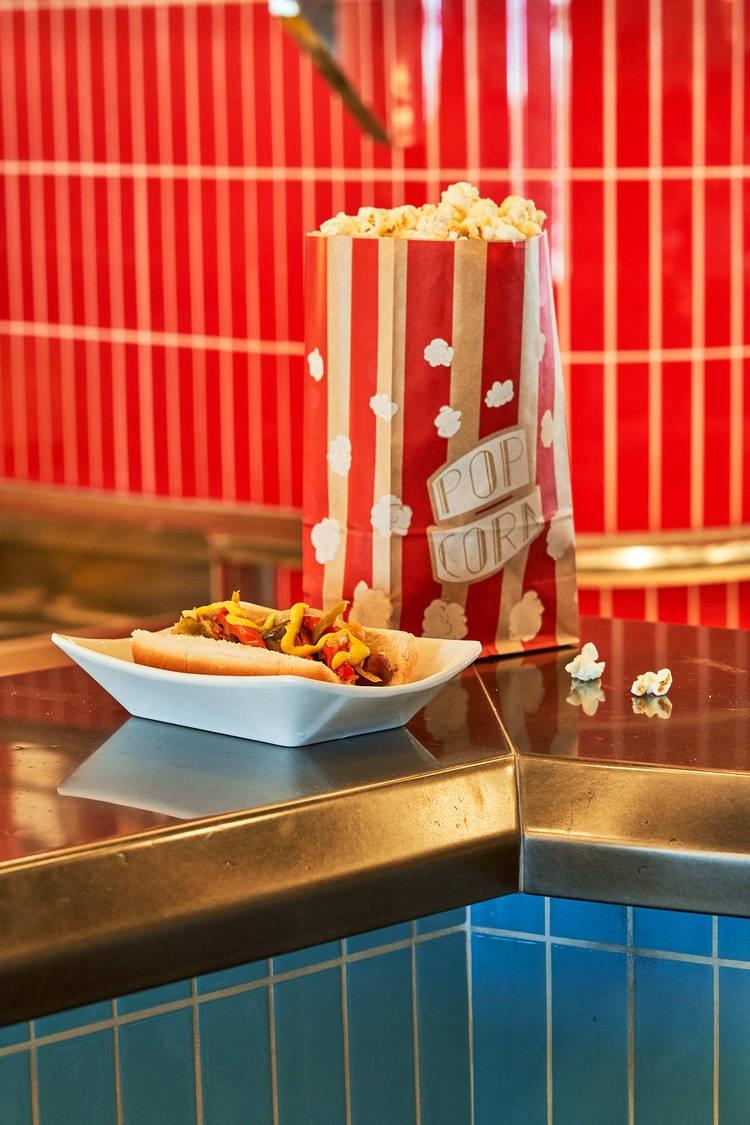 The Social Club Diner
This is where you'll find Sailors (Virgin Voyage's term for cruise ship guests) playing games like air hockey, shuffle board and foosball. In between matches though, they can grab modern takes on carnival classics such as their "Instagram Worthy" milkshakes and floats staked high with cookies, cakes, frosting, and candy, with the option to spike them and turn it into a truly adult experience. Or, if all you are craving is some popcorn, hotdog, or a corn dog then they've got that there too.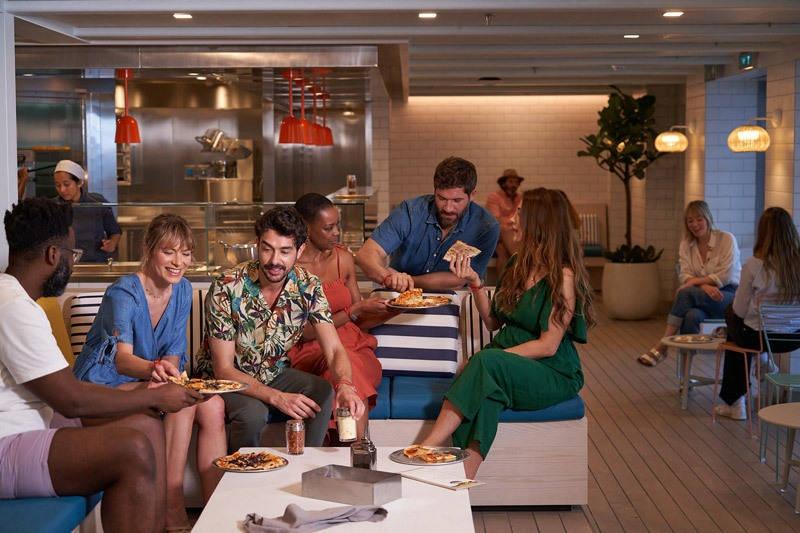 The Pizza Place
No party is complete without great pizza that is available during the day and late in to the night. This isn't buffet pizza, each pizza is made to order and the pizza dough on Scarlet Lady is furnished by Mister O1, one of the top pizza restaurants in Miami. In fact, Mister O1 even runs a pizza school, so we're sure this is going to be good. The menu here includes classic salads (Caesar, Mixed Garden, or a Roasted Chicken Salad) as well as of course, pizza. While there are some nights when all I want is basic pepperoni, I can't wait to try the variety available here including Chicken Pesto, Jalacado (Jalapeno, Avocado, Mozzarella, and Tomato Sauce), and Pretty Fly For a White Pie (Mozzarella, Ricotta, Parmesan, Garlic, and Oregano). You can also build your own pizza from available ingredients.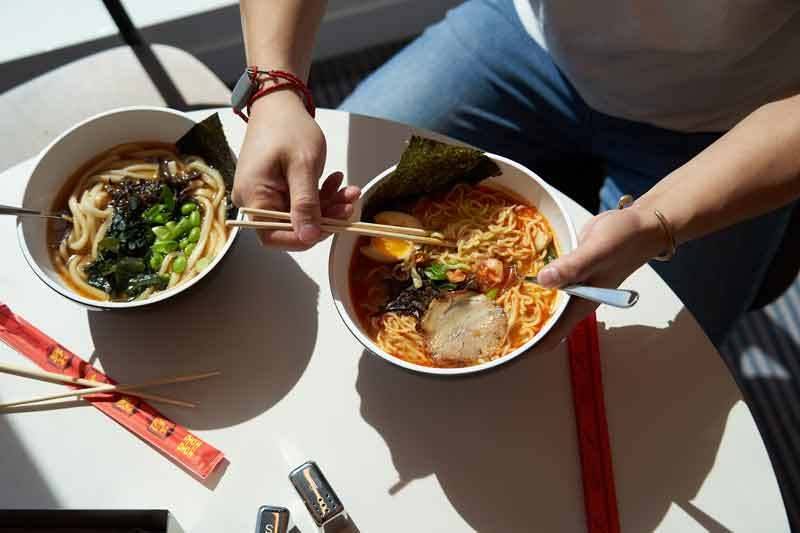 The Galley Food Hall
You may prefer a more relaxed environment rather than a sit-down meal, in which case The Galley will be the place to visit. Imagine a food hall combined with the best food trucks in the world.
That is what you'll find at the Galley, making it perfect for a meal, a quick bite, or a snack. Start with the 24-hour American diner, Diner & Dash. You'll be able to get all of your favorite traditional diner food here, including everything from breakfast to your favorite dinners and snacks. But the fare in the Galley doesn't stop with American cuisine alone. If Japanese is more your tempo, there's a ramen and miso bar at Noodle Around and bento box meals at Bento Baby.
Did I mention the Japanese breakfast from Bento baby? Feel more like a sandwich or burger? You have plenty of options between the Burger Bar, Well Bread, and Hot off the Press. There's even breakfast oatmeal, soups, and salads at The Daily Mix. And if you do have that hankering for tacos or a burrito, check out Let's Taco Bout It.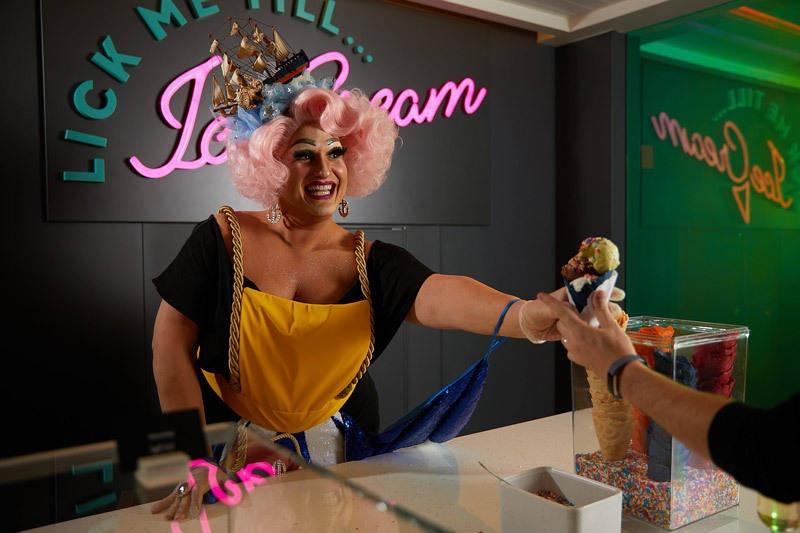 Sweets And Treats
Finally, don't neglect your sweet tooth while on board. The Sweet Side is your go-to for pastries and deserts. Venture away from the Galley, and be sure to stop by Lick Me Till… Ice Cream.
This whimsical ice cream shop will create a memory worth sharing with your grandkids, once they're old enough, of course.