Fogo de Chao is hands down one of my favorite restaurants. Not only do you get a never-ending parade of meats but the place is fun and imaginative when it comes to creating seasonal updates to the menu. We were invited to check out their new Spring Menu this week, so how could I resist when it includes three new cocktails to try!
There are six new menu items for spring - this includes three new food items found on the Market Table and three new drinks. With Easter nearly here and Mother's Day right around the corner I can't think of a better place for a fantastic dinner.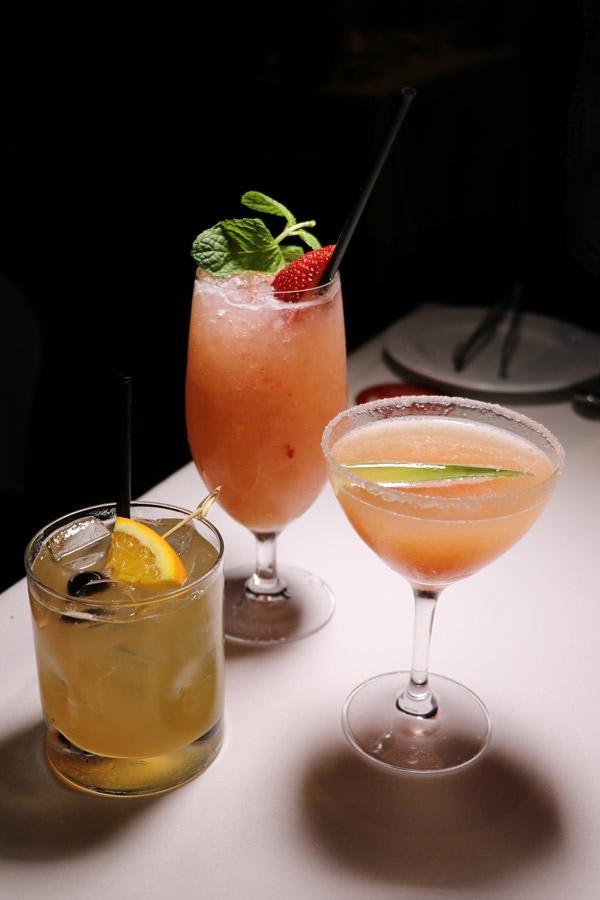 The three new drinks found on the Spring Menu include:
Smoke & Honey – Monkey Shoulder Whisky and peaty Glenmorangie Original are combined with honeyed ginger and lemon for a smoky take on a classic sour.
Guava Do Sul – Belvedere Vodka is shaken with guava puree and fresh lemon, then topped with La Marca Prosecco to create a crisp and sparkling cocktail.
Andean Punch – Fresh strawberries are muddled with guava and mint, then topped with sparkling soda for a refreshing non-alcoholic treat.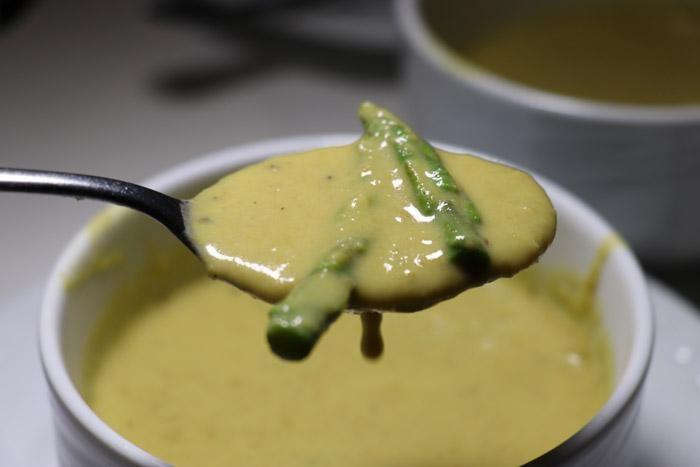 Next up is the Sweet Pea and Asparagus Soup. This vegetarian soup is made with sweet spring peas, asparagus, and a blend of Parmesan cheese, cream, and fresh ground black pepper. It is a fantastic addition to the menu for any soup lovers in your group.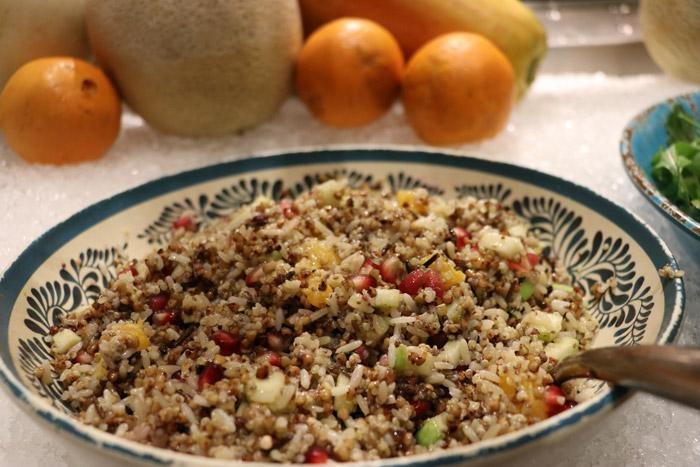 The two new salads is where they almost lost me - frankly even as "on trend" as "ancient grains" are right now, NOBODY seems to get them right. Somehow Fogo de Chao did though. While other ancient grain dishes that I've tasted tend to be be crunch and "feel healthy", this just tasted great. This gluten-free recipe is a superfood powerhouse with grains including: quinoa, chia seeds, toasted kasha and wild rice mixed with diced apples, pomegranate seeds, and oranges then tossed in a citrus vinaigrette dressing for an added kick.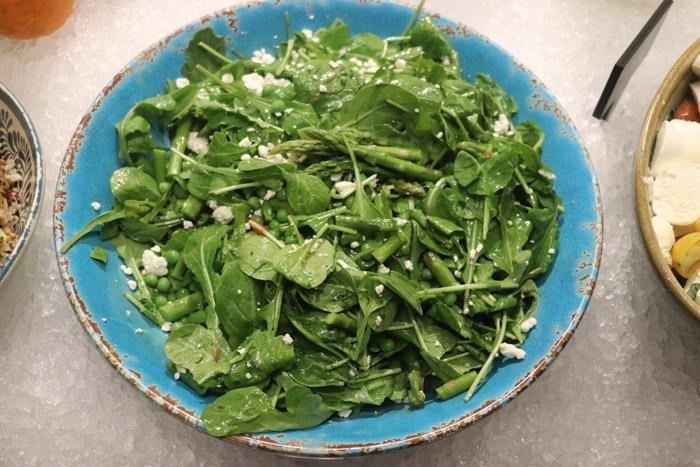 Finally, we have the a more traditional looking salad, that tastes surprisingly great and while it "looks" simple, actually has a lot going on.
This Asparagus and Spring Pea Salad features fresh asparagus, spring peas, and arugula tossed with goat cheese, lemon zest and herb vinaigrette and then topped with fresh cracked pepper.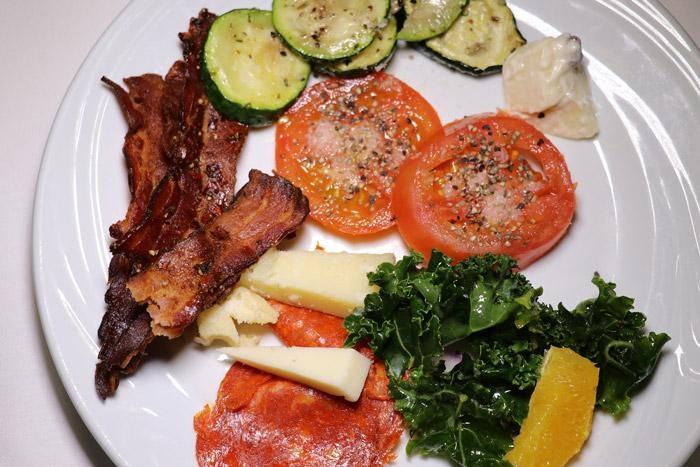 While all (most?) churrascaria restaurants feature a Market Table, I generally find Fogo's one of the best out there for both it's variety of selections as well as quality. For instance, while many restaurants might be satisified with presenting pre-sliced tomatoes, this isn't a salad bar!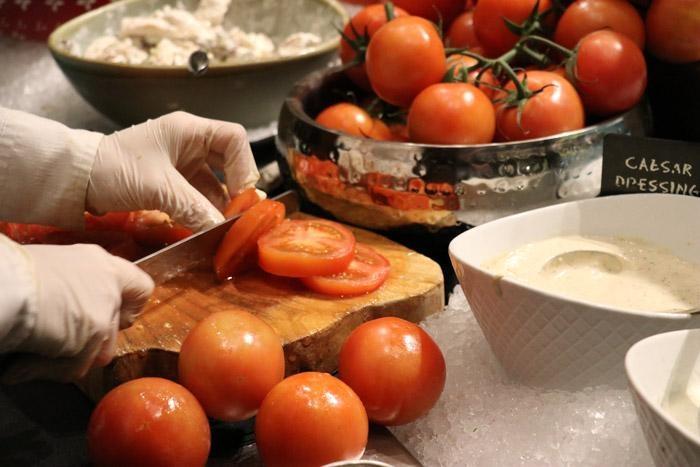 Just like how your meat is carved at the table, there was someone making sure that the tomato slices were fresh. While not carving your tomato individually, she was slicing only a few at a time to keep them fresh and beautiful. It's this attention to detail that keeps me coming back to Fogo de Chao - even when they aren't paying for my dinner like they did tonight.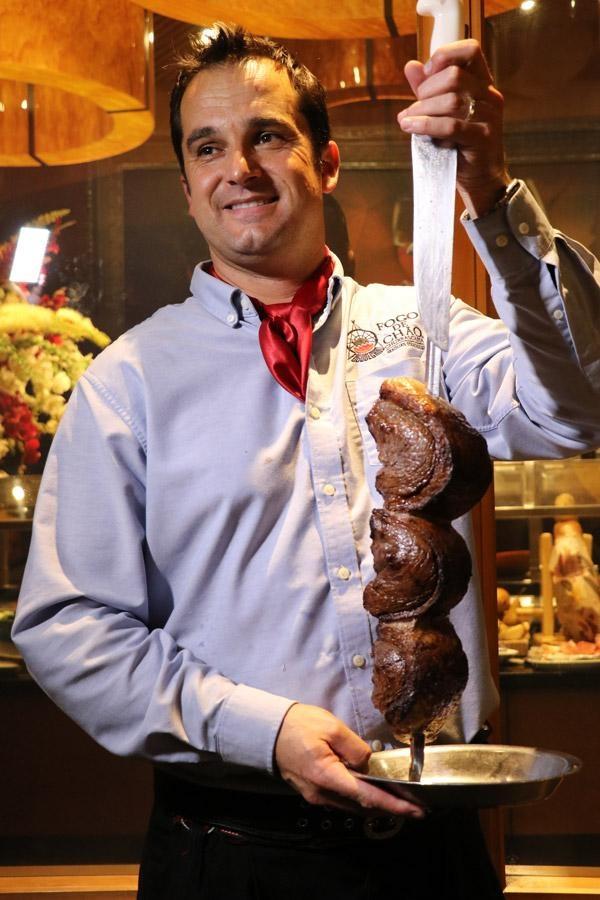 One of the biggest challenges that any guy has at a Brazilian Steakhouse like this is not filling up before the parade of meats begins. My strategy is to only get a few items from the market table that you REALLY want so that you create a foundation for your meal. Even though the Market Table could be a dinner in itself, it's really just an appetizer. So I grab a light salad (or three) plus some olives and a couple pieces of cheese that I save on my side plate to clear my palate between bites of different meats.
Then ... it's time to turn over your marker to the green side and let the fantastic gauchos begin what they do best - carve cut after cut of beautiful meat for you!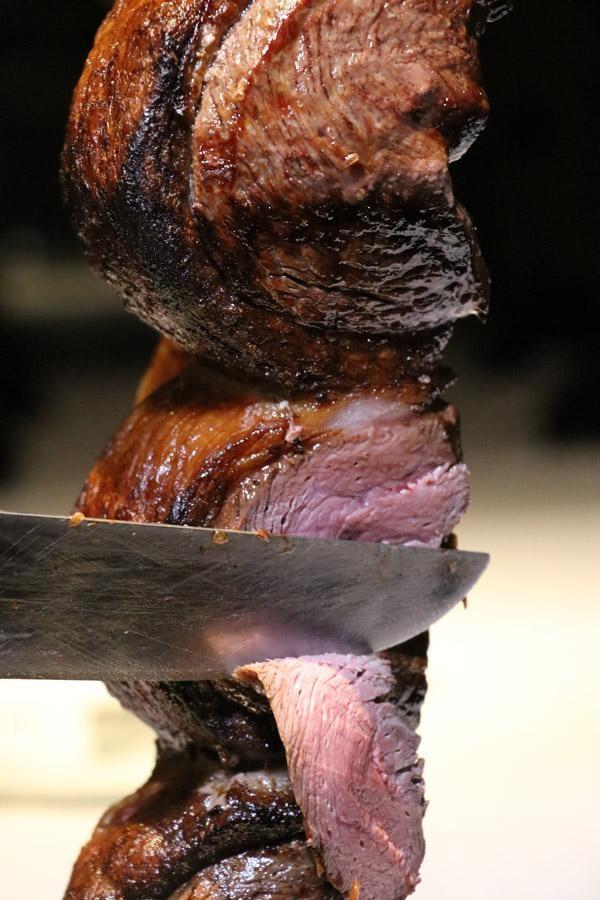 While nothing has changed for spring in regards to the selection of meats available, that's actually a really good thing. However, like we've found on every visit some cuts may get higher rotation than others. If there's something you are looking for though, ask! I've NEVER been told no.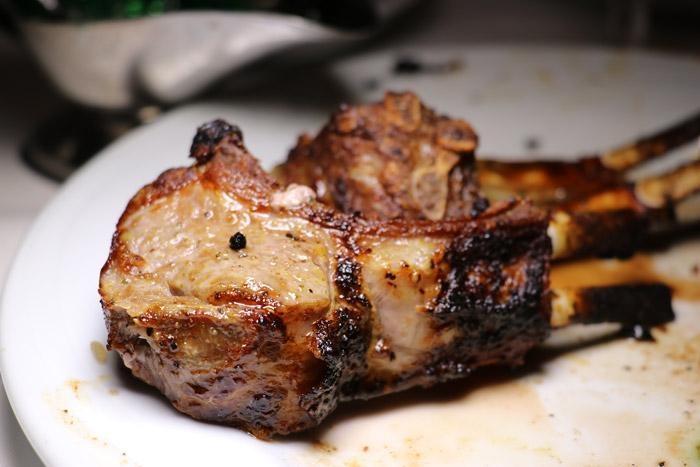 On this visit, lamb seemed to be in heavy rotation. We had three different cuts of lamb this night including absolutely perfectly cooked lamb chops, lamb leg carved right off the bone, and a lamb steak. Maybe it's because Easter is this weekend or maybe it's because lamb and spring feasts go so well together. Either way, I enjoyed more lamb during this meal than anyone really should. It was worth it though!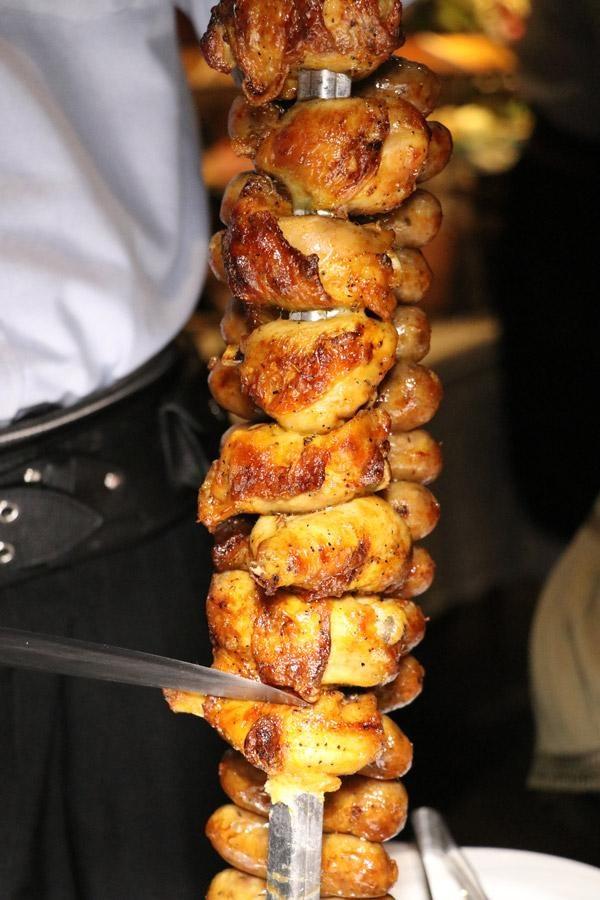 While we splurged on beef and lamb, there were many other selections available including bacon-wrapped chicken, sausage, pork ribs, and beef ribs. There was also an absolutely fabulous spicy pork loin that was perfectly cooked and perfectly seasoned.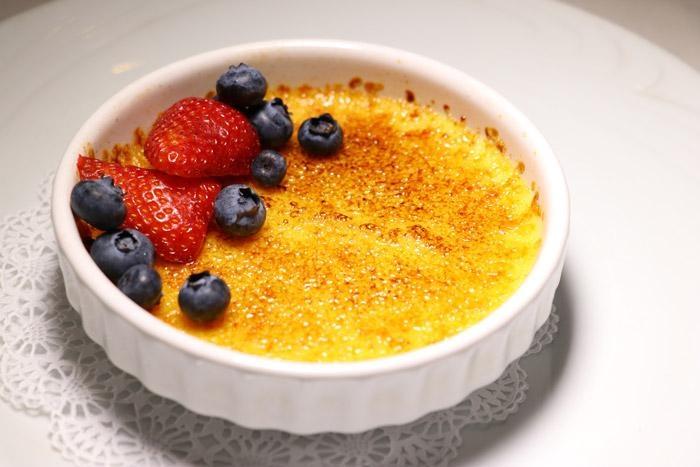 For dessert, I wanted to try something light to just cap things off and fill in the (very few) spaces left in my belly. On other occasions we've explored their fabulous dessert menu more fully but this night it was all about splitting an order of creme brulee topped with fresh berries.
If you happen to have more space than we did, I also HEARTILY recommend both the Papaya Cream - fresh papaya blended with vanilla ice cream and topped with a black currant liqueur or the Caramelized Pinapple - warm pineapple with carmelized sugar coating served a la mode and drizzzled with caramel.
No matter what you pick, it's hard to go wrong at Fogo de Chao!