There's almost no wrong way to make a burger. However, for me a good Hawaiian burger is up there among my favorite types to make and ultimately eat. Today, I'm going to share with you a creation that I designed to bring visions of beautiful hula girls, brilliant sunsets, and cool waves crashing on the beach to your mind. Of course, it all starts with a good burger and today we're working with a BUBBA Burger patty.
Generally, I'm not a huge fan of frozen foods but I really do like BUBBA Burgers and have used them for years. They are good quality, easy to separate, and are quick to cook up on the grill. While burgers are synonymous with summertime meals - I keep these on hand year round ready to throw on the grill for a quick meal. Today, we're going to be working with the Original BUBBA Burger, but they also have a few other BUBBA Burger products for different tastes including: Onion, Turkey, and Veggie.
Of course, the first step towards grilling Hawaiian style is to create a great Teriyaki sauce and honestly I don't like any that I've found in the store. Luckily it's really easy to make your own and keep on hand for use with chicken, burgers, noodles, rice, or pretty much anything else that you might want to cook.
Teriyaki Sauce Recipe
Teriyaki Sauce Ingredients
1/4 cup soy sauce
1/8 cup water
1/4 cup brown sugar
1 tbs corn starch
2 tbs pineapple juice
1 tsp garlic
1 tsp ground ginger
Combine all ingredients into a small sauce pan with medium heat and stir. Make sure not to allow the ingredients to boil or scorch by constantly stirring it till the mixture begins to reduce and thicken. Adjust the water and corn starch according to your own preferences.
Ultimate Hawaiian Burger Ingredients
1 Box of BUBBA Burgers

1 Pack of beef flavored ramen noodles
1 Can of sliced pineapple in juice
1 Pack of Hawaiian-style hamburger rolls
1 Can of "Canned Ham"- cut into 1/4" slices (Teriyaki or Original flavor)
Teriyaki sauce to preference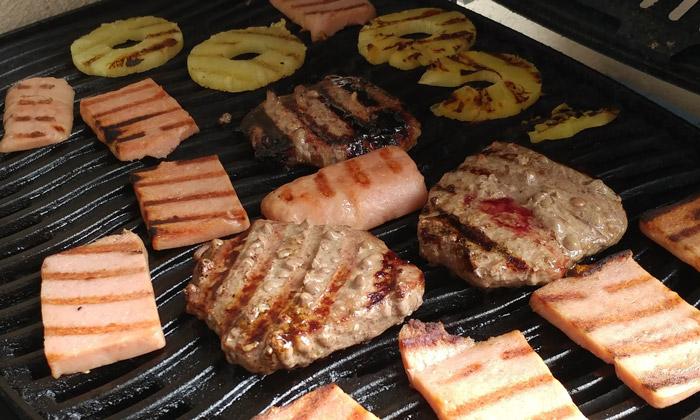 Step 1: Pre-Heat the Grill and make sure to apply cooking oil or non-stick spray to the area where you will be grilling the pineapple.
Step 2: Boil the ramen noodles and set them aside once soft
Step 3: Place sliced "Canned Ham", Pineapple, and BUBBA Burgers on the grill. Watch the pineapple and make sure not to burn it but flip it and the "Canned Ham" so to get it both of them nice and caramelized. At the same time, make sure to cook the BUBBA Burgers properly. The can be placed on the grill frozen and all you need to do is watch till you start to see juices on the top, then flip to the other side till the internal temperature is 161 F. DO NOT PRESS! BUBBA Burgers are delicious and juicy and you don't want to lose any of that flavor.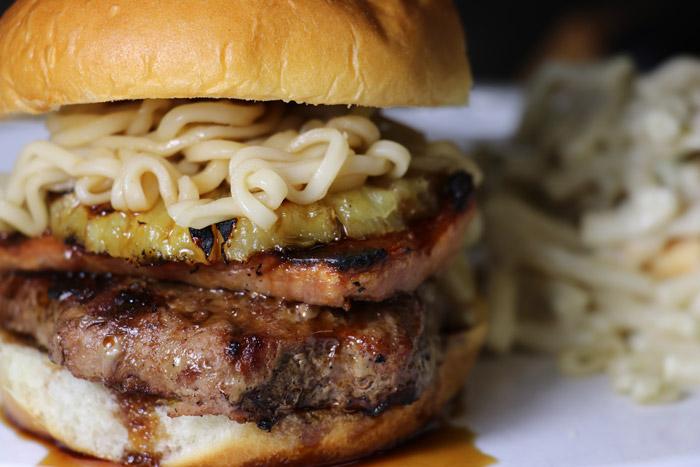 Assembling Your Hawaiian Burger
Place the BUBBA Burger on the Hawaiian-style roll, followed by a piece of grilled "Canned Ham" pineapple, and then top with ramen noodles. Before placing the top part of the bun, drizzle some of that delicious teriyaki sauce so that it covers the noodles, "Canned Ham", and burger. You may also want to even dip the top part of the bun in the sauce for even more flavor.
There you have it - this is the Ultimate Hawaiian Burger with three things that every Hawaiian loves - "Canned Ham", Ramen, and Teriyaki! Of course, I love to serve mind with macaroni salad to make it even more authentic :)