We talked about Lobsterfest a few months ago, but now it's time for Crabfest at Red Lobster and it's a perfect opportunity to treat someone special to a great dinner! In my case, Heather and I celebrated her birthday a couple days early with a big heaping portion of Bairdi Crab Legs and I had the Crab Lover's Dream featuring King Crab, Snow Crab and a delicious Crab Linguine Alfredo.
One of the things I love about going to Red Lobster is that they are very aware of what's actually in their food and for people with food allergies like Heather, that's very important. In her case, she is both gluten free as well as likes to avoid dairy and so there are always delicious options for her at Red Lobster and the chefs are typically very accommodating when she asks that fish be prepared with olive oil instead of butter.
The Crabfest menu features tons of options including:
Alaska Bairdi Crab Legs Dinner featuring wild-caught Alaskan Bairdi crab legs and Chesapeake-grilled corn on the cob
Crab Lover's Dream featuring a mixture of King and Snow Crab Legs and Crab Linguine Alfredo
Crab Cakes and Crab-Oscar Salmon that you can upgrade to Sockeye or Coho Salmon for the ultimate experience
Ultimate Feast featuring a Maine lobster tail, snow crab legs, and two different kinds of shrimp
Crab Cake Dinner with premium lump crab
Crabfest Ultimate Surf & Turf with Crab Cakes and a Sirloin Steak topped with Crab Hollandaise
Of course, you can always just order a bowl full of steamed Snow Crab Legs or add them as a side to you meal!
However, no visit to Red Lobster is complete without one of their drinks. While they are better known for their food - Heather and I feel that their drink selection is every bit as good. She had the Triple Berry Sangria and I chose the Rogue Wave in the Deadliest Catch mug. The Rogue Wave is essentially a margarita with blue curacao added. It's a fun drink that tastes great.
We usually have great service at the San Diego, Sports Arena Blvd location, but Jillian C was fantastic and made our meal that much more fun.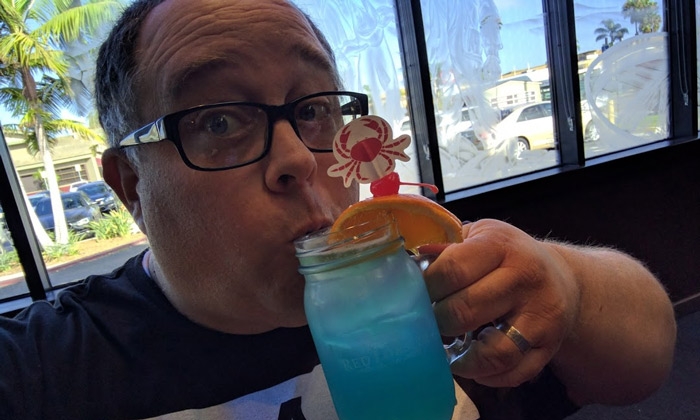 Ok, so it's not the "manliest" drink but it has the Deadliest Catch logo on the side and I can take it home and fill it with beer later so that's good enough for me!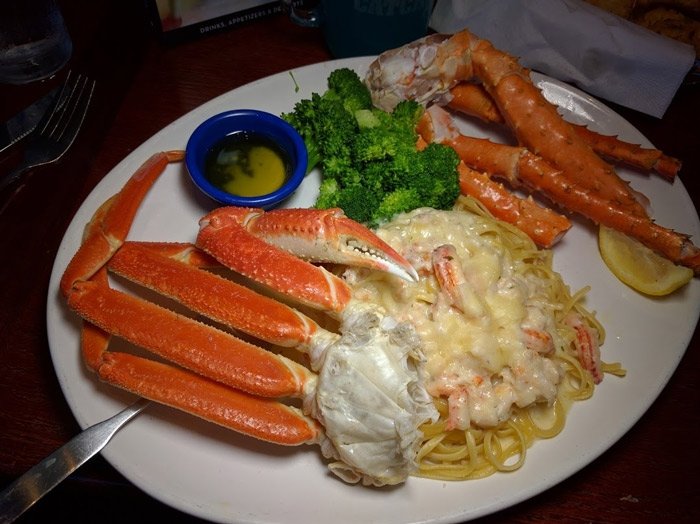 Sometimes it's easy to forget about all the different types of crab that are out there since we generally see Snow Crab most often, followed by Blue Crab. I loved the fact that I could have Snow and King on the same place to compared and contrast the differences in flavor and texture.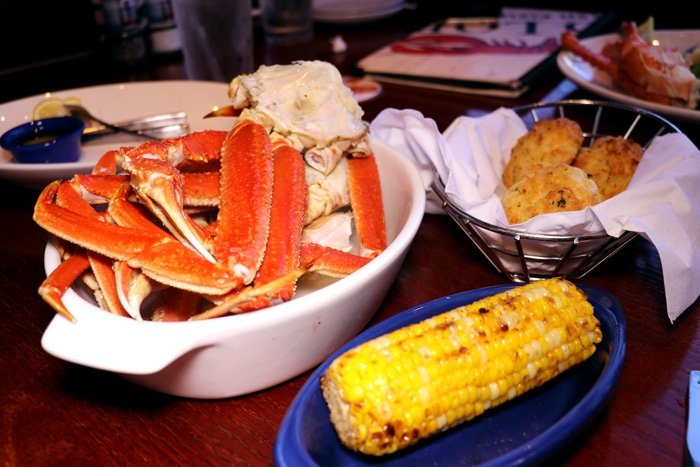 However, I know what I am going to have next time I go to Red Lobster. Heather ordered the Alaskan Bairdi Crab and while it looks similar to Snow Crab, it is much larger and has a more delicate, sweeter, and tender texture. It was also easier to crack and extract meat since it was larger!
While we didn't need any appetiers, you can also try their Crab Fitters and Grilled Parmesan Corn as well as adding crab legs to any meal if you aren't ready to order just crabs.
Right now, in addition to Crabfest going on at your local Red Lobster, you can visit the Crabfest website to learn about how you can win dinner with Captain Sig of the Deadliest Catch and a Tour of the Northwestern!