Just a few hundred feet from my loft in San Diego is Lionfish - Modern Coastal Cuisine - set inside the Pendry Hotel. I've walked by a few times but for some reason never had a chance to enter and check it out. Last week their PR team reached out to me to promote the fact that they have been recognized as a 2019 James Beard Foundation Smart Catch Leader, and would I be interested in stopping over for dinner sometime. Not one to pass up a chance to enjoy some food and drinks I graciously accepted their invitation. Now, I'm just wondering why I haven't visited before now ...
The James Beard Foundation is the leading organization for honoring chefs and foodie leaders in America. I've been blessed to dine with several James Beard award-winning chefs and I've never been disappointed. This Smart Catch award is a unique honor though. While it is like all other James Beard awards in that it is presented by chefs to chefs its goal isn't just for innovative food. Instead, it is to recognize those who work to promote sustainability in the seafood supply chain, promoting stable fishing stocks, and sustainably farmed seafood. Through the program, chefs receive training and support that allows them to serve seafood that has been environmentally-responsibly sourced. The Smart Catch Leader designation is also designed to make it easy for consumers like you and me to identify and support restaurants that have taken this step to show their dedication to preserving the future of seafood.
You can read more about the Smart Catch program on Lionfish's website.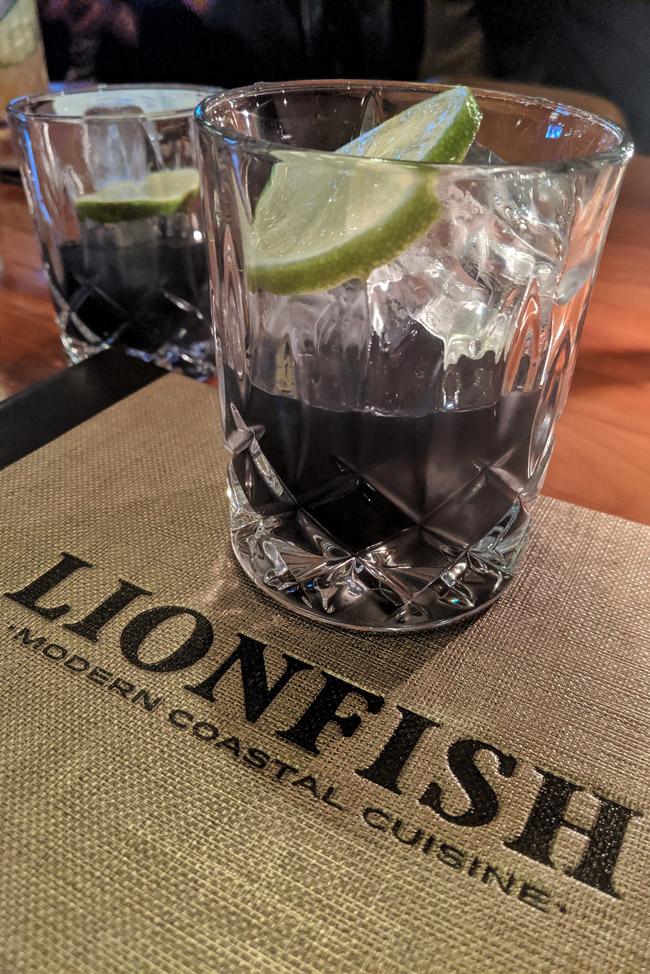 Our dinner began with a welcome cocktail - Dantes Peak - made with activated charcoal, casamigos reposado, el silencio mezcal, agave, lime, and peach bitters. While the word charcoal was initially a turn-off, after the first sip I was hooked. It's a delicious cocktail, so you should try it when you visit!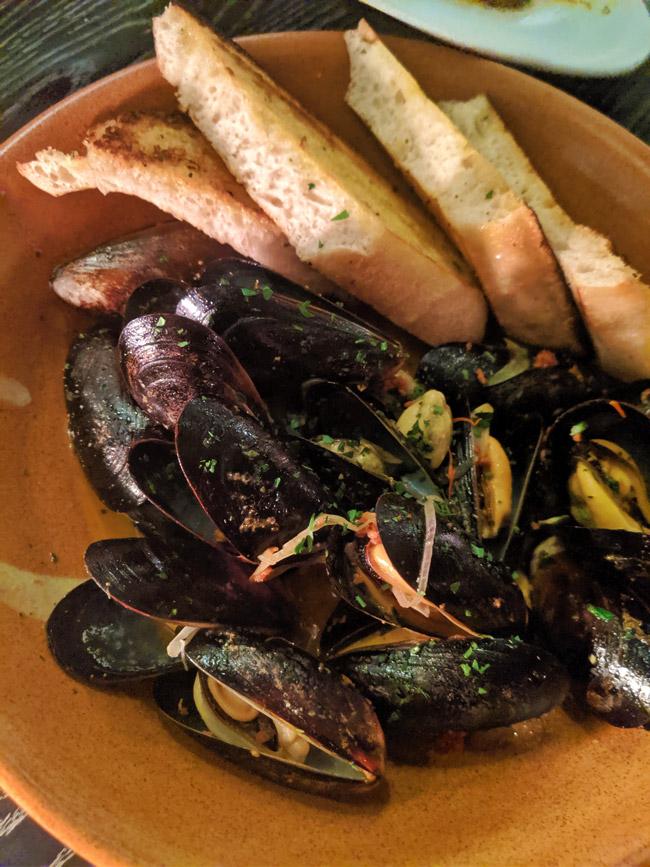 Next up was a series of appetizers including Braised Salt Spring Mussels with chorizo sofrito, saffron butter, altarino, and griddled bread.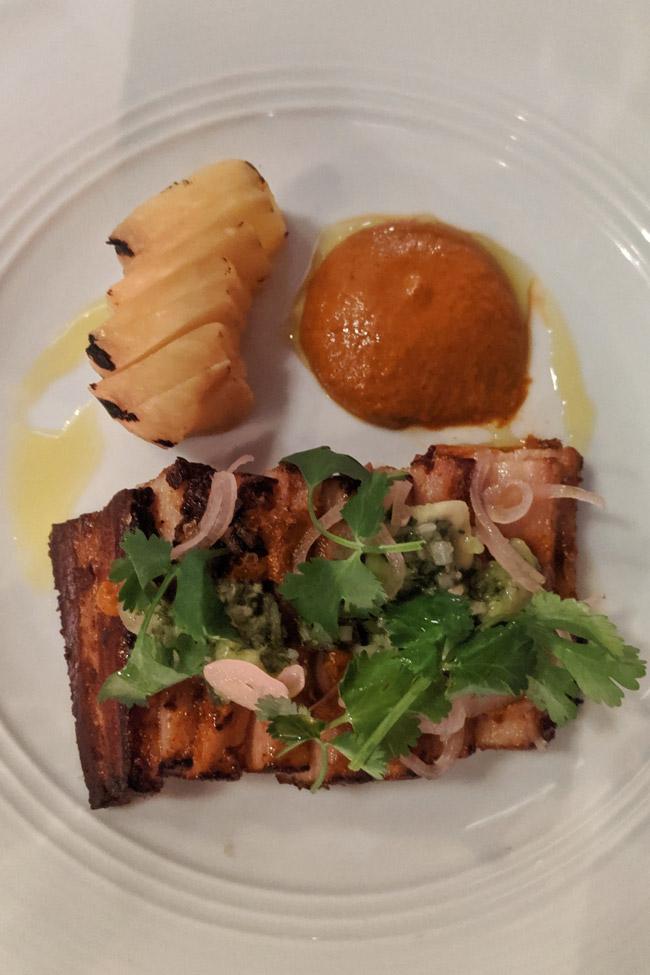 We also had Pork Belly Adobada with grilled pinapple, avocado, and charred pineapple salsa roja. I'm a sucker for anything pork belly and grilled pineapple is another favorite. So, this was clearly a winner in my book!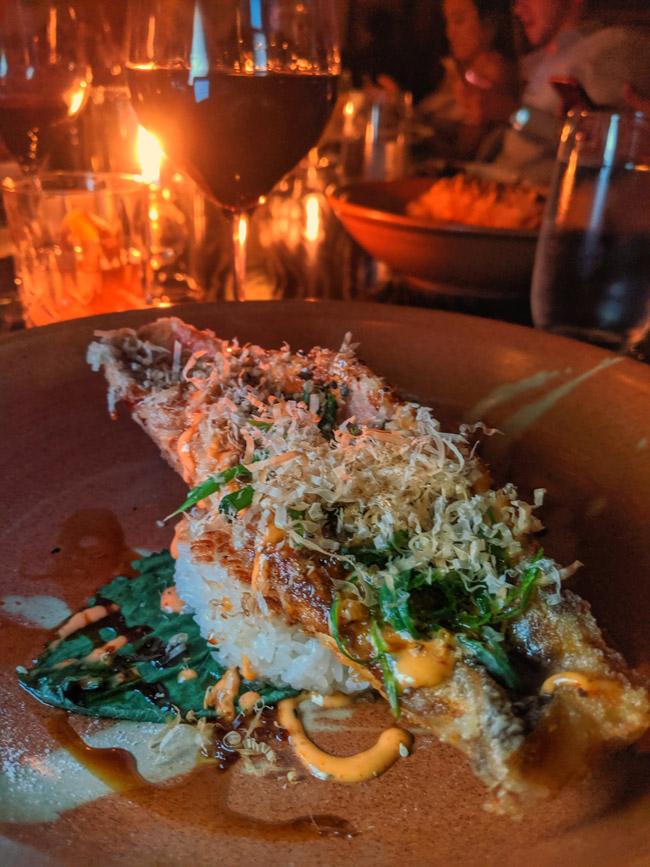 Next up, I chose the Crispy Baja Snapper Filet "Dynamite". It was an absolutely fabulous East-meets-West flavor combination with garlic, shallots, chili, crispy rice, creamy spicy sauce, and sweet soy sauce.
Not only was the fish locally sourced in a sustainable fashion but Chef JoJo Ruiz prepared it perfectly.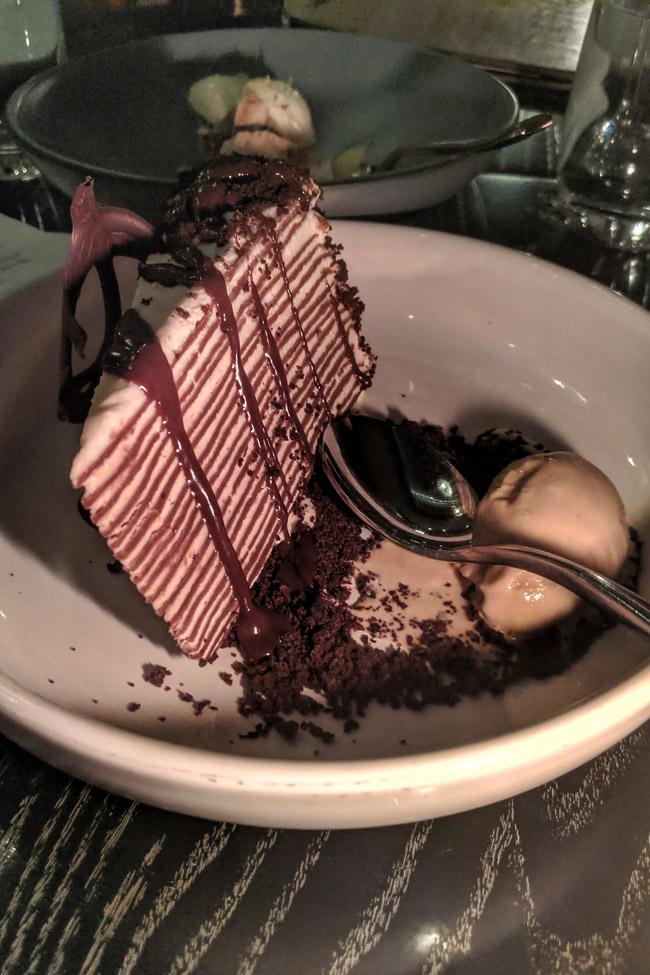 For dessert we had two options - a Tiramisu Crep Cake made with layers of st george coffee liqueur, cocoa crumbles, and a Mexican chocolate sauce with espresso caramel gelato on the side.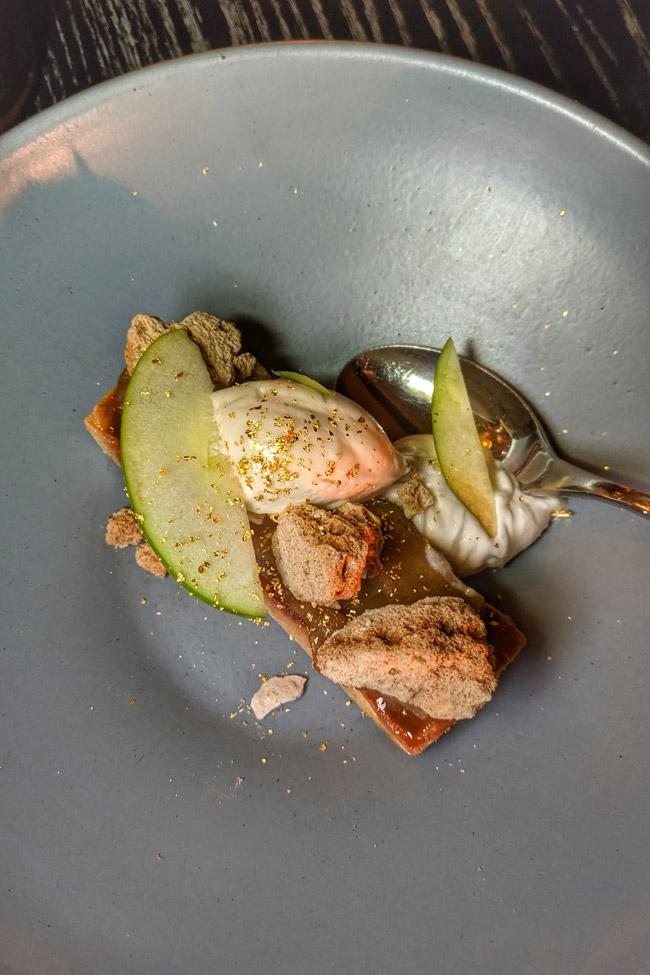 The second dessert we were presented with wasn't on the prix fixe menu so I'm not sure the exact name but it was a stunningly good apple tart that in comparison to the (also delicious) Tiramisu Cake was light and refreshing. It was the perfect way to wrap up the evening.
Overall it was a fabulous experience and I enjoy celebrating an organization making the effort to "do the right thing" while also making it easier for consumers to similarly make smart choices. There are many options for where you can go to enjoy a fine seafood dinner, so make sure to support those chefs that take the extra effort to not just prepare fabulous menus ... but also make smart choices with sourcing the ingredients.