Tasting Some of Central Coast California's Best Pinot Noir and Chardonnay At Tolosa Winery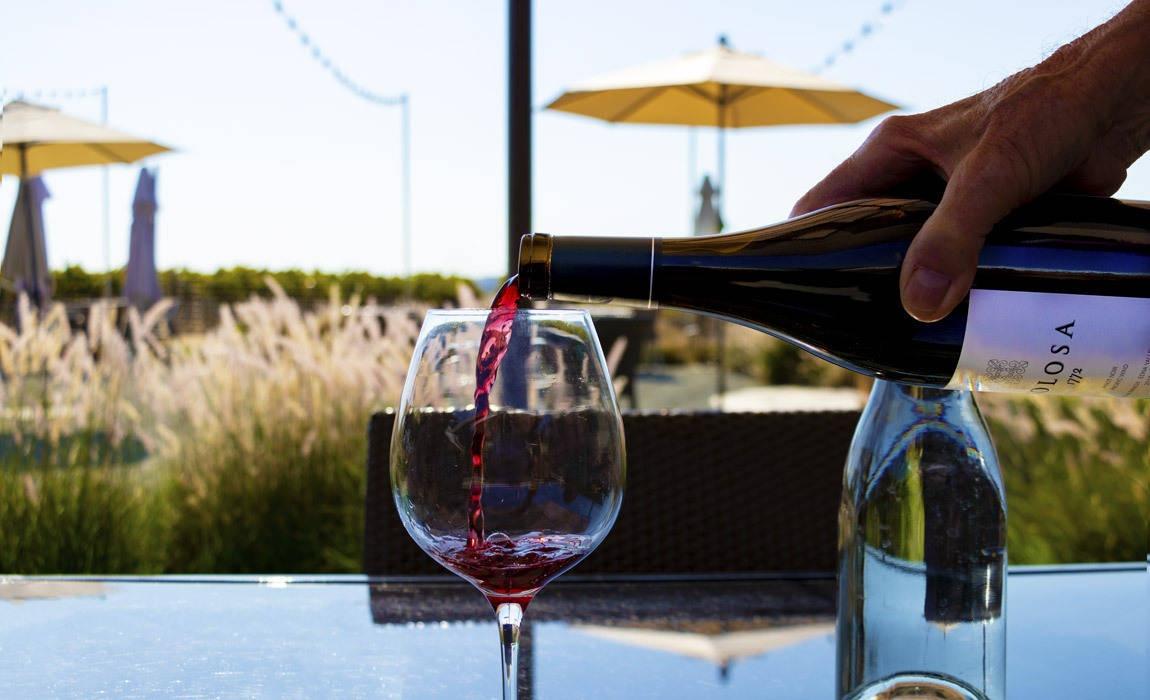 We make money from support by sponsors, advertisers, and affiliate partners. As an Amazon Associate I earn from qualifying purchases.
Tolosa Winery, located in San Luis Obispo's Edna Valley is a manages to match beautiful landscapes and a gorgeous tasting garden with some of Central Coast California's best wines.
Wine connoisseurs know that appellation means everything when it comes to producing wines with distinct character and flavor. In case you are not familiar with the concept of appellation, it refers to the geographical designation for grapes; for example, the Chianti appellation refers to a winemaking region of Tuscany known for its eponymous and traditional table wine, which is primarily made with the grape variety known as Sangiovese.
Tolosa Winery is located in San Luis Obisbo County The topography, climate, and soil conditions of the Edna Valley AVA, which is part of the southern Paso Robles region, are ideal for growing Chardonnay and Pinot Noir grapes. Edna Valley is also home to Tolosa, a winery that you should make a point of visiting when on a guys' weekend trip to Paso Robles.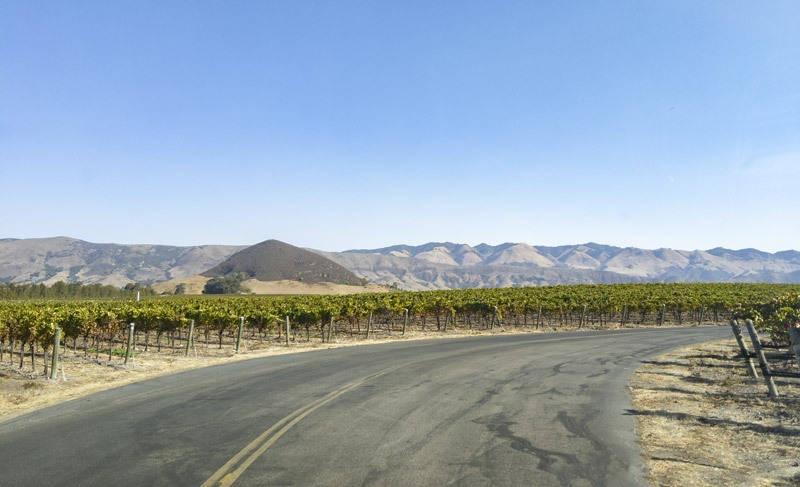 Tolosa and the Heritage of California Winemaking
The name of this winery references the winemaking tradition of California dating back centuries - even though the winery itself was created much more recently. Today, we refer to the area as SLO CAL or San Luis Obispo but the full name of the Spanish mission that the area was built around is San Luis Obispo de Tolosa after the Franciscan bishop from the French city of Toulouse. This brings an interesting junction of three different wine cultures that helped shape the area - French, Spanish, and California.
It is not known exactly when the Franciscans began actively cultivating vineyards and making wine in the area. However, considering the important sacramental role of wine and history of producing grapes at other missions in California, it is likely that the vineyards followed very soon after the founding of the mission in 1773. From here wine became an important part of the greater society and economy too.
Vintner Robin Baggett came to the region with cowboy dreams of owning a cattle ranch like his grandfather and he started cultivating grapes in 1988, just six years after Edna Valley earned its AVA distinction. The Tolosa winery was later established in 1998 and later expanded to include the Alpha Omega winery in the Napa Valley in 2006, where they specialized in Bordeaux wines. In 2015, Mr. Baggett returned to Edna Valley with the intention of taking Tolosa to the next level, and he did so through a partnership with Perinet, a renowned winery in Spain; furthermore, he transformed the Tolosa estate into the kind of spectacular winery you see featured on classy travel magazines. However it still maintains a casual and approachable atmosphere that I enjoyed during our visit.
The Tolosa vineyard is blessed by dozens of distinct soils and microclimates where several grape varietals can happily grow. The head winemaker actually hails from Toulouse and has been educated in agricultural science. The consulting winemaker studied viticulture and enology in Switzerland. While the traditional spirit of winemaking is closely followed in Tolosa, this winery is not afraid of using state-of-the-art process in the soil management, cultivation, harvesting, and grape selection processes in order to make truly fine wines.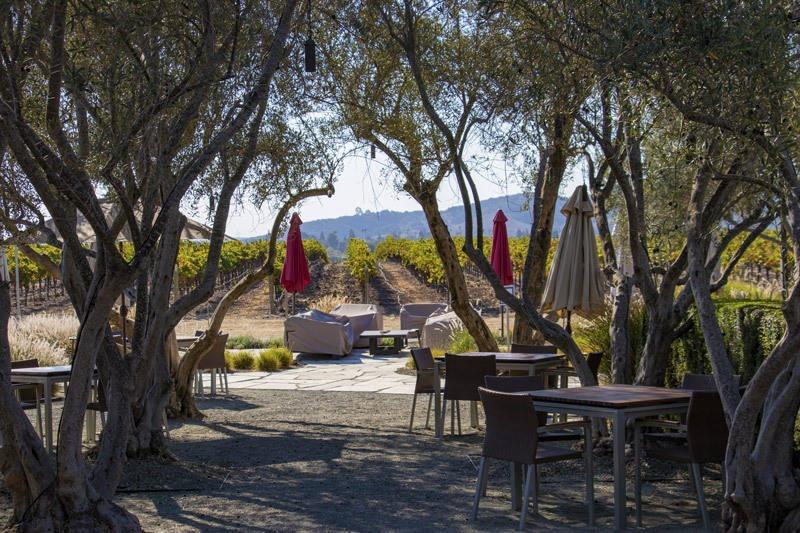 Wine Tastings at Tolosa Winery
The entire vineyard estate at Tolosa is magnificent. From the moment you enter the gates and drive up to the tasting room it sets the tone that you are about to enjoy something special. While the physical plant here is it is large enough to support prouction from outside vineyards, the winery itself focuses on quality over volume. Tolosa is a place where the photos you take when you visit will not require editing or filters when you post them on your Instagram account.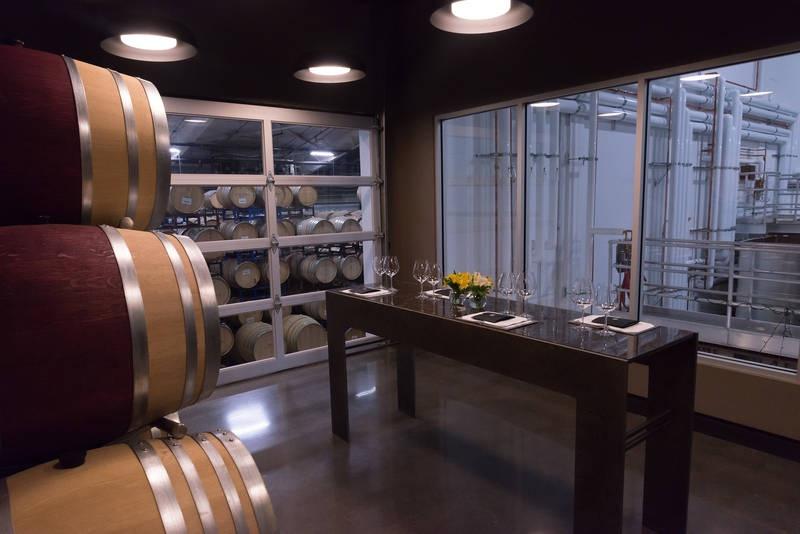 Tolosa offers five tasting rooms for your enjoyment:
NOTE: right now indoor tastings are limited and in our visit, all tastings were conducted outdoors because of COVID restrictions.
* The main tasting room features a sleek bar and lounge area that provides a view of the tank room.
* The Tolosa terrace offers an outdoor tasting experience under olive trees and right within the vineyards.
* The Primera private tasting room is for true wine connoisseurs who wish to learn more about the winemaking process.
* If you become a Tolosa wine club member during your visit, you will get to enjoy tastings in the elegant Heritage room.
* The tasting loft provides a more authentic tasting experience with seasonal wines poured straight from the aging barrels.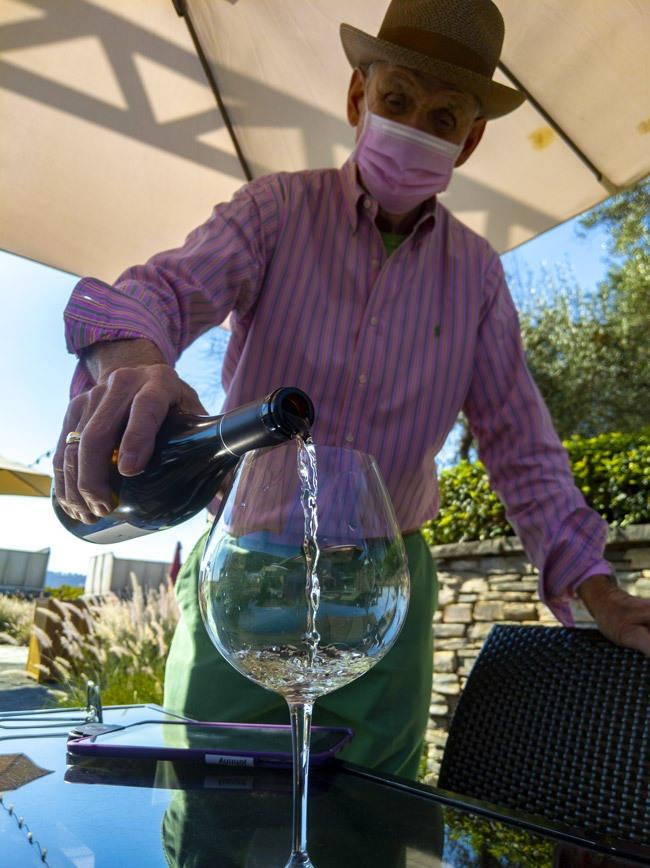 Tasting experiences range from the 1772 Flight that we tried, to more elaborate experiences that include sampling future releases and private tastings.
In terms of hospitality, you really can't go wrong with Tolosa. The laid-back Central Coast California atmosphere at Tolosa is truly refreshing. This is especially true when you consider the quality and technical excellence of the wines produced here.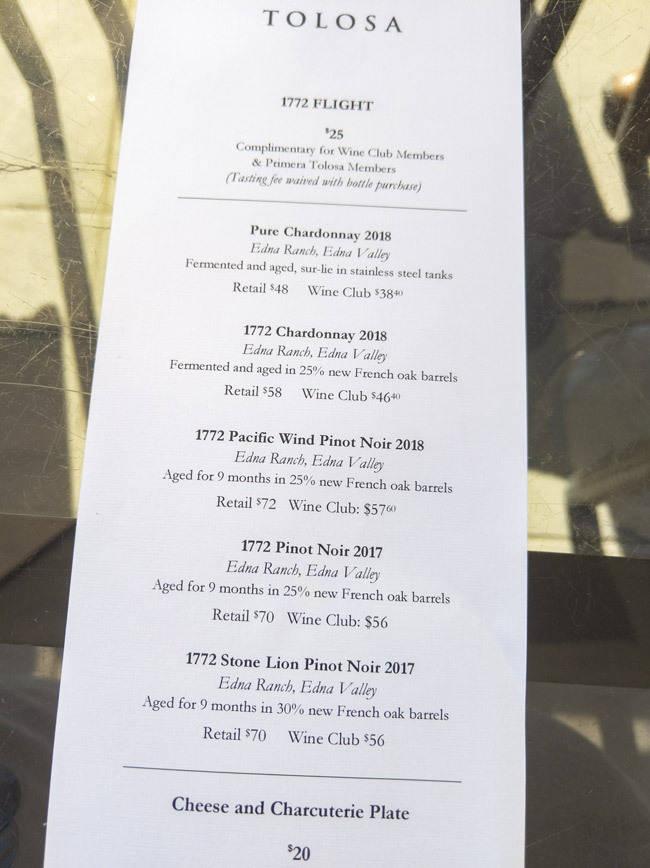 Highlighted Wines We Know You'll Enjoy
When visiting Tolosa with your buddies, be sure to taste the following:
1772 Pinot Noir
The constant breeze from the Pacific Ocean keeps the soil cool and fresh, and this is how the Tolosa 1772 Pinot Noir tastes. The aroma evokes hints of raspberry and juniper; the overall experience is a very smooth with a 13.4% alcohol content.
Primera Pinot Noir
As the flagship wine of Tolosa, this Pinot Noir is crafted with the best grapes from the Edna Ranch vineyards. It is impossible to be disappointed by Primera; each vintage gets better, and the taste is pure cherries with hints of citrus as well as Italian herbs. Highly ideal with a grilled salmon pairing.
Written by

James Hills

Page Views: 1856