One of the great things about traveling is trying different foods and seeing how those foods morph and adapt as they are embraced by one culture and then another. I can't think of any dish that has been adapted in so many ways than a simple curry, which likely originated from southern India but is now the national dish of England, with variations found in Thai, West African, Caribbean, and American cuisine today. It is even popular as a type of sausage street food in Germany, known as currywurst.
Today though, I am going to share my own interpretation that is super quick and easy to prepare and while it tastes delicious on day one - it's even better the next day, so make a big batch and be prepared for easy to re-heat leftovers!

Beef Curry Recipe:
2 pounds of beef "stew meat"
2 large sweet yellow onions
3 tablespoons of minced garlic
2 cans of drained Rotel tomatoes (I prefer the HOT variety)
4-6 teaspoons of curry powder
2 teaspoons of season salt
2 teaspoons of cayenne pepper powder
1 can of coconut milk
olive oil or butter to grease the pan while browning the beef.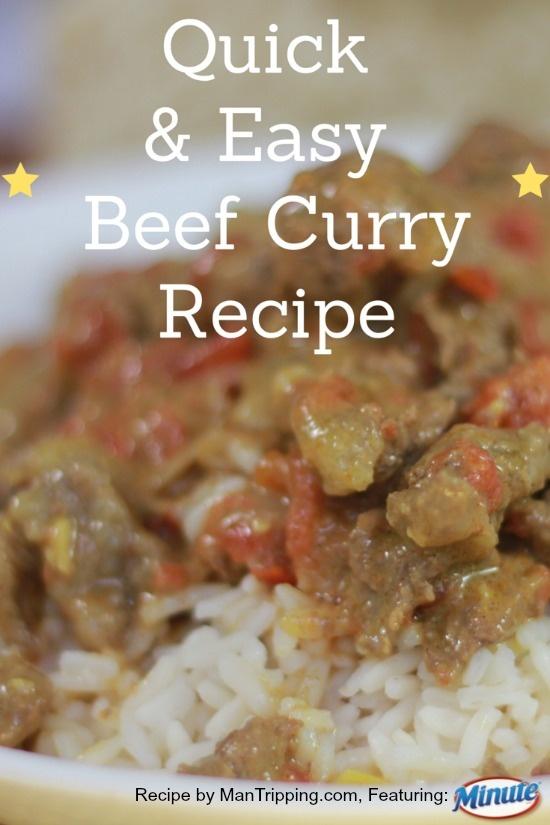 Preparation:
Brown the beef in a large skillet and then add the onions and saute till they are slightly caramelized.
Once beef and onions are cooked, add other ingredients and stir regularly until well mixed.
Turn the heat to low and simmer for 1 hour.
Serve over rice.
That last step is where I get stuck sometimes since I have a super small stove in my loft and I want the rice to be perfect when the curry is done. Or more specifically, I want fresh rice the next day for leftovers and I don't want to have to worry about cooking up a whole fresh batch and waiting half an hour for it to be ready.
Luckily, that's where Minute Rice comes in.
Minute® Rice cooks up in about 5 minutes (including the time to boil the rice and time for it to set), so it is PERFECT for using with leftovers or quick snacks (I love freshly steamed rice with some sriracha and soy sauce!). In addition to the classic white rice like I used, they also offer a 100% Whole Grain Brown Rice that has similar nutritional values as regular long cooking brown rice - but it cooks up in about 10 minutes ... 1/4 the time it otherwise would take.