One of the hottest food trends right now is birria - no it isn't new but it is newly popular outside of the Mexican community and innovative food pioneers have taken it to new levels, far far beyond the classic birria taco. In fact, on this food tour of three San Diego birria restaurants, we tried it in tacos, pizza, ramen!

What Is Birria Anyhow?
Outside of the southwest, Texas, and California birria may not be that popular yet. It is a Mexican dish from the state of Jalisco (home of Tequila also!). The name is borrowed from a Spanish term that describes basic things without value or quality and modern birria draws from traditional Mexican stews made from a combination of chilis, goat meat, and spices that are cooked for a long period of time at low heat.
The result is very tender meat infused with incredible flavor.
Even within Jalisco, there is a wide variety of different birria variations, including meats ranging from goat to lamb to brisket and even cabezza (beef head). When you combine this sense of creativity with the current passion that Americans and Mexicans share for innovative food, it is a match made in heaven.
One VERY unique aspect of birria tacos is that it can be served with consome. This beef broth can be used for dunking your tacos in, drizzled on top to add extra flavor, or you can even get it with a scoop of birria meat in it and enjoy like a stew. While a taco can be fairly standard from one place to the next, each restaurant and family will have a different take on how to serve the perfect consome.
For our food tour, we chose three very different birria restaurants in San Diego's south bay area of Chula Vista and Imperial Beach. These are by no means the only places to get great birria in San Diego but these locations all had parking and came with strong recommendations.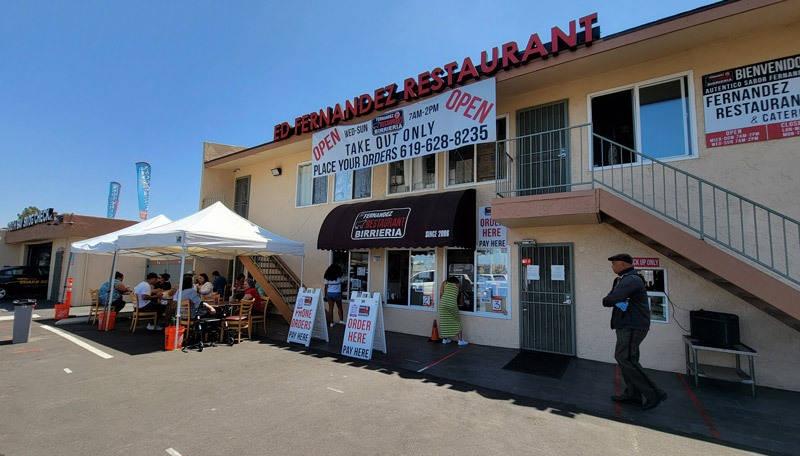 Ed Fernandez Restaurant - Birria de Res
Our journey began at Ed Fernandez Restaurant located in Imperial Beach, San Diego ... only 4 miles north of the Mexican border. At first glance you might wonder just what brought you here since it sits in a parking lot next off of the main road that would take you to the beach and it sits next to a couple automotive shops. Honestly, this is the sort of place that usually has the most amazing food. Whether it is tacos in California or BBQ in the South. Hard-working blue collar guys love good hearty food and don't care about it being fancy as long as it is close, cheap, and plentiful.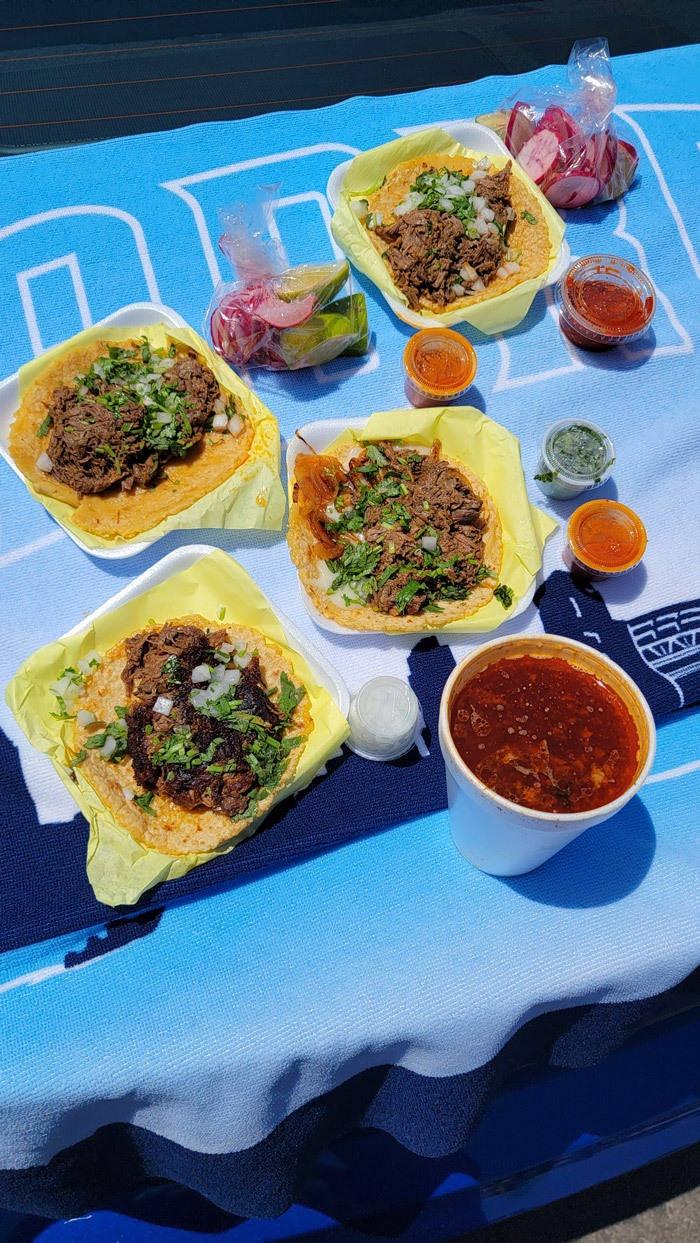 Ed Fernanadez delivers all of that.
Right now, they - like many places offer take-out only. While there is a small tent where you can sit and enjoy your tacos we decided to "tailgate" on the back of the Kia K5 GT that I was reviewing this week. While I was diligent about putting a towel to protect from spills, I didn't consider the powerfully red chili oil's potential for staining. Good for the paint ... bad for my Padres beach towel.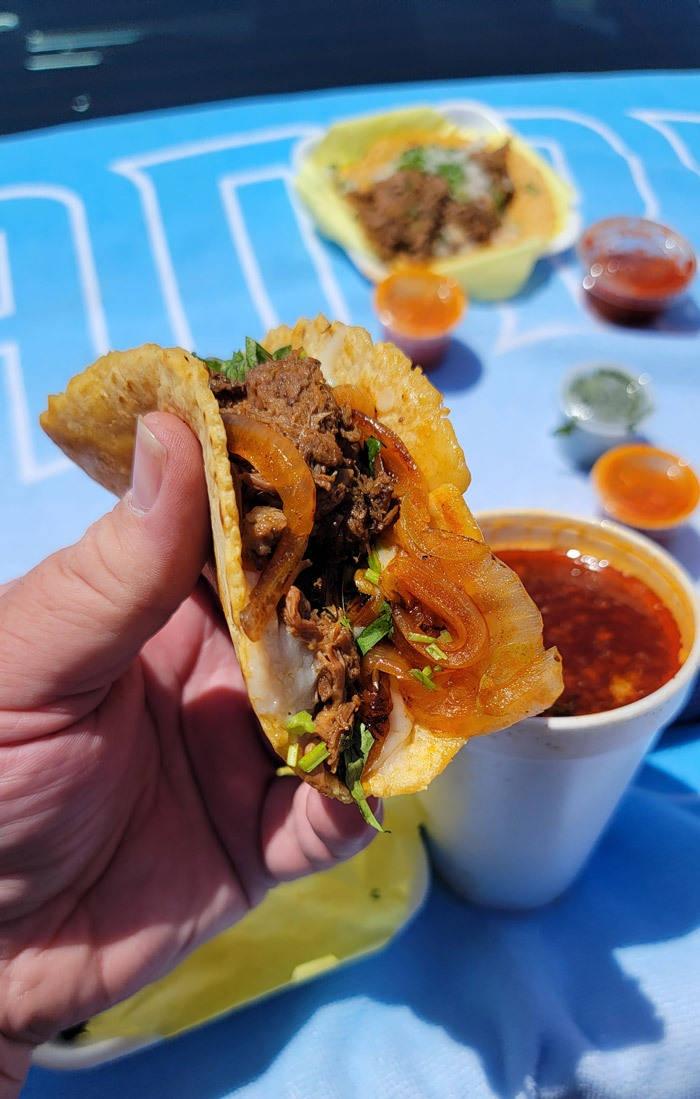 Ed Fernandez delivers a fairly classic menu of Birria de Res including both regular Taco de Birria and Quesa Taco (with cheese) but they also offer a "Chupacabras" adding onions to the Birria Taco and Nervio (tendon) as well as Lengua (tongue) on Fridays.
Consome here was my absolute favorite of the three that we tried. It had the most flavor and while it was wickedly packed with red hot chili oil, the flavors was extraordinary.
They are also famous for their Agua Fresca del Dia but were sold out by the time we arived.
Ed Fernandez Restaurant is open Wed-Sunday 7am-2pm and is located at 2265 Flower Ave San Diego, CA 92154.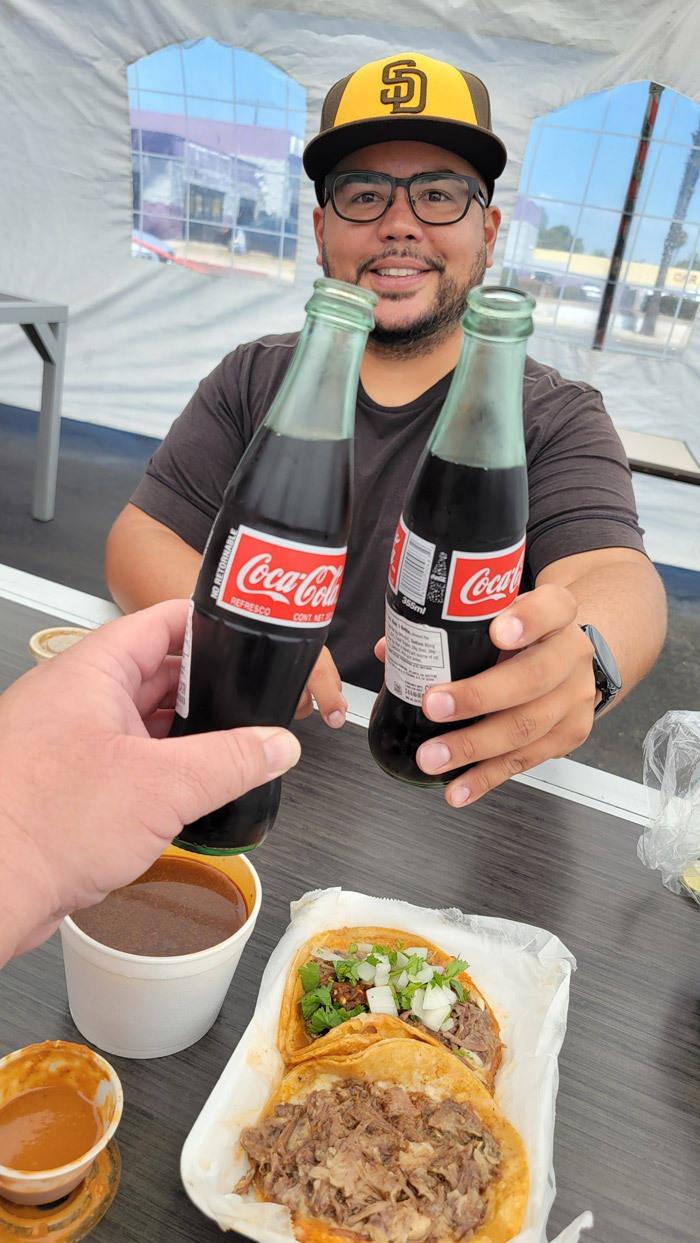 Birrieria Y Menuderia Guadalajara - Birria de Chivo
Our next stop was Birrieria Y Menuderia Guadalajara to try a more authentic style of birria, Birria de Chavo. Unlike the first stop, this one was made from goat instead of beef brisket.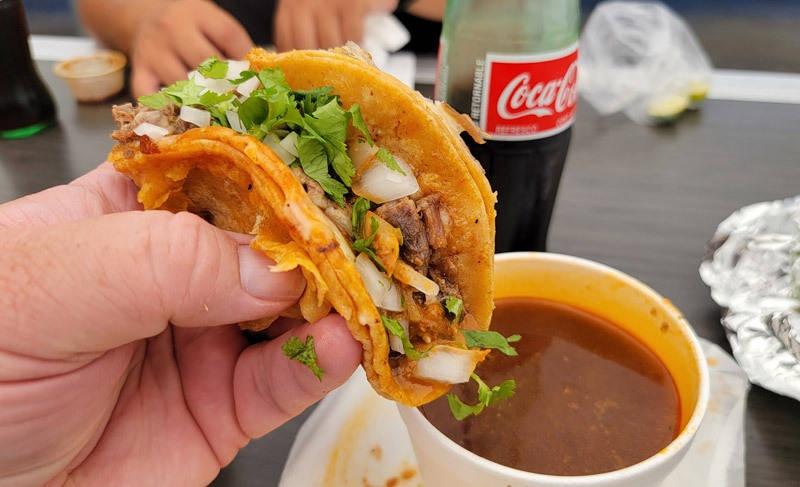 Here, they offer a variety of other items beyond purely birria and they also offer birria de chivo (goat) as well as de res (beef). Additionally they offer menudo and pozole.
Unlike at Ed Fernandez, I opted to simply get a side of consome here without adding extra birria.
Birrieria Y Menuderia Guadalajara is open daily, 8am-4pm and located at 396 Broadway Chula Vista, CA 91910.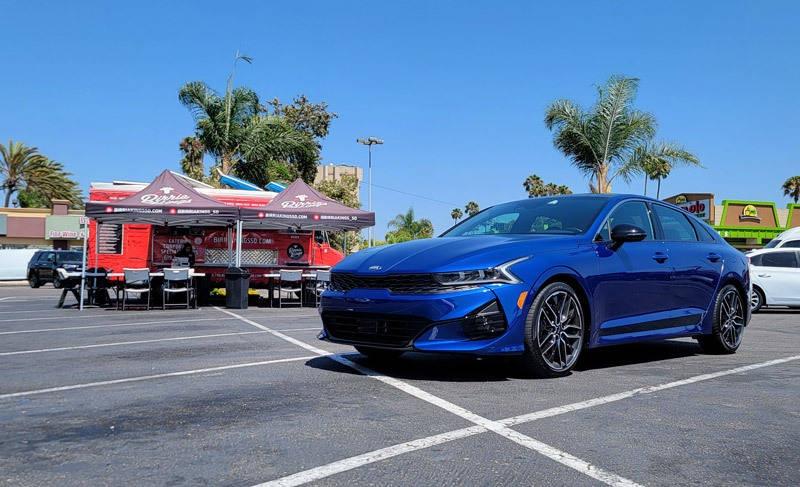 Birria Kings - "Modern Birria"
Unlike the other two birria locations we visited, Birria Kings is actually a food truck that is semi-permanently set up at two locations in Chula Vista. They are the wild child that is shaking things up with instagram worthy interpretations of this classic Mexican dish.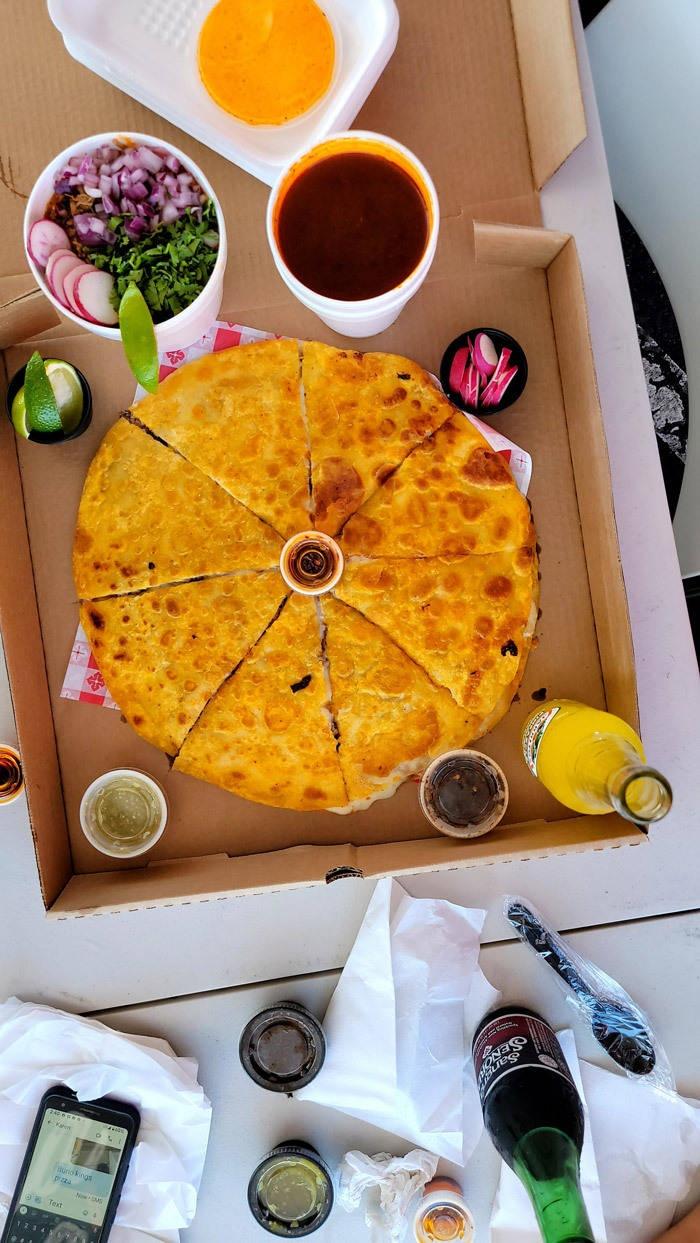 For instance, take this "Birria Pizza" that is actually one giant birria quesa taco placed between two tortillas, and the birria ramen as well. Both of these innovations turned out to be absolutely fantastic and more than just gimmicks. Their birria de res tacos were also quite good but I preferred both the meat and spices at Ed Fernandez better. The same could be said for the consome, which I found a bit thin here though potentially better for dunking ... but not for enjoying like a soup.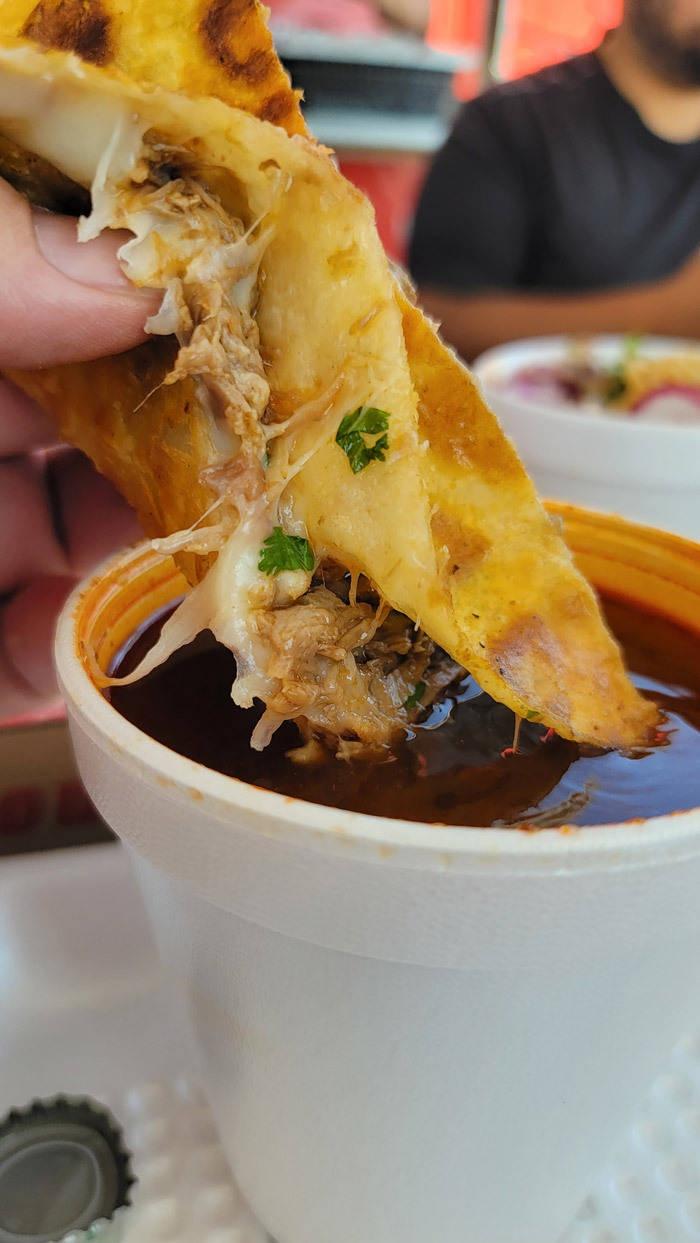 Unlike the two restaurants above, here it seemed that Birria Kings was almost catering to a more "American" palate. This isn't really a negative thing and clearly they are pushing the envelope when it comes to fun ways to enjoy birria that the more classic locations wouldn't dare.
For those of you men on a keto diet, they also offer a special Keto Taco where the cheese is melted into a crispy tortilla and then filled with beef birria.
Birria Kings is open daily from 8am-4pm at 642 E Street in Chula Vista, CA, 91910.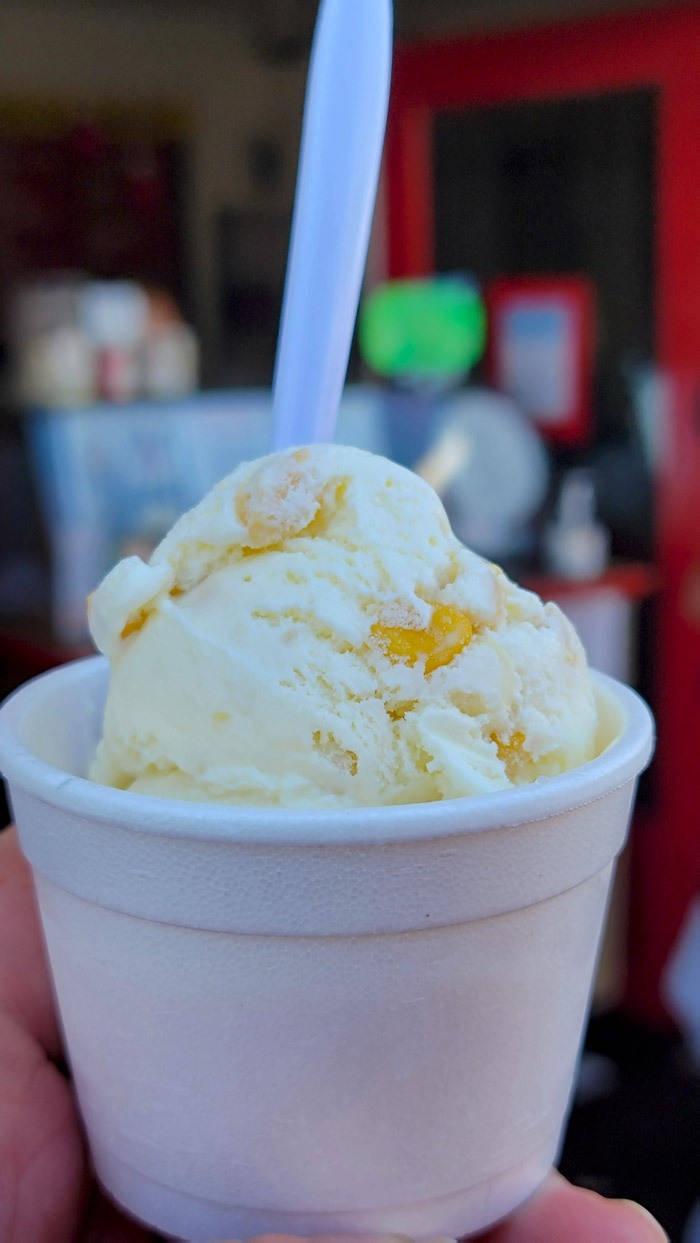 Bonus: Niederfrank's Ice Cream
Ok so this isn't birria - clearly - but after a tour of San Diego birria restaurants it was nice to end with some ice cream to help settle things down in the belly. San Diego isn't really known for being an ice cream town but there are some very interesting Mexican influences when it comes to frozen deserts. Whether it is actual Mexican ice cream shops or paleta shops (Mexican fruit popsicles), there are some tasty treats to be explored here beyond just tacos.
While National City, Chula Vista, and Imperial Beach today are essentially Mexican neighborhoods, in 1948 when Elmer Niederfrank opened this ice cream shop that wasn't the case. Today, Niederfrank's Ice Cream one of the most popular ice cream shops in San Diego.
I'm including them because on the day we visited, they had a Mexican-inspired "Sweet Corn" ice cream and I thought that was the perfect way to conclude our birria tour of San Diego!