Last night I had the opportunity to not just visit a fantastic new brewery but also meet with five of the best chefs in San Diego. We were assembled to help raise money for Feeding San Diego, while also celebrating the launch of Flesh & Blood - Bitter Brothers new Golden Sour that has a stunning color and flavor of tart cherries and raspberry. Each of the five courses was inspired by and paired with one of their beers, for a culinary experience that I wish could be shared better than just my words and pictures.
Every time I turn around, I feel like there is a new brewery popping up and honestly not all of them are awesome so I generally ignore the flavor of the week. Unfortunately, that leads me to miss incredible new additions to the beer scene such as Bitter Brothers. Even during this dinner last night I was messaging friends planning an opportunity to come back here and sample more of their product. This is truly one of San Diego's hidden gems but it is breaking out of the shadows quickly and already has taps all over town and even good retail distribution and outlets including Whole Foods.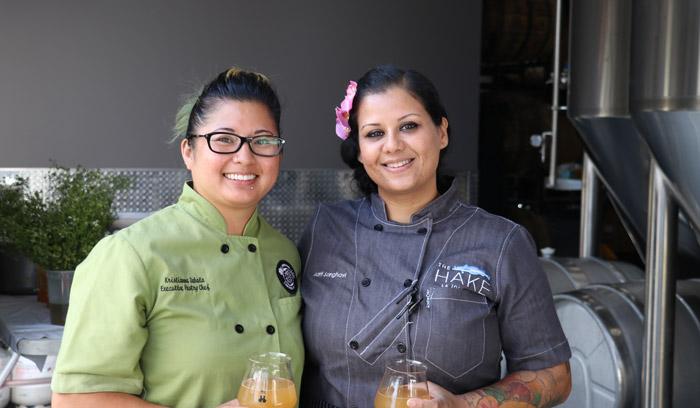 Chefs Aarti Sanghavi or The Hake and Kristianna Zabala of Nomad Donuts before the dinner.
One of their keys to success - in addition to producing fantastic beer! - is that the owners genuinely seem passionate about helping the community. Not only was this dinner featuring San Diego chefs but there was a focus on sourcing the ingredients locally, and proceeds from the dinner went to support Feeding San Diego. Their goal this year is to raise enough money to buy 20,000 meals and with this second dinner of the year, they tell me they are on target to achieve that goal.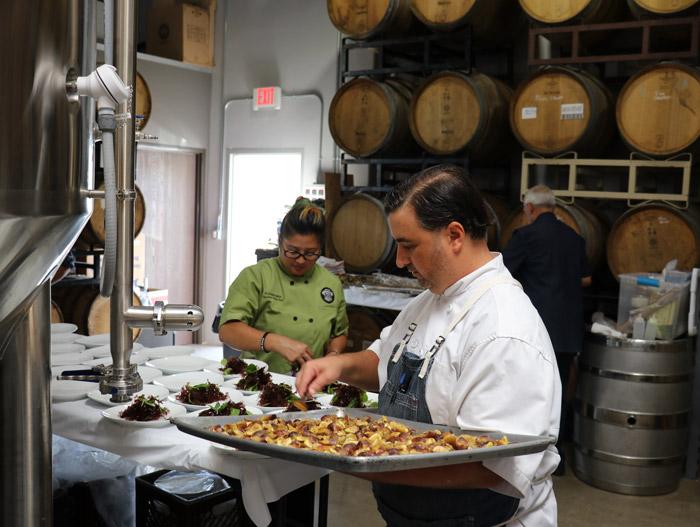 What I love about the San Diego beer scene and dinners like this is that it really brings people together. While each of these chefs is at the top of their game right now, they were working together in the back to help each other prepare the various courses.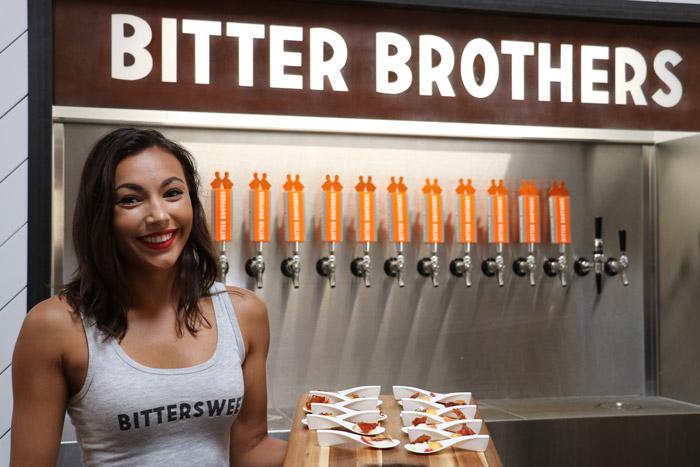 Our dinner started off with a delicious amuse bouche and Prodigal Son - Bitter Brothers Amarillo IPA. While I am unabashedly a hop head, there's something to be said for an easy to drink IPA like this one featuring Amarillo hops and strong but well balanced citrus notes. While not as hoppy as other San Diego IPAs, it was still a solid 6.8% beer but only 53 IBU.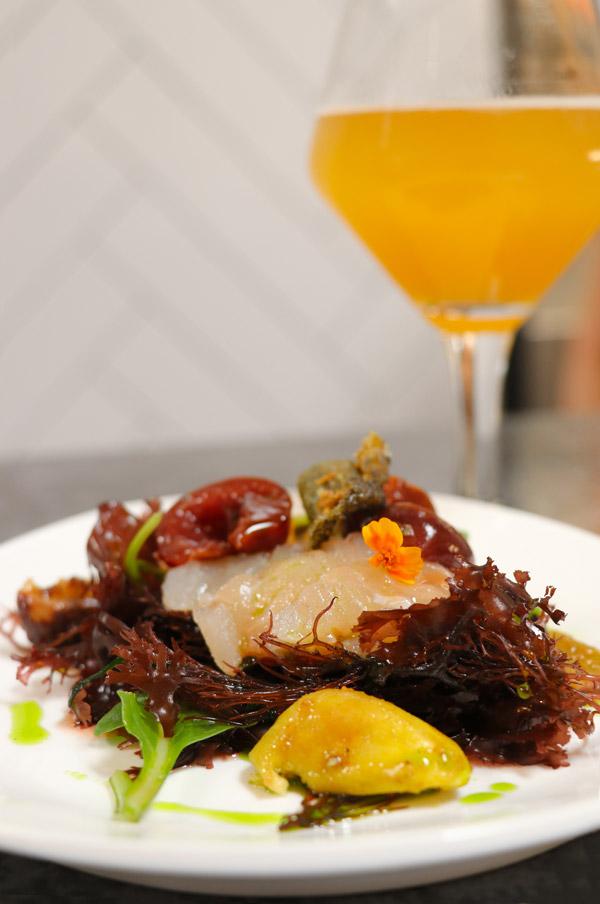 First course was presented by Anthony Pascale of Saiko Sushi who brought us a stunningly delicious Halibut Sashimi from Catalina Offshore paired with Family Tart. This course featured the sashimi resting on a bed of live ogo and dulse seaweed, tatsoi, roasted fig, and smoked ogo with a cherry vinaigrette and fish chicharron.
This pairing with White Peach Family Tart - a 4.5% 4 IBU Berliner Weisse - was fantastic as well with the sour notes complimented the freshness of the ocean of flavor on our plates.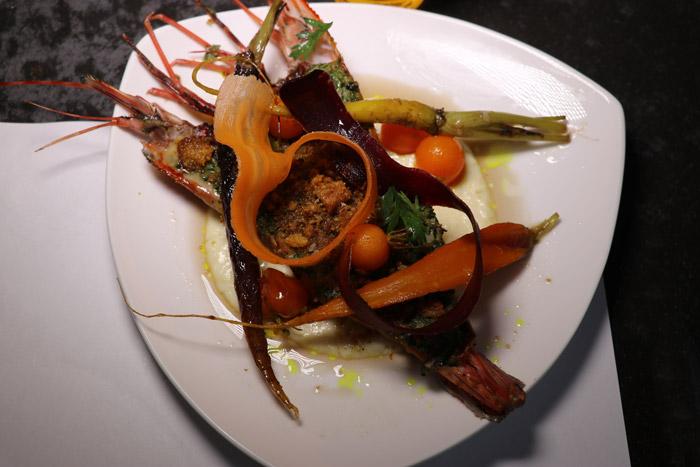 Aarti Sanghavi hit it out of the park with her Lemon Verbena Chutney Crusted Spot Prawn paired with Spring Fling for our second course. This course was so good that both Heather and I started looking at the menu for The Hake to learn more about her and other dishes she's created. This course was a great example of the mixture of traditions, methods, and flavors found in American cuisine right now. You had an Indian chef, preparing a Mexican dish with Indian spices such as the garam masala cornbread croutons and tumeric blistered tomatoes, but paired with Spring Fling - a French style beer. Both dishes also featured Verbena, an herb from South America to complete the international whirlwind of flavors.
Bitter Brothers Spring Fling is a 5.5% saison that is brewed with lemon verbena and fermented with a French saison yeast that was brewed in collaboration with Eugenio Romero-Wendlandt from Wendlandt Cerveceria in Baja.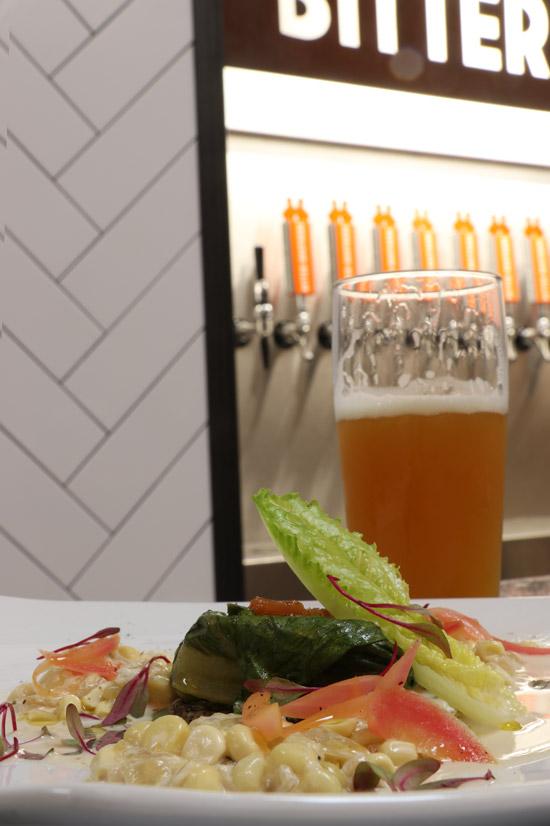 Third course was presented by private chef Fabrice Poigin and was French inspired pairing. His Grilled Romaine and Sweet Onion Tart with picked onions, grilled sweet white corn and organic peach chutney with epoisses cream was paired with Hazy Blue Line.
Hazy Blue Line IPA is an absolutely beautiful to look at opaque IPA that like it's brothers is very well balanced and approachable.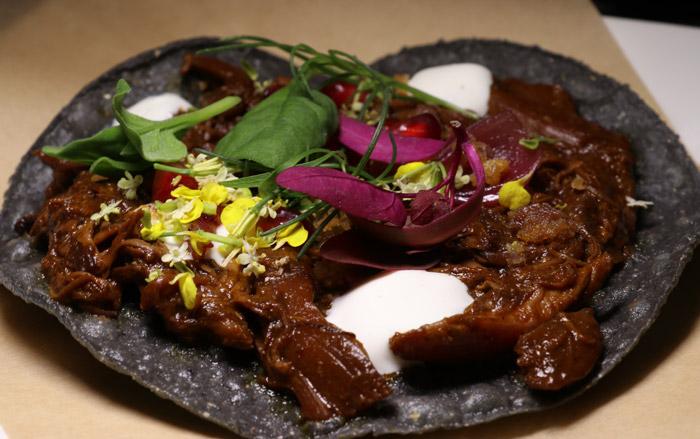 Fourth course was presented by Alex Emery of La Valencia, a Cherry Duck Birria Tostada paired with Flesh and Blood.
Flesh and Blood is Bitter Brothers' newest release and an exceptionally limited release since the name was already used by Dog Fish Head brewery and so once this run is over, that's it! Flesh and Blood is a Golden Sour that they aged for a year in Blaufrankisch red wine barrels and each gallon of beer uses a full pound of cherries and a pound of raspberries. This gives it an incredible deep purple red color and a fantastic fruit flavor that while clearly a sour - is still very enjoyable to drink.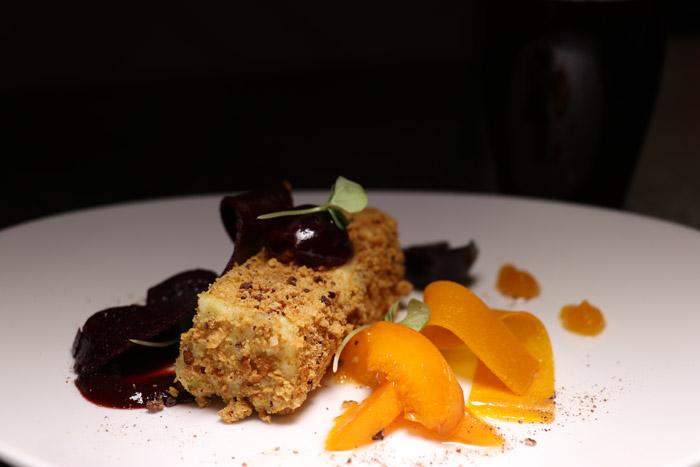 Finally, last but certainly not least - Kristianna Zabala of Nomad Donuts presented her Humboldt Fog Cheesecake paired with Brotherly Love. The cheesecake was made with - you guessed it! - Humboldt Fog cheese, so it had a much less "sweet" taste than typical cheesecake and was covered with a cocoa nib graham and accompanied by by big cherries, apricot, and micro lemon basil.
Brotherly Love is a delicious dunkelweiss with 5.6% ABV and a taste that evokes flavors ranging from coasted chocolate and cacao nibs along with banana. While not exactly a "dessert beer" since it would be enjoyable anytime, it paired extremely well with the soft and creamy Humboldt Fog Cheesecake.
Bitter Brothers holds dinners like this once per quarter as well as other events to support the community. Make sure to visit their website for more information and I can't wait to go back again soon to taste more of their incredible lineup!
{lightgallery type=local path=images/stories/bitter-brothers-beer-dinner/gallery previewWidth=160}Bitter Brothers San Diego Beer Dinner Photo Gallery{/lightgallery}