One of my favorite parts of traveling is experiencing new food that you can't get anywhere else. Sure, you can get tacos in any state ... but San Diego is king. Unfortunately we can't get good bagels or BBQ here either. With Goldbelly though, you can order from dozens of different restaurants, bakeries, and other food makers from around the country. While many of these are iconic foods like BBQ from Nashville's Peg Leg Porker or Joe's Kansas City Bar-B-Que, others are lesser known ... despite being local's favorites for years. Armed with a $500 gift card provided by Goldbelly we started our journey. Here's what we bought for our backyard feast (and saved for ourselves to eat too!).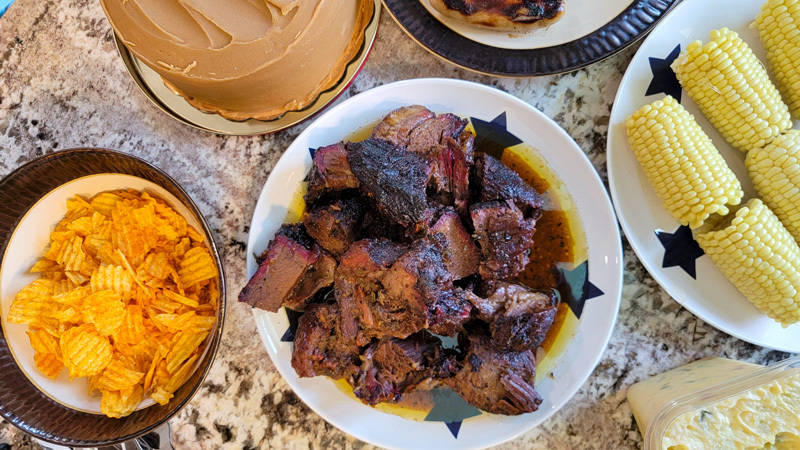 Don't dare browse Goldbelly.com unless you have time to kill. It is an amazing place to explore new ideas and unique interpretations of classic favorites as much as it is a place to seek out food from places you aspire to visit in person one day. You can explore by cuisine styles "Kansas City BBQ" or simply "Detroit" and it's fun to see what comes up. If you want to just skip the rest of the article and go order right now, make sure to use Goldbelly coupon code FindYourBELLY to save 10% off your first order.
For our backyard get together, here's what we picked:
7-Layer Caramel Cake from Caroline's Cakes
Wagyu Beef Burnt Ends from Derek Allan's Texas Barbecue
Bacon Wrapped Cheddar Jalapeño Sausage Slammers from Southside Market & Barbeque
Additionally, I picked up a Bagel Brunch for 6 from Zucker's Bagels and Smoked Fish and I am planning to pick up a Boudin + Sausage Sampler from Hebert's Specialty Meats because I've been craving boudin since I was left Lafayette last year after Mardi Gras.
There were plenty of other foods that fought for my attention but I had to pace myself.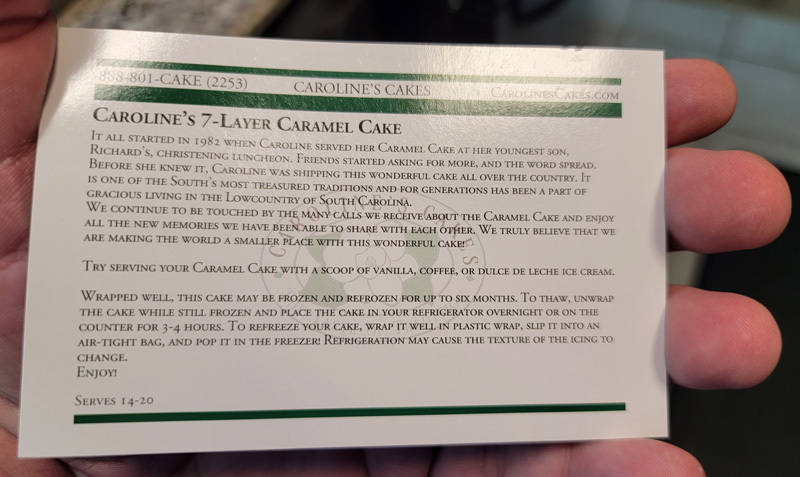 Shipping And Delivery Is Not Always Perfect
Shipping is tough during the summer and I won't lie, we unfortunately didn't have everything arrive as expected. Goldbelly works more as a marketing platform - think "Amazon Marketplace" vs a store that is shipping things out in a consistent manner. The packaging, ice, etc. is all handled by the individual restaurants based on your requested delivery date.
Frankly speaking, there are certain things like bagels (salt bagels in particular) that just don't ship well when it is humid) and likewise you might have issues with things that can melt such as chocolate. On the other hand, you might find that certain items have a separate, high shipping cost and wonder why that is. While most items we found on Goldbelly had the shipping cost built in, Caroline's Cakes for instance was separate. However, if when I order from them again I know that the extra cost is worth it since they did a fantastic job.
Additionally, even products that are shipped perfectly by the restaurant can sometimes have errors due to issues with the shipping company. This was the situation with our Sausage Slammers which arived a week after shipping and even though they were in San Diego the morning of our party, they were inaccessible since the delivery company wouldn't deliver them till Monday.
Goldbelly Customer Service Will Take Care Of Problems
Despite having some issues with our chosen food items, overall I'm pretty happy with how Goldbelly handled things. Unfortunately this is pretty confusing because their official policy does not allow for things like delays in transit and they also reserve the right to reschedule the arrival of your order earlier or later "to prevent delays based on operational conditions." You can read the full shipping policies document for their official position. To help reduce the chance of items not arriving in time, they do recommend that you place orders 2+ days in advance of any individual event such as a birthday party or in our case the first BBQ get together with our friends since before the pandemic. Most Goldbelly products will be able to keep in the fridge for 5-7 days or in the freezer for up to six months.
Additionally, if you have questions you should consider contacting Goldbelly or the restaurant directly to inquire about packaging details.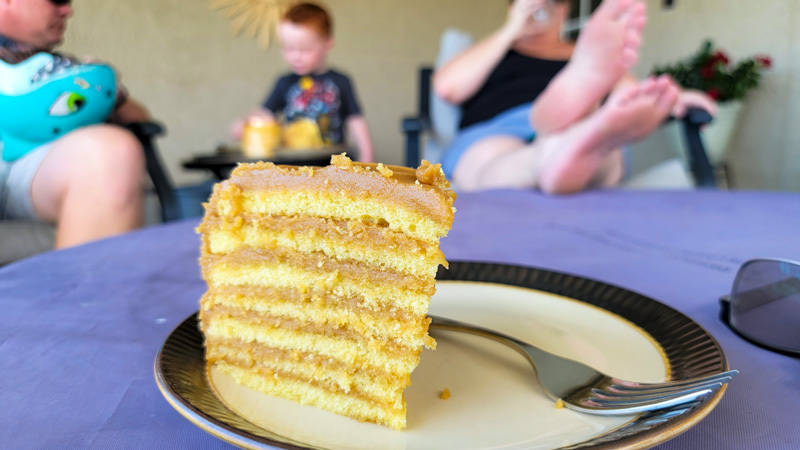 In our experience, packaging quality varied significantly but Caroline's Cakes and Derek Allan's Texas Barbecue were the clear winners. Caroline's Cakes in particular did an spectacular job in both protecting the cake from any damage during transit as well as keeping it nice and insulated along the way.
Shipping anything perishable is a challenge though. This is something you should expect - regardless of whether you are shipping flowers, chocolate covered strawberries, oysters, or BBQ.
However, despite their draconian sounding official refunds policy, I've been assured that Goldbelly will often extend refunds and/or reshipments when there is a significant issue. Not liking your cake or the person you sent it to is now on a diet would not be an excuse. However, product that doesn't arrive as expected is something that they want to resolve. Your experience may vary here so I'd recommend if you do have an issue to make sure it is well documented including taking photos so you can send those to their customer service team.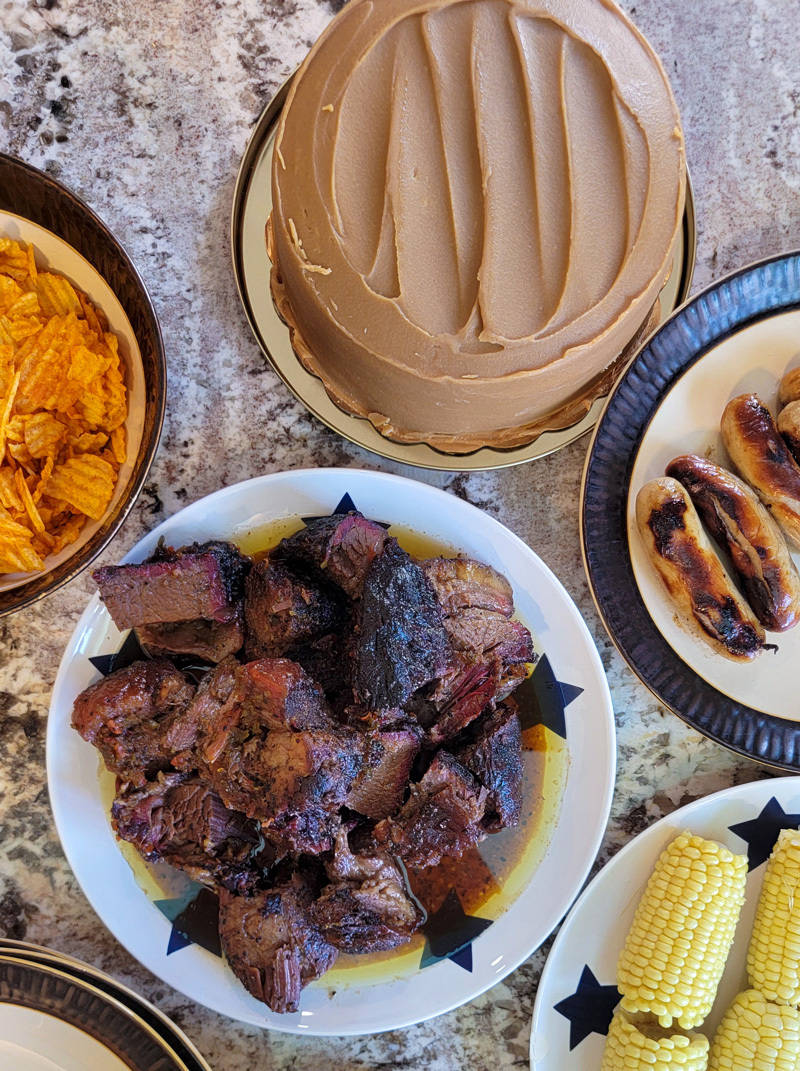 So How Was The Food?
I'm only going to talk about the 7-Layer Caramel Cake from Caroline's Cakes and Wagyu Beef Burnt Ends from Derek Allan's Texas Barbecue since those were absolutely exceptional.
Neither of these items is cheap - but it is exactly why I'll order from Goldbelly again. For instance, Wagyu Beef Burnt Ends is just something so extravagant and offers that juicy, fatty, smoky goodness that will make jaws drop. Likewise, the 7-Layer Caramel Cake was hands down the most amazing cake I've ever tasted.
Both of these items made us think of traveling to different places to explore new foods and unique interpretations of favorites. That's ultimately what you are paying for when you purchase something from Goldbelly. If you just want some brisket, go to your local shop. If you want something from a world famous location that would cost you thousands of dollars to visit in person ... well ... the hundred or so dollars to buy it on Goldbelly is almost a deal in comparison!
Make sure to use coupon code FindYourBELLY to save 10% off your first order.