Sometimes, as good as a restaurant might be - you need to visit for just one reason. At Wood Ranch BBQ & Grill, a regional restaurant chain with locations throughout Southern California, that reason is appropriately called "The Ultimate". Read on to find out why it is the ultimate BBQ sandwich!
Wood Ranch BBQ invited us to visit us for a dinner last night, but other than the meal, did not compensate us for this post.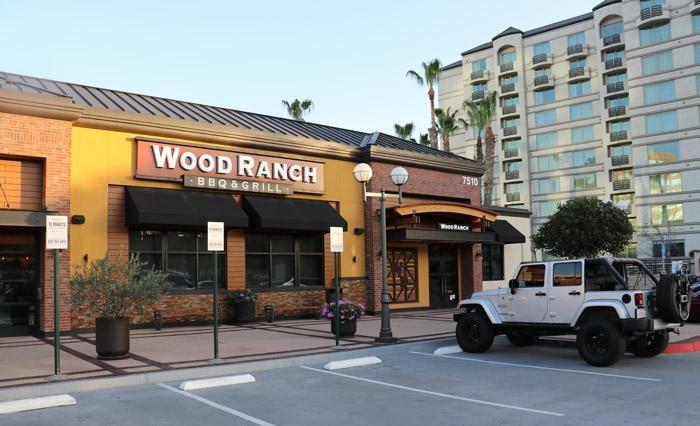 BBQ is a tough market to compete in. It's a discipline that requires soul and tradition. What I love about it though is that no matter where I travel, each region interprets it differently. American BBQ tradition is rich and varied. True to that, Wood Ranch takes inspiration from South Carolina, Texas, and other regions but mixes it up with California as well.
It was an interesting experience because quite frankly grilling and BBQ are two completely different forms of cooking. Here though, they smoke the meats and then finish them on a wood fired grill. Personally, I vastly prefer to low and slow smoky goodness of true BBQ but they do a pretty good job here.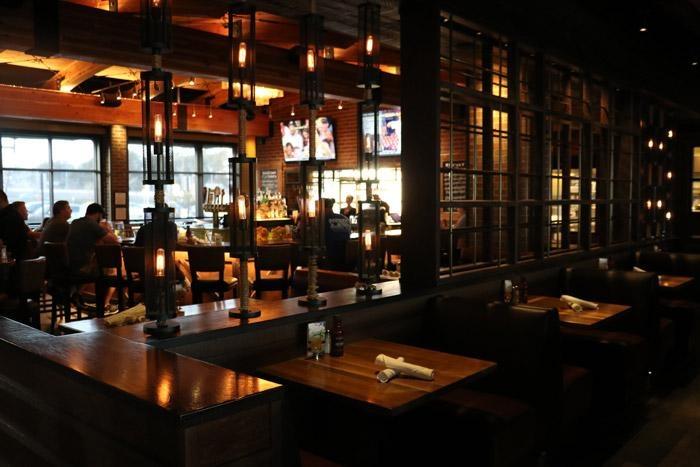 This Wood Ranch location in San Diego, has a dining room featuring booths as well as a large bar area. They also offer catering and takeout service.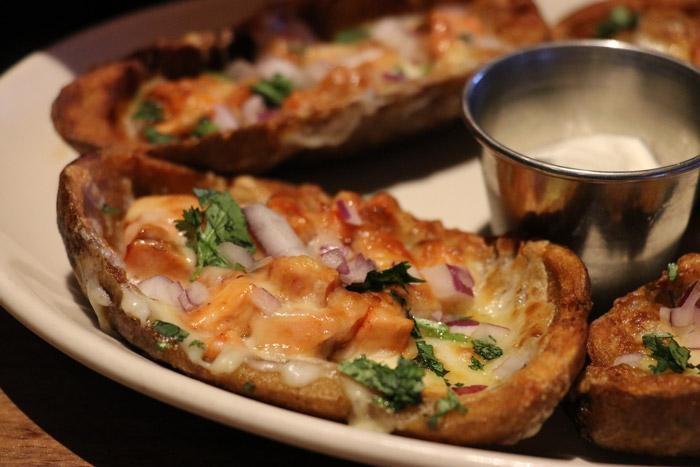 The manager and waitress both made sure to promote the house-made nature of most (all?) of their dishes. This included cocktails where they had several unique-to-Wood Ranch intepretations of classics as well as hard lemonades.
In the case of appetizers, I appreciated that while they had classics like "Killer Wings" they also offered BBQ Chicken Potato Skins. We ordered those, along with the "Famous Shredded Onions" to set the tone for our BBQ dinner.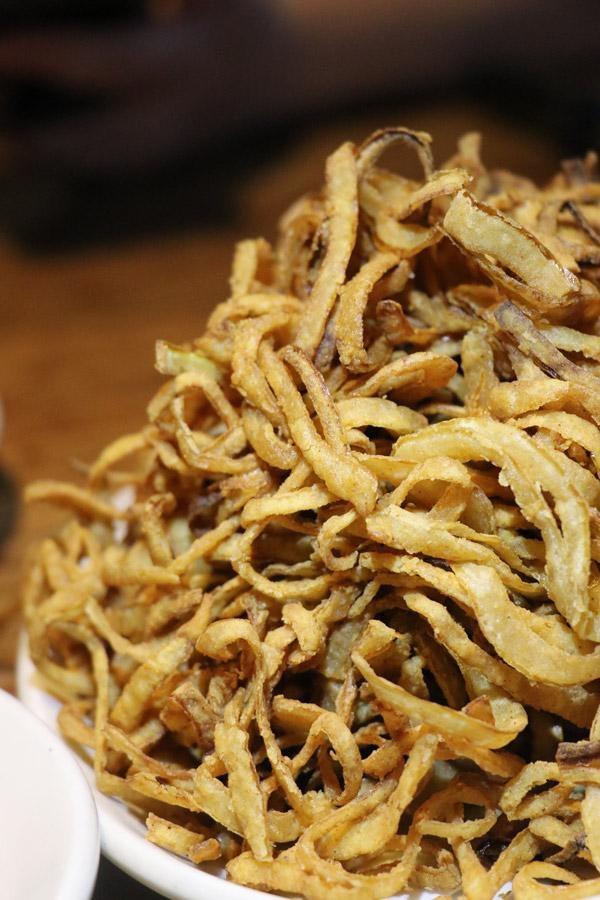 Both appetizers were delicious, but I especially enjoyed the potato skins.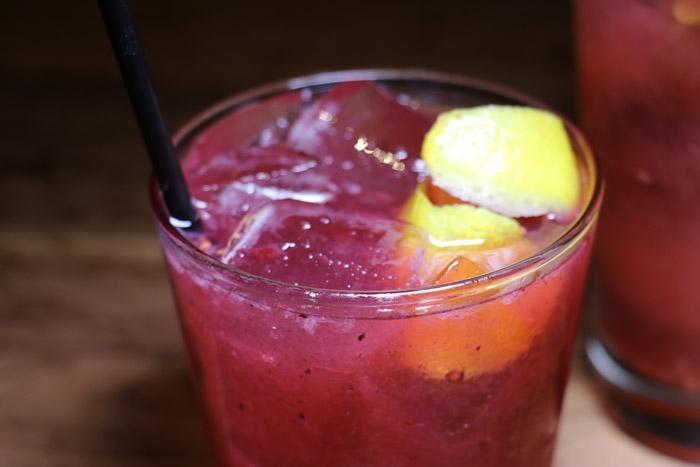 As you would expect from any restaurant in California, they had a very nice craft beer list with a mixture of San Diego and other regional favorites including: AleSmith .394, Modern Times Orderville, and Firestone 805. They also have a few of their own house brews including an Imperial IPA and a Honey Blond.
Tonight though, I was more in the mood for some cocktails to celebrate "National Gin and Tonic Day". So I ordered a Berry Gin Smash - Nolet gin, fresh blackberries and raspberries, lemon juice, and simple syrup with notes of St. Germain Elderflower liquer.
Heather ordered their Ranch Hard Lemonade with Cruzan Rasbery rum, house-made lemonade and fresh raspberries.
Both cocktails were excellently prepared.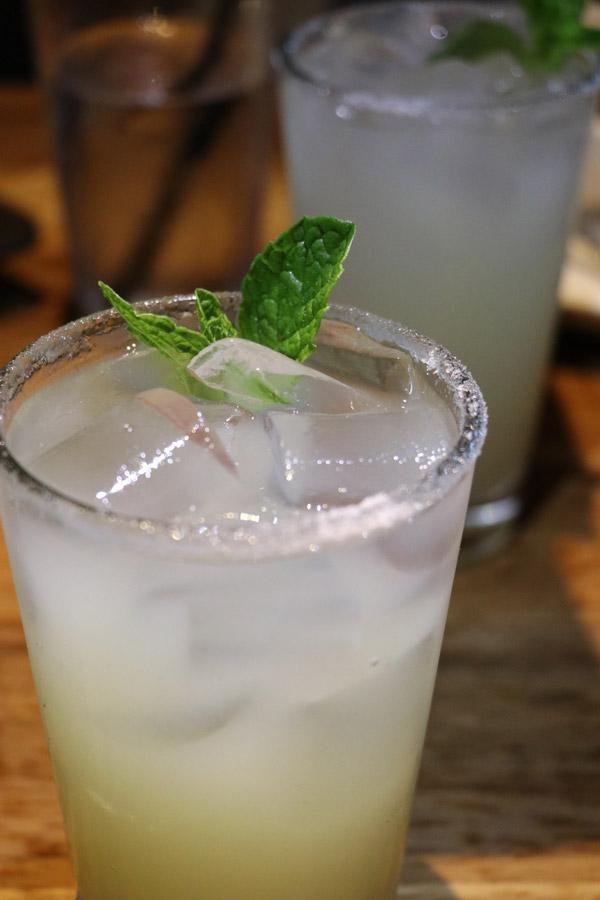 Next up, we both ordered their house-made lemonade and it was likewise excellent. While more expensive than the "on-the-gun" lemonade that other places offer, it was worth it.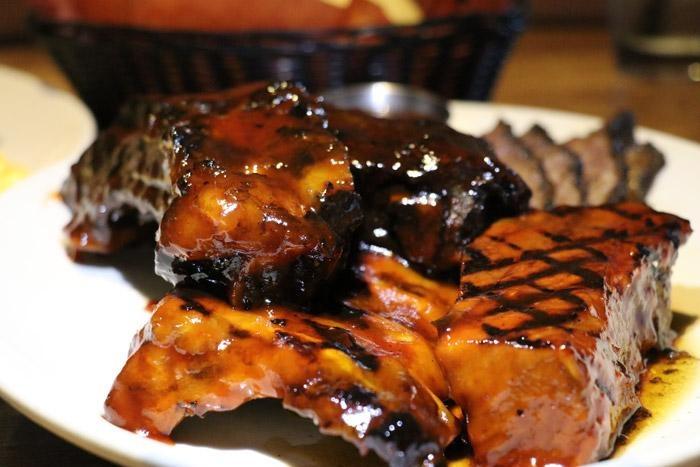 I had heard great things about their burgers and salads, but being a BBQ restaurant I needed to try the 'que!
They have a full menu of BBQ/Grilled favorites including: Tri Tip, Brisket, Pulled Pork, Chicken, Baby Back Ribs, and Beef Ribs. Or, you can choose a 2,3, or 4 item combo. Since we wanted to try a variety it seemed like that was the right way to go. The menu also includes grilled steaks and seafood too.
Personally though, while it tasted good - I wasn't a huge fan of the BBQ/Grilled preparation and I also prefer dry rub vs having everything covered in sauce. That's a personal preference though. Some people will absolutely love this and that's awesome.
Our combo included: Beef Ribs, Baby Back Ribs, Tri Tip, and Brisket.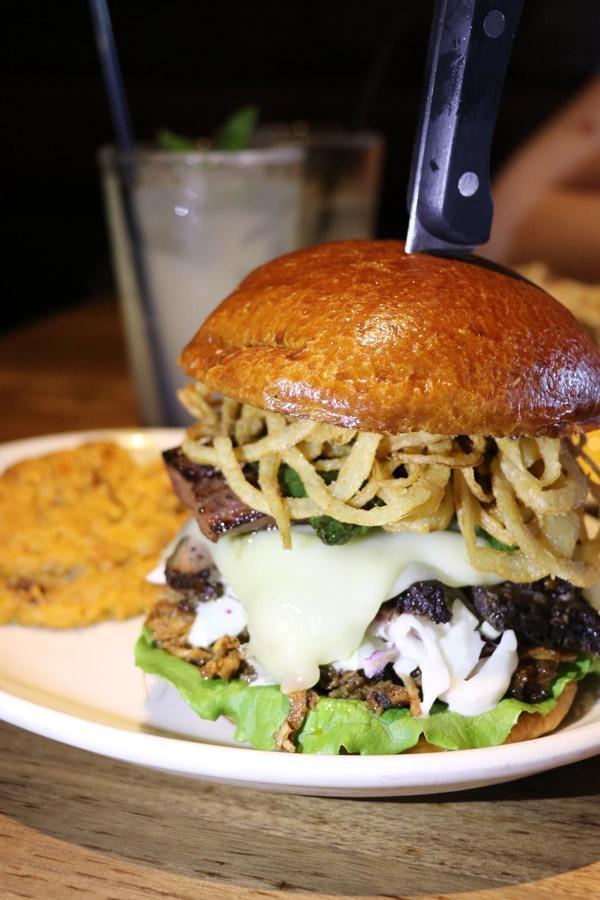 We also ordered their famous "The Ultimate" BBQ sandwich though and THAT was the clear winner here.
If you are looking for a sandwich that features everything you could possibly love about BBQ, here it is. The Ultimate sandwich at Wood Ranch includes: Pulled Pork, Slaw, Brisket, Swiss Cheese, Kielbasa, Charred Jalapeno, Shredded Onions, and a brioche bun.
It is a giant that even I had to cut it in half to eat. This will simply not fit in your mouth otherwise.
Simply put, it's a MAN'S SANDWICH!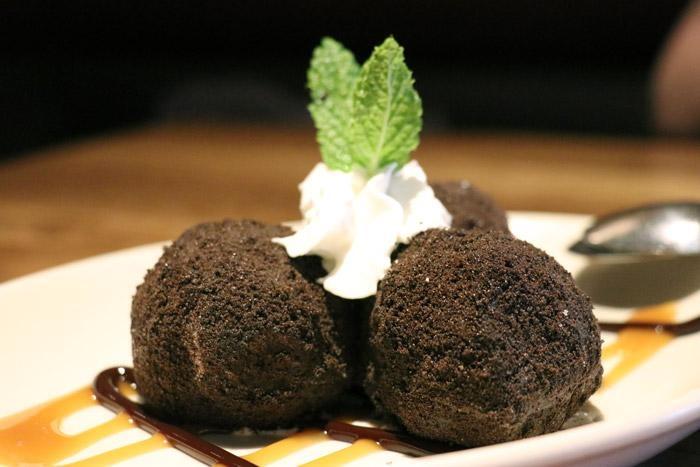 No BBQ dinner is complete without dessert and while everything on the Wood Ranch BBQ dessert menu looked delicious, we settled on the Oreo Cookie Crunch. This dessert included three balls of vanilla ice cream coated in Oreo Cookie Crumbs.
It instantly brought back memories of our childhood for both Heather and I. The combination of flavors was similar to what we remembered as the Oreo Dessert Bar from the Good Humor man.
Being able to invoke memories like that is ultimately what makes a dinner memorable.
Overall dinner here was a good experience and flavors and quality were all very good. While I wasn't a big fan of the grilled BBQ style at Wood Ranch, I look forward to going back and trying more of their sandwiches or a steak. (and another order of the Oreo Cookie Crunch too!)