If you are looking for a fun and unique gift idea for your favorite foodie then I can think of few ideas that are more fun than sending them a pink pineapple. Yes, I said it ... this is a pink pineapple and it is juicy and delicious plus it comes in a great gift pack to keep it safe during transit.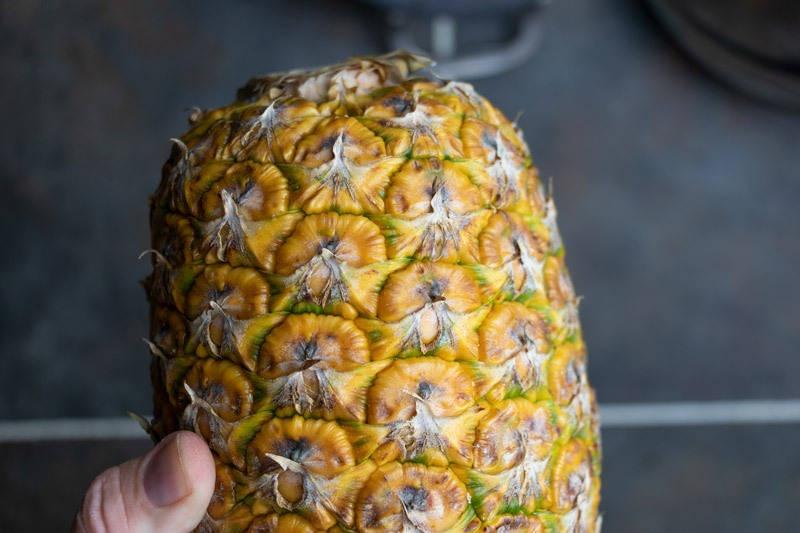 On the outside, it looks like any other pineapple though somewhat disappointingly Del Monte trimmed the green top - or maybe Pinkglow pineapples don't have them like traditional pineapples that you find in the store. Either way, by doing this it makes it far easier to ship and the box that it came in was very nice and compact with perfect packaging that included ice packs on the bottom and cardboard spacers on the side along with padding to keep the precious cargo safe.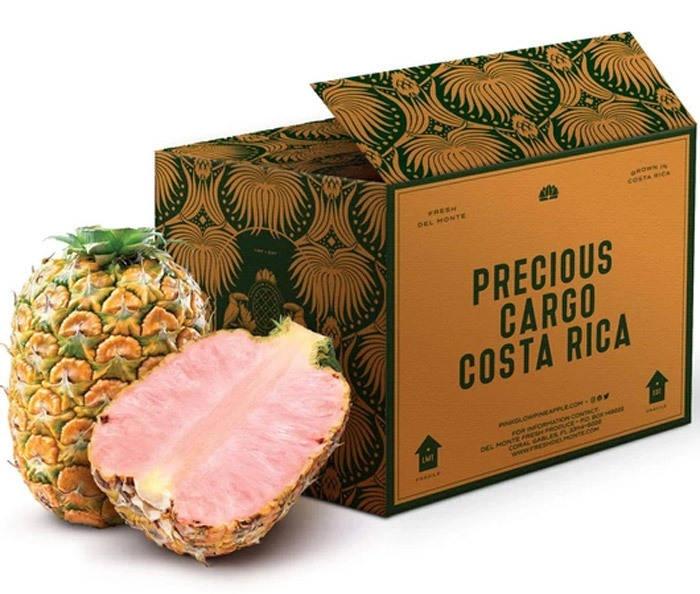 Another nice touch is that the outside of the box had a nice green design that even though not wrapped like a present, was far more interesting to receive as a gift than simply something you ordered off of Amazon.
How Does A Pinkglow Pineapple Taste?
While the novelty of sending a friend a pink pineapple is probably a sufficient reason to purchase this Pinkglow pineapple, you know it has to taste good too.
I found that the pineapple flesh was far juicier than a traditional pineapple that you might find in the store and a bit less sweet as well as less acidic. While it was clearly pineappley, I felt like it had something another element in there too such as maybe a subtle strawberry type note though Del Monte's TropicalFruitBox.com site describes it as having a "cotton candy finish" and I can't say I disagree with that assessment.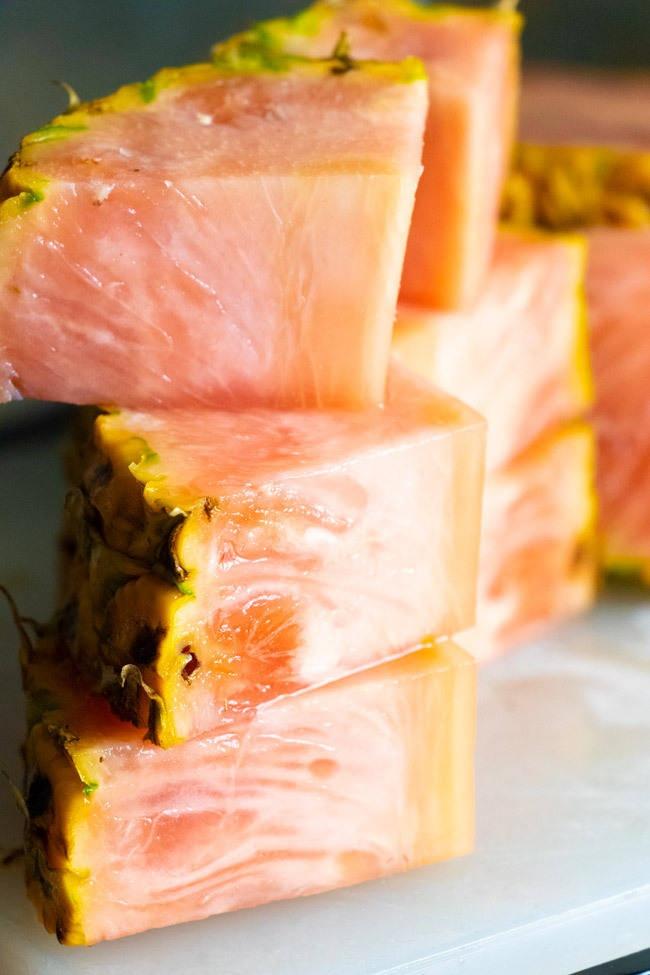 How Did Del Monte Create a Pink Pineapple?
This "Jewel of the Jungle™" is produced in ultra-limited harvests, uniquely and specially grown by the expert growers at Fresh, and is found to be both juicier and sweeter than a traditional pineapple. With a delicious and completely unique taste, the Pinkglow™ Pineapple boasts notes of candy aromatics and is sure to delight consumers of all ages. Boasting a distinctive beauty from the moment it is sliced, this treat is perfect for transforming a pina colada into a pink-a-colada and for so much more. Grown in the exotic Costa Rican jungle, this exclusive product, sixteen years in the making, is one-of-a-kind and perfect for a hostess to serve as part of a festive party cocktail, as a delicious dessert all on its own, or even to give as a gift to the person who will now truly have everything.
Pinkglow™ Pineapples, which have been in development since 2005, are grown on a select farm in Costa Rica, and take up to 24 months to produce. Fresh's two largest farms are certified sustainably grown by SCS Global Services. Pinkglow™ Pineapples are harvested by hand with their crowns replanted to increase the volume of crops and reduce waste. The Pinkglow™ Pineapple can currently only be purchased online and will be sent direct-to-consumers nationwide in the United States for consumption. Each elegantly packaged treat is over-the-top and perfectly pink, created to enhance dishes and Instagram feeds alike with its splendor. While consumers will open their packages to find the Pinkglow™ Pineapple without its crown, Fresh can ensure that it will be removing and replanting each crown before shipping, sustainability cultivating the next crop of this magnificent rarity.
How To Get Your Very Own Pinkglow Pineapple?
While these make a perfect gift for someone else ... it would also be a fun change of pace if you are tired of the same old same old at home too. At $49.00 vs $2-3 for a standard pineapple at the grocery store this is absolutely a premium purchase but right now, how can you put a price on a smile that this will give yourself when you cut into it or a friend who needs a pick-me-up!
To order a Pinkglow Pineapple, visit Del Monte's TropicalFruitbox.com and place your order.