Most Americans unfortunately only have a vague understanding of what Philippines is all about. The country is so off the radar when it comes to mainstream tourism, that it's likely you won't even consider going there on your next mancation. This is really a shame, since going to beautiful undeveloped countries opens up a ton of possibilities to have fun and enjoy a very special holiday. Plus, you'll find that your money goes much ... much farther than more popular spots.
If we have to sum it in a single sentence, the Philippines is all about stunning beaches and exciting wildlife adventures.
Thing is, that hardly does the country any justice since it has so much more than to offer to guests. If you stay flexible and fairly spontaneous then the sky's the limit to what you could there. Ever wanted to travel to a place where you'll feel like the king of the world? The Philippines offers you just that!
Since everything is so cheap and people are so friendly and accommodating, you can do pretty much anything you like. Below you'll find some pointers and ideas that can help you start planning your visit to this unique country. We tried to include all the traditional tourist spots and attractions, while still giving you some ideas on how to make your vacation extra special. If you need a point of reference, just imagine how Thailand used to be 30 years ago before it was spoiled by the hordes of tourists roaming around everywhere.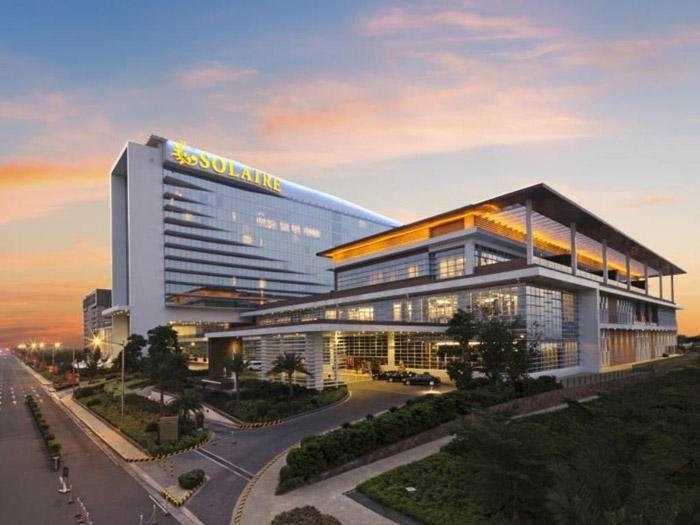 Exploring Manila's Nightlife
Manila is the center of everything and the best place to be if you want to have fun during the night. This is a city that never sleeps and there's always something interesting going on. There are 3 main areas for nightlife: Makati, BGC in Taguig City and Malate. The first 2 are extremely safe – these are the posh areas of Manila and you can go around drunk in 3AM in the morning with no danger at all. Malate is sleazier so better to exercise caution – just don't go anywhere by yourself and you'll be perfectly fine. Manila bay is another option, if you prefer to blend in with the locals rather than going to tourist-oriented bars and clubs. The whole area near Mall of Asia is quite nice – there are many good places to eat or grab a beer while looking at the ocean. Not from there, you can find the Solaire Casino and resort – an establishment which doesn't fall short of the famous casinos in Vegas or Macau. This can also be a good option for a guys's night out.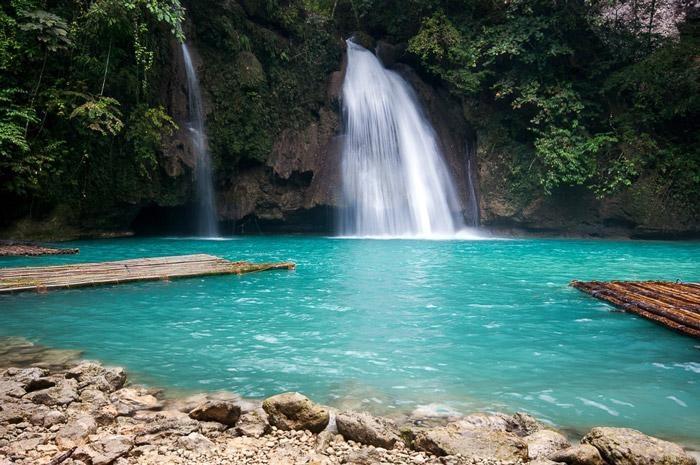 Canyoneering in Cebu
Cebu is one of the major islands in the Philippines and you should strongly consider spending a few nights there as part of your holiday. Cebu city is the 2nd largest in the country and nightlife there is very good. There are plenty of hotels to choose from, great shopping malls and quite a few attractions and historic monuments in the city itself. The real adventure however lies in 2 hours away from the city, near the beautiful beach town of Moalboal. From there, you can start a 4 hours long trek through the jungle, following the river all the way to the spectacular Kawasan Falls. This trek is of medium difficulty and involves rappelling, cliff jumps and generally crawling and climbing your way through the creek. The reward in the end is worth it – you'll get to visit the Kawasan Falls which are one of the most impressive waterfalls you've ever seen. Do it the right way – with an exciting adventure leading up to the falls themselves, and the whole experience will be so much more special. The canyoneering tour is provided by Filipino tour operators for a fairly cheap price, but we recommend booking through one of the foreigners living there for a much safer and professional service.
Jungle survival training
This is a very unique tour only offered near Manila and Cebu. It's kind of an underground experience and you'll have a pretty hard time finding or booking it online. Philippines travel packages offers it as a part of their service so shoot them an email and ask about this adventure. It all started when U.S based forces needed jungle training before going to fight in Vietnam. From there, a tradition rose and is carried out until this very day. The purpose is to teach you how to survive on your in the jungle with nothing but a machete. Is there anything more hardcore or manly than that? Since this tour is so unregulated you can choose to do it pretty much any way you like to. People usually go for 2-3 days but longer treks are definitely possible. You will have a local experienced guide with you the whole time, and the city is always just a short distance away should anything go wrong.
Big game fishing
There aren't many better ways to relax and have fun then going fishing with your mates. Big game fishing in the Philippines isn't so well developed, but there are some pretty exciting options. The main benefit is how cheap the whole thing is – you can rent a private yacht, with licensed boatman and a guide, unlimited amount of beers and snacks for less than 300$. What about lunch you ask? Well, try and catch it yourself! The oceans of the Philippines are scientifically measured to have the richest marine diversity. Large school of fish are everywhere, and your chances of finding really big ones are quite good. The best place to do it is in Cebu island, just because the tour is quite organized and it will be hassle free. More advanced fishermen might prefer Siargao though, since there are much better and bigger catches over there.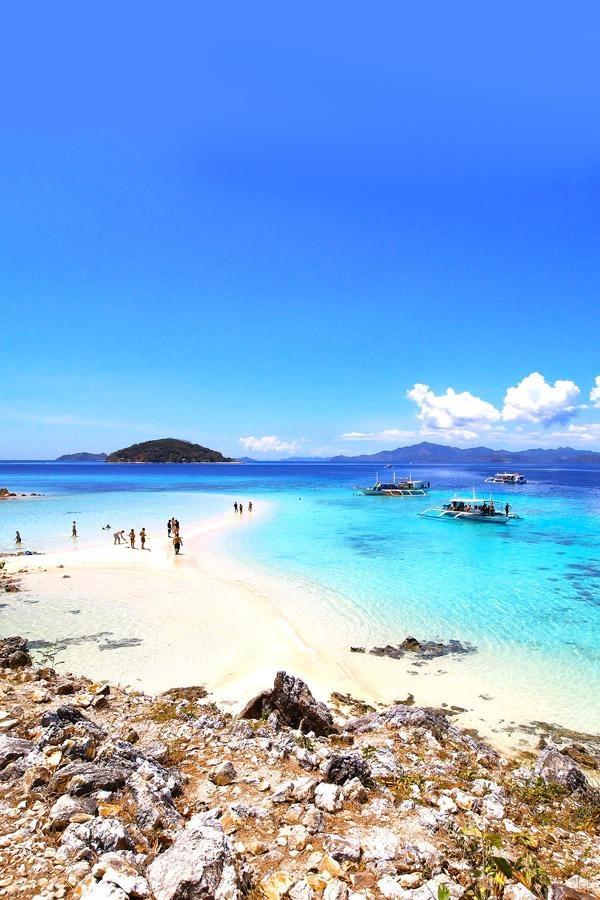 Overnight camping on a small remote island
If you are a fan of camping outdoors then this is something you shouldn't pass on. It's a true castaway experience, being alone on a small tropical island with just your loved ones to keep you company. Considering the fact you'll be staying at one of the most beautiful islands in the world, it's easy to understand why this is just a wonderful idea. Island camping is usually done in either El Nido or Coron. Both are in Palawan island, which has been voted the best island in the world for 3 years in a row. This is a chance to experience this beautiful place in a way most tourists don't get a chance to. You'll spend the night on a remote island, completely cut off from civilization, before going to see all the famous nearby attractions on the following day.
World's best diving spots
As mentioned, the Philippines is the place with the richest marine biodiversity in the world. This means that professional divers from all over the world come there, and the diving scene is highly matured and professional. Even if you never dived before, this is the perfect place to try it out for the first time. The island of Bohol is the perfect choice for beginners since the dive clubs there are world class and the nearby islands are simply breathtaking. You can start your day early by going dolphin watching, then make your way to the Balicasag marine sanctuary – where you can dive in the coral reefs and even have a huge chance of seeing sea turtles roam by. No certificate is required as you can do this as a 'Scuba discovery' course instead. More advanced divers should really consider booking a diving safari. These liveaboard tours last anywhere between 3 to 7 days and are the ultimate diving adventure. These safaris are available at many different locations, but the best place to take it is Tubbataha Reef. The boat leaves form Puerto Princesa in Palawan and takes you to one of the best diving places in the whole world. Standard boats are pretty decent, but you can always go ahead and book a luxury package to Tubataha instead.
Private island romantic getaway
Ok, so not for a guys getaway but the Philippines also has a lot to offer if you are travelling with your wife or girlfriend. It's not all about adventure and undeveloped rural areas. Some islands are also home to world class 5 star resorts, and the best thing is these are much cheaper than in other Southeast Asian countries such as Thailand, Bali or The Maldives. For the most romantic hotels the best choice is to stay at a private island resort. This is the ultimate all inclusive vacation where all your needs and desires are being taken care of. You don't have to lift a finger and can focus on relaxing and having fun with your better half. The best place to find such hotels is in Palawan. Both El Nido and Coron offer some really exciting resorts to stay in. Prices for an all-inclusive stay start at 500$ per night – but these already include all tours, resorts activities and of course a full board stay. If you're looking for something extra special, check out the Amanpulo island resort. It is significantly more expensive but standards there are truly world class – so it's perfect for honeymooners who want something extra special.