They say that New Mexico is the "Land of Enchantment" and as it's capital city, you'd sort of expect to have a dynamic and unique place filled with enchantment. Guess what? It is! While I expected to find plenty of fine art galleries and good food I was surprised by just how much fun the city was and that there were other elements that drew me in and make me dream of returning again soon. For instance, along side world-class artisans and galleries of fine art - you'll also find giant sculptures of robots and dinosaurs.
This was one of my favorite stops on our #LetsGoPlaces road trip sponsored by Toyota since it was the first time I've visited New Mexico and there was so many interesting things to take pictures of.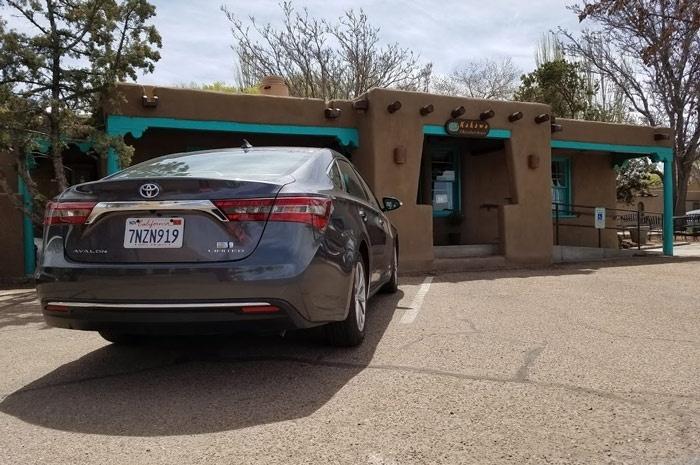 Our first stop was the Kakawa Chocolate House. Earlier this year, Visit Santa Fe had brought us some chocolates from here and so we've been craving it since then.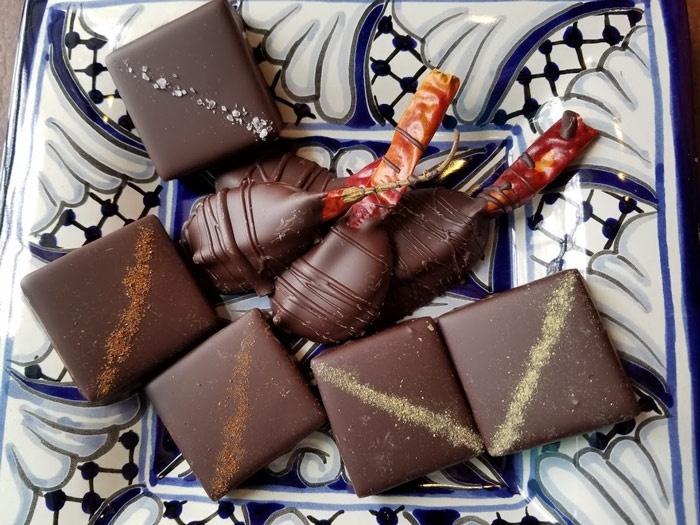 Not only do they have fantastic chocolates but they specialize in their Elixirs - drinking chocolates that include "European" style as well as "Native American" styles that tend to be less floral and more bitter with hints of chili and spices. Absolutely the perfect thing to wake you up in the morning and put you in the mood to explore this fantastic town.
Santa Fe is just oozing incredible artistic talent and creativity. While I expected the galleries and artisans, I was impressed with the quality, prices, and approach-ability. While I've encountered my share of vendors, these guys at the Palace of the Governors and their non-Native American associates across the street in the Plaza were cordial and not pushy. Definitely a great opportunity to walk through and take a look even if you aren't intending to buy anything right that moment.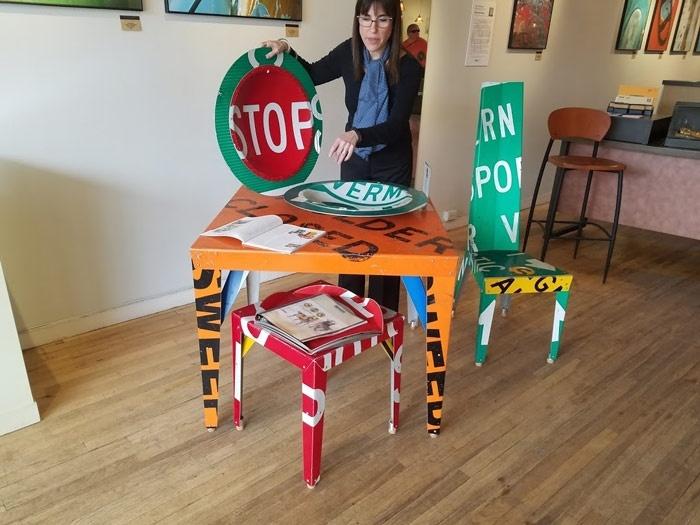 Down the street from the Palace of the Governors is West Palace Ave where you'll find a variety of art galleries and shops including the Patina Gallery where I found these amazingly cool furniture pieces constructed from reclaimed street signs. They have some great stuff ranging from fantastic jewelry that Heather loved looking at to a great new exhibit by Jack Parsons titled "Bugs and Buses". It features photos of iconic Volkswagons and while that might be hard to imagine, it's cool and you should check it out!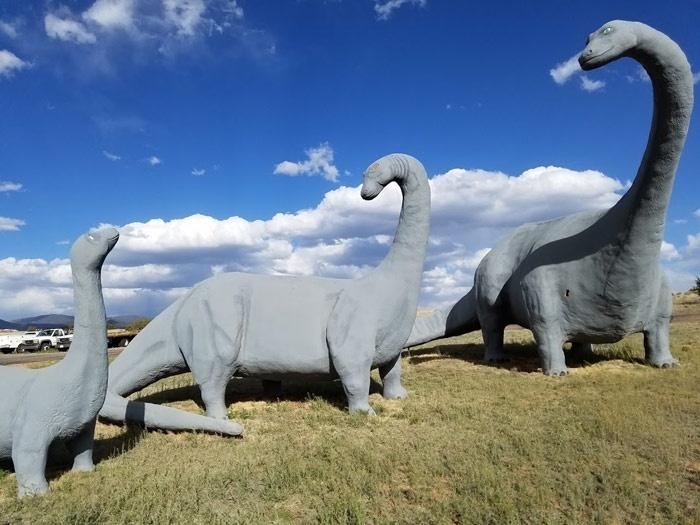 While our morning was focused mostly on the traditional arts and "finer side of culture", our afternoon was anything but! Santa Fe is definitly not a stuffy place and they definitly can let their freak flag fly. This includes this family of life sized brontosauruses.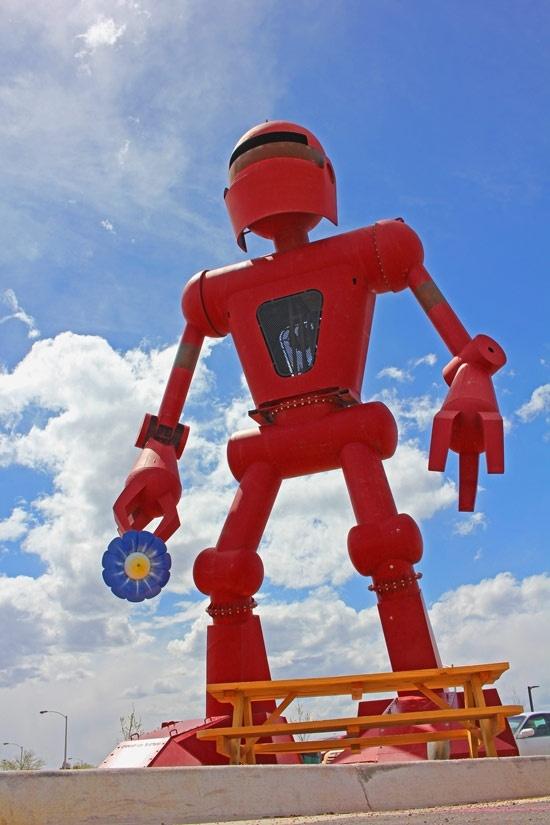 And Becoming Human - this gigantic robot holding a flower that stands guard in front of Meow Wolf, an interactive art complex / adult children's museum. For some reason we didn't go in here since we didn't realize how cool it was until it was too late. Plus, honestly we were so enamored by taking pictures of metal wolves, giant robots, and spooky mechanical spiders that it didn't dawn on us that there would be cool stuff inside too.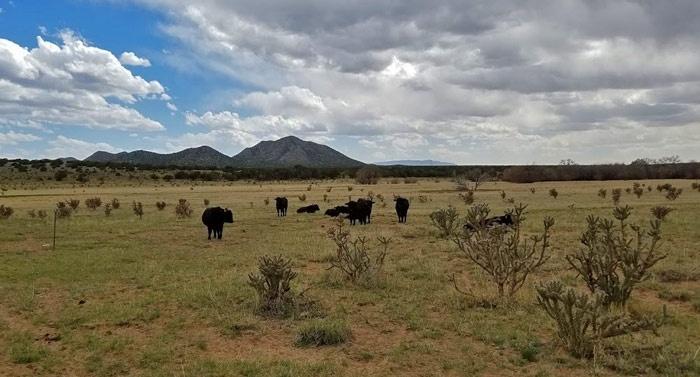 So, after these giant sculptures we wanted to check out some of Santa Fe's movie history. Just south of town is Santa Fe Studios which has hosted some recent productions including House of Cards, We're The Millers, A Million Ways to Die in the West, and Longmire. While there aren't public tours there, the Bonanza Creek Movie Ranch does offer periodic tours but you should contact them to find out more as it's not exactly a posted schedule.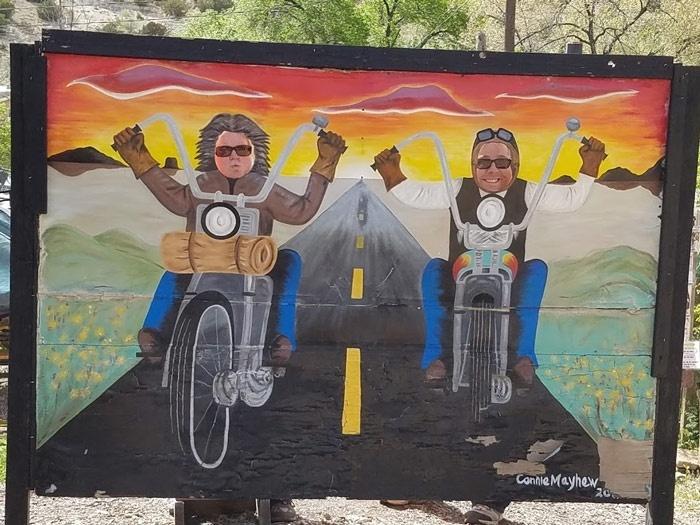 However, continuing south you'll find Madrid, New Mexico where Wild Hogs was filmed. This was a ghost town that's now an artist colony and you can drive through the same streets as Tim Allen, John Travolta, and Martin Lawrence did. While you are there though, make sure to stop by Connie's Photo Park and explore the dozen or so photo cutouts available.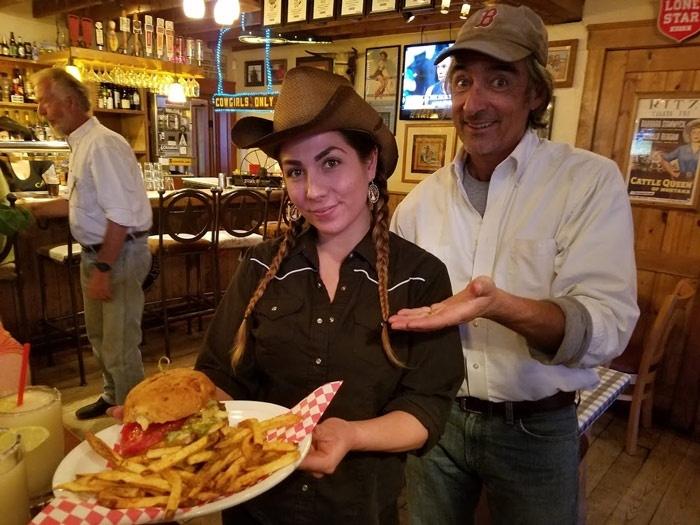 After a long day exploring Santa Fe though, it's time go grab dinner. While there are numerous fancy restaurants I was impressed by the quality of "normal food" and their level of accommodation for Heather's food allergies - Gluten Free and Dairy Free isn't an easy one. However, every place we went was both understanding and knowledgeable about providing options.
This included Cowgirl BBQ in Santa Fe, home of "The Mother" Green Chili Cheeseburger and some damn fine margaritas. This incredible burger features a patty inspired in part by Slater's 50/50 from Southern California that is a blend of beef, buffalo, and bacon then grilled and topped with melted brie, truffled green chili, tomato, and placed on a cheddar and grilled chili bun. To top it off, it's served with a generous accompaniment of hand-cut truffle fries.
While not the only place we tried margaritas theirs were certainly delicious but watch out because you're drinking at 7,200 feet here and the police are EXTREMELY strict.
Overall, Santa Fe was an incredible experience and I can't wait to return again later this summer to explore more!