For those of you who are baseball fans, there's nothing like making a trip to Spring Training in Phoenix. For six weeks each spring, this oasis in the desert plays host to 15 MLB teams and it's possible to see all of your favorite teams just a few minutes drive from your hotel. When you combine that with the phenomenal spring weather, great golf, and fantastic food this is a MUST DO guys weekend for anyone who loves baseball!
Things work a bit differently during Spring Training, so it's important that you plan ahead to make sure you get the most out of the experience.
Grab a Map and Plan Your Schedule
Even though these games are all in "Phoenix" it's actually a huge area that is spread out across several smaller cities. As a result, you'll want to know exactly where your favorite teams are located and then pick a hotel near there - or between them. For instance, the Padres and Mariners play in Peoria which is about 45 minutes from Scottsdale where many of the resorts are located. However, the Giants, Diamondbacks, and Rockies all play in Scottsdale itself. Other teams play at various other cities across the valley.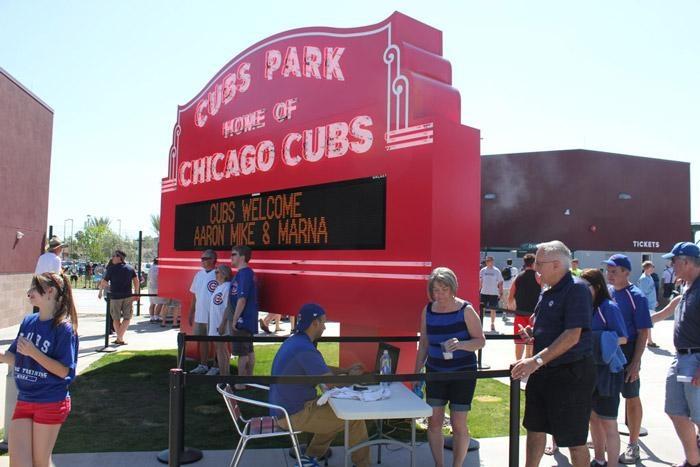 Most of these parks are designed not just as stadiums but truly to celebrate the teams and the hardcore fans that are loyal enough to travel to see them play here. Make sure to look for these special opportunities to cheer on your favorite teams such as favorite regional beers and opportunities to take photos with fan icons such as the Wrigley Field sign when you visit Cubs Park (Sloan Park) in Mesa.
Stadiums Where Spring Training Teams Play
Glendale ( Camelback Ranch ) - Chicago White Sox and Los Angeles Dodgers
Goodyear ( Goodyear Ballpark ) - Cincinnati Reds and Cleveland Indians
Mesa ( Sloan Park) - Chicago Cubs
Mesa ( HoHoKam Stadium ) - Oakland Athletics
Peoria ( Peoria Sports Complex ) - San Diego Padres and Seattle Mariners
Phoenix ( Maryvale Baseball Park ) - Milwaukee Brewers
Scottsdale ( Scottsdale Stadium ) - San Francisco Giants
Scottsdale ( Salt River Field at Talking Stick ) - Arizona Diamondbacks and Colorado Rockies
Surprise ( Surprise Stadium ) - Kansas City Royals and Texas Rangers
Tempe ( Tempe Diablo Stadium ) - Los Angeles Angels of Anaheim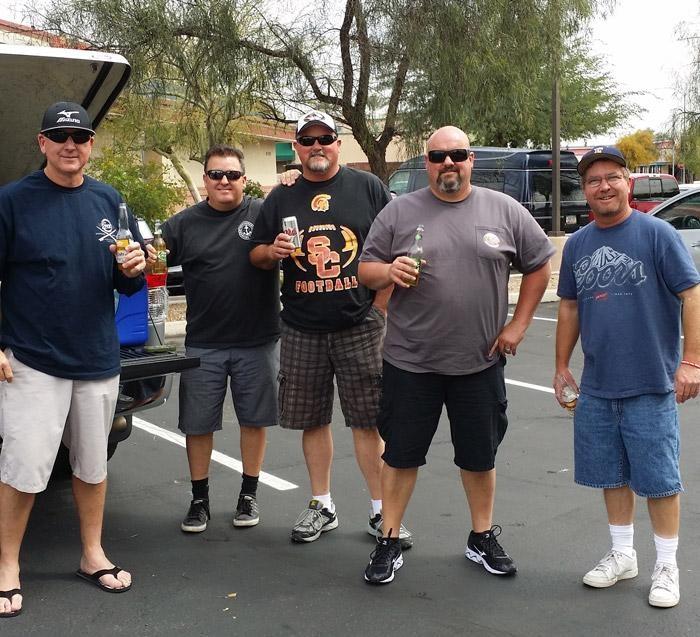 Tailgating Can Be Awesome Way To Celebrate Before the Games
While nothing can compare to the legendary tailgates at college football games, Spring Training stadiums present a great opportunity to throw a fantastic party too. One of the really nice things is that typically the parking lots aren't a long walk from the stadium entrance. With the average stadium capacity of just over 10,000 fans (Sloan Park at 15,000 is the largest), it also means that after the game is over that you can walk back to your car and party some more. However, please note that Arizona is a zero tolerance state where you can still be arrested even if your BAC is less than 0.08% so make sure you have a designated driver and that all beverages are packed away while driving.
Not All of Your Favorite Players Will be Playing
Part of the fun of Spring Training Games is that it gives the new guys a chance to play and more importantly prove to the coaches that they are ready for "The Show". While you will see some of your favorite stars, chances are that some of them won't be there.
Many Teams Actually Play Multiple Squads
The first time I went to Spring Training, I got super confused because you'll notice that sometimes the same "team" has two different games in the same day against different teams. This is what's called a "Split Squad" because it's not the entire team, but rather a split to allow more guys a chance to prove themselves.
What To Wear For Spring Training Games
Weather in Phoenix in March is typically in the 60's and 70's during the day but can be chilly at night since it is the desert. Everything is casual here and you'll be fine wearing a tee shirt and jeans or shorts. Make sure though to bring a hat and sunglasses. Even though the weather might not be that hot, the sun can be extremely bright. You should also pack a windbreaker or blazer to go over your tee shirt to stay warm in the evenings.
While I usually wear flip flops during the day, make sure to have close-toe shoes - preferably not just sneakers if you plan to explore the nightlife options. Most bars and casual restaurants though will be fine with flip flops though.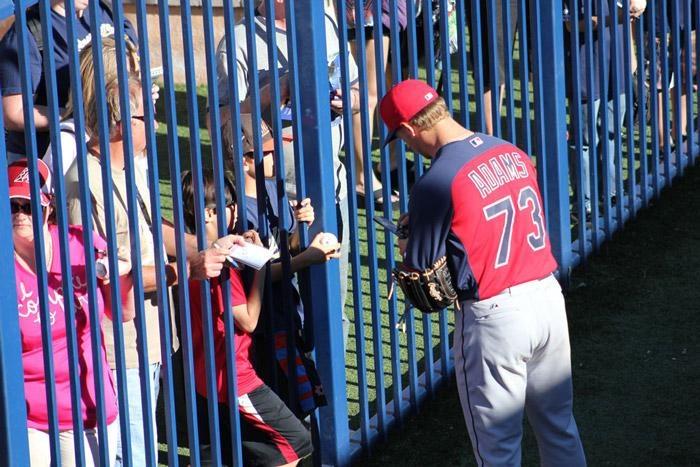 Spring Training is a Great Opportunity to Meet Players
You never know who you are going to meet but virtually everyone I know who's been to Cactus League Spring Training has met or at least seen a player off the field. You'll find them at bars and restaurants as well as stores shopping, but the best place to meet them is right before or after the games. Most of the stadiums have a place where you can stand behind a fence and see them as they walk by.
This is also a great opportunity to get autographs as well as shake their hands. While you will see some stars of today - you are just as likely to see a star of tomorrow. These guys know how the game works and fans are an essential part of their success. So, just because you've never heard of a guy before - make sure to still cheer him on, shake his hand, and get his autograph since this might be the year he makes it big!
Phoenix Traffic Can Be a Nightmare - So Get to the Game Early
Phoenix is a huge city with a metro area of more than 4.5 million people. That's a lot of cars! Traffic can be really bad sometimes, so always give yourself extra time to make sure you don't miss any of the action.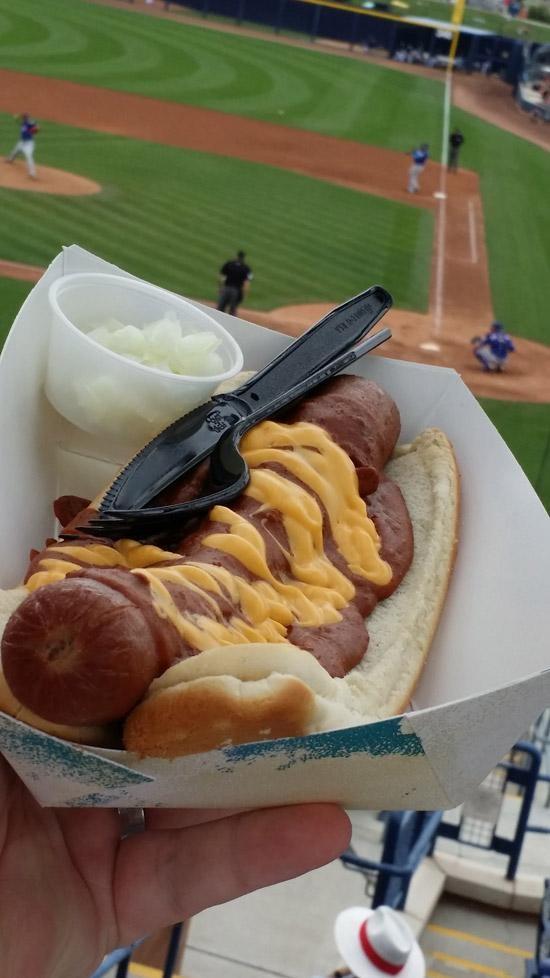 Make Sure to Eat Right
Most of the time, it's OK to splurge at a baseball game and go crazy with that giant chili cheese dog, garlic fries, and a huge beer. With your Spring Training Guys Weekend though, chances are you are going to be doing this for 3-4 days in a row and that's gonna be tough on your system. When you combine that with long periods of sitting down, a hectic schedule, and stadium bathrooms that's a recipe for disaster.
Make Your Spring Training Guys Weekend Complete By Making It More than Baseball
Phoneix has tons of great activities for guys such as golf, spas, breweries, racing experiences, and plenty of nightlife to keep you going all night long. Some of my favorite picks would include doing a driving school or fantasy car experience at the Arizona Motorsports Park, a visit to TopGolf, and then wrap up the night in Scottsdale where you'll find everything from dance clubs to country dive bars.
Of course, you also need to take care of yourself so I always encourage guys to try a spa treatment such as a massage or a facial so you can come home relaxed and ready to face the real world again!