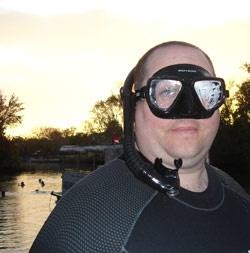 Imagine coming face to face with an endangered animal who's ancestors have been mistaken for mermaids by horny sailors.
Well unfortunately manatees look nothing like mermaids, but it is still a fantastic experience interacting with these friendly 800-1,000 pound creatures. This is especially true because of the expert guide at Bird's Underwater who knew exactly the time to go out, had fantastic stories to share, and most importantly where to go for the best experience.
Bird's Underwater is located in Crystal River, Florida, about 1.5 hours north of where we were staying in St. Pete Beach at the Tradewinds Sandpiper Resort. Considering the fact that the Bird's requires everyone to arive at their dock at 6 a.m. I was initially a bit skeptical that the experience would be worth doing. After all, who wants to get up at 4 a.m. on vacation.
However, I am more than happy to report that it was ABSOLUTELY worth it!
About Bird's Underwater: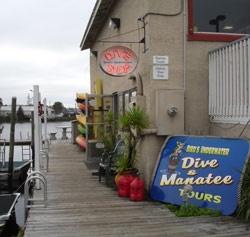 Bird's Underwater is operated by Bill "Bird" and Diane Oestreich (pronounced like Ostrich) who have been running manatee tours in Crystal River since 1989.
In addition to Manatee Tours, they also offer Scuba Certification Classes, Scuba Tours, Cave Diving, and Kayak Rentals. Bird's also has several rental homes available if you are looking to make Cystal River the center of your guys weekend.
Our Manatee Tour Experience:
After arriving at about 6 a.m. we went into their orientation area where we signed various disclaimers, changed into our suits and wet suits. The springs are warmer than the ocean (which attracts the manatees), but wet suits make the experience much more comfortable and add buoyancy too.
Bird's does rent fins, snorkels, and dive masks, but you are more than welcome to bring your own as well. I bought the travel-friendly set that Body Glove sent me for our gift guide last month.
The final step before departing is to watch an orientation video so you better understand how to interact properly with the manatees and why these awesome creatures are endangered.
The we set off on the boat ride to Three Sisters Springs. Bird's tries to always be the first out to the springs so that their guests get the best, uncrowded experience. Also, as more people are in the water stirring up silt on the bottom the visibility gets less and less.
On the way we experienced the most amazing sunrise that I have ever had the opportunity to witness.
Our tour had about 10 people including our guide, Chris Senetra.
Upon arriving at the Three Sisters Springs, it was immediately clear why this area is called Crystal River. The water was as clear as the water that comes out of your tap at home (possibly more so, depending where you live). If you aren't into swimming with the manatees you can still enjoy the experience from the boat itself.
We spent about two hours in the water and had the opportunity to interact with several manatees though mostly it was the baby's that were playing with us while the adults stayed in the sanctuary area where we were not allowed to swim. I am told that this is typical as the younger manatees tend to be more curious about humans. Also, the day we went was fairly cold and so the manatees were less active.
Especially in winter, you should call Bird's to make sure that they are open. As I write this (Jan. 2010), the National Fish and Wildlife Administration has asked that tours avoid this area because of how cold it is.
During our time in the water, we had a chance to explore the area, watch as the manatees fed and played with the anchor line of our boat. In addition, the manatees on several occasions swam right up to me, rolled over and let me pet its belly - just a like a giant underwater puppy.
While Bird's certainly doesn't have the exclusive on the concept of crystal river manatee tours (and you can even rent or bring your own boat), I can honestly say they took great care of us from start to finish. This included providing a good amount of manatee education as well as even providing hot coffee and donuts for the ride back to the dock.
Other people on our tour had been with Bird's before and one person liked their previous experience so much that this was the fourth year in a row that they had visited.
Pricing (as of Jan. 2010):
Manatee Tour: $35
Wet Suit Rental: $12
Snorkel, Mask, and Fins Rental: $8
BTW for those big guys (like me), don't worry, Bird's provides up to 5XL wet suits.