Thinking of planning an unforgettable vacation with your son? The Florida Keys could be your dream destination. This ultimate guide will lead you through everything from selecting the right Keys to visit, to finding kid-friendly attractions and eateries.
Key Takeaways
The Florida Keys offer a perfect destination for a memorable father and son trip, with plenty of family-friendly activities and attractions to enjoy.
Key Largo, Islamorada, Marathon, and Key West are among the best keys to visit with your son. Each offers unique experiences such as beautiful beaches, water sports, fishing charters, marine parks, museums, and wildlife encounters.
Family - friendly activities include swimming with dolphins at Theater of the Sea in Islamorada, going on a fishing adventure in Marathon, exploring shipwrecks at the Key West Shipwreck Treasure Museum.
Don't miss out on experiencing nature's beauty at Dry Tortugas National Park or enjoying the lively Mallory Square Sunset Celebration in Key West. The Florida Keys also have many family-friendly restaurants where you can indulge in delicious meals together.

Best Family-Friendly Keys to Visit
Key Largo offers stunning scenery and a variety of family-friendly activities, making it an ideal destination for a father and son trip to the Florida Keys.
Key Largo
Key Largo is a top spot for family trips and it stands out in the Florida Keys chain for both it's size and the fact that it is the first island that you come to once you depart the South Florida mainland. Key Largo has tons fun things to do for men of all ages and it makes a great destination if you are visiting Florida for a cruise out of Miami and just want to get a quick taste of the Keys without committing to a full road trip to Key West. You can find many beaches here that are perfect for families.
In large part because of the size of the island, Key Largo has lots of natural land for things like Kayak Tours through mangrove swamps, birding tours, beaches, and of course diving off the coast to explore the coral reef.
Another fun thing to do here is taking a Steamboat tour on the African Queen. This famous boat was featured in the 1951 classic movie and is one of the major inspirations for the concept behind Disney's Jungle Cruise.
Islamorada
Islamorada sticks out as a great family vacation spot. Kids can enjoy fun activities like boat rides, beach games and wildlife shows at the Theater of The Sea where dolphins, sea lions, and parrots put on entertaining shows that men and boys of all ages will enjoy.
Or for those aspiring divers, Islamorada hosts the History of Diving Museum where you can learn about deep sea diving, submarines, and more. Of course, if you want to actually go diving, there are plenty of snorkeling and scuba tours that depart from this area too.
The views in Islamorada are very pretty. Palm trees line the shores and the water is blue and clear. Beach shops sell cool items that kids will love. Parents will enjoy trying the local cuisine at tasty restaurants nearby.
Marathon
Marathon is great for a family trip. This place sits in Florida and includes other small keys too. Here, your family can enjoy many things to do. You could pay a visit to the Seven Mile Bridge or Sombrero Beach. If you are looking for a place to stop on your Florida Keys road trip, this makes a great stop before getting to Key West since there are many motels in Marathon FL.
Another fun spot here in Marathon is the Florida Keys Aquarium Encounters where they offer a variety of aquatic experiences including the "Big Shark Bay Encounter" where you and your son can feed an adult Nurse Shark, or visit the "Stingray Cove Encounter" and feed a stingray instead. Going fishing, boating, snorkeling, or scuba diving are some other actions you can try here with your son and family members.
Don't miss seeing The Turtle Hospital too! Though Key West might suit grown-ups more than kids, it's still near Marathon and worth checking out on your trip.
Key West
Key West is one of the best family-friendly keys to visit in the Florida Keys. It has beautiful beaches with palm trees and crystal blue water, perfect for relaxing or playing in the sand.
Families can enjoy outdoor adventures like snorkeling, kayaking, and paddleboarding. Key West also offers exciting water sports activities for kids such as jet skiing and parasailing.
There are plenty of family-friendly resorts in Key West that provide a comfortable stay and amenities for children. Families can explore historical landmarks like the Key West Shipwreck Treasure Museum or visit the Key West Aquarium to see various marine life up close.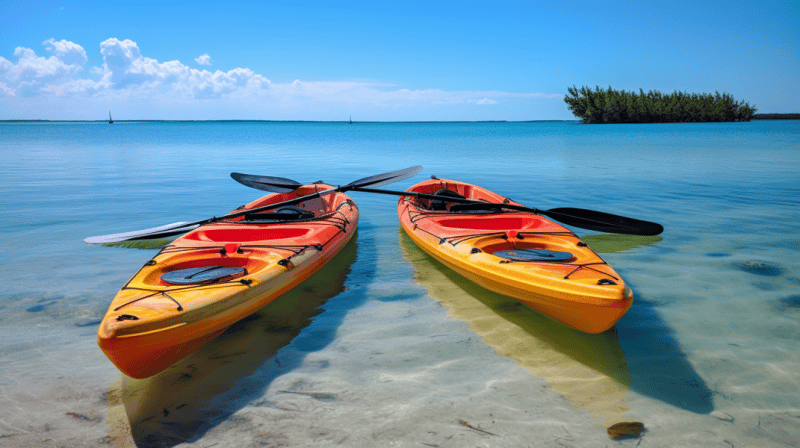 Family-Friendly Florida Keys Things To Do
Experience the thrill of swimming with dolphins at Theater of the Sea, go on a fishing adventure with a charter in Marathon, and discover the fascinating world underwater at Key West Aquarium.
This is just the beginning of an unforgettable trip!
Enjoy A Splashtastic Performance at Theater of the Sea
The Theater of the Sea is a fun and educational marine park located in Islamorada, Florida Keys. It offers a variety of shows with dolphins, sea lions, and parrots that both entertain and teach visitors about fish, turtles, and reptiles.
You can even participate in activities like "Shallow Water Swim with Dolphins" where you get to interact closely with these amazing creatures while avoiding deeper water. This family-friendly attraction is suitable for kids of all ages and promotes nature conservation through its exhibits and interactive experiences.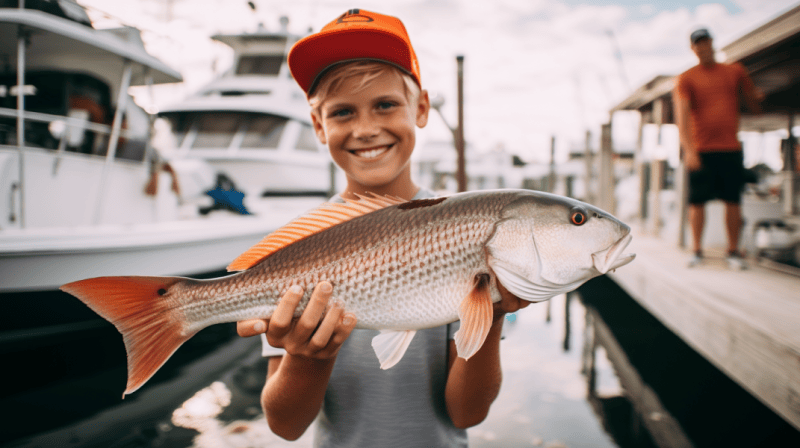 Take A Fishing Charter
Looking for a fun and exciting activity to do with your family in the Florida Keys? Look no further than booking a fishing charter! Florida Keys Fun Fishing is an Islamorada fishing charter service that offers a variety of fishing experiences.
Depending on your son's age and interests you can find inshore fishing, fly fishing, or even shark fishing charters here. While there are boat captains operating from most of the different keys, the middle Keys areas of Marathon and Islamorada tend to be the most popular, these charters are typically full or half day, though there may be some shorter options offered too.
If fishing isn't your thing, there are also plenty of scenic charters offered here as well where you can learn more about the ecology of the Florida Keys.
Feed The Tarpon and More At Robbie's
Robbie's in Islamorada is a popular destination for family-friendly activities and attractions in the Florida Keys. This unique spot offers a variety of fun-filled experiences for both kids and adults.
At Robbie's Marina, you can enjoy exciting watersports like kayaking, paddleboarding, and jet skiing. There are also opportunities for fishing charters where you can try your hand at catching some delicious seafood.
After all the adventure, grab a bite to eat at one of the delicious dining options available at Robbie's. With its wide range of activities and attractions, Robbie's is the perfect place to create lasting memories with your family during your trip to the Florida Keys.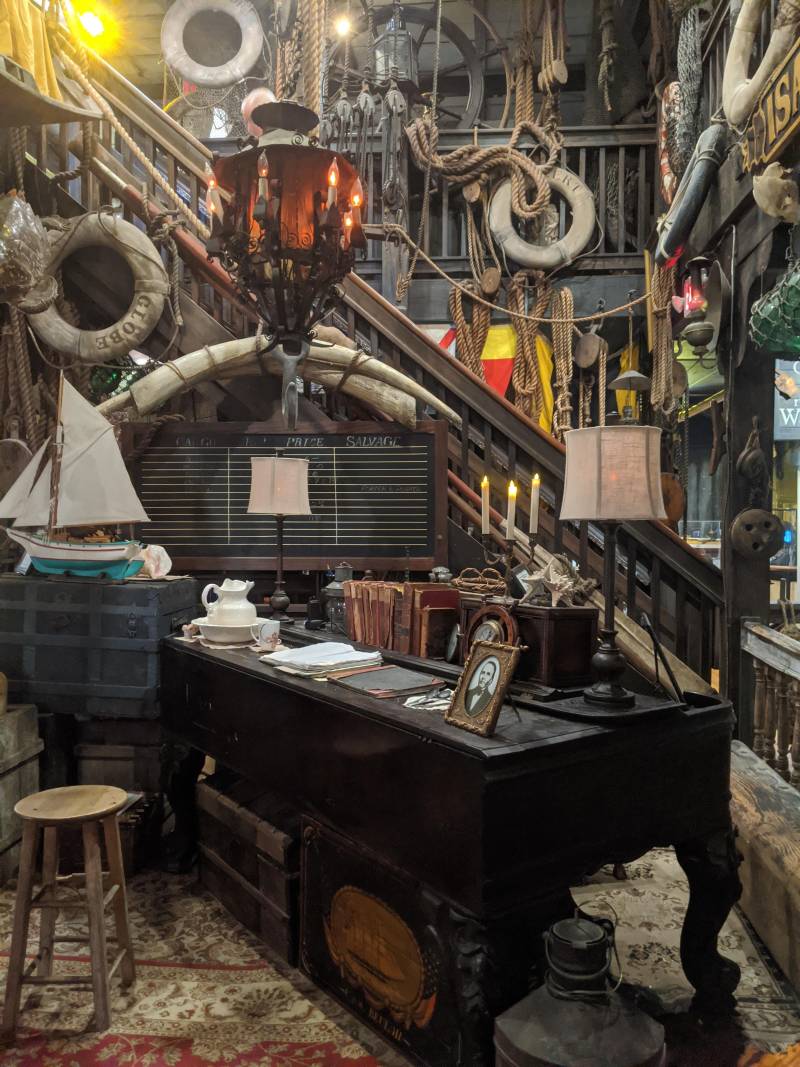 Key West Shipwreck Treasure Museum
The Key West Shipwreck Treasure Museum is a fascinating attraction located at 1 Whitehead Street in Key West, Florida. This museum showcases the remnants of Spanish galleons and shipwrecks, giving visitors a chance to discover an important part of Florida's maritime history.
Inside, you'll find numerous artifacts on display that provide a glimpse into Key West's past and the salvaging of these shipwrecks. One highlight is a large silver bar recovered from one of the wrecks.
Families visiting Key West should definitely make time to explore this museum as it offers an educational and entertaining experience for all ages.
Key West Aquarium
The Key West Aquarium is a fun and educational place for families to visit in Key West, Florida. You can see all kinds of marine animals and underwater creatures there. They have a big coral reef tank where you can see colorful fish species swimming around.
If you're brave enough, you can even touch some of the sea cucumbers and stingrays in the touch tank. One of the most exciting things at the aquarium is watching the shark feeding! It's really cool to see these powerful creatures up close.
Plus, they also offer dolphin encounters where you can get closer to these amazing mammals. So if you're interested in ocean life and want to learn more about marine animals, make sure you check out the Key West Aquarium during your trip to Florida Keys.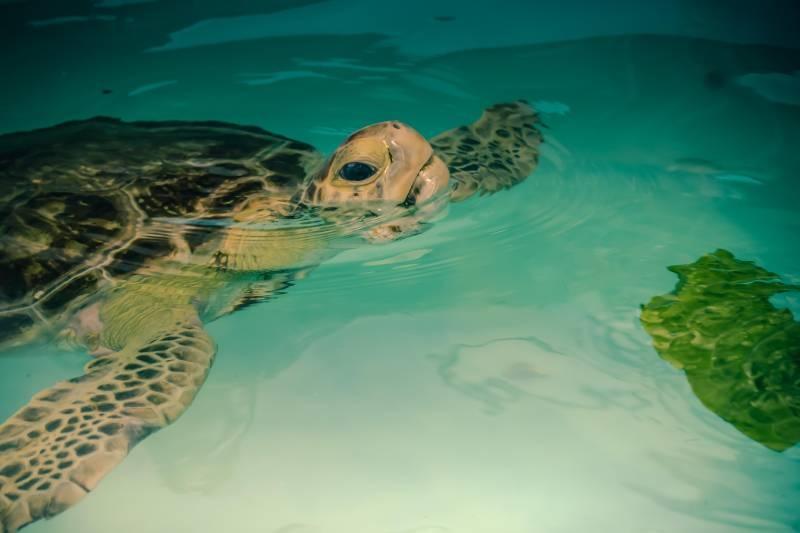 Marathon Turtle Hospital
Located in Marathon, Florida, the Marathon Turtle Hospital is a special place that rescues and rehabilitates injured sea turtles. Established in 1986, their primary goal is to help these amazing creatures get back on their feet and return them to their natural habitat.
When you visit the hospital, you can take guided tours where you'll get an up-close look at the rehabilitation process. You might even have the chance to interact with artifacts like the carapaces of these incredible turtles.
It's truly a family-friendly experience that offers a unique opportunity to learn about marine life conservation and endangered species. So if you're planning a father and son trip to the Florida Keys, don't miss out on visiting the Marathon Turtle Hospital – it's an unforgettable experience!
Dry Tortugas National Park
Dry Tortugas National Park is a beautiful and remote national park located 70 miles west of Key West in the Gulf of Mexico. This stunning park is known for its natural beauty, including pristine beaches and vibrant coral reefs that are perfect for exploring underwater.
With only 1% of the 100-square mile park on dry land, it's truly an underwater dreamland for snorkelers and divers. The park was discovered by Ponce De Leon and named "The Islands of Turtles" because of the abundance of sea turtles found there.
If you're looking for an unforgettable adventure with your son sharing stories of military battles and pioneering engineers surrounded by beautiful nature and abundant wildlife, Dry Tortugas National Park should definitely be on your list!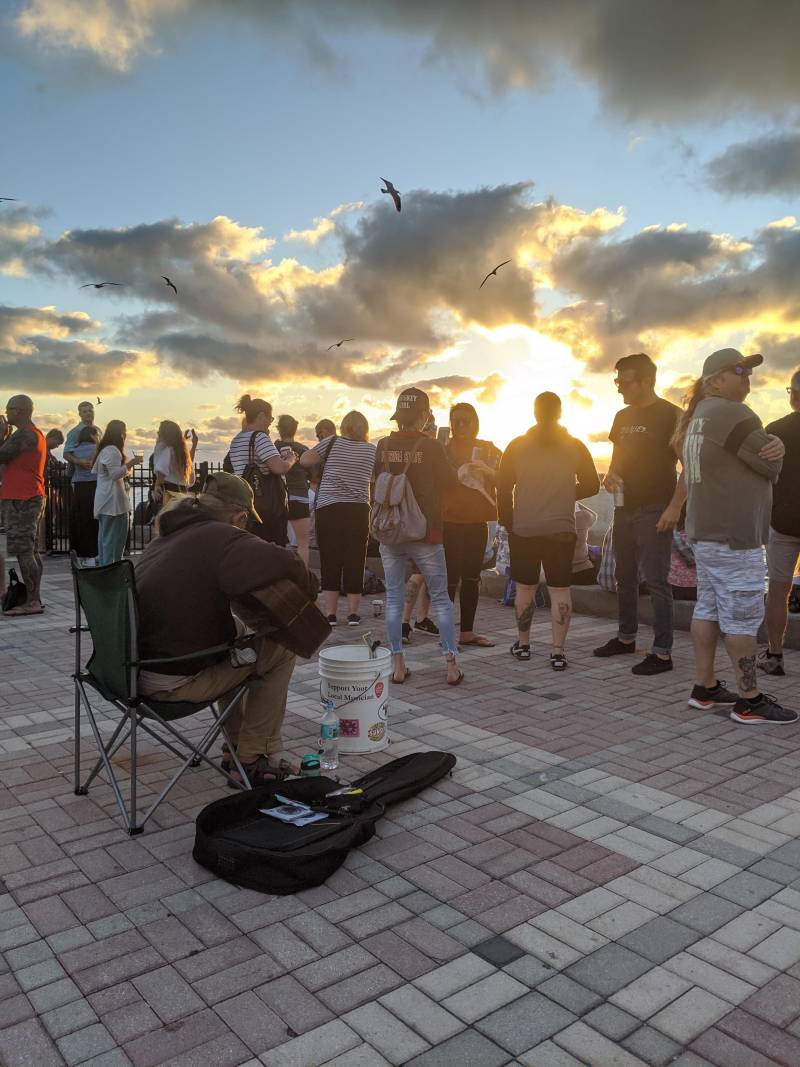 Mallory Square Sunset Celebration
The Mallory Square Sunset Celebration is a fun and lively event that takes place every evening in Key West, Florida. It's a great activity for families to enjoy together. At the celebration, you can watch the beautiful sunset while being entertained by street performers and local artists.
There are also food vendors where you can grab some tasty treats. The event has been going on since the late 1960s and has become a popular tourist attraction. It takes place at Mallory Pier, which offers an amazing view of the sunset over the water.
So if you're looking for some family-friendly activities in Key West, be sure to check out the Mallory Square Sunset Celebration!