The Florida Keys have been a destination for guys looking to get away from it all for generations. Legendary men like Ernest Hemingway along with others including Tennessee Williams and Shel Silverstein have called the area home over the years. While I'm not suggesting that your Florida Keys Mancation should or will turn into a change of residence ... after spending a few days exploring the upper and lower keys I can understand how that might come to be! Here's a taste of some of the adventures you can find on an epic guys getaway and Florida Keys Mancation!
The Florida Keys are an archipelago that stretches from about 15 miles south of Miami and extends in an arch into the Gulf of Mexico for about 125 miles. The end of this chain of islands - known as keys or cays to some is Key West aka the "Southernmost Point" in the Continental United States.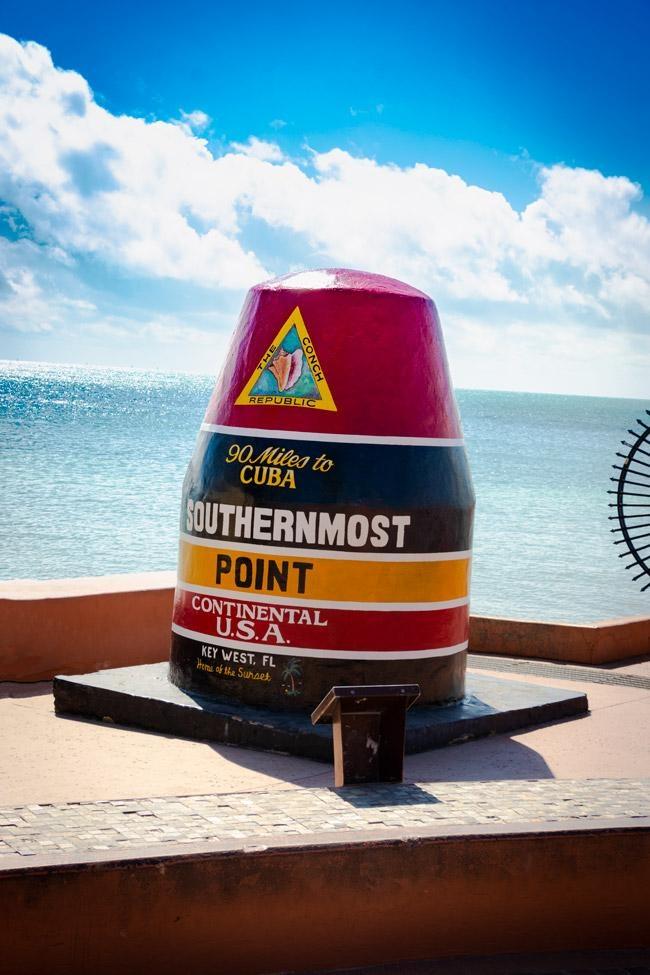 Trivia Time: while you are almost obligated to take a selfie with the "Southernmost Point Bouy" on Key West, the publicly accessible beach area at the Fort Zachary Taylor Historic State Park is actually about 500 feet farther south, and 900 feet further south of the buoy is a point of land owned by the US Navy that is not publicly accessible. Furthermore, Ballast Key, a private island located about 10 miles away is actually the true southernmost point in Florida and the continental United States.
For those wanting to go even deeper, Ka Lae on Hawaii's Big Island is actually the Southernmost Point in the United States at 18.9136°. It is even farther south, sitting at and the absolute southernmost territory in the United States is on Holei Island in the US Territory of Palmyra Island which sits at 5.8885° vs 24.5551° North for Key West!
With that bit of trivia out of the way, Key West and the Florida Keys is a great destination for guys seeking adventure, food, drinks, entertainment, and something a bit out of the ordinary.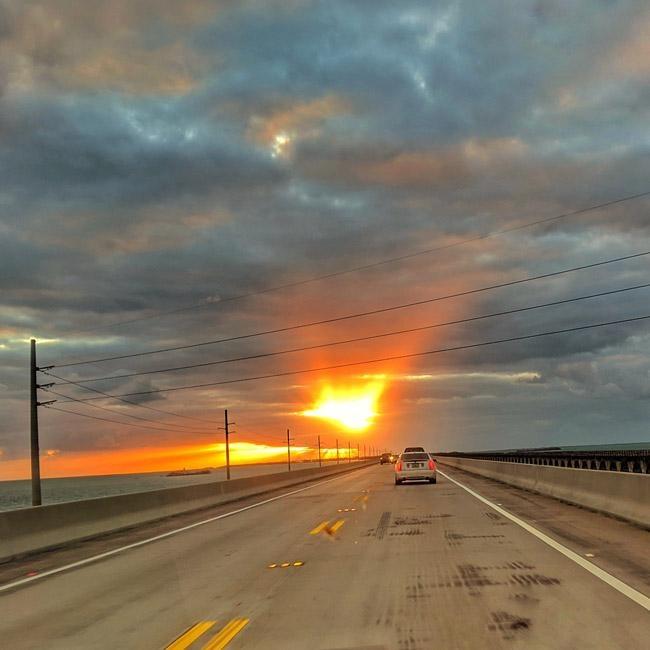 Road Tripping on The Keys Or Pick A Destination?
For our trip, we decided to pick do a road trip from Miami with a few days in Key West and then a stop on Tavernier Key for a couple of nights on the way back to Miami. It really all comes down to what you are looking for and what you want to do. For instance, if I was looking for a guys getaway focused on beaches, beer, and fishing and I wanted to save a few bucks - I'd probably plan something in the mid/upper keys like Key Largo, Tavernier, Plantation Key, or Islamorada. We stayed at Island Bay Resort in Tavernier and it was an absolutely beautiful property with a private beach. In Key West though, we stayed at Amsterdam's Curry Mansion Inn, located just off of Duval Street and walking distance to virtually everything.
Prices are going to be a bit cheaper outside of Key West and the fishing is going to be just as good and maybe even better if you want to go diving. However, you'll miss the excitement of Duval Street's live entertainment and the general eccentric spirit that Key West is known for.
However, since the upper keys are a few hours closer to Miami you can spend more time having fun and less time driving. Though, flights to Key West aren't that much more expensive if you are flying in, rather than driving. Otherwise, from the Miami Airport, you're looking at a drive of 159 miles and 3-4 hours to Key West but only 78 miles and 1.5-2 hours to Islamorada. Additionally, this shorter distance also means that you're going to have less chance of extreme backups due to traffic or accidents.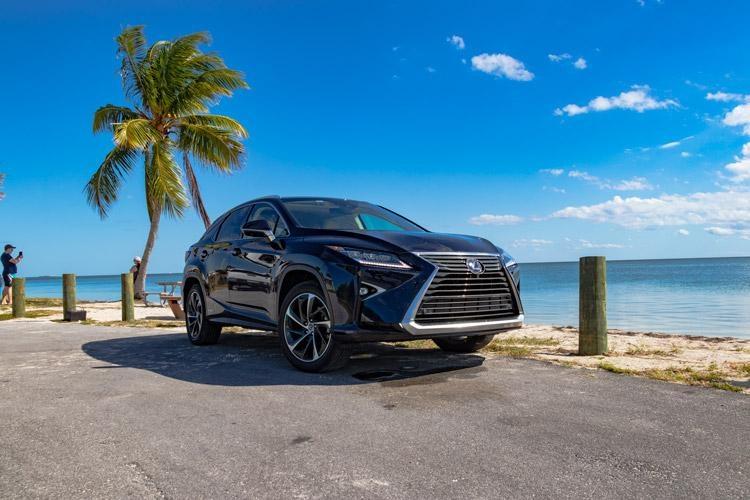 However, ultimately I REALLY enjoyed the full road trip experience since Lexus provided us with this RX350 Hybrid and I love to explore new places like the Florida Keys. However, next time if I was planning specifically to visit Key West, I visit I'll probably just fly in to Key West International Airport rather than driving from Miami. Based on a quick airfare search using a few different dates, I found prices were about $500 from San Diego to Key West (EYW) vs $300 to Miami (MIA). Your dates and airline might differ but ultimately that shows me that flying might be a better option than driving if you have a bunch of guys coming in from different parts of the country.
Let's assume though that you're doing a Florida Keys road trip like we did. Here's some of the things you won't want to miss!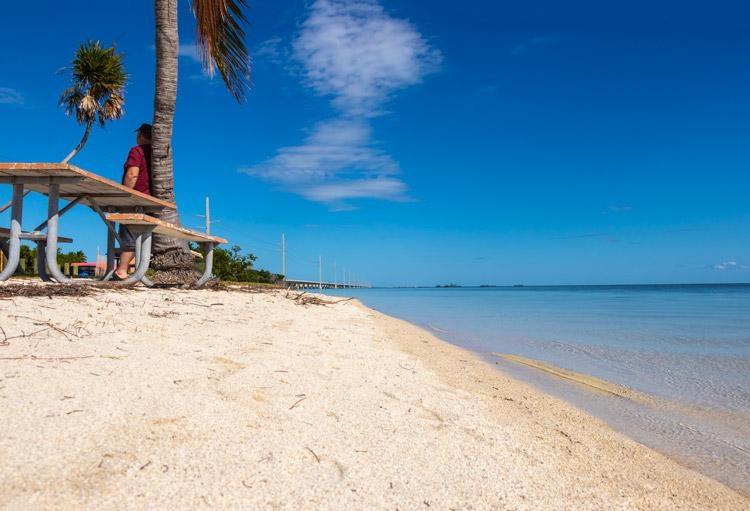 Outdoor Adventure in The Florida Keys:
The opportunity for outdoor adventure in The Florida Keys runs the gamut from jet skiing to fishing but for the most part it's going to involve the water.
Sport Fishing Charters - The Florida Keys are famous for being one of the best fishing spots in the world. Islamorada promotes itself as the "Sport Fishing Capital of the World" but you won't be disappointed at pretty much any spot along the route from Key Largo to Key West. To help narrow this down, it is important to consider what fish you are going after and what style of fishing you want to do in the Keys. For instance, are you wanting to go fishing in the flats around Key West for snook, bonefish, and tarpon or are you looking to do something farther from shore in search of Mutton, Pink Snapper, and Grouper. There's also deep-sea fishing, which might be best off the coast of Marathon since the water drops off closes to that Key in an area known as the Marathon Hump where it rises from a depth of 1150 feet to 480 on the east side. Here, you will find some of the best trophy fish in the world, including Black Fin Tuna, Wahoo, Amberjack, Blue Marlin, and Sailfish as well as sharks.
Jet Ski Tours - The Keys are a fantastic area for jet skiing because the water is mostly calm and warm. One of the best ways to see Key West is to take a jet ski tour of the island. We hear that Barefoot Billy's is a great place to start in Key West and Robbie's in Islamorada is also a great place in the upper keys.
Diving Trips - The Keys, unfortunately, have been the site of numerous wrecks, in Key West so much so that it spawned an industry to recover the wrecked cargo. This, combined with crystal clear water and the Florida Reef makes the Keys one of America's best diving spots. It is also the only living coral barrier in the United States and is the third-largest in the world after Australia and Belize. It lies a few miles to the south and west of the Keys and runs from just west of Key West to Soldier Key a few miles south of Miami. For divers looking for coral and tropical fish, I'm told that Key Largo is the best spot to start from since the water clarity is best there. However, you can find wrecks to explore all along the coast.
Beaches - The Keys aren't really known for their beaches. To get that soft sand that makes for a great experience, you need good waves to crush the shells into sand. However, that doesn't mean that there aren't good beach areas scattered across the various Keys - including Key West. One of our favorite stops is on the south side of Little Duck Key, just before Seven Mile bridge. However, on Key West, there's also a nice beach with beach bar and breakwater that you can fish off of located at the south end of White Street and another at the end of Duval Street as well. Fort Zachary Taylor Beach is nice as well but the waterline has tons of coral pieces that can be rough on your feet.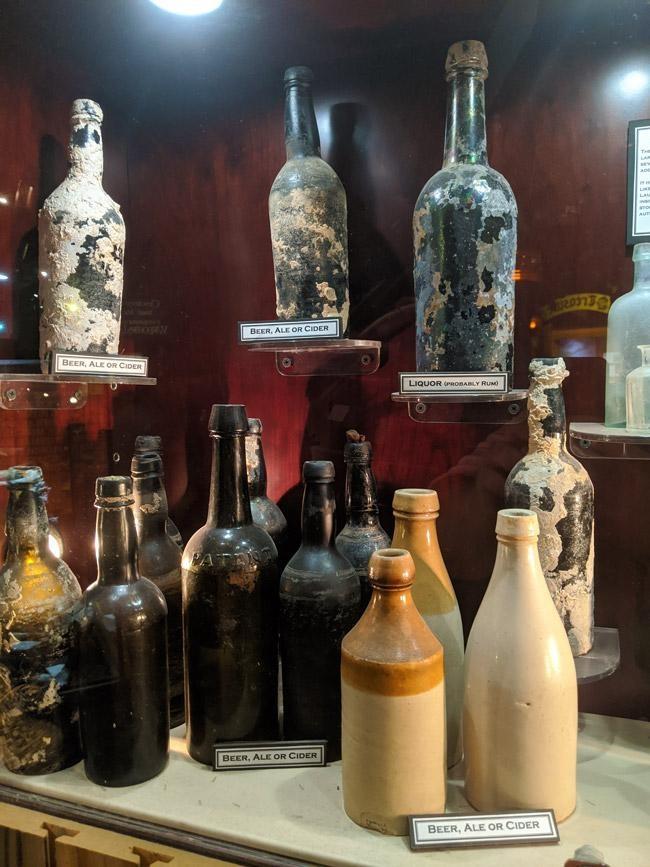 Maritime History - Pirates and Treasure Hunters:
The Keys are home to adventure seekers, pirates, and treasure hunters so it should be no surprise that there are attractions specifically devoted to celebrating these great men (and women!).
Key West Shipwreck and Treasure Museum - From climbing the 65' lookout tour to learning about the history of salvage auctions and some of the most famous wrecks off the coast of the Keys, this is a great place to visit.
Mel Fisher's Treasures - Mel Fisher's Treasures has been on my bucket list for more than 10 years. He was a treasure hunter with a legendary history of discovery that rivals fictional characters you might read about in a novel. Sadly he passed away a few years ago but his legend lives on and his son continues the search for even bigger shipwrecks and other maritime archaeology sites. Today though the Mel Fisher Museum in Key West tells the team's story in search of the Atocha as well as other maritime history exhibits such as talking about the Trans-Atlantic slave trade and how Cuban's crafted make-shift boats to cross the water from Cuba to Florida. Of course, like any good museum, there's an awesome gift shop here where you can buy things ranging from trinkets and hats to Spanish gold coins and I even saw a treasure chest full of silver bars but didn't dare ask the price on that one!
History of Diving Museum - Described as "The Story of Man's Quest to Explore Under the Sea", the History of Diving Museum collects and showcases artifacts, antiques, documents, and photos from the history of diving. We didn't get to stop but you can't miss the collection of submarines located outside of the museum at Mile Marker 83 in Islamorada. Inside, the museum offers a variety of exhibits that feature various themes including a look at 20,000 Leagues Under the Sea, Commercial Diving, Evolution of Regulators and Rebreathers, Underwater Photography and yes ... there's even a Treasure Room.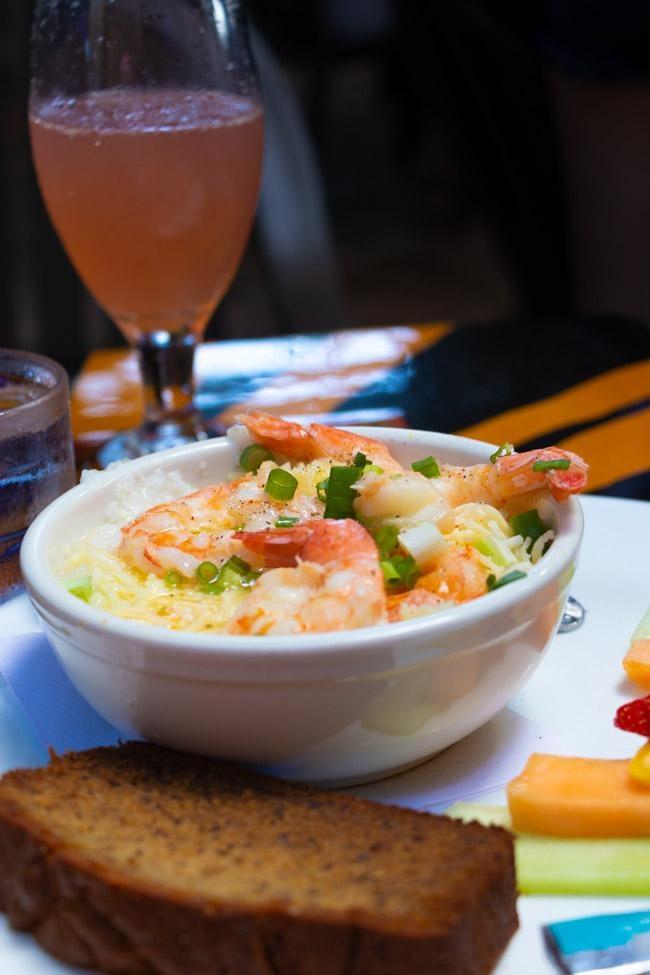 Awesome Food In the Florida Keys:
While you might think of Key Lime when it comes to food from the Florida Keys, there's so much more including local fish, shrimp, and a unique blend of American southern-style mixed with Caribbean influences. There's a lot of great places to eat in The Keys and so here's just a few of the favorite spots we had a chance to explore.
Matt's Stock Island Kitchen - This was one of the best places we ate at on our road trip and everything here was perfect. From variety to preparation and presentation, Matt's Stock Island is the place you want to go when you need some great food and a cocktail or ice-cold beer. We didn't get a chance to visit for brunch but this is on our list next time, including 3 buffet areas (including a raw bar) and bottomless Bloody Marys.
First Flight Restaurant and Brewery - First Flight was a close second to Matt's for our pick of favorite spots to eat in Key West. They have an awesome outdoor dining area, great beer, and I'm always a sucker for aviation history. Plus, since it's open air you can enjoy the music from Garbo's Grill across the street.
Blue Heaven - If you like strong cocktails, outdoor eating, and Key West chickens wandering around then Blue Heaven is a great place to visit as well.
Kermit's Key Lime - Have a hankering for local favorites like Cuban Sandwiches, Ribs, or a Shrimp and Crab Wrap? Here's the place to visit. Plus, Kermit's Key Lime Shope is located right next door with virtually every possible Key Lime related food item you can imagine. Yes, they also have Key Lime Pie too!
Dion's Quick Chik - Yes, I am listing a gas station chicken joint on the list here. Luckily you can find Dion's "Chicken of the Keys" in a few different places along the US-1 Route but we visited the one in Summerland Key and found the chicken to be absolutely incredible with minimally greasy skin and perfectly moist meat. I am dreaming of another Keys road trip just so I can get some more fried chicken!
The Hungry Tarpon Restaurant - I'm always a fan of restaurants in marinas where you can kick back and relax on a dock while watching fishing boats come in. That's exactly what this place offers. Plus, since The Hungry Tarpon is part of Robbie's of Islamorada - this is the perfect place to eat before or after a fishing trip or jet ski tour.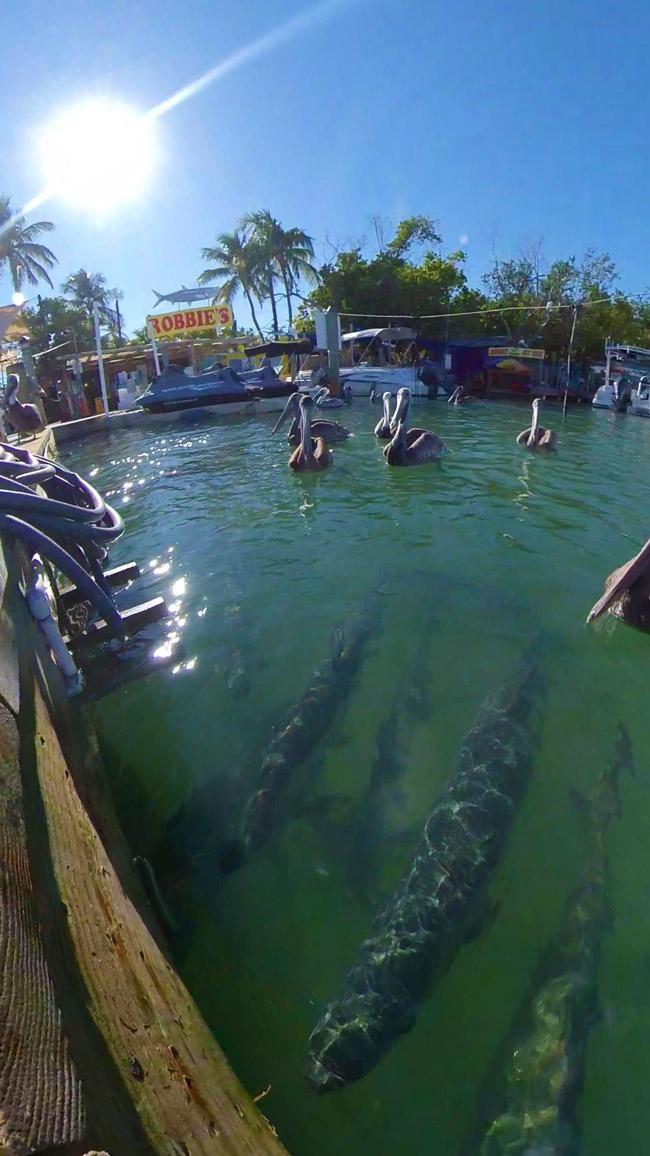 Don't forget to feed the tarpon here though ... they really are hungry ... it's not just a name! For just a $4 + $2.25 per person they will sell you a bucket of fish so you can feed the tarpon. Earlier this year we went tarpon fishing and never once came this close, this was quite a thrill!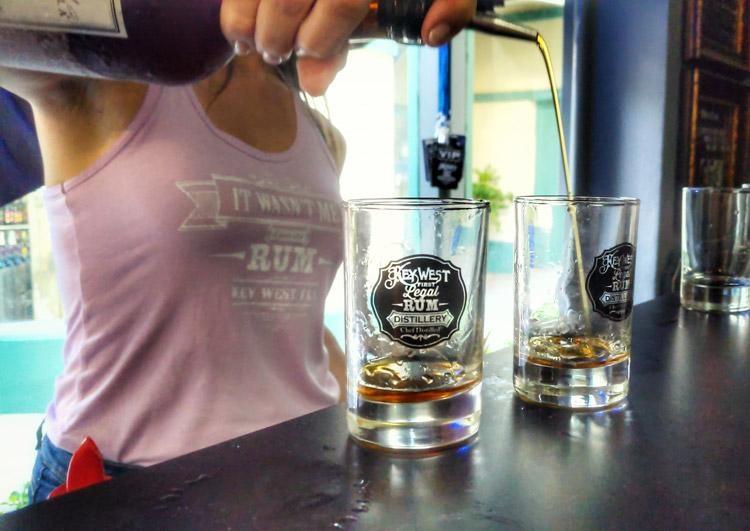 Rum, Beer, and Cocktails In the Keys:
No trip to the Keys would be complete without a few drinks. Rum is core to the spirit here and they haven't missed the brewing trend that has taken over the country. The Keys has some of the best beer that I've ever enjoyed too.
Rum:
Key West First Legal Rum Distillery - I've been to a lot of distilleries and quite a few rum distilleries at that. However, this was the first time that I can remember where rum is celebrated as anything more than just a cheap spirit. Key West First Legal Distillery's Paul Menta, his wife Crystal, and Lead Distiller Emily Craig are truly taking things to the next level and as it's run by an accomplished chef, hey's approaching things from a culinary perspective and doing amazing things such as their "Bad Bitch Rum Spanish Marie" rum aged in salt-cured French oak red wine barrels. We're going to do a post on this one in the near future with more info. However, don't worry if you just want to come in and check out how rum is made and get a tasting from their more than a dozen different varieties then they won't disappoint you. Tours are free but there is a fee for tastings.
Papa's Pilar at Hemmingway Distillery - These guys are a bit more commercialized and their distillery experience here is a cross between learning about Hemmingway's history and the rum that bear's his boat's name. They make some great stuff too and since they are only a few minute's walk from Key West First Legal you shouldn't miss this one. Plus, they have a tasting room so that's always good!
Islamorada Distilling - Located right next to Islamorada brewing (but technically separate entities because of Florida law), these guys have not just award-winning rum but also delicious gin, and vodka.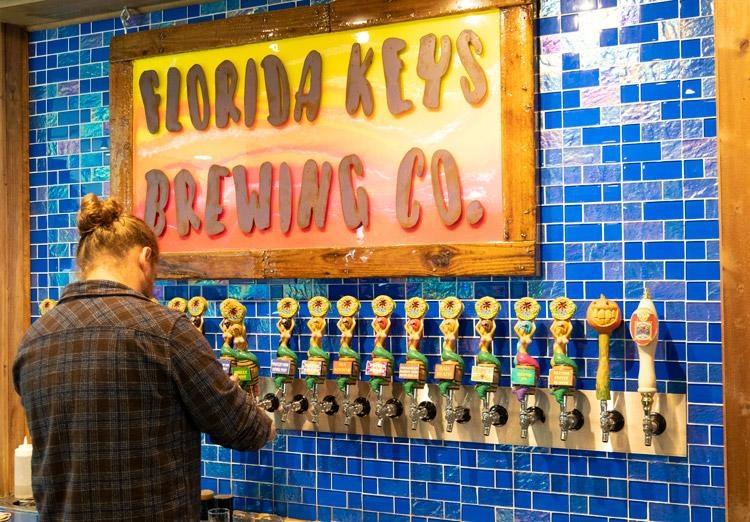 Florida Keys Craft Beer:
First Flight Brewery - They've got great food and the beer's good too! Located just off Duval Street in Key West, it's worth a stop ... if only to just pop in to take a look at the Pan Am memorabilia and cool off with a Maverick IPA.
Islamorada Beer Company - I really enjoyed the way that both Islamorada Beer Company and Distilling offer a laid back approach to brewing and distilling. It's a fun place to pop in and have a drink.
Florida Keys Brewing Company - These guys have a fabulous beer garden and a great variety of different flavor profiles. You'll also find many of their beers on tap throughout the Florida Keys so while I encourage you to stop here, you can also simply ask your bartender what's on tap from Florida Keys Brewing!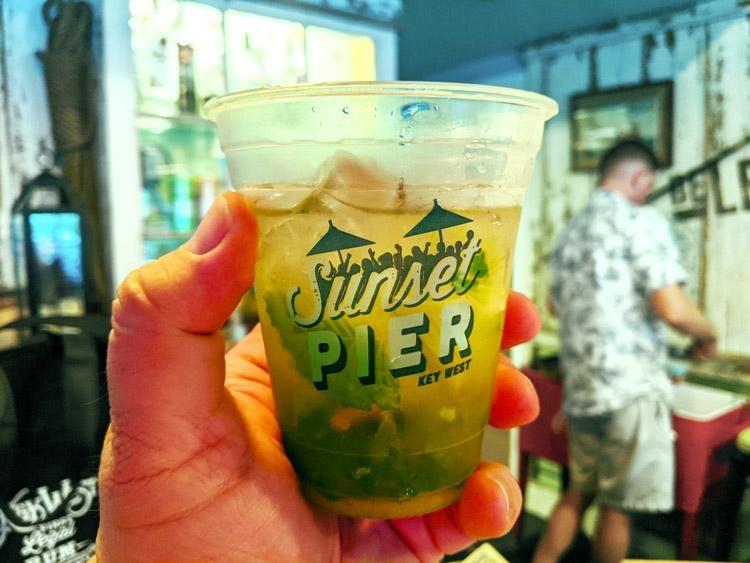 Cocktails In The Florida Keys:
Ok there's simply too many places to list here but no matter where I was the drinks were good, strong, and ice cold. One that stood out though was Sunset Pier located in the Ocean Key Resort where you can get an authentic handcrafted mojito!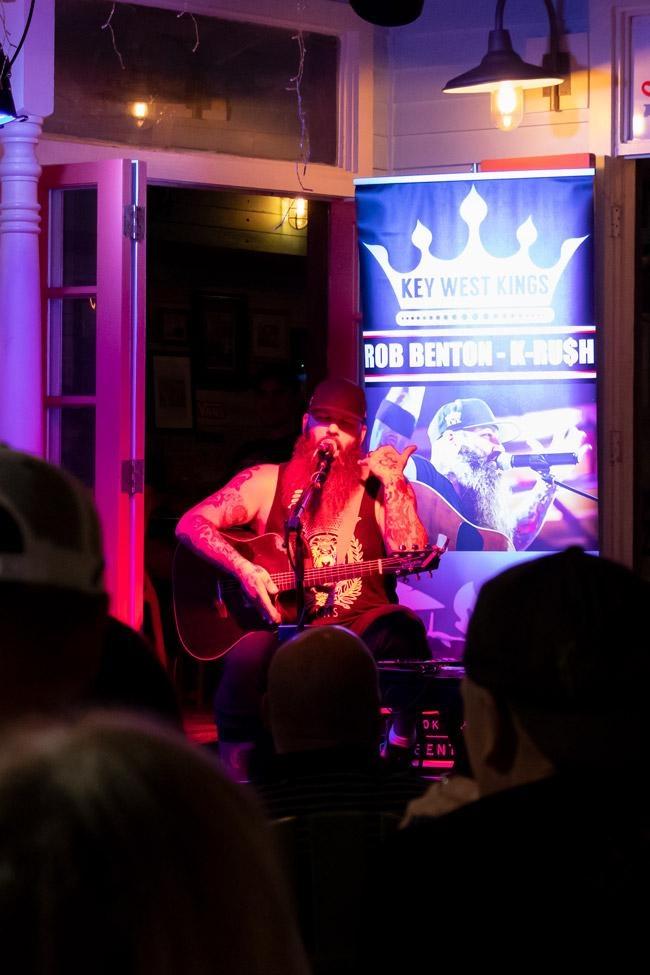 Nightlife In Key West:
Outside of Key West, I didn't really see much "nightlife" other than beach bars at marinas and breweries that are open later. So, if you are looking to woop it up and party like there's no tomorrow then Key West is where you want to go. On the other hand, if your idea of night-time activity is fishing or sitting in a beach chair or under a palapa with your buddies and enjoying some ice-cold Keys beer then that's cool too!
Duval Street Night Life - Just walking along Duval Street on an ordinary night brings back memories of the honkey tonks in Nashville and Bourbon Street in New Orleans. It's a fun stroll where you'll hear and see things that might surprise you but don't worry. If you need a break, there are plenty of side roads with more quiet and relaxed bars to hang out in as well.
Mary Ellen's Bar - Open from Noon-4 am daily, at night you're going to find some fun and unique experiences including the famous Vibrator Races (Thursdays), Drunk Spelling Bee (Mondays), and live music Friday and Saturday nights. Or just stop in for a look at David Sloan, Minister of Debauchery for the Conch Republic's legendary beer can collection.
Turtle Races at Turtle Kraals - Frankly we didn't have a good experience with the food here but the beer is good and they have Turtle Races Monday-Friday starting at 7pm so I'm including it here since that's probably a good reason to visit.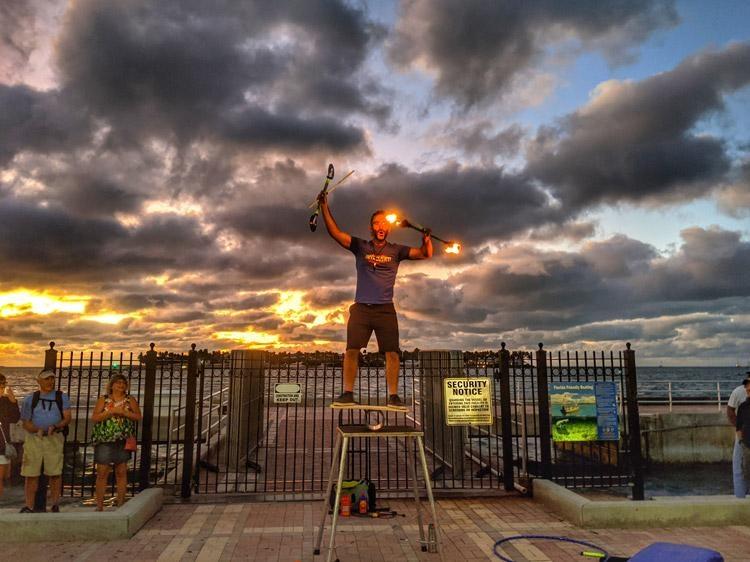 More Photos From Key West:
{lightgallery type=local path=images/stories/florida-keys-road-trip/keys-photos/ previewWidth=160}Florida Keys Road Trip Mancation Photo Gallery{/lightgallery}