As a cruise ship junkie I was thrilled for the opportunity to spend even a few hours aboard a ship that normally doesn't operate in the United States. Costa Crociere is an Italian cruise line that while the first to operate in the Caribbean is now working to rise to the attention of the North American travel market. The Costa Deliziosa in particular does an annual around the world tour and that's why she happened to stop in San Diego and give us the opportunity to check her out.
Costa Deliziosa is very similar in design to the Carnival Miracle that we sailed on just a few weeks ago - but design wise, while a Joe Farcus creation it was more refined than the over-the-top designs found on Carnival. The ship itself is a hybrid, taking the best elements of the Vista-class from Holland America Line and Carnival's Spirit class and along with its sister the Costa Luminosa, delivers a beautiful ship with fantastic layout featuring a high public space to passenger ratio. Costa Deliziosa is 92,700 GT and has a capacity of 2,828 passengers.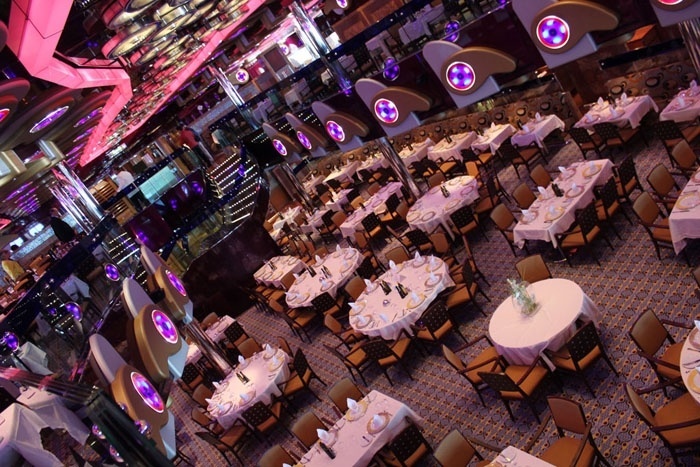 As mentioned above, our review is limited to just the ship as we had limited access to experience the staff and other elements such as dining options (though we did have lunch in the main dining room).
Costa Deliziosa features three pools including the main pool (below), a smaller aft pool and the thalassotherapy pool in the spa (for Samsara Spa class cabins). There is also a kiddy pool for small children.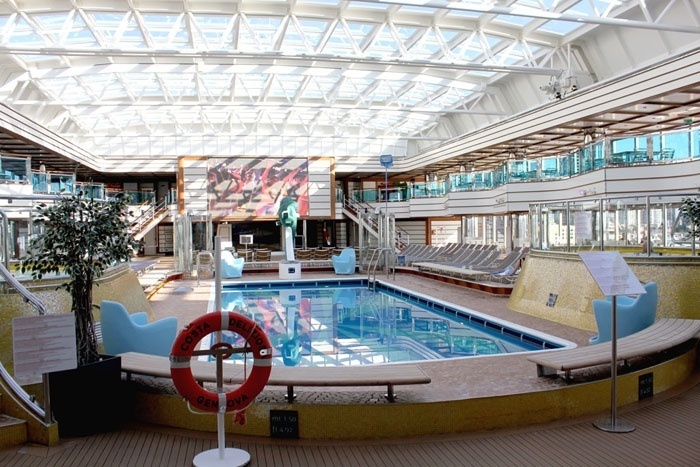 The main pool features a retractable roof and large screen for watching movies as well as two hot tubs that flank the pool itself.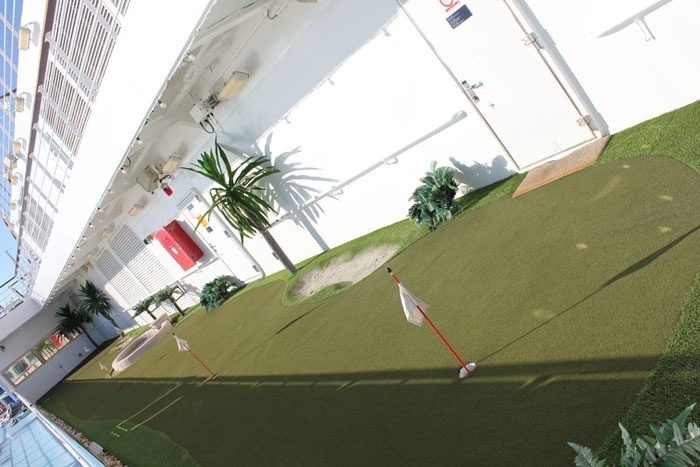 If you are looking for athletic activity, Costa Deliziosa features a golf simulator where you can play a full 18 holes at various virtual golf courses, or you can try your hand at the putting green outside. Additionally, the ship features an F1 simulator and a 4D theater too.
For those of you who prefer basketball, there was also a sports court in the aft.
At night though, its time to dance! While this ship fundamentally felt just like Carnival Miracle, there were a few nuances that made it clear that this ship catered to a European audience and in particular Italians. In particular, there were numerous locations throughout the ship dedicated to dancing and live music and this discotec is much larger than what we have seen on other ships.
In addition to this discotec, there was also a large centrally located dance floor and in the piano bar there was a dance floor as well.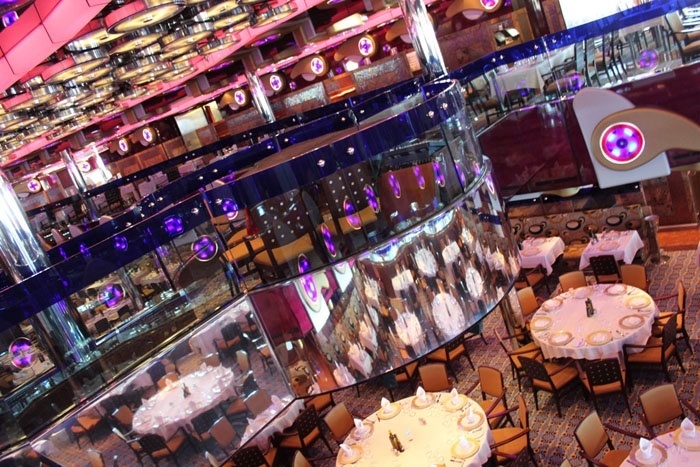 While Joe Farcus's influence is clear throughout the ship, upon entering the main dining room it was clear that this was a Farcus creation as the chrome and neon were plentiful.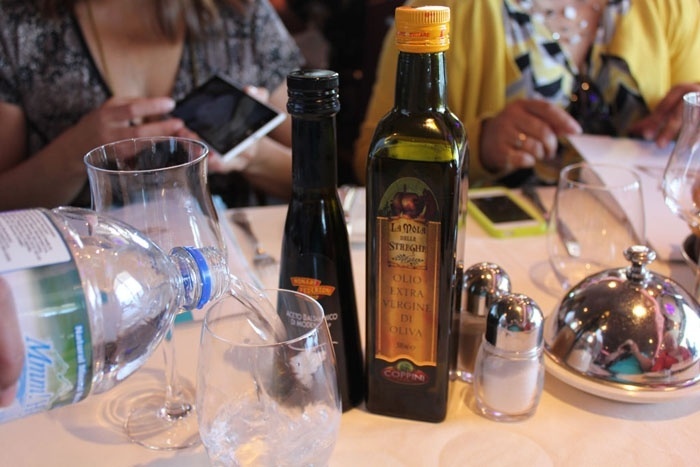 I can't provide a balanced review of the food as we only had lunch and it was prepared specifically for our group. However, I can share that while the food was well cooked and very tasty, that the courses were not well designed from a chromatic perspective.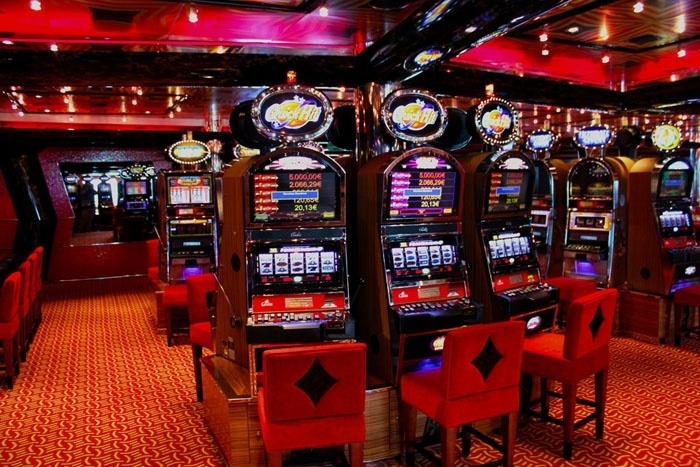 After dinner, it's time to hit the casino! From what we were told, Costa Deliziosa offers one of the larger casinos compared to other European cruise lines and it seemed comparable in size to what we have seen on on other mainstream cruise lines.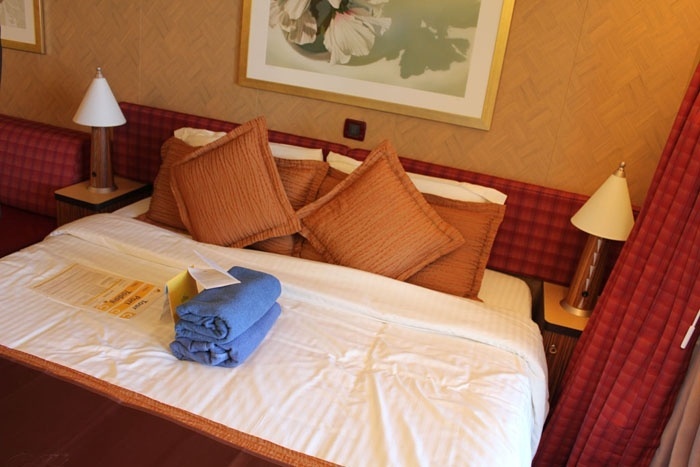 The stateroom that we toured was exactly the same configuration as we stayed in a few weeks ago, but appointed more nicely. This particular room was part of the Samsara class "spa cabin", room 8024.
On Costa, these rooms include upgraded linens, a robe and slippers for going to the spa and they area also connected to the spa by a private elevator.
For those with Samsara privileges, the spa features a "wellness circuit" featuring a Thalassotherapy Bath with water heated to body temperature and infused with salt from the Dead sea designed to reawaken your body's vital energy.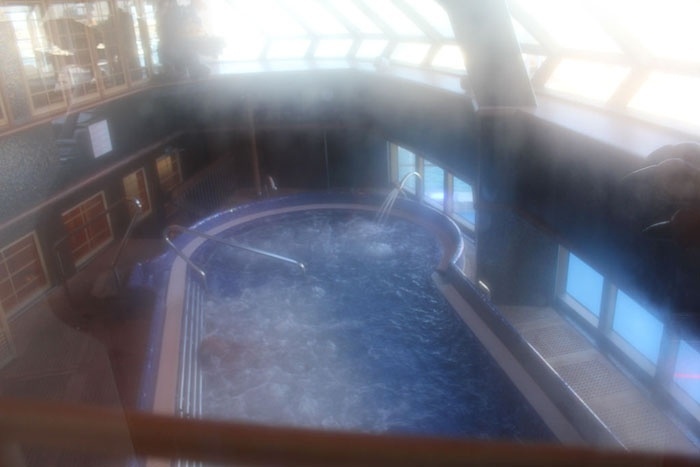 After the a dip in the Thalassotherapy Bath, guests head to the Tridosha Shrine where they relax in a room inspired by Turkish Baths filled with aromatherapy steam.
Later, after a spa treatment, guests may relax in the Temple of Peace featuring beds for meditation in an environment enriched with mystical aromas designed to help you relax.
Finally, guests end up in the Japanese Tea Room where they will sip tea, a natural potion for health and well-being to help replenish and rehydrate the body.
Our friend Zippy over at Champagne Living did a great
review of the Luminosa's Samsara spa
that should give you an even better idea that what we were able to see by peaking through the windows.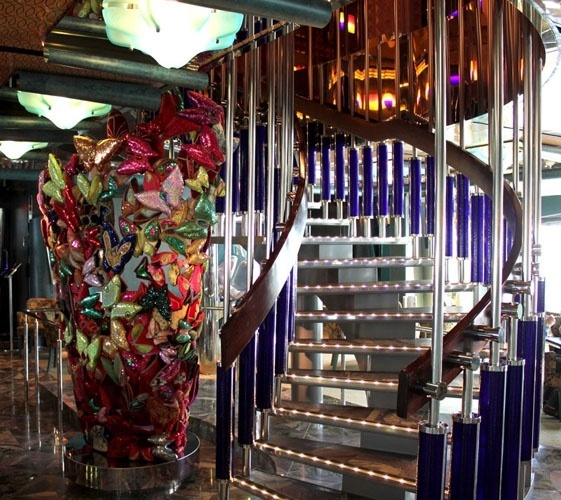 While our tour for this review was extremely brief, it gave us the opportunity to see a different type of ship - one inspired by European tastes but still accessible to an American audience. For instance, despite it being an Italian cruise line and the majority of its clientele being Italians, French, and Germans, English is the primary language on board. The only thing I felt that it was missing was an adults-only area but maybe that's even more reason to book a Samsara room :)
Based on this tour, I would recommend including Costa in your list of choices for a romantic cruise - this is especially true if you are considering a romantic getaway in the Mediterranean and want something more "classy" than Carnival or Royal Caribbean but still approachable from an American perspective.
For those of you looking for a Caribbean cruise, its sister ship the Costa Luminosa offers shorter Caribbean cruises out of Miami and hopefully that will prove successful enough that Costa will expand it's presence in North America.