This is a different sort of Raptor review. The Ford Raptor is hands down the most fun truck or SUV that I've had the chance to test - ever. While most reviews focus on it's extreme off road abilities as a Baja racing truck that you can buy from a dealer vs building your own. The truth is that the truck goes way beyond that and after spending a few days testing it out with my wife and another couple during a getaway to Borrego Springs, California, I'm even more impressed. This is far more than just "dad's toy"!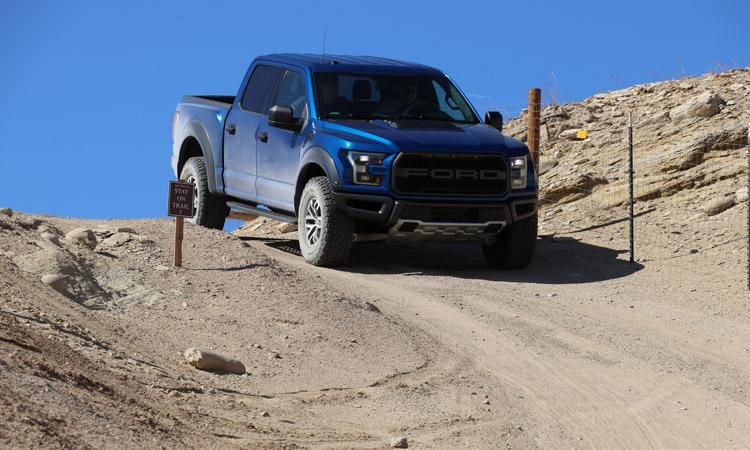 For the one person reading this who isn't familiar with the Ford Raptor, it is based on the Ford's F-150 platform but upgraded in every conceivable way to make it the ultimate "sports truck". This includes a strengthened steel cage, a High-Output 3.5L EcoBoost V6 pumping out 450 hp and 510 lb-ft of torque, 10-speed automatic transmission, 3" FOX Racing Shox with 13" of front and 14" of rear suspension travel. The Raptor also features a bunch of cosmetic upgrades as well including a mean looking front grille, Raptor emblems sewn into the seats along with other badges.
Finally, the Raptor also features a host of electronic capabilities designed to make it even more capable off road. These include an app that shows you what angles you are at, along with the positioning of the wheels. It also includes six different modes ranging from "normal" to "Baja" where the Raptor will hold the RPMs as high as possible, relaxes the traction/stability systems, and essentially gives you the most direct control of the truck possible.
This is all great ... except that during my pre-trip exploration I discovered the "MyKey" feature and after messing around with various settings locked us out of all that amazing ability. So there I was with three other people into the cab waiting for me to show off my prowess as an amateur Baja racer, ... only to discover I couldn't change out of "normal" mode.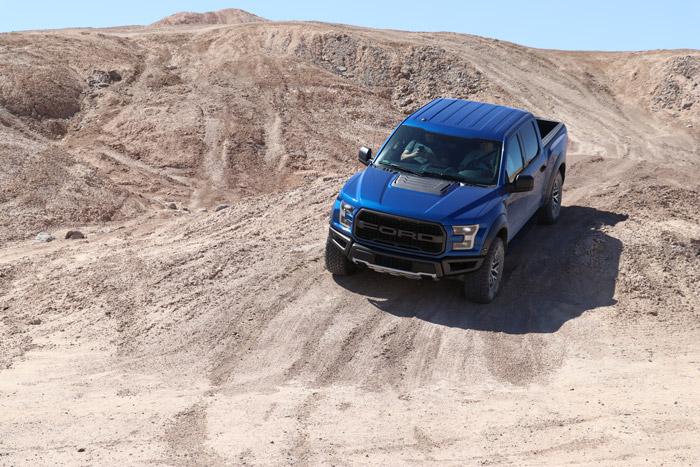 What the Heck is MyKey?
MyKey is actually a great feature that makes this truck even more realistic to own for anyone with kids. Simply put, it is "teen driver mode" and allows you to neuter this powerful truck so that your son (or daughter) can't have too much fun with it. You can create a profile that the car will recognize once the key is placed in the ignition and that includes features like max speed, traction control, and limiting the radio to a max of 45% volume. It will also track the distance traveled with that particular key.
In a normal ownership situation, this would be an easy fix - simply use the "Admin Key" and override the settings. Unfortunately for us, that key was in Ford's fleet management office several hours away. Honestly though, this feature is a great thing for families since I'm not sure that I'd trust a teenager not to "borrow" it when I'm not looking :) For us though, it was real bummer since we couldn't test it fully in the way it was designed to shine.
Honestly though, while I was embarresed and a bit disapointed to be stuck in teen driver mode, all four of us had an amazing romantic getaway. Even with MyKey limits, the Raptor is still an incredibly fun truck to drive and capable of doing things no other stock truck or SUV can. It is incredibly well balanced between being a speed demon "sports truck" on and off the pavement and comfortable to drive as well. With the CrewMax cab, there was plenty of space for all four of us and even sitting in the back I was comfortable as we explored the terrain.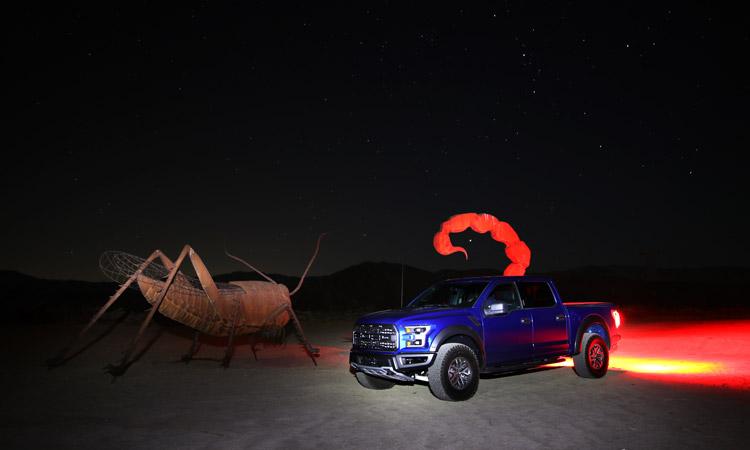 Star Gazing and Light Painting in Galleta Meadows
One of my favorite places to visit in Borrego Springs is the statues spread across the desert here, all part of "Galleta Meadows". There are currently more than 100 statues just off the road ranging from pre-historic animals that once roamed the area to modern beasts as well as tributes to tourism draws such as off road driving and wine making. While these statues are amazing to see in they daylight, I love to shoot them at night.
Borrego Springs is a "Dark Skies" certified city and so the community has made efforts to reduce light pollution. That - plus the mountains shielding it from the lights of Palm Springs and San Diego make for some absolutely amazing star gazing. It's also a great opportunity to practice light painting.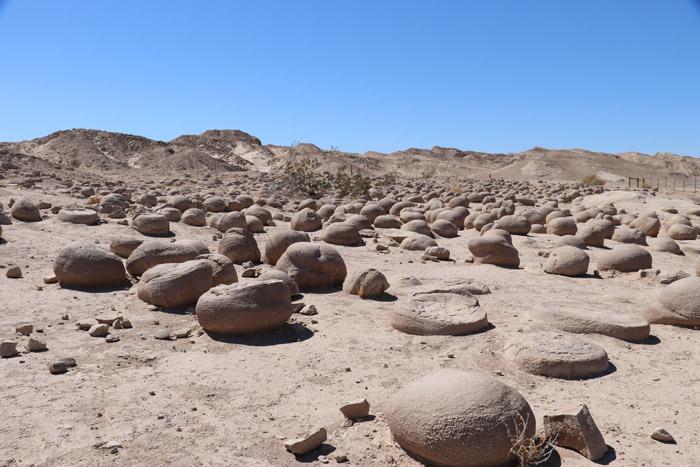 Exploring the Ocotillo Wells SVRA trails to the Pumpkin Patch
Located just east of Borrego Springs, the state of California has created the Ocotillo Wels SVRA out of 85,000 acres of land allocated for off highway vehicles. It is adjacent to the 600,000-acre Anza Borrego Desert State Park and connected to even more BLM land to the east and south. This is a huge draw for anyone in the South West that loves to ditch the pavement and get their tires dirty. Inside the park are a series of extremely well marked trails connecting drivers to different features ranging from geologic formations such as "The Pumpkin Patch" and "Blow Sand Hill" to the remains of an abandoned comune and even desert oasis sites.
While exploring the area we were able to get a taste of what the Raptor could do. To reach The Pumpkin Patch, we scaled steep hills with ease and screamed down flat sandy washes to a MyKey "limited" speed of 80 mph - something I wouldn't haven dreamed of doing in most other 4x4 trucks.
The Raptor's strength is clearly it's ability to go fast and it is a big stable truck but it was also surprisingly nimble in tight canyons as well. Interestingly though, despite it attracting a number of brush strikes the paint held up surprisingly well for a factory vehicle.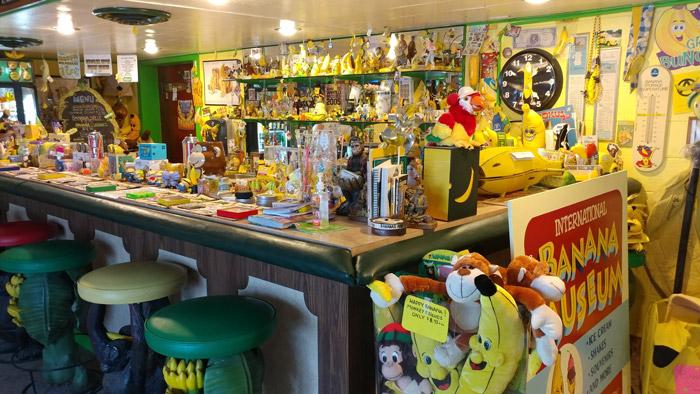 International Banana Museum
The next day, it was time to explore the eastern shore of Salton Sea. This is a weird place with unique people that have chosen to live in an evironment that is inhospitable at best. Despite that, you find friendly people like Fred and Kim Garbutt who are the currators of more than 20,000 different pieces of banana memorabelia. The International Banana Museum is one of my favorite stops since it's always fun to explore what new items they have collected since my last visit - but it's also an ice cream shop with some great banana shakes! Of course, you can also opt for a chocolate covered banana or even a banana split.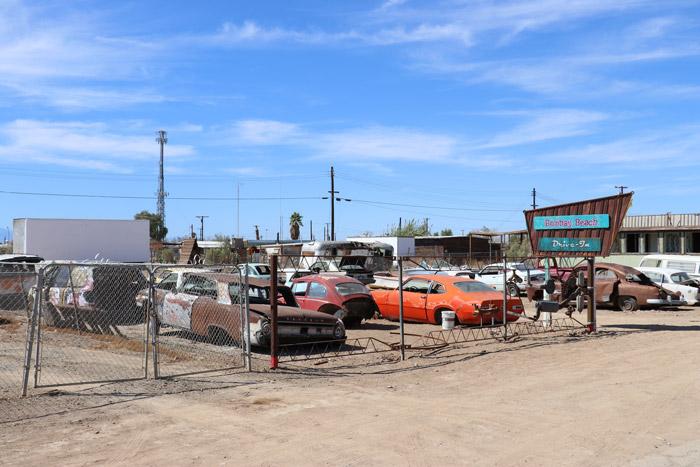 Exploring the Ruins of Bombay Beach
The Salton Sea is essentially an industrial accident and was created in 1905 when an irrigation project to bring water from the Colorado River failed and filled the valley with millions of gallons of water. In just a two year period this region went from a dry lakebed to California's largest lake and that quickly attracted realestate investors and vacation seekers from across the state. They created towns such as Bombay Beach that thrived in the post war years of the 1950's and 60's until the lake levels began to fall, salinity increased, and agricultural runoff turned the water into a toxic soup that lead to large annual fish kills during the summers.
Despite that, Bombay Beach still exists with just under 300 diehard residents and it is the home of the lowest bar in America. The entire town is located at 223 feet below sea level making it also the lowest community in the country.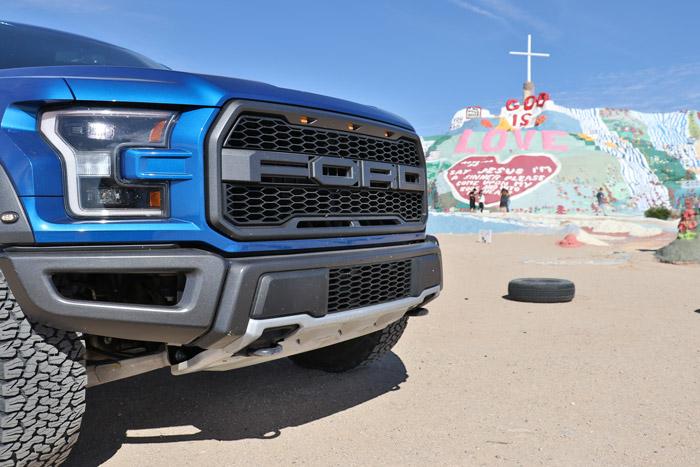 Salvation Mountain
Continuing south, we get to the town of Niland - once the site of a depot where soldiers returning from WW2 were re-integrated into society. Today it is the home of Salvation Mountain, a work of pasion inspired by faith. Visitors are encouraged to explore the mountain and become inspired by it.
Estimates are that the mountain contains more than 100,000 gallons of paint and visitors are encouraged to donate paint to the project. While Leonard Knight, the originator of the project passed away in 2014, a non-profit group currently manages the project and works to maintain and protect it against the elements.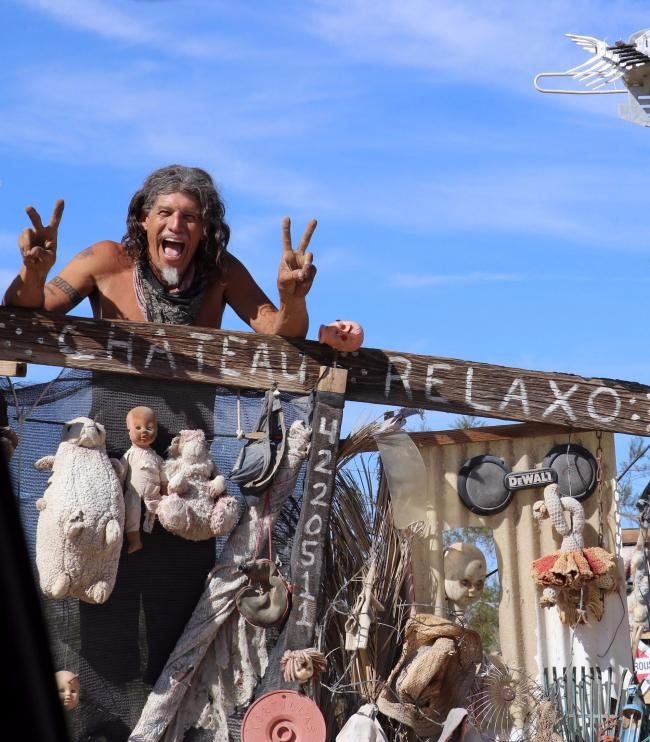 Art and Anarchy in Slab City
Just down the road from Salvation Mountain is Slab City - named for the concrete slabs left over from Camp Dunlap. It is known by it's "residents" as the Last Free Place on Earth because it is a sort of no-mans-land. While the land was once a military training facility, today there is no official government and it has become a wild mixture of perminant residents (such as Caribe - his chosen name, not his given name) and thousands of snowbirds who spend the winters here since there is no charge for using the land.
While there are tweakers and those who have been drawn here because of poverty, it is also a haven for artists and free thinkers. While there are no services such as trash, electricity, police, or even running water you will see some residents with solar panels. During a talk with one resident, we asked what he did and he remarked that during the summer he relaxes with a fan, a spray bottle of water and watches Netflix on his laptop.
On the drive back to San Diego, it was remarkable what we were able to experience in the Raptor during these days. From exploring off road trails to anarchist artist colonies to high-speed travel on the highway, this truck did everything we asked it to do and kept us comfortable while doing so.
While I look forward to testing it out more fully in the future, even just this limited experience was impressive.