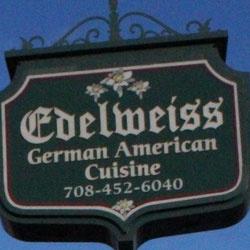 The word "Oktoberfest" likely causes images of a raucous bar scene with giant steins of beer and busty waitresses dressed in dirndls. What if I told you that there was a family-friendly restaurant with authentic German food that was a perfect date location too? That's the quick synopsis of our experience at Edelweiss Dining - located in the Chicago suburb of Norridge.
For more than 30 years, this restaurant has served up some of the best authentic German food in all of the Chicagoland area.
While I had heard about Edelweiss from various people over the past few years and driven by it numerous times I had never had the opportunity to stop and check it out.
As you can see, this place is so popular that they have overflow parking in an empty lot next door. In addition to the sizable restaurant inside, they also have a new beer garden outside. With more than 16 German beers available, this would certainly be a place to come back to with the guys - but tonight it is about a "Romantic Evening" with my wife!

The atmosphere inside was much more sedate compared to places like Hofbrauhaus that thrive on a party / bar scene. Instead, it was cozy, laid back and friendly. It was also clear that they have a very loyal following as several waitresses as well as patrons recognized each other.
There was a German band playing German music that was appropriate for dancing as well. They also played the obligatory Edelweiss ... though that it is a song about Austria that was originally created for The Sound of Music. Oh well ... Germany / Austria, they are all the same right? :)
Either way, the band was very enjoyable and the crowd was great as well.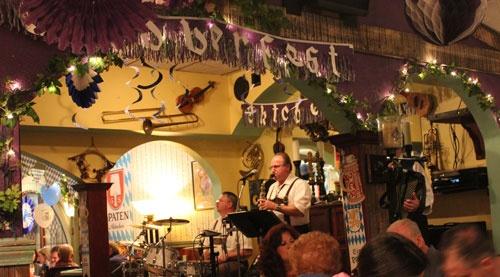 Of course, no Oktoberfest celebration would be complete without a mug of German beer - so we started with that. The waitress asked what size we wanted and I paused and went along with Heather's smaller size ... to which I was prodded "you don't want the big boy size?" Not one to pass up a big mug of beer I said, "Sure!"
Unlike at some bars and community festivals, these were full 1 liter glass mugs and kudos to the waitresses who ran back and forth carrying several at a time!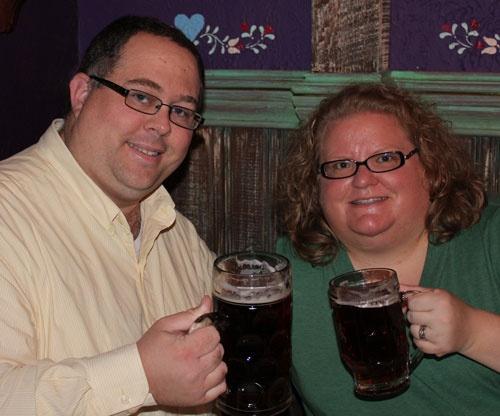 First up was potato pancakes - a specialty of the house, according to Matt Kosch, the owner.
Next, I ordered the Edelweiss Sampler platter - containing an assortment of meats and sides, including: Rindsrouladen, Pork Schnitzel, Kassler, Bratwurst, and Roast Pork Loin. All of that was nestled over: Red Cabbage, Sauerkraut, German Fries, and Spatzle. Delicious and served with what I believe was a home made mustard. The standout here was the Schnitzel and I will ABSOLUTELY order that again next time I visit.
If it wasn't for the fact that this was a "date night" and not a "evening with the guys", I would have gone for their 3-pound Pork Shank. Bayerische Schweinhaxe is a three pound pork shank served atop their bock beer sauce with choice of a side. I did see a couple of those go by our table and I chose wisely as it is likely I would still be there eating it and too stuffed to do anything else after finishing it!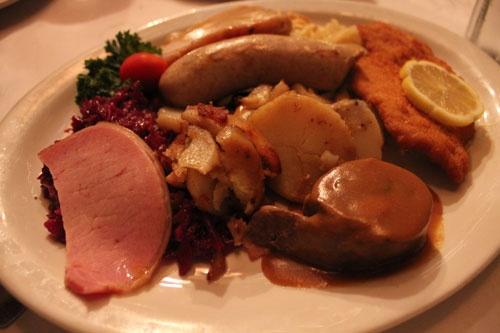 Heather had the Sauerbraten which she said was delicious as well.
When examining the menu, it is clear that Edelweiss is more than just the staples. Other interesting items we saw on the menu, included: Entenbraten - Half Duckling, roasted crispy brown and served with Grand Marnier orange sauce, Roasted Lamb Shank, and the Crab meat stuffed Brook Trout. Vegetarians, don't worry they have you covered too with their Kasespatzle - Homemade Spatzle baked with Gruyer cheese, roasted vegetables, and caramelized onions. (you can also add bacon, ham, chicken, or shrimp if you want to unvegetarianize it :))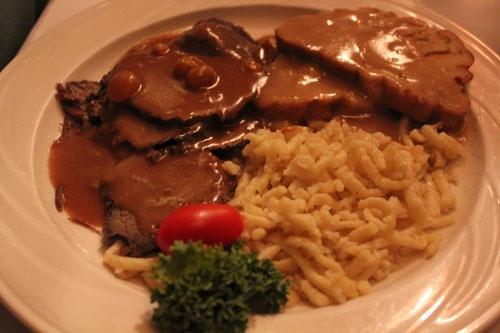 For desert, I had the Black Forest Cake. It was very good, with a nice kick of brandy in the cake layers.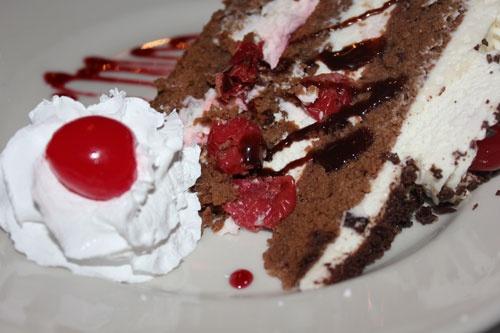 I can't recall what Heather's desert was called, but essentially it was a baked apple that was fried and served with ice cream. It was also delicious she tells me!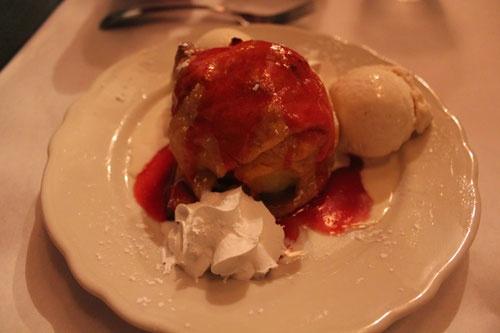 We were very impressed by Edelweiss - not only is it a fantastic alternative for those who want an Oktoberfest experience, but it is a place to get authentic German-American food all year round here in Chicago.
I am also looking forward to checking them out again coming up next month, November 11-18 for their Hunters Fest, with a special menu including: Roasted Leg of Venison, Wild Boar Chops Burgundy, Braised Hassenpfeffer (rabbit), and more.