Ever dream of sleeping under the Northern Lights? Unfortunately that will never be a possibility for most of us since it is DAMN COLD. Even with someone to snuggle up with, it's something that hasn't been a reality until recently because it requires organization and planning. We love what Off the Map Travel is offering now with their Aurora Bubble Sleds!
Northern Lights travel specialists, Off the Map Travel invites couples to enjoy a romantic, Aurora experience with a stay in an "Aurora Bubble Sled," a glass-roofed, mobile hotel room, towed by a snowmobile. The Aurora Bubble Sled is featured in a four-day, three-night Lapland Aurora program in Finland, priced at £1099 per person, based on double occupancy with all meals, but excluding flights. Included are private transfers from Tromso (Norway) and activities including Northern Lights hunting; use of the outdoor hot tub and sauna; and a night staying in the new Aurora Bubble Sled.
Starting in December, the new Aurora Bubble Sled will travel into the Finnish wilderness behind a snowmobile, before being left overnight for guests to hunt for the Northern Lights within the warmth of the "bubble." "This new experience has been created to for those wanting to experience the Northern Lights in a quirky, interesting and comfortable way," says Jonny Cooper, Aurora travel expert and owner of Off the Map Travel.
After listening to an expert talk about the Northern Lights and the sled itself, guests return to the Aurora Bubble Sled which is filled with bean bags, reindeer skins and a sleeping kit. The sled is mounted on the back of a snowmobile and towed deep into the Arctic night. With a thermostat-controlled heating system which keeps the bubble warm, guests are then left to soak up the Arctic night sky in comfort and isolation.
Kilpisjärvi, Finland, is one of the top places in the world to see the majestic Aurora Borealis, famed for its rugged, unspoiled Arctic wilderness. Combine that with Lappish hospitality, exciting activities and culture, and you have the recipe for a memorable winter adventure.
As every adventure through Off the Map Travel is tailor-made, the Lapland Aurora itinerary can also be combined with a four-day Tromso Experience where guests stay in a waterfront hotel and enjoy a wilderness snowmobile safari, the chance to explore Tromso with its world-class restaurants, and a Northern Lights dinner cruise. Pricing for the Tromso Experience add-on begins at £875 per person.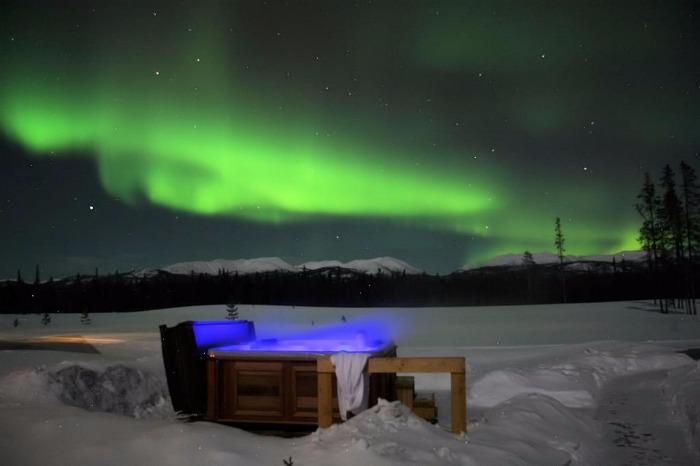 Of course, if you want something closer to home - we also love their Canadian Northern Lights package complete with a luxury home and hot tub where you can soak while watching the lights!