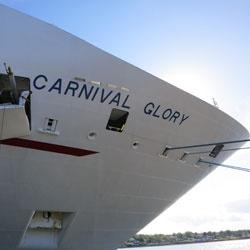 Having cruised a few times in the Caribbean we wanted to do something new. A tour of New England and Maritime Canada, seemed like a great idea to explore a different area and show my wife some of the places I visited when I was younger. We had fun, the Carnival Glory is a great ship, but we learned a couple important things that will help guide us on future cruises 1) Sometimes the first trip on an itinerary is a bit rough 2) the "total cost" of a Caribbean cruise can be MUCH CHEAPER than other destinations 3) Sometimes you just need to be able to make your own fun when mother nature doesn't cooperate.
Next year (2013), Carnival is set to bring the Glory back to Boston, but with Funship 2.0 Upgrades, and hopefully our cruise helped both Carnival and the various ports iron out any kinks that we experienced.
Carnival Glory's 2013 schedule from Boston will encompass four-day cruises to Saint John, New Brunswick, departing Sundays and five-day voyages to Saint John and Halifax, Nova Scotia, departing Tuesdays and Thursdays, from June 4 to July 7. Carnival is the only cruise line offering short cruises from Boston. Carnival Glory will also offer three seven-day cruises departing June 9 and July 14 and 21, 2013, visiting Portland, Maine; Saint John; Halifax; and Sydney, Nova Scotia. This is the itinerary we selected for this review.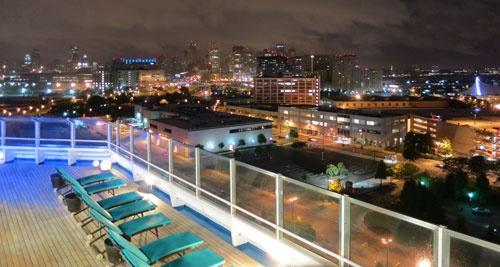 UPDATE - Carnival Glory Review:
While I stand behind the frustrations and such experienced by myself and other passengers during our review this summer - as outlined below - sometimes "shit happens" and each cruise is unique. From talking with other guests who sailed on Glory this summer, their experience was typical of the Carnival cruises that I know and have loved in the past. As such, I wanted to share that while ours was not the greatest experience, many others since then have had a fantastic experience.
One lesson that I didn't quite understand previously, was that the first time a ship is on a new itinerary, things can be a bit rough while the crew (onboard and onshore) gets used to the schedule.
Rough Start Leads to Frustrations and Poor Recovery:
The Carnival Glory 7-Day itinerary is what we took this year and it is the only one offered in 2012. Apparently, it was also the first time this summer that a ship had arrived in many of the ports. Unfortunately, this was evident by the fact that we were between 30-40 min late arriving at almost every port, and Cruise Port Boston was an utter disaster, with security and management staff that make the DMV look like a well oiled machine. Delays resulting from Whale Migration and then dense fog only added to the frustration felt by cruisers as the Glory, supposed to depart around 5 p.m. didn't even begin embarkation till after 9 p.m. Some cruisers who failed to check email were packed into a neighboring hotel vs. standing in the rain outside of the terminal. I can't comment on that situation, but like everything I have heard it was "Terrible" and others say that "Carnival did what they could to make the experience as good as possible".
Heather and I were among the first to get through embarkation, yet we didn't get to our rooms until well after midnight. Many other guests I talked with didn't get to their rooms till 1:30 a.m. - This photo sort of says it all. Look at how tired mom and dad are and how wired the kids are. (NOTE: I have no idea who these people are, but their photo made Heather and I laugh)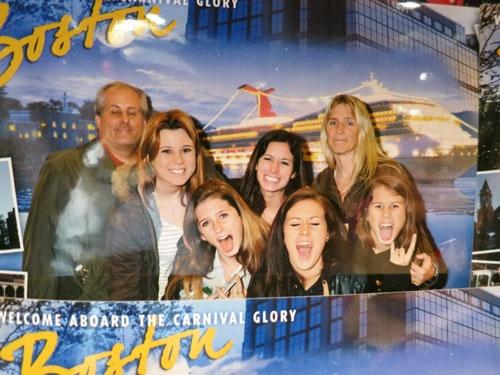 Carnival though did more than they could have been expected to do, they sent an email around mid-day alerting all the passengers and offering a $50 On Board Credit (per person) to help cover costs related to delays. They also offered sandwiches during the multi-hour wait in line. While some of our fellow passengers did not accept this as sufficient, I applaud Carnival for doing what they could do in a difficult situation like this.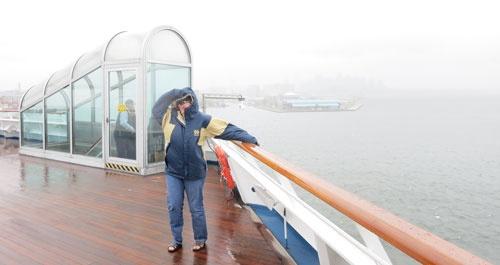 Unfortunately, the weather and late boarding led to the Carnival Glory not leaving Boston until after noon the next day - essentially, half of our "Sea Day" was spent tied to the dock and the remainder was facing gale force winds as we sailed towards Portland. This rough start, was only exacerbated by a combination of inexperienced port staff, a crew that was sailing in 80+ degree temperatures of the Caribbean a week earlier and hadn't fully adjusted to 50 degrees and raining, and a MUCH older and crankier clientele that frankly would rather complain than find ways to have fun. Unfortunately, the entire operation of the ship, from Entertainment to Navigation was never able to recover to the level we have come to expect from Carnival. This all lead to a cruise that was enjoyable but wasn't familiar to the Fun Ship experience we have enjoyed in the past.
Despite that, this cruise on the Carnival Glory was still a fantastic romantic getaway that offered an enjoyable alternative to cruising the Caribbean!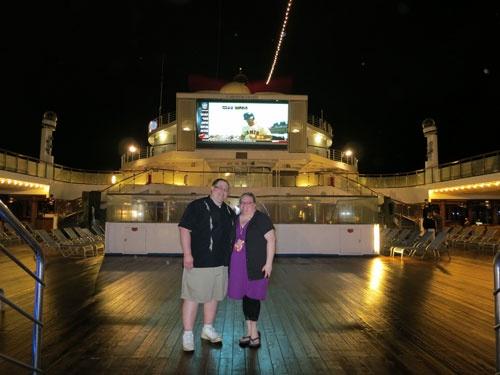 About Carnival Glory:
Carnival Glory started sailing in July 2003, and it is part of the Conquest class of ships. Sister ships include: Conquest, Valor, Liberty, and Freedom.
Tonnage: 110,000 GT
Length: 952 Ft.
Beam: 116 ft
Decks: 13
Passengers: 2,974
Crew: 1,150
Water Sports: 214-foot water slide, seven whirlpools, and four pools (heated on this itinerary!)
One of our favorite aspects of this ship was the HUGE Serenity Deck (two decks actually). Serenity is an adults-only (21+) area that featured two hot tubs right up front that were perfect for watching the ship sail away.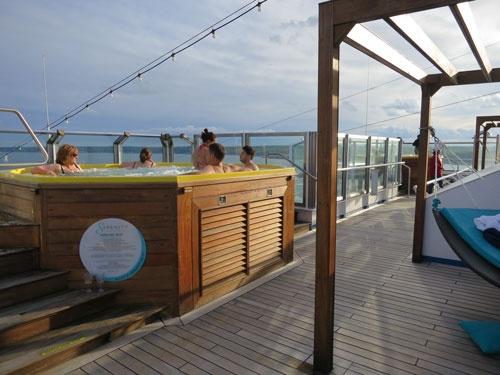 The theme of Carnival Glory is COLOR and various interpretations of this surround you, from room names (Colors Lobby, Ebony Cabaret, Cinn-A-Bar etc.). One of the features we enjoyed most on here was burrito bar (imagine a mini Chipotle) where they would make fresh burritos for you. This ship did feature the Emerald Steakhouse, but we decided to stick to the Main Dining Room, Burrito Bar, 24-hour Pizza, 24-hour Ice Cream, Hot Chocolate, and late night snacks (burgers / dogs) after the comedians.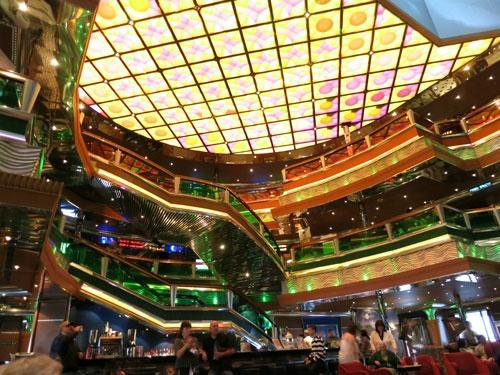 While the entertainment staff were virtually non-existent during the first few days of the cruise, the polar opposite was true about the staff in the main dining room. The FANTASTIC service provided by Desmond (Maitre D in Platinum Main Dining Room) and the waiter team lead by Jose from the Philippines (our table was 420). Because of the complaining by table-mates (my notes above are extremely positive compared to how some fellow cruisers responded on the first couple days), we asked to be relocated to our own table. Desmond did so cheerfully and offered us a private table with a view that even allowed us to see the sunset on some nights.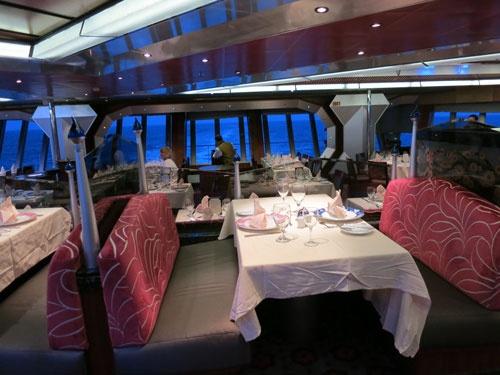 Our table provided us with a fantastic view of the ocean as well as various activities going on while the waiter's did their nightly dances.
The above was the Farewell song that they sing on the last night of each cruise.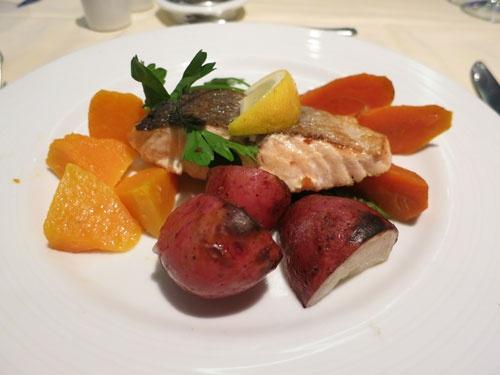 Above: Salmon. Below: Flat Iron Steak. Both are on Carnival's "Every Day" menu and if you want, you could even have both!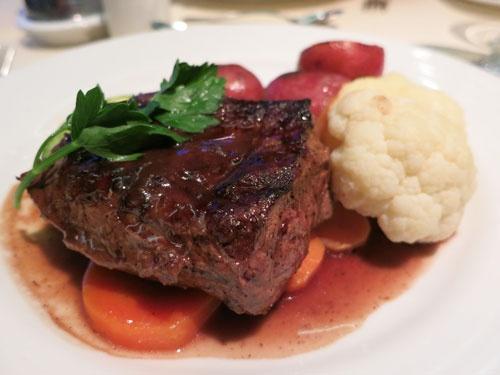 Carnival: If you are reading, these two guys deserve a gold star or something special when it comes time to bonuses (we tipped them extra too). Somehow, Jose (and team) managed to always get our meat prepared correctly, it was always hot, my water glass was always full, and service was always quick. Possibly most exciting was that he managed to get Bitter and Blanc prepared a second time for Heather and I as a special order. He did this all with a fantastic sense of humor that truly made us look forward to seeing him every evening at dinner.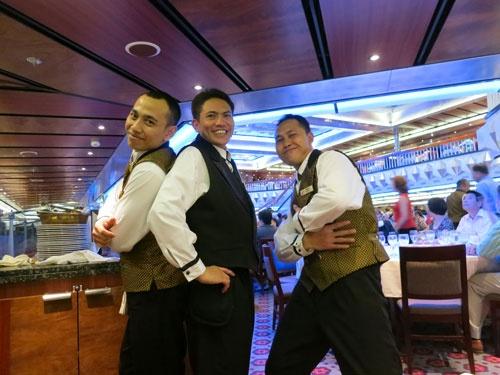 Because of the weather, our normal love of BBC (Creme de Bananes, Bailey's Irish Cream, and Pina Colada mix) and daiquiris was cut short. Instead I explored the Martini Tasting menu and found a new favorite drink. The Chipotle-Mint Martini was absolutely delicious.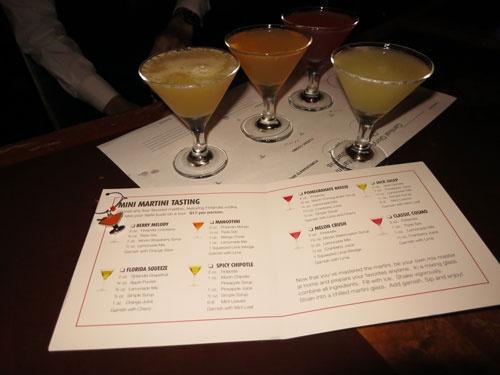 It is a shame that Carnival wasn't able to offer some "cold weather" alternatives to tropical drinks. I would have LOVED to hang out on deck sipping a hot toddy, a Hot Chocolate and Bailey's or some other signature drink. At least they had Carnival's exclusive Red Frog - cold beer is good ... even when it is cold out! Frozen drinks, not so much.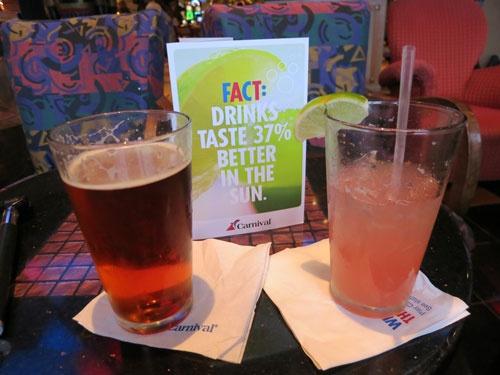 I agree that drinks taste at LEAST 37% better in the sun - but Red Frog tastes darn good any time! BTW we were also impressed that the bartender immediately knew what a "Long Beach" was - that is Heather's favorite drink and we have found that bartenders don't always know how to make one well. Kudos to the Glory's bar staff!
Below: Kissing Anubis for good luck in the Carnival Glory casino (didn't work) but we had fun anyhow.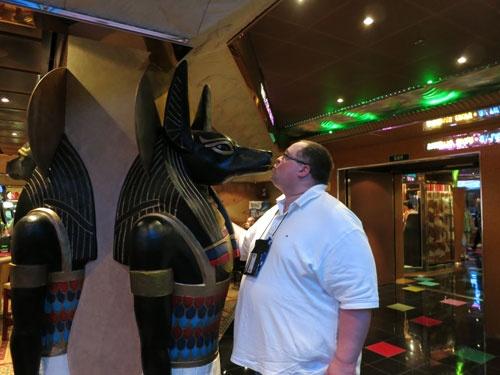 Our room was interior, 6-317. Heather and I prefer to be mid-ship and usually there is so much stuff to do that we don't miss having a balcony. Plus, interiors are usually quiet and help us relax since there are fewer distractions. On Glory though there seemed to be a LOT of noise from room to room and the music from the atrium as well as the casino. We have stayed in similar locations on other ships with no problem, so I wonder if the insulation between cabins isn't as effective on this ship or if it was just that more people were inside instead of out on deck.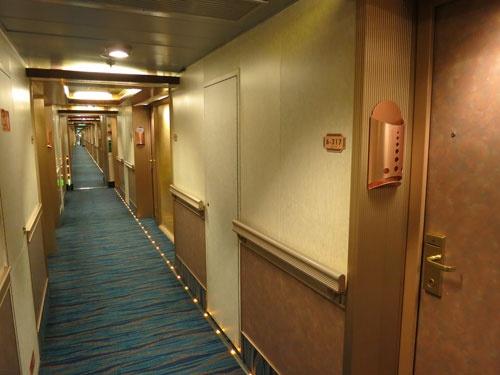 It didn't photograph well here, but the copper mailboxes at each door had the effect of acting as little lights to break up the monotony of the hallways on Glory. The lip at the bottom reflected light nicely. Plus it was a great spot for people to leave you a note rather than slipping it under the door and having to stoop over.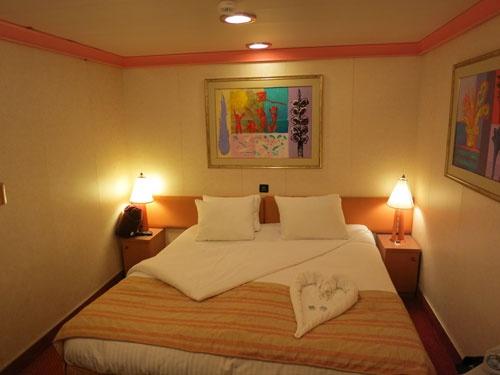 Carnival Glory Ports Review:
During this review of Carnival Glory, we visited Boston, Portland, Saint John NB, Halifax NS, and Sydney NS. This itinerary provides a wide range of fun and exciting activities to select from, including whale watches to history tours, or if you are like Heather and I - sampling local craft brews and exploring the towns. One thing to note here though is that to see the stuff they show in the tourism brochures you will need to do an excursion. For these ports, you are probably better off doing it through the ship because some itineraries are 2+ hours away and that is a LONG way to return from if something goes wrong on your "non-Carnival" excursion.
Boston:
As the home port, you have tons of options from walking tours of the city to taking a quick trip to Cape Cod. Because of the expected delays on departure day, we took that opportunity to head down to Plymouth and ultimately on to Hyannis to see if we could find the Kennedy Compound.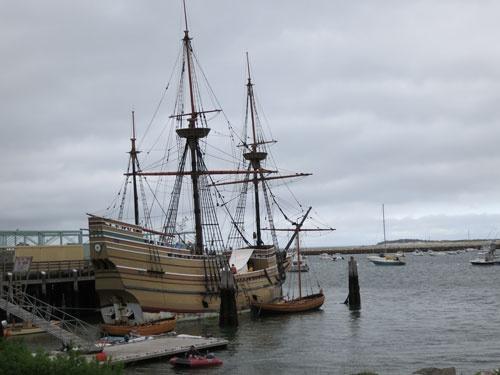 Portland:
In Portland we of course had to have lobster! In reality, virtually every port of call is great for this delicacy, but when you see a place called the, "Portland Lobster Company" it sort of begs you to stop and crack one open while drinking some local brews.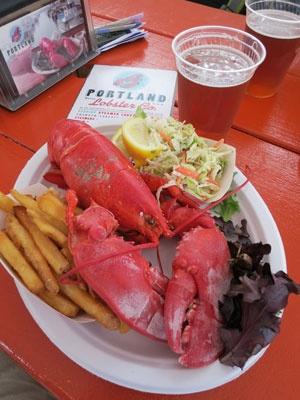 We also enlisted a local taxi driver to take us out to the Portland head light. A super cool light house that we also watched from the water and the warm comfort of the Serenity deck hot tub as we sailed away.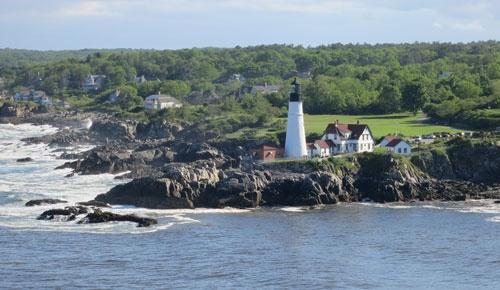 Saint John:
Saint John is one of the oldest towns in North America, having been first discovered in the 1500's by French fishermen and Spanish explorers. It is also home to a number of craft breweries, including the Saint John Ale House, where we enjoyed a couple half pints, local, freshly caught, fish and chips, followed by a delicious chocolate Guinness cake.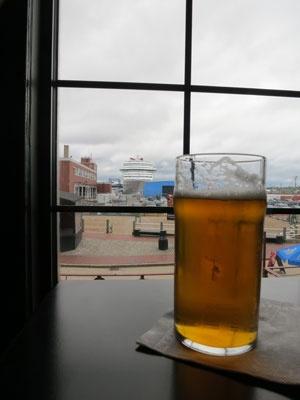 Oh yeah, and Saint John wants to make sure you don't forget that they have delicious lobsters too!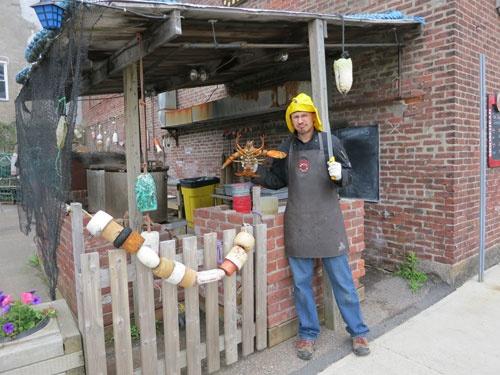 Had we been able to spend more time, there are a ton of cool natural wonders including the reversing falls - the Bay of Fundy and in particular Saint John has some of the highest tides in the world.
Halifax:
Halifax is a FANTASTIC city. If you have never visited, it should be on your list soon. Regardless if you are visiting for a guys weekend, girls weekend, or a romantic trip with your wife or partner, Halifax has something for everyone. We chose to do a city tour on the Big Pink Bus. This took us to various places around town, including a gorgeous formal garden that had tons of opportunities for romantic photos.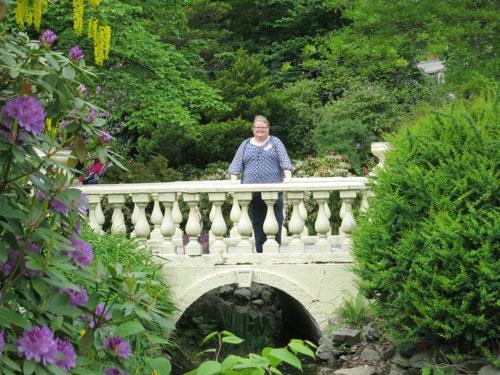 Sydney:
We chose to rent a car and see the Cabot Trail. Unfortunately due to Carnival Glory arriving late we lost some time that would have allowed us to explore more, but we still had a great time.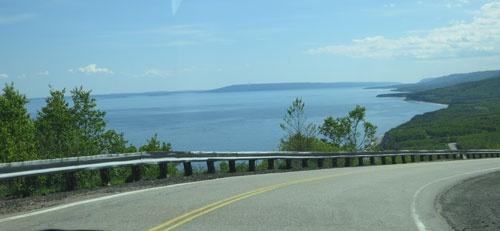 The Cabot Trail is one of the most scenic drives in the world and the roads deserved more than the Toyota Corolla that we rented. At one point, I was chatting with a guy in a Dodge Charger and was very envious of how much fun he was having swinging it around corners and up and down the hills. Next time I think I'll opt for the Maxima or a Mustang convertible!
Upon arrival back at the ship, the tiny town of Sydney gave us a great send off. Not only did they have a great craft fair going on that Heather loved, but they also had a local high school band that played the Star Spangled Banner, America the Beautiful, and then finally O Canada. It was one of those fun and corny things that shows that they valued the Glory visiting their hope and dropping a pile of money into the local economy.
Overall Review of Carnival Glory:
Overall, Heather and I had a good time - and we both agree that most of the problems will probably be ironed out now that the crew has had a chance to adjust and certainly any issues with the ship will be resolved next year when Carnival Glory returns with the full 2.0 upgrades. If you are looking for something different than the Caribbean and something a bit cheaper than Alaska, this is a great cruise to consider - I don't know if he will be on the ship when you are, but ask Desmond for Jose from the Philippines. They will make your experience a fantastic one!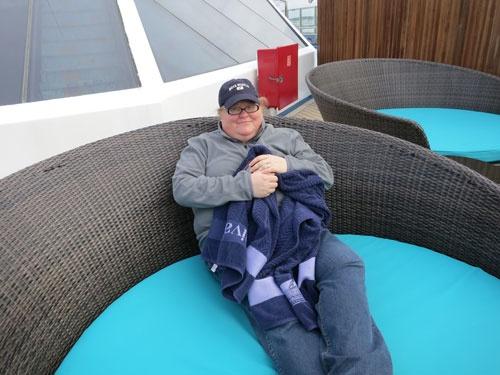 Cruising in the cold was certainly a different experience, but it wasn't bad once we got accustomed to it. On our last cruise we would have been sitting in these giant chairs and clam shells wearing our bathing suits - on this trip it was jackets, jeans, and blankets. But it is still fun to curl up one someone you love and just relax.
Would we recommend Carnival Glory for a tour of New England and Canada? Yes, but I would wait for the 2.0 upgrades next year, avoid the first few sailings (July / August / September will be warmer too), and remember to have FUN! Don't let the weather bother you, this is your vacation.
Will we sail Carnival again in the near future? ABSOLUTELY (we are already booked on the Dream for September!) - while we had a less than stellar experience on this cruise, we have had fantastic experiences on other Carnival cruises and look forward to putting this one down as the exception to the rule that Carnival truly is the FUN SHIPS.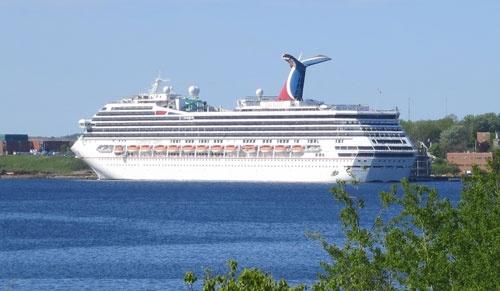 Also, I want to thank Cruise Director Josh and John Heald for the champagne and chocolate covered strawberries, Carnival's PR team for the champagne and Internet minutes, and the Carnival Glory's Hotel Director for the Fruit Basket. While we paid for this review of Carnival Glory, we absolutely appreciate the efforts to make our trip as enjoyable as possible.