Attending a luau has been a must-do activity for visitors to Hawaii for generations. The word luau simply means "party" or "feast" but over the years the tradition has evolved into one of the most iconic tourist activities in Hawaii. The folks at Mauna Kea resort invited us to be their guest for the Mauna Kea Luau and we were impressed with both the quality (and quantity!) of food as well as the performance itself. Here's what to expect when you attend their luau ...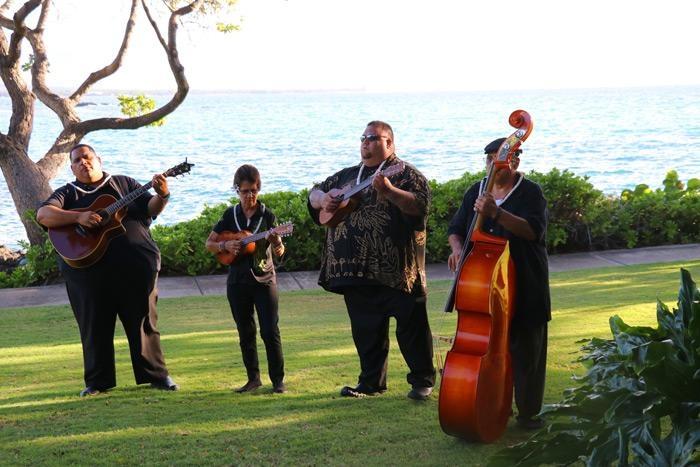 A Brief History of Mauna Kea Beach Hotel and Resort
Mauna Kea Beach Hotel is located on the Big Island of Hawaii, along the Kohala Coast. The resort was the first of Hawaii Island's beach resorts and dates back to the 1960's when Laurance S. Rockefeller decided to create the resort. Originally, the hotel and resort was intended to be similar to today's "eco resorts" in that it was a cluster of cottages along the beach with no televisions or air-conditioning so that guests could fully experience the natural beauty and wonder of this part of Hawaii. The resort then evolved into a unified building and added air-conditioning but it remained without televisions in the room till 1995. When it opened in 1965, Mauna Kea Beach Hotel was the most expensive hotel ever built and earned media attention including: "three greatest hotels in the world" by Esquire and "10 best buildings of 1966" by Fortune.
As of 1995, the property is part of Marriott's Autograph Collection of boutique hotels and guests have access to virtually every modern amenity imaginable including a fantastic beach, thousands of art pieces, and some of the best golf on the island of Hawaii. In fact, the Mauna Kea Golf Course opened a year before the resort itself and was designed by Robert Trent Jones who pioneered a technique to create suitable soil from raw lava rock ... something that would lead to many other courses along the coast in this part of the island.
With this rich history, it should be no surprise that the Mauna Kea Luau is also one of the best in Hawaii, dating back to the 1960's when it was created to show off the resort for Newsweek magazine.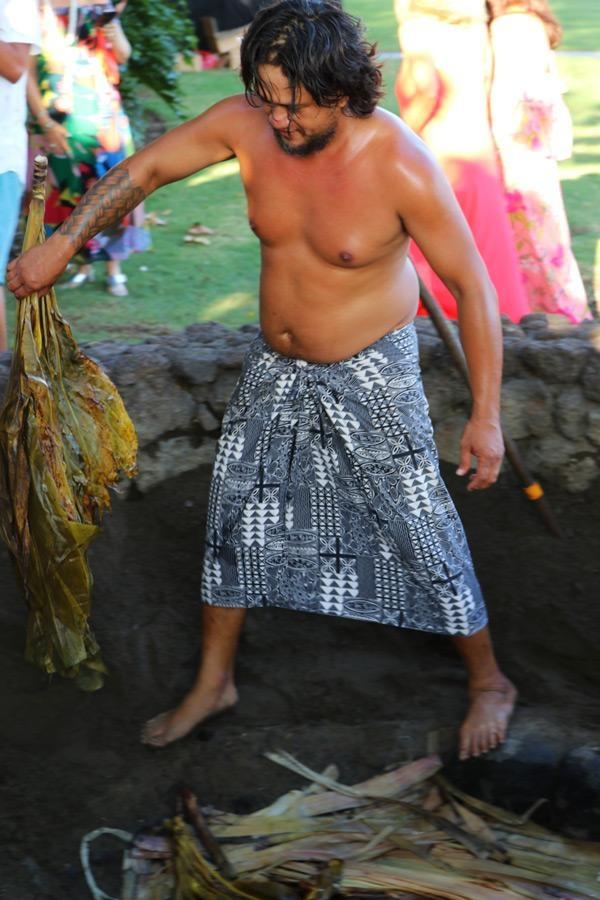 What To Expect at the Mauna Kea Luau
Guests are encouraged to wear "Luau Attire". As this was my first experience at a luau, I wasn't sure what that exactly meant. Luau attire simply means Hawaiian shirts and shorts for men and flowery dresses for women. Sandals and flip flops are acceptable but avoid "beach flip flops". An effort to dress up is appropriate here but remember that this is Hawaii and especially in the summer it's hot and humid so be comfortable.
Upon arriving at the Mauna Kea Luau, guests are seated based on their luau ticket category - Premium vs Regular and then the fun begins. The evening opens up with a complimentary Mai Tai or punch drink (non-alcoholic options are also available) and then the traditional Imu ceremony where the Kalua Pig is unearthed from it's underground oven. For several hours, it has been slow cooking while wrapped in banana leaves and hot stones till it is perfectly cooked and super juicy. Then it's time to head off to the buffet full of delicious Hawaiian delicacies.
While dinner is being enjoyed back at your table, the performance begins with an introduction to Hawaiian History as the King and Queen enter as well as some mythology including a dance re-enacting the story of Pele and her sister.
Kids are invited up on stage to dance as well and then the theatrical part of the night begins.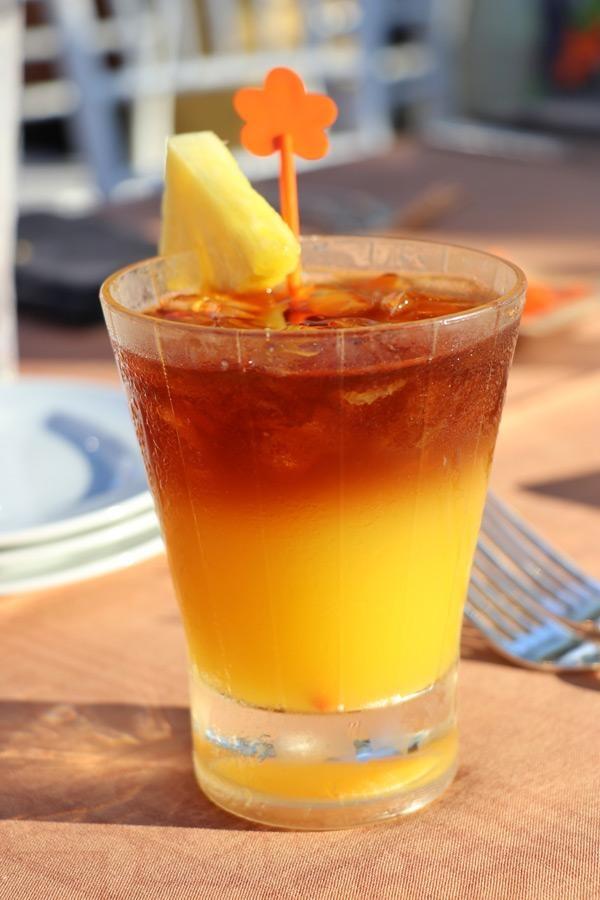 Mauna Kea Luau Cost - Premium Seating vs General Seating Lua Price and Benefits
There are two different pricing options here for the Luau Dinner and Show package. Premium Seating for the Mauna Kea Luau includes seats at one of the tables right up front and in the middle of the stage area. This generally will give you a fantastic view of the performance and you might even be invited up on stage to dance. Price for Premium Luau Seating is $137 for Adults and $79.50 for children. It also includes complimentary local dried fruits, macadamia nuts, and potato chips. General Seating doesn't include those snacks and while you aren't necessarily in a "premium" seating spot for the luau, there isn't a bad seat for the show since the entire area is so comfortable and intimate.
All guests receive a complimentary Mai Tai or other drink but a full bar menu is available if you want additional drinks.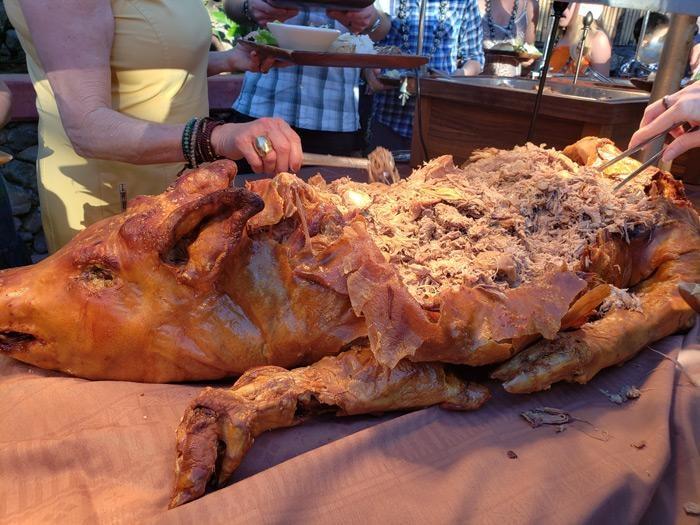 Mauna Kea Luau Menu
The food portion of the Mauna Kea Luau was simply phenomenal. Truthfully, ticket prices here are among the highest on the island and some reviews I read claim that it's over priced. While far from "cheap", it's very clear where the ticket price goes to. Simply put, you get what you pay for and I considering your luau ticket price includes both the show and dinner it's a pretty fair price that is worth saving up for.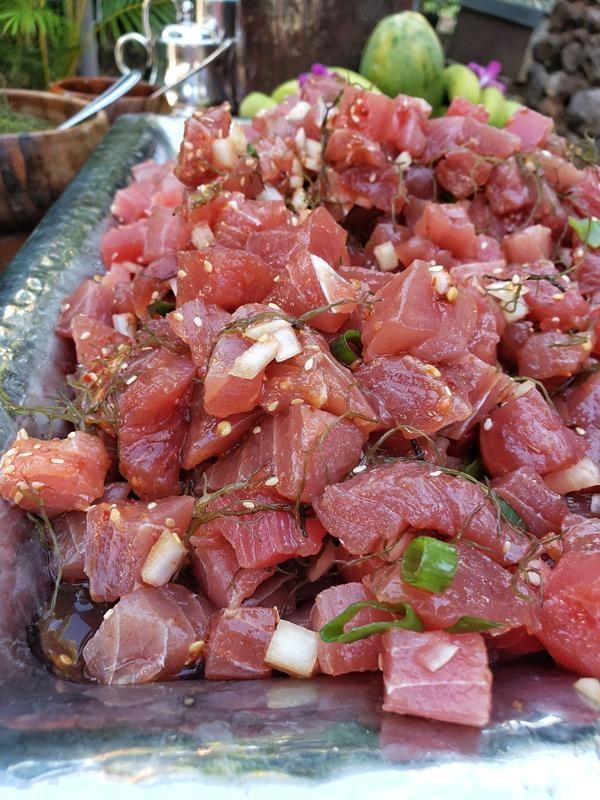 The selection of food items was excellent here. This includes classic Hawaiian dishes like laulau, rice, and of course kalua pork there's also a rich assortment of seafood on the menu. This includes mountains of poke, smoked fish, octopus, and mahi. Desserts and fresh Hawaiian fruit is also plentiful and equally delicious.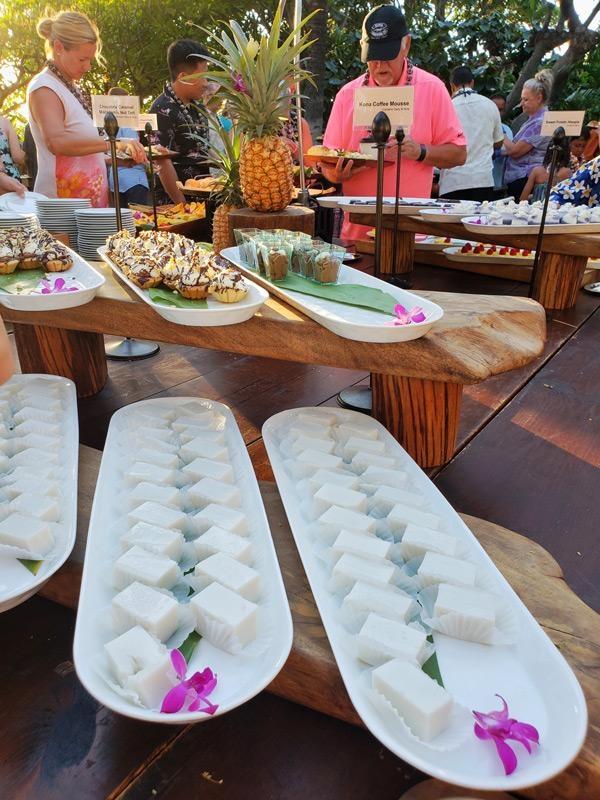 Everything I tried was delicious and I was also impressed that the attendants stood next to the food waving banana leaves to shoo bugs away as well as constantly refreshing the dishes. Another factor that impressed me compared to another luau that I observed during our visit to Hawaii was that here, guests had wooden plates and actual cutlery ... at others it's more of a picnic style with disposable plates and silverware. Everything here was a class act as you'd expect from a resort like the Mauna Kea Beach Hotel.
A full menu of what's included on the luau buffet is available on their website.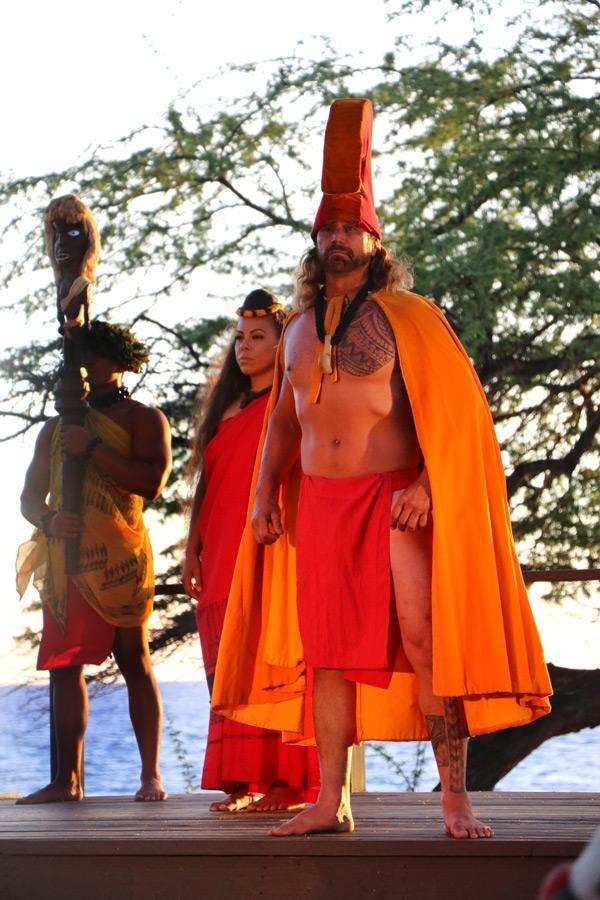 An Introduction To Hawaiian History, Royal Culture and Customs
While guests are eating, a Hawaiian Warrior arrives on stage heralding the arrival of the impending arrival of the king by blowing on the conch shell. A narrator then shares a brief history and mythology of the Hawaiian culture. This included the tale of Pele (fire goddess) being chased by her sister Namakaokahai (ocean goddess) and how their journey ultimately created the Hawaiian archipelago. Other stories included the history of King Kamehameha and how he unified Hawaii as well as the origins of Hawaiian culture from islands like Tahiti and Bora Bora.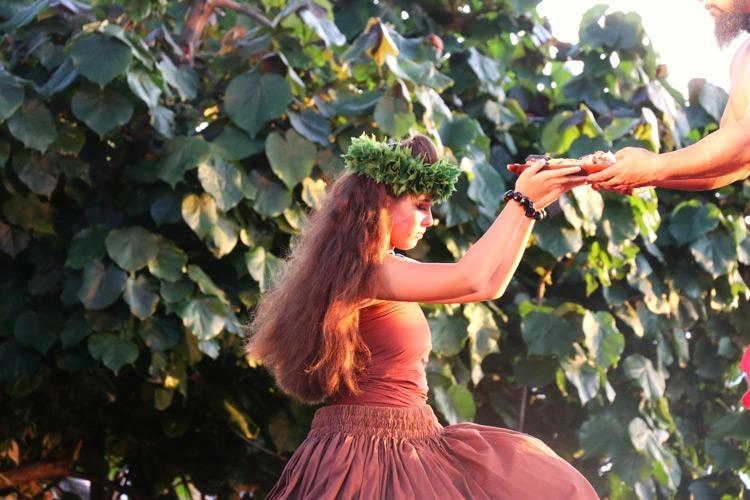 While probably not 100% historically accurate, this history and culture presentation was enjoyable and educational. It included interesting facts like how traditionally men and women ate separately until Kamehameha II broke that tradition by dining with the women and that led to the modern luau feast.
Unfortunately I was asked not to take any images of the show portion of the show but I found it very entertaining with classic hula dancing girls and fire dancing men. Interestingly though, compared to videos I'd seen of other luaus, this one was very conservative in terms of female sexiness but almost Chippendales-like in certain parts with hot half naked men dancing to the delight of women seated on other side of me. Overall though, the show is very family friendly and costumes are generally conservative though you do get some skirts and coconut bras.
However, for those of you seeking a luau as a bachelor party activity with sexy hula girls ... this isn't that show.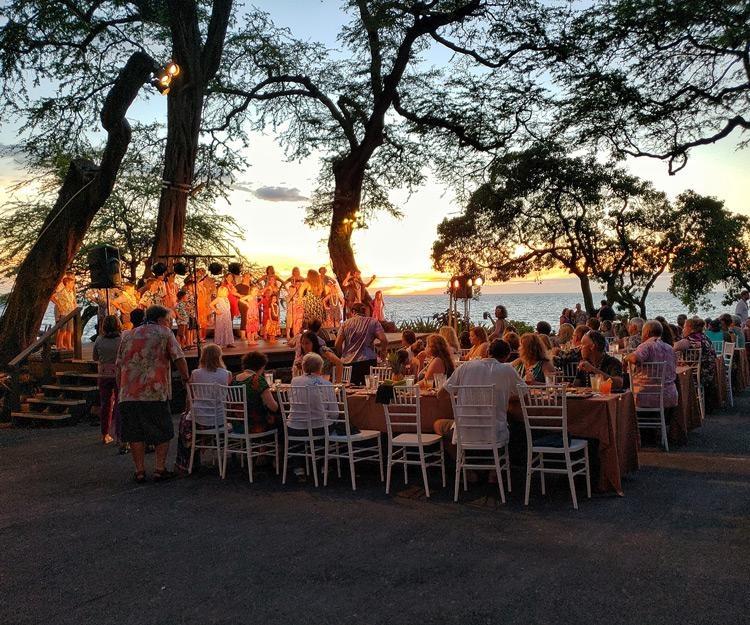 Mauna Kea Luau is Private and Secluded in a Beautiful Setting
Beyond the show and the food, I can't say enough about how beautiful the setting was here on the resort grounds. The resort property here at Mauna Kea is large enough to be able to have the luau in a private and secluded spot designed just for the event. The luau area is a short walk from the main hotel building and right on the water in perfect position to both provide plenty of shade at the beginning and enough open space to enjoy a spectacular sunset.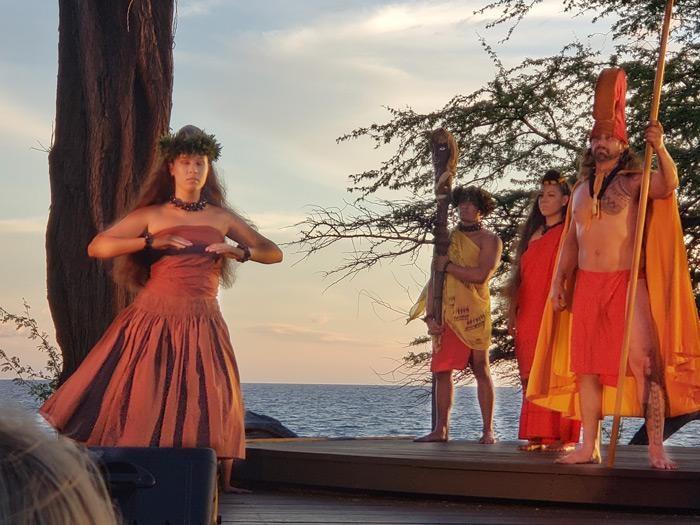 The Mauna Kea Luau is held every Tuesday and Friday from 5:30-8 pm, however you should plan to call for reservations or email Mauna Kea to confirm availability.
I also recommend getting there a little bit early so you can walk around the resort before the show as well.