Waikiki Beach in Honolulu, Hawaii is a jungle of high-rise resorts. While some are mega resorts - others are still focused on making sure the individual guests feel special and as welcome as possible. From the moment we checked into The Outrigger Reef Waikiki Beach we felt that Hawaiian spirit and that it was something special. While there are other more luxurious and more modern properties available, the authentic and distinctly Hawaiian feel here allows guests to switch out of travel mode ... and enter vacation mode.
Our visit to Outrigger Reef Waikiki Beach was a bit different than most perhaps, but it was absolutely enjoyable and I look forward to spending more time in the future. Instead of being normal guests, we were invited to spend the the day at the resort following debarkation from our Pride of America cruise, until our flight departed later that night. This is not something typically offered by the property but, it might be worth booking the room just so you have a place to hangout for the day.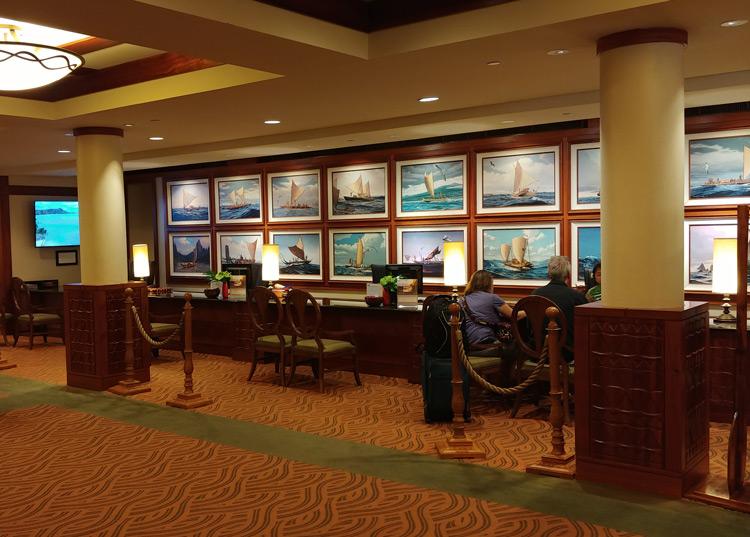 Our check-in process began while sitting down at a desk with the agent, instead of the rather impersonal standing check-in that most hotels use. I also liked the fact that there were some great paintings of outriggers in different Hawaiian settings.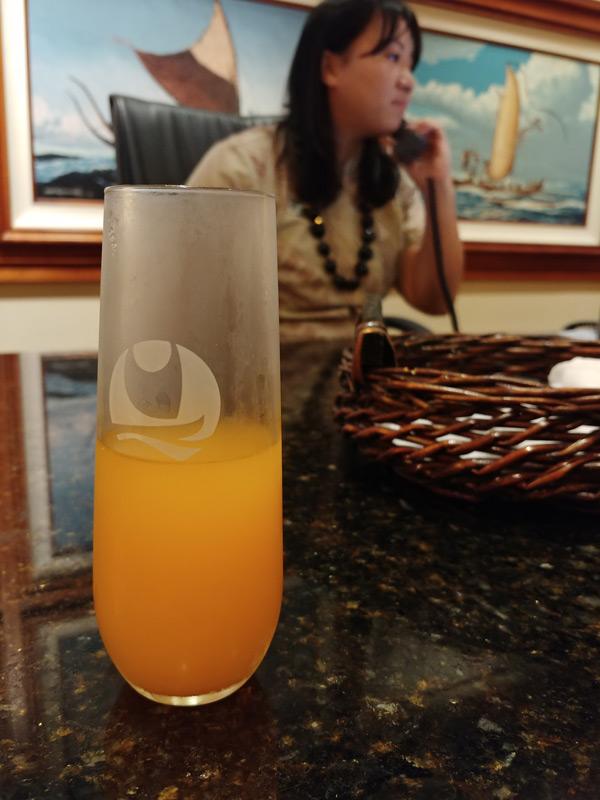 This, along with the fresh glass of cold juice was exactly the right thing to help a guest transition out of travel mode and begin to relax.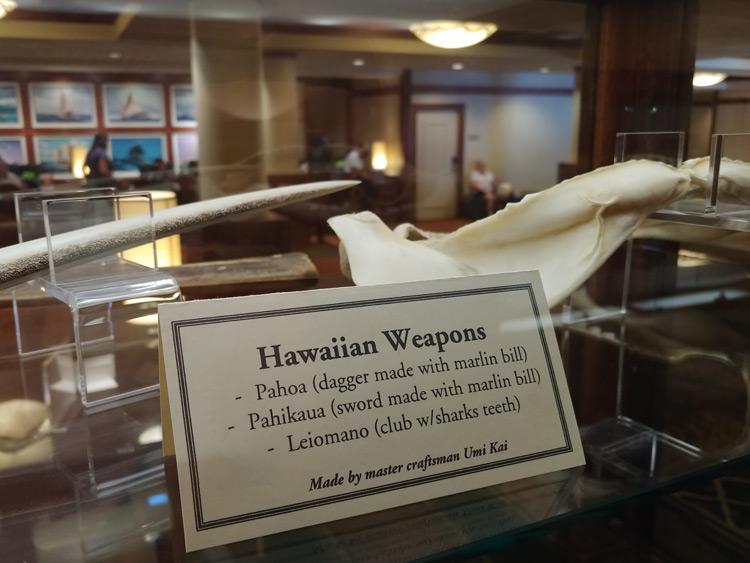 After check-in, I wandered around the lobby a bit looking at the different artifacts they had on display. These included a display of Hawaiian Weapons as well as hats, jewelry and other items. While some resorts go for kitch and tacky "tourist Hawaii", I really appreciated that this was something different.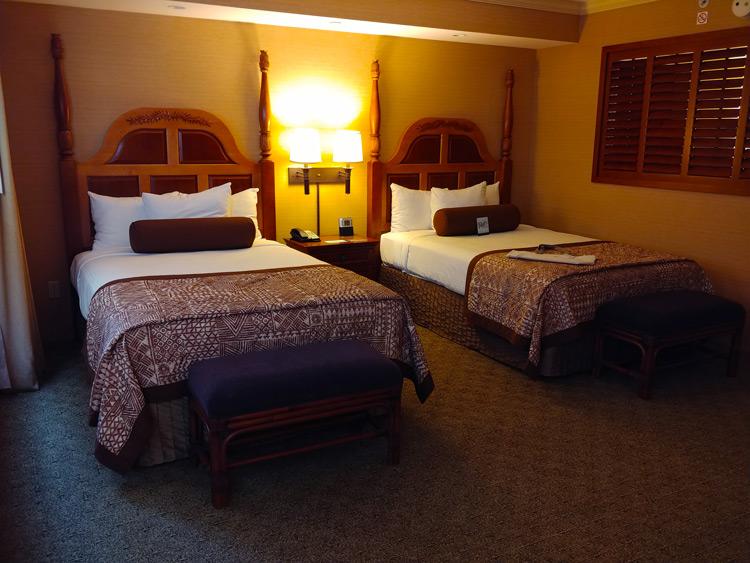 There's a few different room types available here at different price points. We were provided with a standard room and while it is the cheapest, I'd strongly recommend that you spend the money and upgrade to City View or Ocean View. While the room was fine, it was a bit darker than I'd normally prefer and the adjacent building is very close so there's no privacy and no view on your balcony.
If you plan to spend all of your time out exploring the island though, that might not be a big deal.
Even though this is all about vacation time, I did like the fact that the room had a nice desk and good chair so I was able to get work done and the wifi was better than many properties I visit too.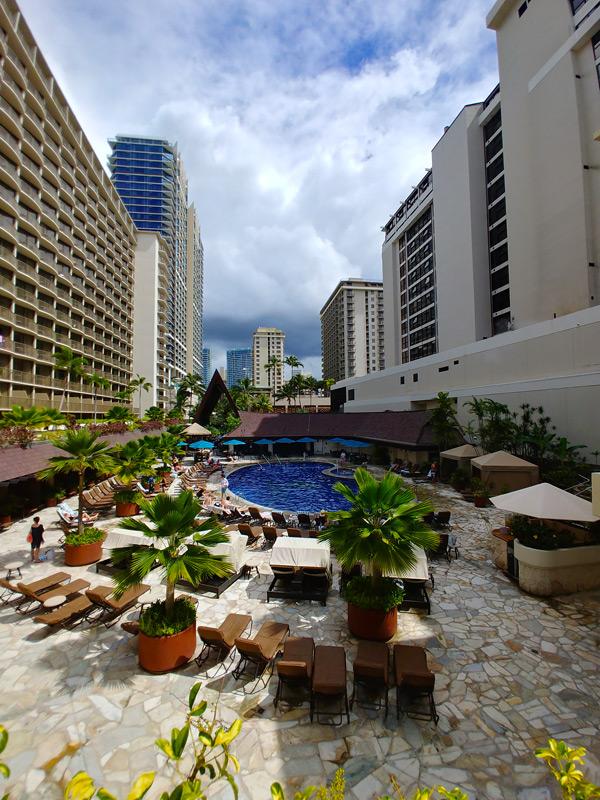 The Outrigger Reef Waikiki Beach recently redid their pool area and it was very nice. Though it can become a bit crowded as the afternoon progressed, there was plenty of space for everyone.
In fact, the pool itself was larger than some other properties in the area and everything just felt like it was the "right size". For instance, while all resorts have a pool bar or restaurant - this one was just steps away from the pool and then you could jump back in after having lunch, without losing your spot in the water.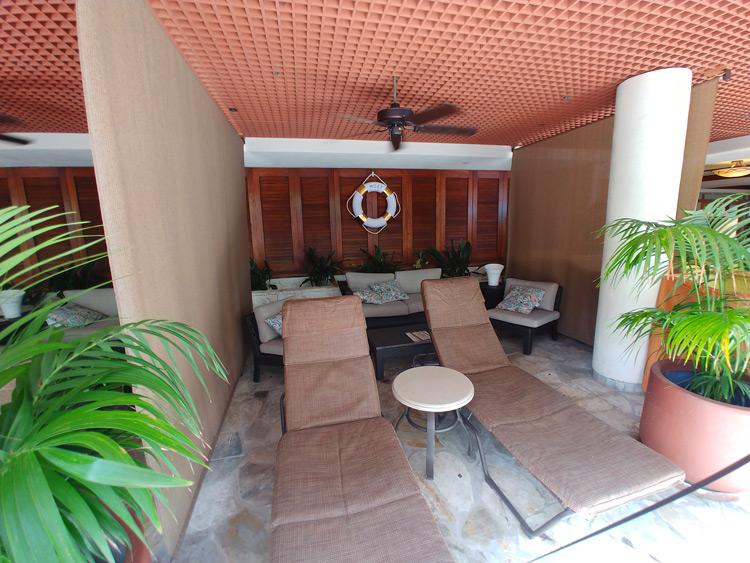 The other option if you don't want to stake out a table and chairs is to reserve one of the cabanas. These cabanas were all very reasonably priced and the perfect size for a group of guys or even just a romantic getaway for two.
There are two restaurants on-site, The Reef Bar, a beach front restaurant and Kani Ka Pila Grille, by the pool. Food and drinks at Kani Ka Pila Grille were excellent. We enjoyed the drinks including this Frozen 808 - Layered Ocean Vodka, Rum, Banana liqueur, blended with mango, lilikoi and an eruption of strawberry puree.
In the evenings they have a Hawaiian music and it was clear that it attracted not only guests of the hotel but locals as well.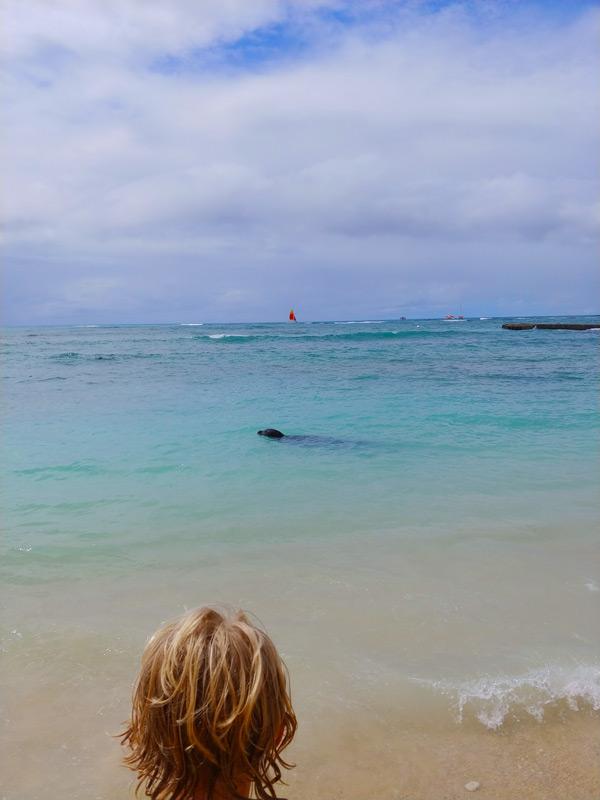 While the Outrigger Reef resort is on Waikiki Beach, the beach here is limited - though perfectly acceptable and it is the right size for the resort. While we were there, we did see a Hawaiian Monk Seal enjoying the warm water too, so that was fun.
Another benefit of staying at an Outrigger property is that there's the Waikiki Connection - a free shuttle (included in the resort fee) that not only takes you between the properties but also all the way into Diamondhead Crater so that you can go hiking there if you wish. There are also several other stops along Waikiki Beach area if you wanted to check out other beaches, restaurants, shops, and cultural destinations.
Overall this was a great property that I would welcome an opportunity to return to. It's just the right size and has great staff that work to create a welcoming atmosphere.