Norwegian Cruise Line invited me on a seven-day cruise of the Hawaiian Islands and it changed my view of this state in a profound way that I didn't expect. While we had visited Hawaii a month earlier and had a great experience - I had no real understanding for the diversity of terrain, culture, and opportunities for adventure that would await us on this cruise. With more than 100 hours in port and no scheduled sea days, this was a profoundly different cruise experience - but one that anyone looking to truly experience Hawaii must try.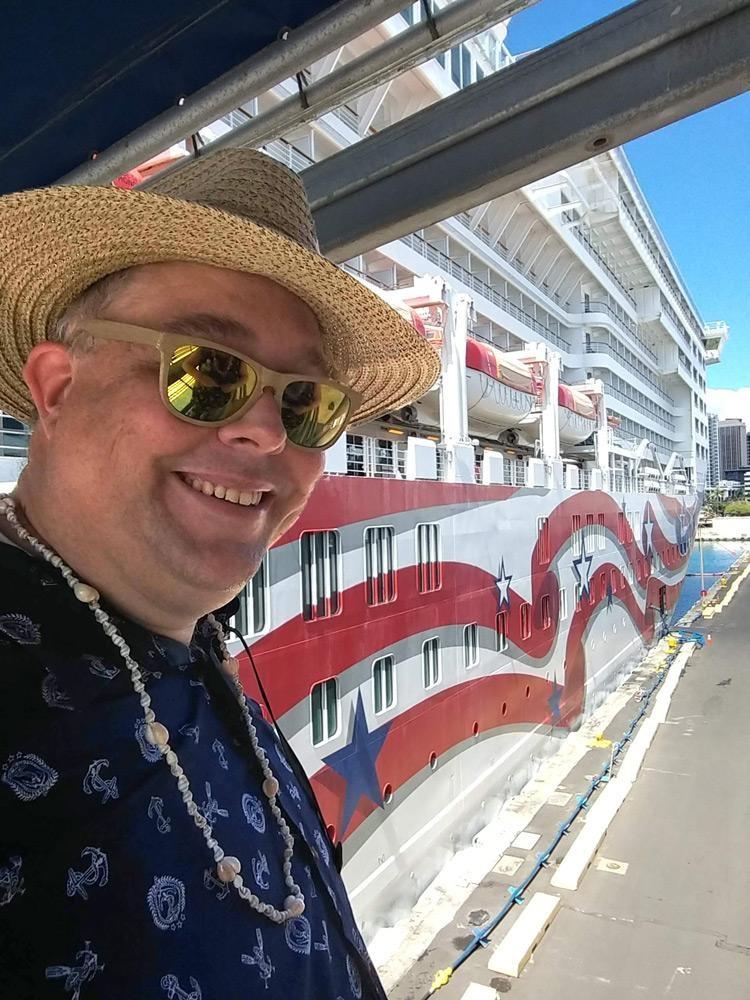 Boarding Pride of America cruise ship in Honolulu, Oahu
Pride of America is the only US flagged large cruise ship operating in the United States. Unlike other ships operated by Norwegian (and other mainstream brands), Pride of America operates entirely inside the United States with no need to make a stop in a foreign country the way other Hawaii cruises do. For instance, typically cruises from Los Angeles to Hawaii will have 3-4 sea days to/from the west coast and either stop in Ensenada, Victoria, or Vancouver to satisfy Jones Act regulations. That also means your Hawaii cruise is generally 10, 11, or 12 nights vs seven on Pride of America. Furthermore, Pride of America has more than 100 hours in port, two overnight stays and all seven days available for you to explore Hawaii.
Compared to some ships that we've sailed on before, Pride of America is small - only 80,439 GT and carrying up to 2,500 guests. For a Hawaii cruise, this is the perfect size though since everything on the ship is just a short walk away and you end up making friends quickly. Despite its smaller size, there are more than 15 restaurants and bars on the ship as well as a theater and plenty of hot tubs around the pool deck. Inside, she is decorated with Americana from stem to stern. This includes a flowing red, white, and blue ribbon decorating the bow, Jefferson's Bistro specialty restaurant, and an atrium that resembles the white house. In the stairways the art features various scenes from across the United States as well. There's also a fun 24-hour restaurant that is complementary and features a 50's American vibe. Guys will love that you can get great wings here any time of day!
Cabin space in our balcony room was on the small side but it was adequate. Since this is a ship designed more as a floating hotel than a vessel to spend lots of time in, this wasn't terrible. In fact, our time in the room was mostly spent sleeping or changing out of our sweaty clothes from excursions, so that we looked and smelled good for dinner and drinks as we sailed to our next destination.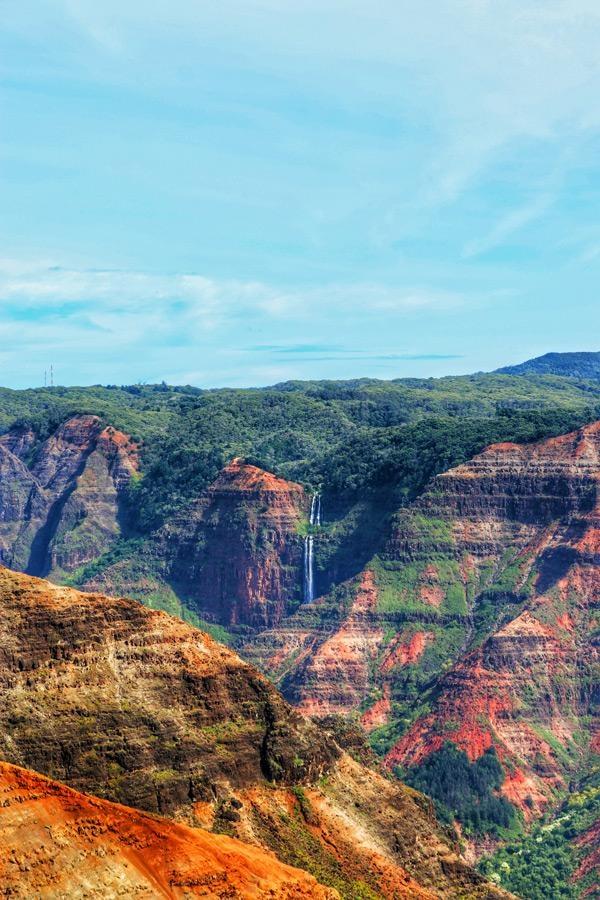 Waimea Canyon and Falls Kauai, Hawaii.
Unlike other cruises, where the ship is the destination - the focus here is Hawaii. This means there is LOTS of time to explore the islands ... that's why you are here in the first place, right?
Honestly though, this makes it a difficult cruise to compare to previous experiences. Typically when talking about cruises, the conversation revolves around this feature or that feature ... this time, it's all about the destination.
Despite that, Pride of America is hardly a footnote to our experience exploring Hawaii. Hands down, the ship is the finest mainstream cruise ship that I have ever sailed on for any line. Despite it being an older ship (launched in 2002 and drydock updates in 2016), it felt new and was in great shape. Staff, cleanliness, wear and tear were all way above average. From a facilities perspective, like all Norwegian Cruise Line ships, it offered a fantastic selection of freestyle dining options, great bar service, and a very high quality of food in both specialty as well as complimentary restaurants. With any ship, it is a team effort to keep things running smoothly but I give a lot of credit to the Hotel Director who has been in that role for approximately six years - virtually a lifetime compared to similar ships.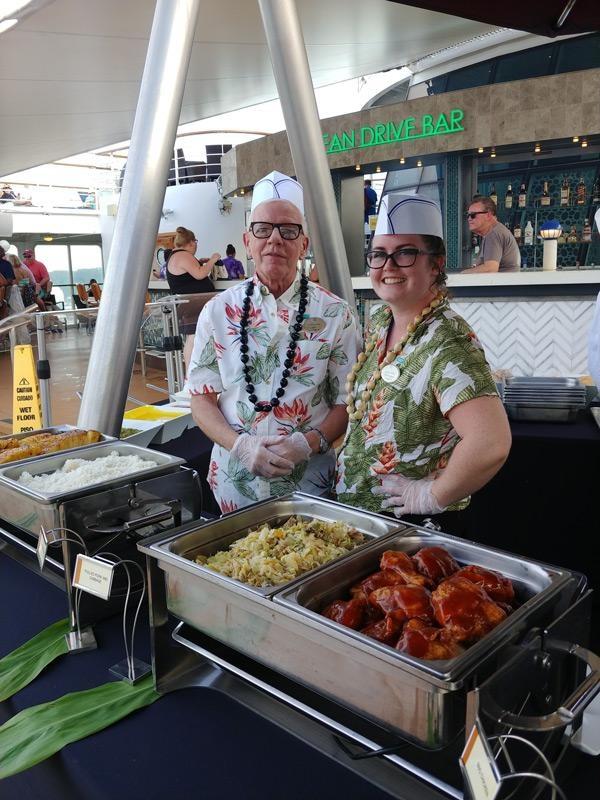 Hawaiian BBQ on deck of Pride of America on our Hawaii cruise.
The other reason I feel that the service was so good here is that about 2/3rds of the crew is American and the rest is the "best of the best" from across the industry.
Since this is an American flagged ship, pay and labor standards would be consistent with United States standards and regulations. That, combined with no casino onboard does lead to a higher-than-average cruise cost, but a Pride of America Hawaii cruise is something special and the cost is worth it. If you are a bargain seeker, check Pride of America cruise prices in the fall and winter where balcony cabins hover around $1,500 vs summer when they go as high as $2,500 per person.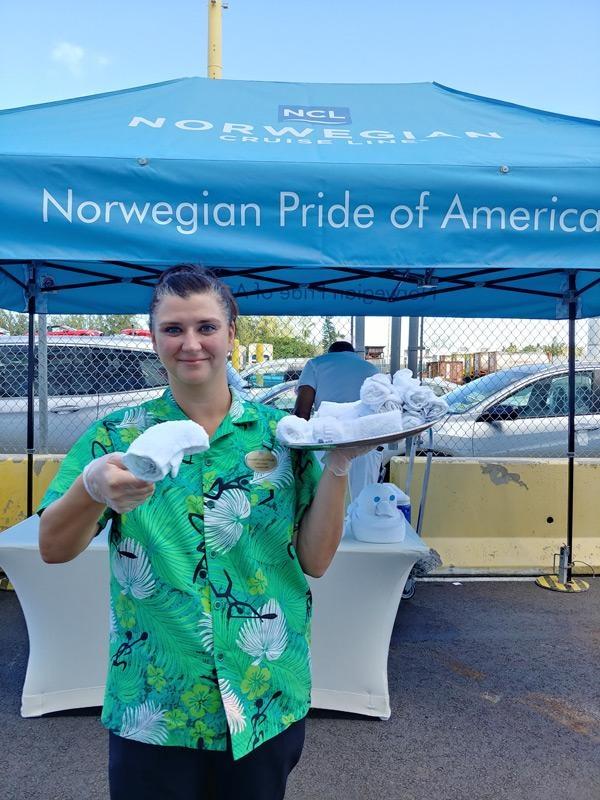 Cold towels when coming back on Pride of America Hawaii Cruise.
What I Loved About Cruising on Pride of America in Hawaii:
When we visited Hawaii the month prior to the cruise, we stayed on the Big Island. While we had a great time, our friends all asked "are you going to Maui / Oahu / Kauai?" A few decades ago, I guess this was a real opportunity but today not only is that going to cost hundreds of dollars in airfare but many hours of lost vacation time. In fact, a flight from Hilo to Lihue Airport on Kauai is a 2-hour flight! This means that a cruise is the only realistic way to see all four of the major Hawaiian islands. Without an experience like this though, you are simply going to a resort and seeing only one aspect of Hawaii.
Lots of Port Time - with more than 100 hours in port, the cruise never felt rushed. There was never that feeling that you had to rush back to the ship and in fact on Maui and Kauai the ship even docked overnight. This means that you could go out and enjoy the nightlife, experience an authentic luau, or see the sunrise and sunset from the shore. Even ports without overnight stays had a MUCH later departure time compared to other Hawaii cruises.
Fantastic Crew - this aspect simply can't be stressed enough. While I've consistently been impressed with Norwegian Cruise Line crew on a variety of ships, this was the best crew I've sailed with on any mainstream line. The crew members I met and talked with seemed to genuinely enjoy their jobs vs the "polite smile" you sometimes get when cruising. While this was certainly true for the American staff ... it was just as true for the foreign crew members who I talked with. One couldn't stop talking about how much he enjoyed working on Pride of America and was disappointed that he had to leave. Even though his new assignment would probably be considered an aspirational position to many others, Pride of America was better in his mind. It's this energy that will make a Pride of America cruise more than, "just another cruise".
Incredible Food and Drinks - Again, anyone that has sailed Norwegian Cruise Line recently has probably experienced how great the food and beverage service is on their ships. While due to Hawaiian alcohol laws they aren't able to offer an inclusive alcohol package, the drinks are just as good as any other ship in the fleet. Food was in general a step above any other mainstream cruise line we've sailed on and suite guests are in for a special treat since the included specialty restaurant was among the best I've had on any ship.
Pride of America Was Designed for Hawaii Cruises - One thing that disappoints me about cruising is that often it feels like the same on-board experience regardless of the destination. For instance, in Alaska you have the same drinks and menus as you might in the Caribbean. Pride of America however is all about Hawaii. For instance, the uniforms are a subtle "Hawaiian Shirt" look, wall art features Hawaiian themes, the staff wear leis, and there's even a sort of Hawaiian feast one night on the ship. One of the highlights though was the Hawaiian cultural ambassador. He led activities ranging from lei-making to hula dancing and it was authentic culturally. While you could have easily trained someone to lead those activities, he was passionate about sharing and answering questions about his people and culture as you can see in the video above.
This wrapping the ship in the Hawaiian experience made the voyage much closer to the experience you might have at a land-based resort.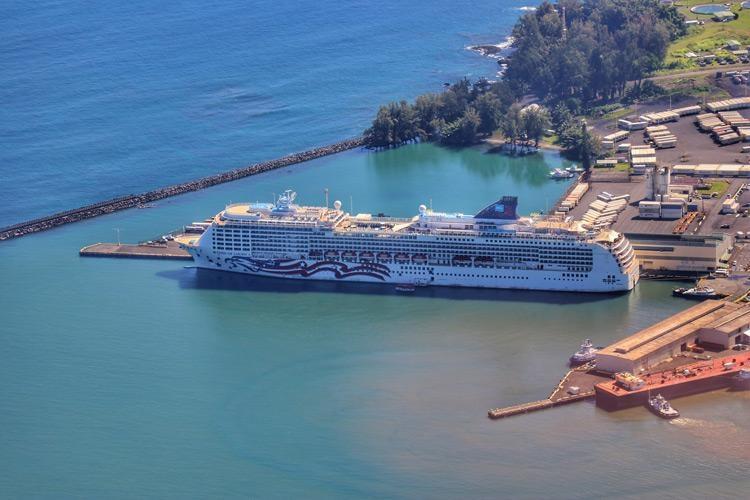 Pride of America cruise ship docked in Hilo, Hawaii.
Pride of America Hawaii Cruise Itinerary and Excursions:
We're going to do a more extensive feature about excursions and tour options available for Pride of America cruisers shortly. At each of these ports is an opportunity to go golfing, relax on the beach, explore Hawaiian culture, surf, snorkel etc. However, each of the islands offers some awesome unique opportunities too. Here's some quick excursion and self-directed tour highlights ...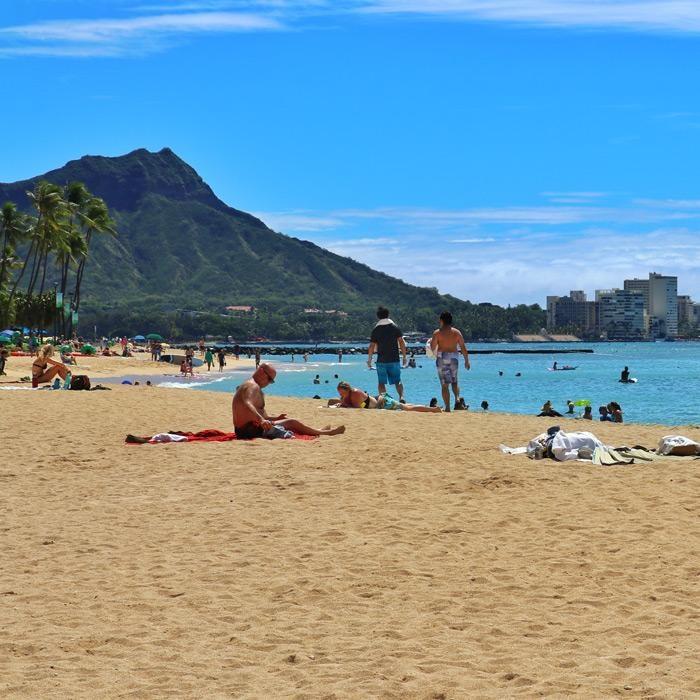 Waikiki Beach and Diamond Head in Honolulu, Hawaii.
Honolulu, Oahu
Pride of America cruises begin and end in Honolulu. With a late departure time of 6 pm and no lengthy immigration control lines to worry about, it means that you can fly in the day of the cruise if you wish. However, if you are already spending the money for an amazing experience then I highly recommend planning at least one night in Honolulu to explore the food scene, tour Pearl Harbor, hike Diamond Head, or just simply relax on Waikiki beach with a cold drink in your hand.
Honolulu Food Tours - Honolulu has an amazing food scene with a mixture of modern cuisine as well as Hawaiian favorites.
Polynesian Cultural Center - Explore the sights, sounds, and tastes of Polynesian culture through interactive exhibits and cultural displays.
Pearl Harbor - There are a variety of ways to explore the history of Pearl Harbor, including visiting the resting place of the Arizona, touring the Missouri or exploring the naval aviation exhibits.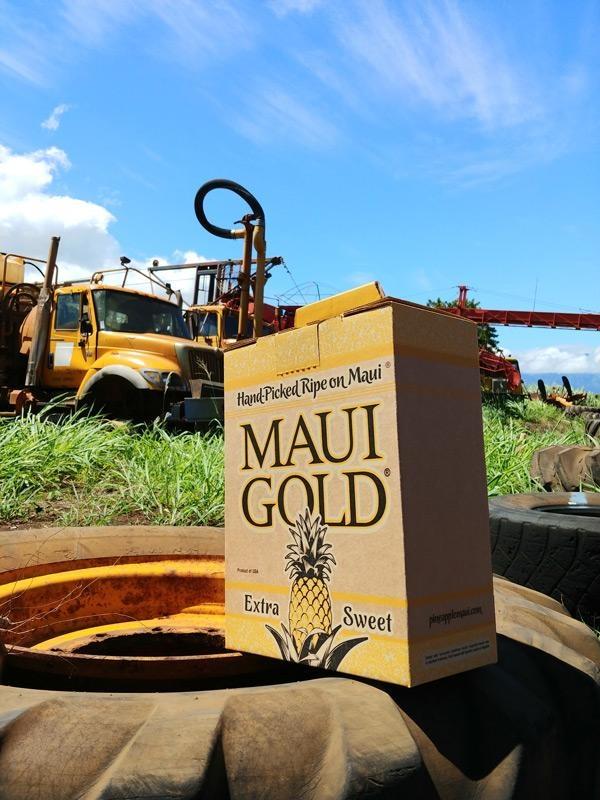 Maui Gold pineapple tour in Maui, Hawaii.
Kahului, Maui
Pride of America spends two days here and there's some fantastic opportunities here for guys to explore. For many people, Maui looks and feels like what you would imagine Hawaii is. It's lush and green with good beaches and open fields with fertile soil that once was dominated by pineapple and sugar plantations. Excursion opportunities that you shouldn't miss here include:
Ocean Vodka Distillery - Estate grown sugar cane vodka and rum.
Maui Gold Pineapple Farm - Tour pineapple fields and see how some of the sweetest and juiciest pineapples are grown.
Hailiimaile Distilling Company - Directly across the street from Maui Gold is a distillery that is making spirits from pineapples. This includes the award-winning Pau Maui Vodka and Paniolo Blended Whiskey that is a combination of an aged Kentucky Straight Bourbon Whiskey and pineapple distillate.
Surfing Goat Dairy - This was actually a lot more fun than I expected. Goats are cool and here we got to feed them as well as enjoy some awesome goat milk cheese so that's not a bad way to spend an afternoon!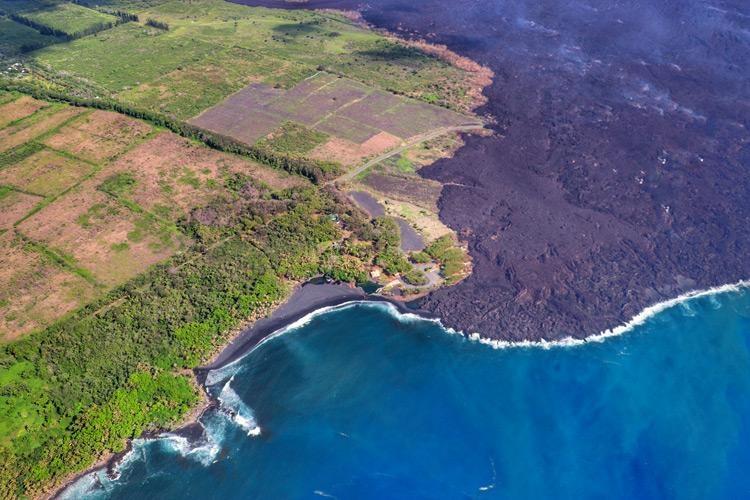 Volcanic lava fields tour by helicopter near Hilo, Hawaii.
Hilo, Hawaii
While there's lots to explore in Hilo, the major destination that most people want to visit here is Volcano National Park. While Kilauea is not erupting the way it has been for the past 30 years, it is still an amazing opportunity to learn about volcanoes. However, the city of Hilo itself is a fantastic opportunity to try some authentic Hawaiian food and can be easily explored on foot after a quick ride from the cruise dock.
Blue Hawaiian Helicopter Tour - Blue Hawaiian offers helicopter tours throughout the Hawaiian islands and the experience was FIRST CLASS. While not cheap, this is the ultimate way to see the islands.
Mauna Loa Macadamia Nuts - This is more of a gift shop and Visitor Center experience than a tour, but you do drive through a macadamia orchard on the way. Plus, there are plenty of free samples of a variety of flavors. It's a short drive from Hilo and is best if you plan to rent a car or visit as part of a Hawaiian Island Tour.
Imiloa Astronomy Center - This is an absolutely amazing museum that I wish I had more time to explore. Conventional thinking suggests that the first settlers of Hawaii were simply "lost" but the level of sophistication in both shipbuilding and navigation comes alive here. Here, you will see how the early Hawaiians build boats able to explore the Pacific Ocean and navigate home safely.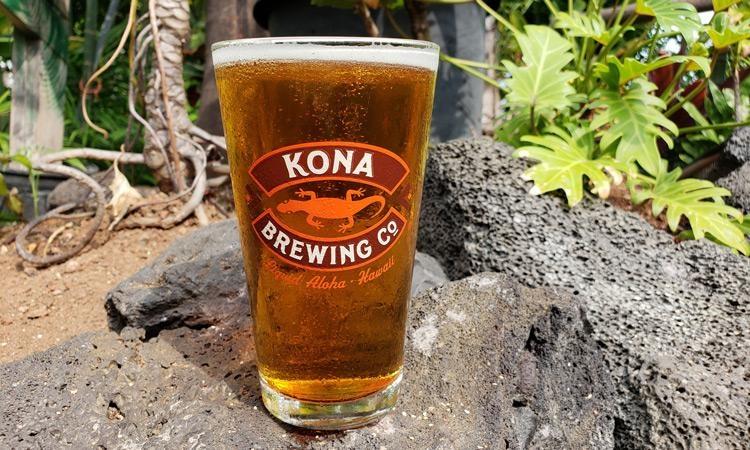 Kona Brewing Company brewery tours in Kona, Hawaii
Kona, Hawaii
Kona is the "dry side" of Hawaii's "Big Island". Unlike Hilo, which is very green - it's more rocky and black lava rocks dominate the landscape. Kona is also the one port where there is no dock available. Instead, Pride of America must tender and transport people to short by boat. As a result, it is susceptible to interruptions due to wind and ocean swells. However, when Pride of America is able to dock here, Kona is one of my favorite ports to explore. There are tons of restaurants, shops, and beachfront bars a short walk from where the tender drops you off. However, there's also some great cruise excursion opportunities here as well.
Kona Brewing - For beer lovers, this is a must visit - the beer is awesome here and so is the food (don't pass up the pepperoni rolls!)
Pu'uhonua O Honaunau National Historical Park - I love Hawaiian history and this is a great way to explore one of the more unique aspects of Hawaiian culture how laws worked before colonialism.
Kona Coffee Tours - There are many different Kona Coffee farms in the area and Pride of America offers some great tours that explore them.
Lava Tube - just north of Kona is a fantastic lava tube to explore. It is just off of the highway and very easy to visit.
Beaches Near Kona - There are some great beaches near Kona, but for the best you will probably want to rent a car. Hawaii state parks maintains some fantastic beach facilities and the only fee is usually a $5 parking charge. Our picks include Hapuna Beach, Waialea Beach, and 49 Black Sand Beach. This last one is super cool since you may find yourself with some much needed privacy and an opportunity to relax. State law mandates that beaches must remain accessible to the public - though property owners don't have to advertise that. So as a weird quirk, fabulous beaches such as Beach 49 remain accessible even though it is set inside a very exclusive resort. Simply go to the gatehouse for Mauna Lani Beach Resort and get a beach pass. Not only is 49 Black Sand Beach semi-private but it is beautiful and the sand is indeed black from the past volcanic activity.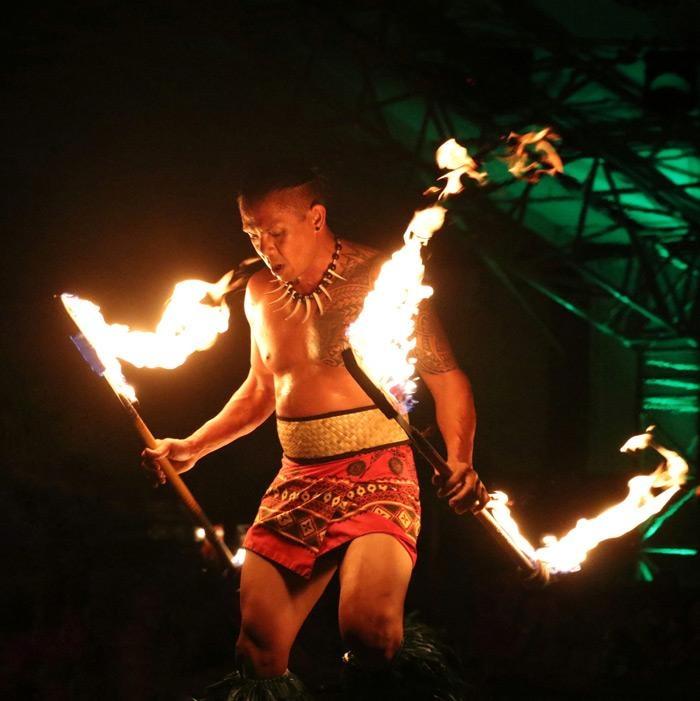 Fire dancer at Kalamaku Luau at Kilohana Plantation, Kauai, Hawaii
Nawiliwili, Kauai
Kauai is known as the "Garden Island" and is the oldest of the Hawaiian Islands that we visited. Because of this, while it has high peaks and deep valleys, it is lush and green with a unique exotic look that you won't want to miss. One of the other nice things about this port is that there is a small beach located about a 10 minute walk from the ship. However, like all of the islands Pride of America visits - there are tons of other great beaches to be explored here as well.
Kilohana Plantation Train Ride and Kalamaku Luau - This is probably your best opportunity to take in an authentic Hawaiian Luau. Before the party though, you can take a ride around the historic plantation and experience the vast variety of plants and animals that grow on Kauai's fertile soil. The show here is exceptional, but unlike other lauas that we've attended this is a HUGE experience with more than 800 people under one tent. That means it will get hot and sticky depending on the time of year. Though the food is good and the show is great so it's worth the experience if you haven't been. Alternatively, there are a couple other luaus available for the overnight stop in Kauai including Smith's Luau and Aulii Luau (Kauai's only oceanfront luau).
Koloa Rum Distillery - Koloa Rum is distilled on Kauai and is also located at Kilohana Plantation.
Hiking - This is a great island for exotic hikes including visiting Wailua Falls, Waimea Canyon, or Napali Coast.
Kauai Coffee - If you missed a Kona coffee tour on the Big Island then this is the next best thing ... actually Kauai Coffee just darn good in its own way and there is plenty of coffee for sampling. Plus, it's free to visit and you can walk through some coffee trees that surround the visitor center area and learn more about how coffee is grown in Hawaii.
Blair Estate Coffee and Tobacco Tours - Not only does Blair Estate also offer coffee farm tours but they are home to a tobacco farm and the Kauai Cigar Company.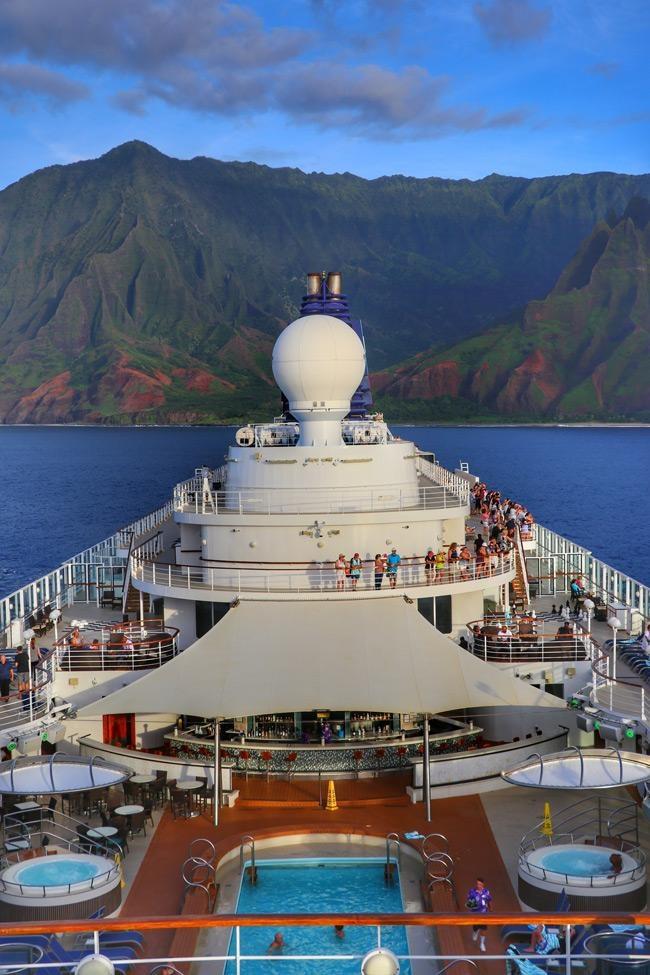 Norwegian Cruise Line Pride of America cruising along Kauai's Napali Coast
Cruising Along the Napali Coast in Kauai
Last but certainly not least, Pride of America sails along the Napali Coast of Kauai before heading back to Honolulu. This is probably one of the most exotic pieces of coastline that I've ever experienced and is almost spiritual with the addition of the Hawaiian ambassador calling out asking for permission to visit. Guests lineup along the sides of the ship and take in this breathtaking vista.
It's the perfect reminder that while you COULD spend a week island hopping and checking in and out of your hotel each day ... some things are just better to experience on a cruise.
The biggest takeaway from this experience cruising the Hawaiian Islands on Pride of America was that each of these islands is unique.
There's no such thing as just "visiting Hawaii". Even the stories and tales of how the islands were settled differs from Kauai to Hawaii. While Kauai is lush and green with erosion shaping the landscape over the past 5 million years - Hawaii Island is brand new and in fact we saw land that simply wasn't there even a few months ago. While you COULD visit a great resort and relax and recharge for a week ... choosing a cruise vacation like Pride of America is by far the best way to truly experience what Hawaii is all about.
Pride of America Pictures From Our Hawaiian Cruise:
{lightgallery type=local path=images/stories/pride-of-america-hawaii-cruise/hawaii-cruise-photos previewWidth=160}Photos of Pride of America Cruise Ship Hawaii Cruise with Norwegian Cruise Line{/lightgallery}