A ride in a helicopter was on the bucket list for me and thanks to the awesome folks at Norwegian Cruise Line and Blue Hawaiian Helicopter Tours, I can mark it off my list! We took a short flight from Hilo to over the most recent rift zone areas to see the results of the most recent Kiluaua eruption and I must say ... the results are humbling, yet thrilling to see both the power and beauty of nature from a completely different perspective.
v
While Volcano National Park is open again (in some parts), seeing it from air will give you a different vantage point. Only from above will you be able to see the massive scale of the devastation as well as how this river of molten rock FLOWED. When you look at the photo below for instance, it's not like a forest fire where you have uninterrupted acres of charred landscape. Instead, here you still have isolated pockets where the lava flowed around parts.
Everything here was extremely first class. From "weigh-in" where everyone has to stand on a scale so they can balance the aircraft (don't worry - nobody knows your number except the crew, and even me passed) to the narration, this was far better than I expected.
Even the helicopters themselves were relatively spacious, the seats were comfortable and most importantly the windows were big and clean so you can get some great shots!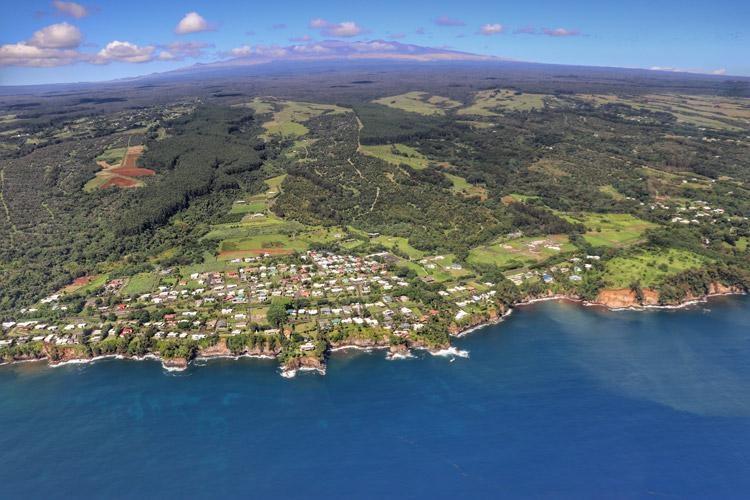 While the encourage you to wear dark clothes, I'd take things a step further if you plan to take photos. Consider wearing a shirt with no markings on it and long sleave if possible. Additionally, if I could do it again I'd also wear gloves since in some shots you can see my very white hands reflecting in the window. Ooops!
For those of you sailing with Norwegian Cruise Line on Pride of America, it is super easy to book tours with Blue Hawaiian Helicopter Tours. Simply check out the list of shore excursion options, here's a list of current options (as of Sept 2018).
Honolulu
Blue Skies of Oahu (2.5 hours) - $279 Per person
Nawiliwili, Kauai
Mokihana Helicopter (2 hours) - $319 per person
Heaven and Earth Quest (6 hours) - $399 per person
Hilo
Circle of Fire Helicopter (2.5 hours) - $299 per person
Ultimate Helicopter and Volcano Adventure (7.5 hours) - $599 per person
Kahuhui, Maui
Hana Haleakala Helicopter Tour (2.5 hours) - $299 per person
More Photos from our Helicopter Tour of Hawaii
{lightgallery type=local path=images/stories/hawaii-helicopter-tour/photo-gallery previewWidth=160}Blue Hawaiian Helicopter Tour of Hilo Photo Gallery{/lightgallery}