Expedition voyages are one of the fastest-growing segments of the luxury cruise market. While once this was synonymous with Arctic and Antarctic cruises, I'm thrilled that new players are opening new markets. While some may not see the Great Lakes as being glamourous compared to cruising past penguins and thousand-year-old chunks of ice, the Great Lakes offers a unique and relatively unexplored part of our own country that are also are central to the science and history of our global climate history.
A few weeks ago, I thought I knew what to expect from the announcement that Viking was entering the expedition cruise market. This is the same company that has turned a century-old river cruise industry into one now synonymous with its own brand. They deliver consistency and quality at a price most people can afford or save up to afford. However, no matter how exotic cruising through the capitals of Europe or exploring the coast of India might be ... it still costs thousands of dollars to fly there and air travel, even in business class is arduous and uncomfortable today. Unfortunately, for a number of reasons, the North American cruise market has been limited to ocean vessels. Few brands have been willing to take the risk to bring a similar level of technology, refinement, and comfort to North American waters. This is especially true in the fresh-water market.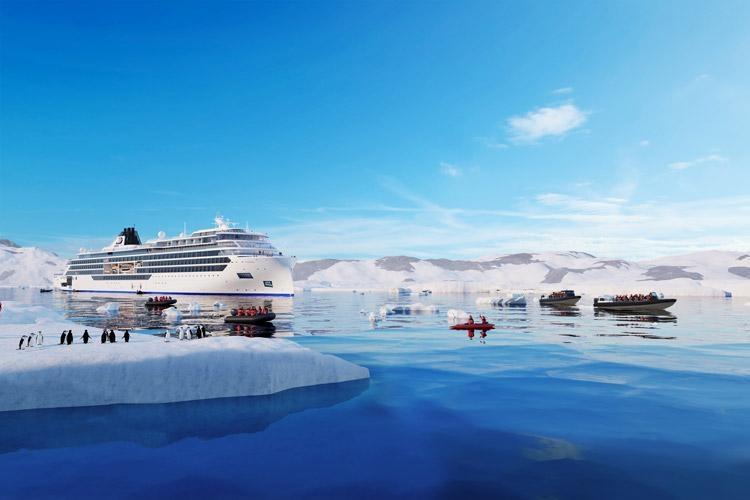 That's why I was absolutely ecstatic when they mentioned that this new expedition ship was designed to be narrow enough to fit through locks and that it would be coming to the Great Lakes in 2022 during the summer following its debut in Antarctica. The excitement that Heather and I felt during this announcement was unfortunately not shared by many "elite" luxury travel media and travel advisors also in attendance. While we immediately thought about what clients to reach out and contact, others around us made rude comments like "uh, Milwaukee!?" "Detroit? Who'd want to go there?!"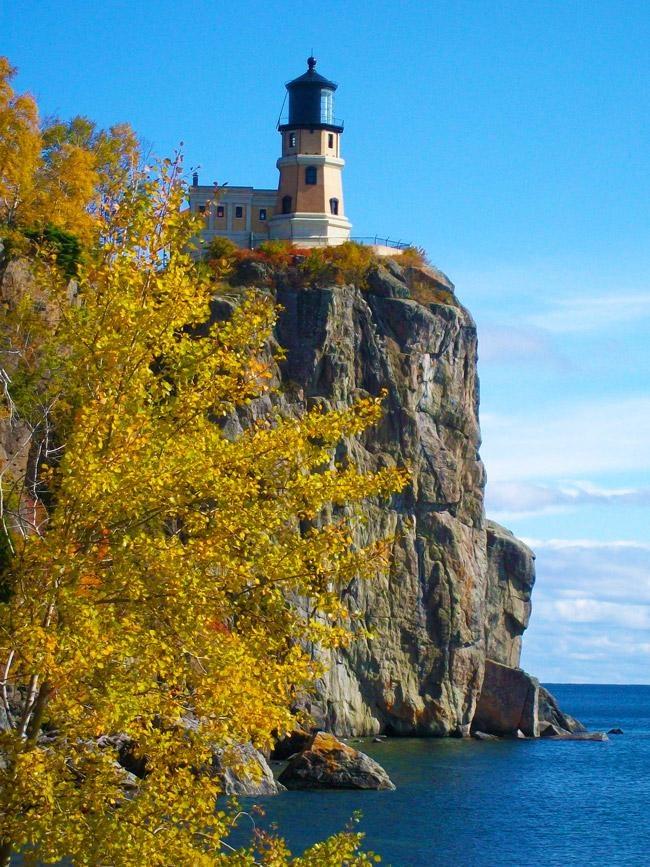 I suppose like many destinations, if you've never been there ... you don't know what you are missing. Heather grew up vacationing on and around this region and we spent 10 years in Chicago together. This time allowed us to drive all around Lake Michigan, Lake Huron, Lake Erie, and Lake Ontario. However, even for people like us, Lake Superior - the largest of the Great Lakes (third-largest by volume) remains a goal to one day explore. That's what makes this series of Viking Expeditions itineraries so exciting. Here's a part of our own country, shared by Canada that even the most experienced explorers haven't been able to visit yet.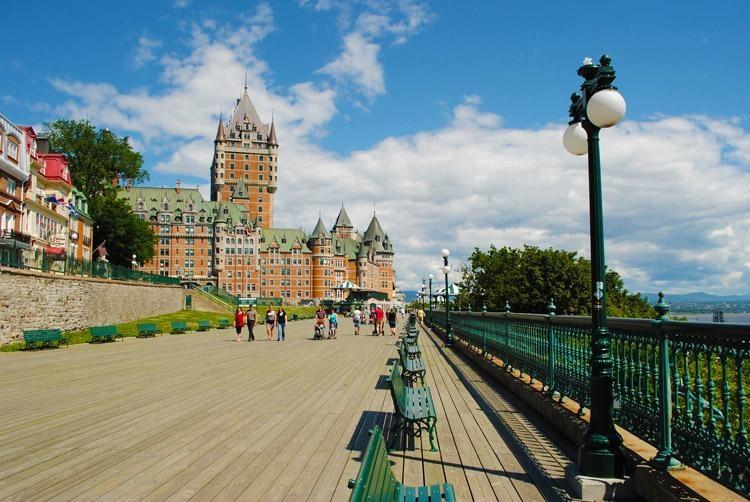 While I'm thrilled to be traveling to Europe with Viking later this year, the Great Lakes Region is absolutely one of my favorite places to explore. While I'm always up for a road trip around Michigan that just isn't possible for most people. When I do get to explore amazing places of our own country like the Delta region of Arkansas or Coastal Louisiana for instance, I often meet tourists from Europe, Asia, and Australia who are fascinated to learn about the United States. I suspect this will be true with these cruises as well, but as one American to another ... take the time to explore our country's culture and heritage too!
With Viking opening up the Great Lakes to cruises there are going to be a lot of opportunities to explore. Beyond that though, the scientific impact of having an advanced research vessel exploring these waters is an opportunity that is almost equally exciting. For instance, you'll have the opportunity to take part in experiments such as building a current-tracking-bouy and then monitor it in realtime from the Aula (laboratory). Likewise, you'll be traveling to some of the darkest places on earth - far from any light pollution, so guides will be able to help you see the Milkyway as well as other stars and planets simply not visible from most places in the United States or Canada.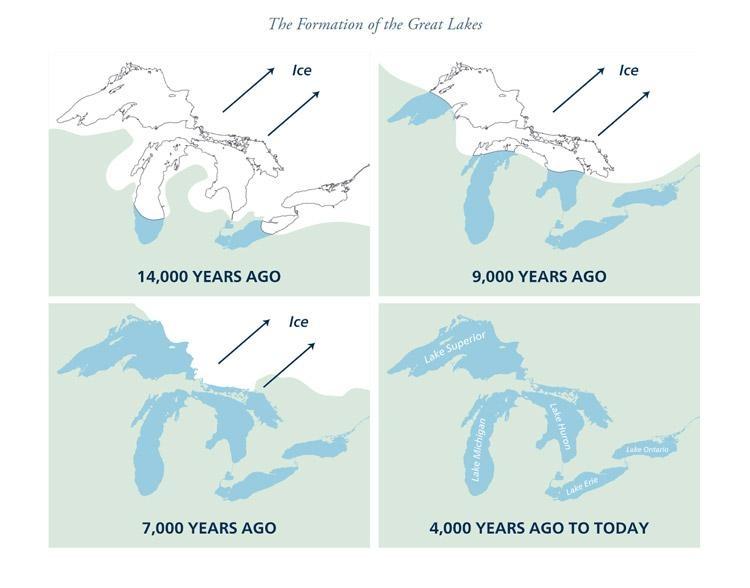 The Great Lakes Are Earth's Largest Reserve of Fresh Water
Today, we talk in fear of "global climate change" and "melting ice caps" but we forget that to an extent this is a cyclical process. Industrialization as certainly impacted this but we simply can't predict the calendar of events that lay in front of us. By exploring the Great Lakes though, we'll be able to learn more about glaciation, what life was like and the changes to the Earth's ecology as giant glaciers receded from the area 14,000 years ago as the earth began to warm. Today, 40 million people live along the edge of these lakes left behind by glaciers but the transition never stopped and the transformation continues today.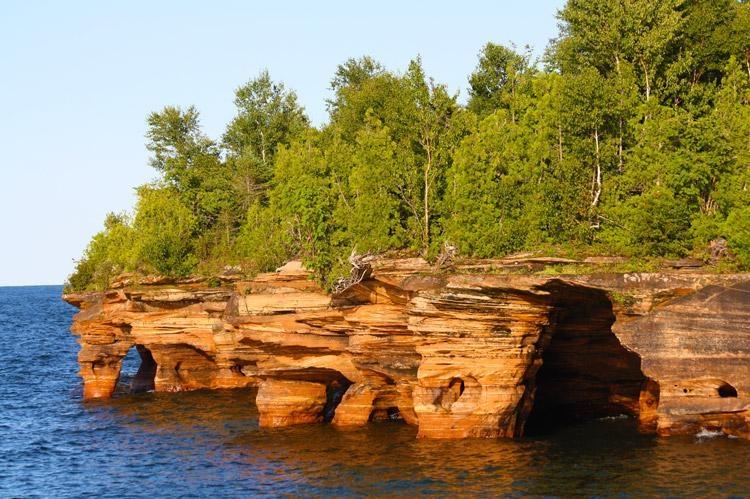 When it arrives in the Great Lakes Region, Viking Octantis will be the most modern and complete research vessel in these waters. This includes not only a full scientific laboratory staffed with researchers from leading universities but also two submarines to conduct deepwater exploration. As someone who loves seeing the evolution of privately funded research, this is a fantastic development. While most publicly funded marine science on the Great Lakes is limited to coastal areas and smaller vessels - Viking Octantis will be sailing from April through October. This allows guests as well as the scientific community to learn more about this sensitive marine environment.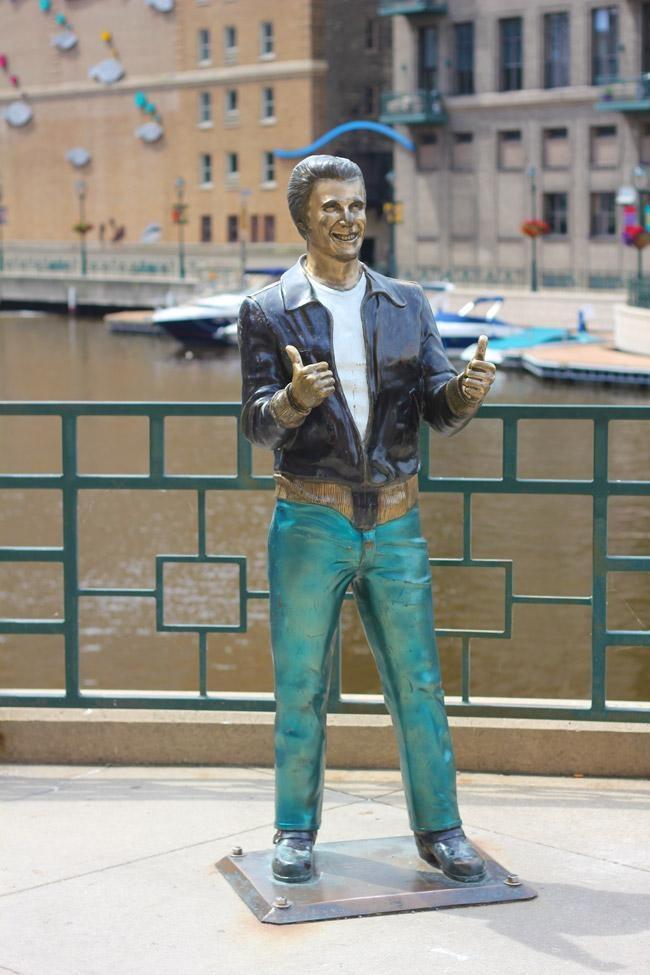 Exploring Great Lakes Wine, Food, Culture, and History ...
Ok, so let's face it - the people that will be most excited about a product like this aren't the ones looking to spend a week in rough conditions for science alone. Viking has developed a reputation for exploring the world in comfort and style and this is no exception ... even if some don't know it yet. There's no denying that cities like Chicago, Toronto, Detroit, and Milwaukee aren't at the top of mind when it comes to the great bucket list cities of the world that you must visit. However, as Fonzie (Happy Days was set in Milwaukee) once said, "You ain't nobody until you do what you want!"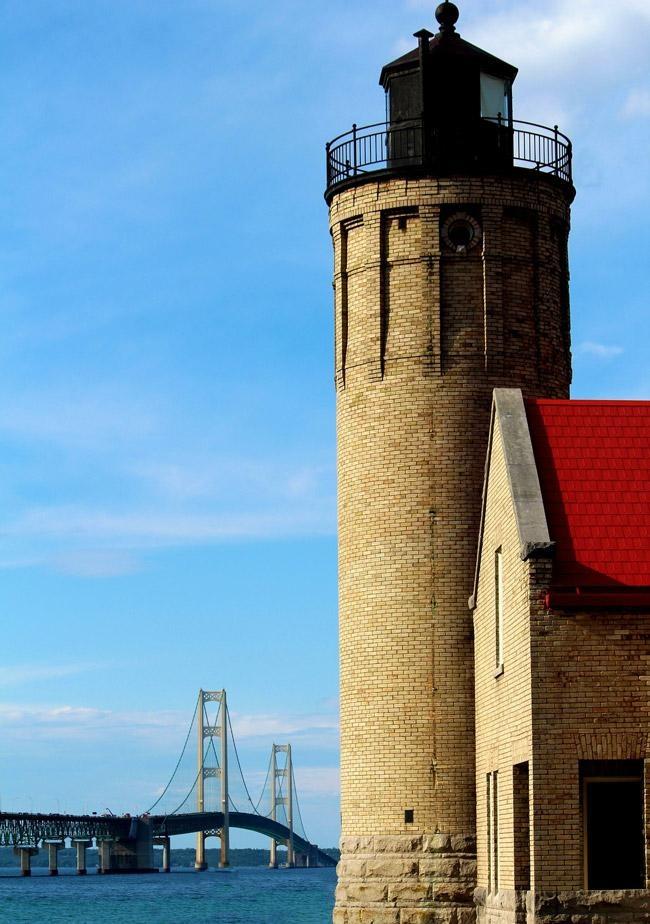 When it comes to exploring what made America (and Canada!) great countries, this is a fabulous opportunity. These cruises follow the pathways set by early pioneers and industrialists and that means there are world-class museums, mansions and even castles to explore. These are the lands that the early settlers wrote back to their friends and families in Europe and convinced to come across the ocean to create new lives. Lives that ultimately shaped the history of this great land.
The people who worked in those factories, mines, and industrial towns came from small towns and villages across Europe and brought with them a love for wine, beer, and local specialty foods including cheese curds, sausages, pasties, and even Scandinavian specialties like gravlax and smoked fish sandwiches. For me - and likely those that created the itineraries for the inaugural season - wasn't "can we find great cities", but "which ones offer the biggest impact for our guests.
Wine Tours - Traverse City / Lelenau / Mission Peninsula Michigan has some of the best wines in America, as does the Niagra region of New York and Canada. While Viking isn't visiting South West Michigan (yet!), this area too is one of the best in the United States when it comes to high-quality wines at a great price.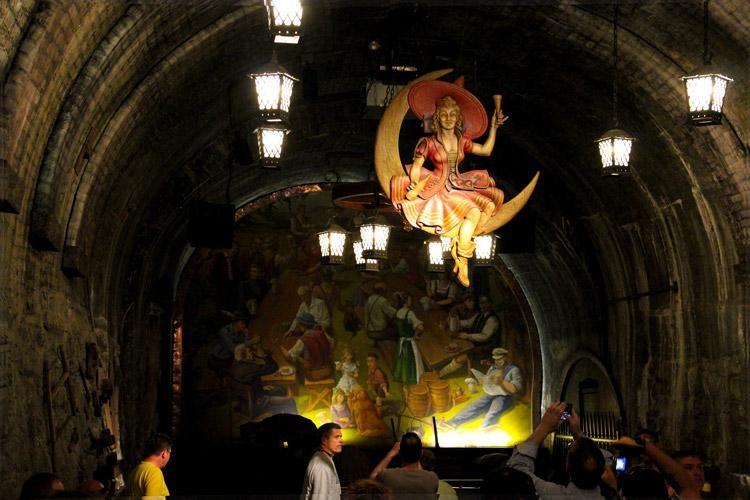 Beer Tours - Milwaukee, Detroit, Toronto are all great beer cities and Michigan, Wisconsin, and Minnesota are some of the top beer states in the country so I'm sure you'll have plenty of local and regional beers to explore at restaurants on-shore as well as on the ship itself.
Food Tours - This is a region known for it's masculine foods ranging from Pizza and Sausage to local specialties like Pasties (meat hand pies), Cheeses, and of course fresh lake perch and salmon. In fact, while most people think of Salmon as an ocean fish, Chinook, Coho, Pinks, and Kokanee (Sockeye) are all found here though local regulations vary in terms of what can be fished commercially.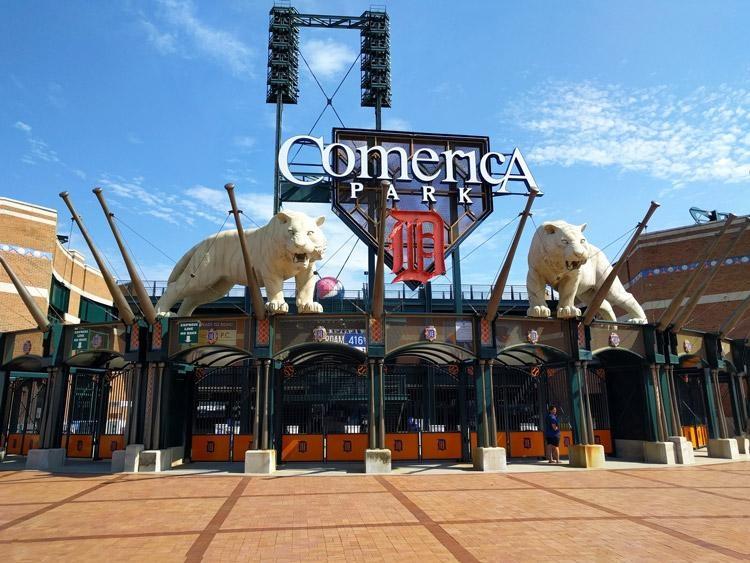 Sports - While schedules may not allow for attending the full game, imagine visiting fabled parks like Comerica in Detroit, Wrigley Field in Chicago (optional excursion to Chicago), and Miller Park in Milwaukee.
Culture and History of The Great Lakes - World-class museums line the great lakes. From the Henry Ford Museum in Detroit to the Milwaukee Art Museum to Royal Ontario Museum in Toronto there's something to explore. If big fancy museums aren't your style though, how about exploring an Ore Boat in Duluth, MN or Fort Williams Historic Outpost a restored fur trading center in Thunder Bay, Ontario. Plus, there are lighthouses dotting every edge of these lakes, so bring your cameras and binoculars!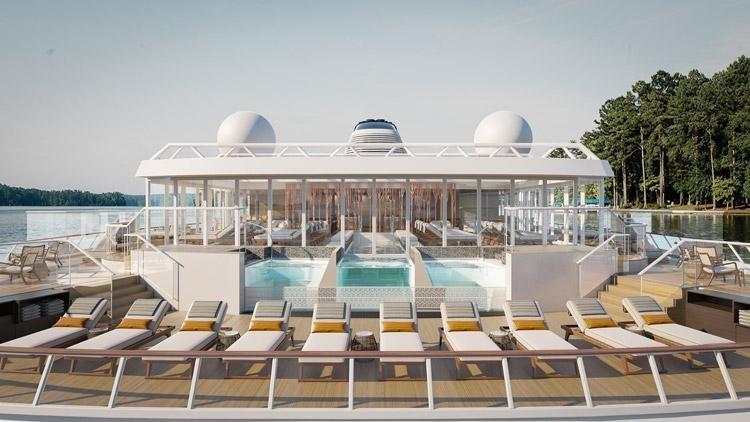 What Are Rooms Like On a Viking Expedition Ship?
Traditionally, expedition ships have been rugged, no-frills vessels that required significant physical ability to enjoy and certainly the concept of being willing to sacrifice comfort and luxury for the experience was key to the concept. That no longer applies to the segment as luxury players including Crystal, Scenic, Tauck, and now Viking have entered the space. The room configuration and amenities on Viking Expeditions ships are virtually identical to what you might have already experienced on the river and ocean cruises.
The same mentality of exploring in comfort is shared throughout the ship from getting in and out of the tenders to relaxing up on deck enjoying a summer breeze.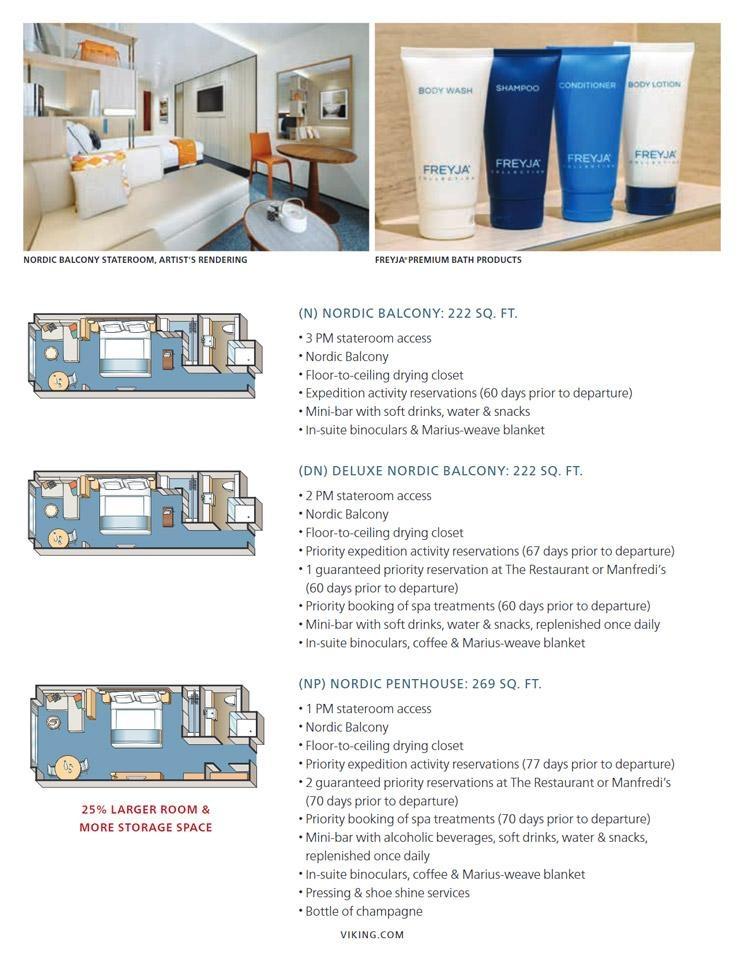 Dining On Viking Expedition
Viking Expeditions will offer six different dining options including The Restaurant - an elegant dining venue, Manfredi's - Italian, The World Cafe - live cooking, casual open kitchen experience with premium seafood, sushi, and grill, Mamsen's Norwegian Deli - Norwegian specialties, sandwiches, and Norwegian waffles, Aquavit Bar - mulled wine, hot chocolate, and ship-matured aquavit, and 24-hour dining available in the bakery as well as in-room dining.
Explore Great Lakes Cruises with Viking Expeditions
With a variety of itineraries ranging from New York to Toronto along the St. Lawrence River to being one of the few people to cruise through the Welland Canal into Lake Erie or seeing parts of the lakes region that are so remote that few other people have ever been able to visit. This is your chance to take a cruise that few others even know about while avoiding the stress of international air travel to go to Europe, South America, or Asia. Plus, you're certain to bring home memories and photos that your friends won't have!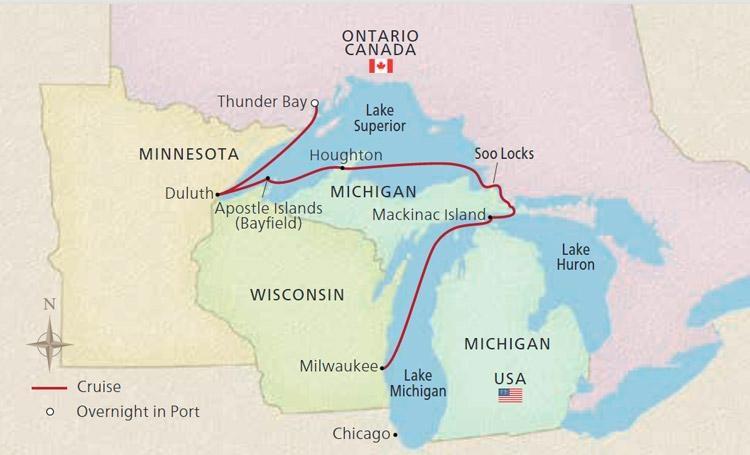 (8 days; Thunder Bay, Ontario to Milwaukee) – From Northern forests to pristine lagoons, encounter the natural splendor of the Great Lakes. Visit bald eagle and bear habitats that abut charming frontier towns in this remote region of North America, and pass between Lake Superior and Lake Huron via the impressive Soo Locks. Multiple sailing dates between May and September 2022. Inaugural pricing starts at $6,695 per person, with free airfare within North America.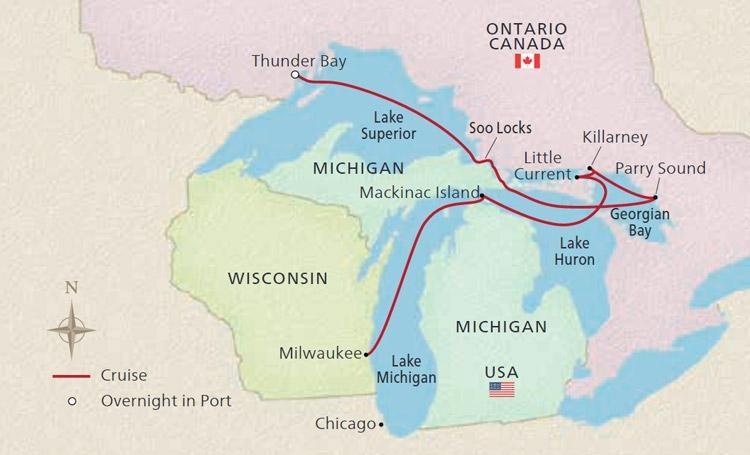 (8 days; Milwaukee to Thunder Bay, Ontario) – Embark on a true expedition along "the nation's fourth seacoast," from Georgian Bay's granite islands to Thunder Bay's towering cliffs. Experience the car-free idyllic Mackinac Island, and learn about indigenous cultures and frontier life along the way. Multiple sailing dates between May and September 2022. Inaugural pricing starts at $6,495 per person, with free airfare within North America.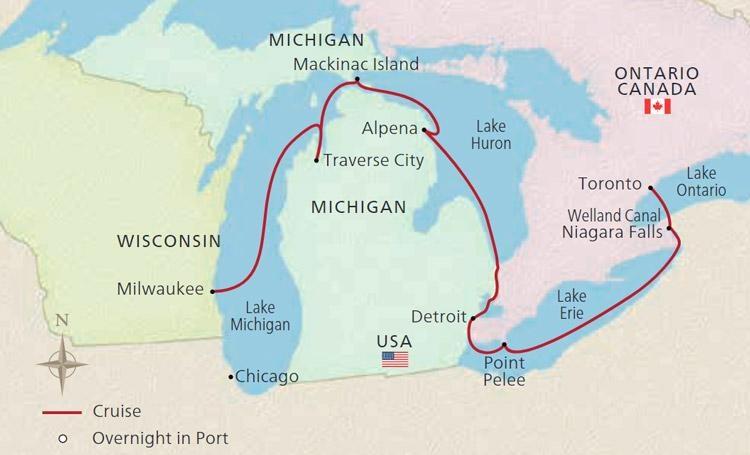 (8 days; Toronto to Milwaukee) – From urban skylines to uninhabited islands, discover the wilderness nestled in the interior of North America alongside world-class cultural attractions in Detroit, Toronto and Milwaukee. Witness the majesty of Niagara Falls, and enjoy scenic cruising past North America's busiest border as you cross Lake Huron. Multiple sailing dates in April, May, June, July and September 2022. Inaugural pricing starts at $5,995 per person, with free airfare within North America.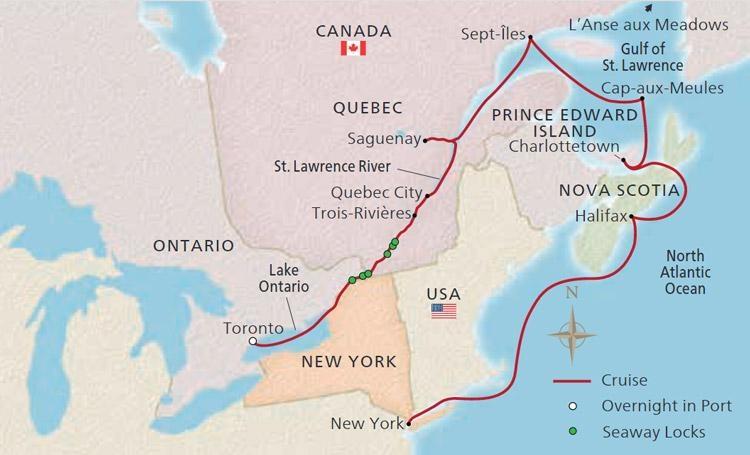 (13 days; New York to Toronto) – Cruise from Canada's southeast coast to the St. Lawrence River, where you will learn about the region's rich past amid stunning natural settings and celebrated cities. Sail along the coasts of New England and Nova Scotia; discover the remote reaches and locally sourced seafood of Prince Edward Island; explore the Saguenay Fjord, home to seals, whales and other sea mammals; and go salmon fishing in Quebec's Moisie River. Sailing dates in April and October 2022. Inaugural pricing starts at $8,995 per person, with free airfare within North America.
Whichever Viking Expeditions Great Lakes Cruise you select, it's a safe bet that you're going to have an incredible experience. For more information about this and other Viking itineraries, please contact our partner, Flow Voyages at 630-779-9301 or heather@flowvoyages.com for more information.