Since the mid-1970's Chevy has teased us with mid-engine Corvette concepts. Some of the styling cues and technology bits were used here and there on later gen Corvettes. GM cited the low volume/higher development, engineering costs, and the resulting sticker shock to customers as reasons for not making the switch.
Since the first-gen Corvette went on sale as a 1953 model, it has featured a front-engine/rear-drive layout. Chevy says it reached the performance limits of a front-engine/rear-drive layout with the C7 Corvette. So, the decision was made, and the engine is now squeezed behind the passenger cockpit and just ahead of the rear axle. This allows a new level of performance benefits that I was able to test with my new 2020 Corvette Stingray 2LT coupe.
Performance Layout
Under the rear glass hatch resides a 6.2-liter V8 packing 495 horsepower (40 hp jump over base C7 Corvette) and 470 lb.-ft. of torque with the optional exhaust upgrade as my test car had. Owing to costs, and a little history, the engine retains a pushrod design, which sacrifices valvetrain complexity and requires less space. The C8 Corvette is only available with rear-wheel drive. The only transmission available is an eight-speed dual-clutch automatic. A manual transmission is not expected anytime soon so the paddle shifters are your performance connection-and they are surprisingly good.
Bye-bye old transverse leaf-spring suspension, and hello conventional coil-over damper setup. This change was not only needed for the mid-engine layout, the change facilitates significantly higher cornering limits to 1.0g of lateral acceleration – or greater.
My test car came with the optional Z51 performance package and you want to check off this box. Package highlights include upgraded drivetrain cooling, electronic limited slip differential to direct torque percentage between the rear wheels, a great sounding adjustable exhaust, performance, 19" front and 20" rear Michelin performance rubber, and most importantly larger brake rotors with upgraded front brake cooling. Rounding out the suspension goodies are optional Magnetic Ride Control and Performance Traction Management system.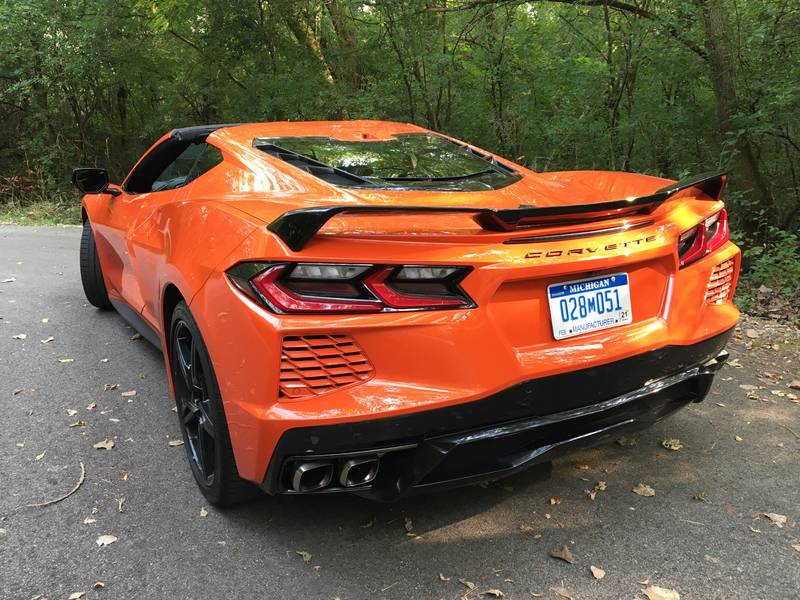 Fun pack suspension
Combined, the suspension enhancements lifts the C8 well beyond most buyers driving abilities and places to drive. Chevy claims a C8 Corvette, with launch control-assistance can hit 60 mph in less than 3 seconds. I could only manage a mid-four time due to experience with the car and driving conditions. The sensation is such that your eyes bulge wide, you experience a heightened awareness of your surroundings, and your body temperature rises. Finally, there is a very satisfactory grin that makes you want to do it all again.
Since, I did not have any track time my cornering experience was limited to expressway on/off ramp sweepers and a short, impromptu parking lot autocross course. I was able to achieve some amazing grip on a smooth lot. Powering into an off-ramp you feel the C8's suspension starts to compress, and the tires dig in. As you get deeper into the off ramp you feel the application of "g-force lateral acceleration" start to push you into the seat. For straight-line blasts I discovered how effortlessly the C8 can kick its tail out with traction control switched off.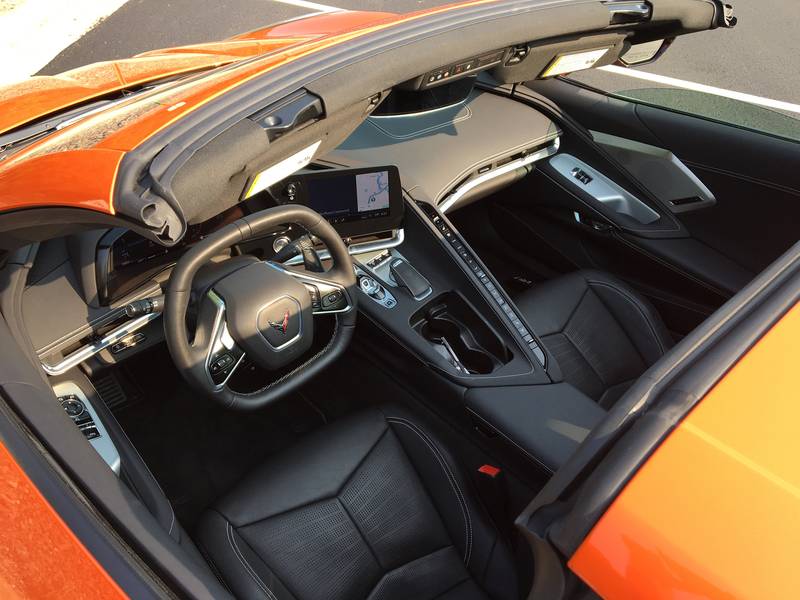 Cockpit complexities
The interior is a like an oversized glove – it is conforming, envelopes you but does not restrict except for the sport seats which I liked but may not fit some drivers. The steering wheel is race-inspired with flat top and bottom design. The cockpit is divided by a huge, upswept center console that holds a large infotainment center flanked to the right by a ribbon of switches and controls. Contrary to Chevy's claims, I found the cargo volume to much lower than the previous hatch C7 version.
Chevy has done a remarkable job of keeping the Corvette an "affordable exotic" that can run with examples from Ferrari, Porsche, Jaguar, and many other low volume exotic hand made cars. With a base price of $58,900 my test car added $21,000 in options to reach $79,315. Using some restraint, you could drive off with a nice example in the high $60,000 range.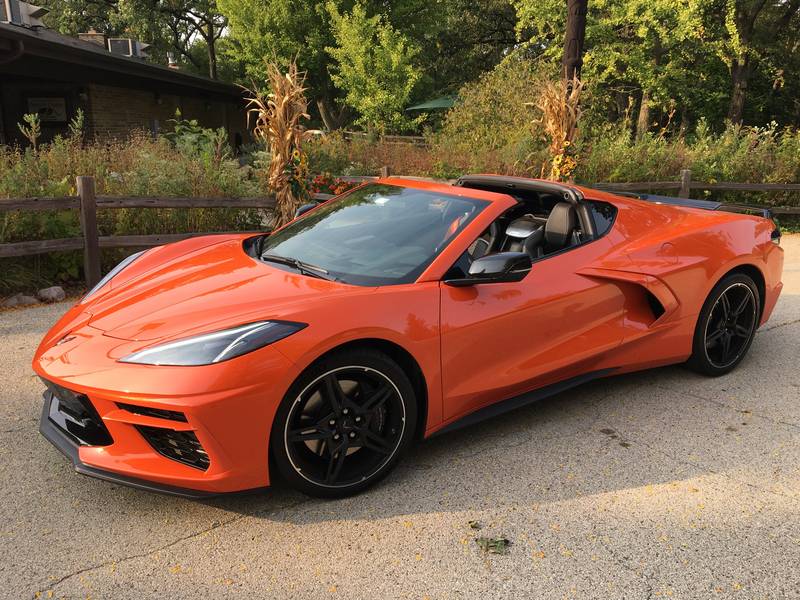 My seat time with the all-new 2020 Corvette Stingray was all too brief. However, my initial performance impressions are very good, but I really need some track time to test out the understeer, do some trail braking, test out the "g-force" limits, and see if I can get the 0-60 time lower.