American muscle power aint dead yet! While we live in an age where EVs and MPGs are what seems to be in demand, it's ironic that Dodge has chosen this moment in time to go full bore into an effort to deliver some of the most exceptionally powerful cars on the market. This trend is completely counter-intuitive with gas prices that while temporarily down, will almost certainly go back up. That's not what this car is about though. It is about RAW POWER - but also surprisingly practical too as we found on our road trip across the desert to Vegas from San Diego.
Let's get the stats out of the way first - this car is FAST! With a 6.4-Liter V8 SRT HEMI providing 485 horses delivering 475 LB-FT torque it has WAY more power than anyone ever needs, knocks you back in the seat, and it delivers that satisfying roar that makes you know you are part of an elite club of owners. Despite that power, the challenger Scat Pack is still able to get 14 city / 23 highway (the SXT with V6 gets 19/30), which honestly is pretty impressive for something this big and powerful.
With a top speed of 182-mph and a 0-60 mph time in the low 4 seconds, this car probably costs close to a $100k right? NO! It unbelievably is affordable starting at just under $40,000 ...
Ready for more? Let's take a look at a few of the 10 different models ...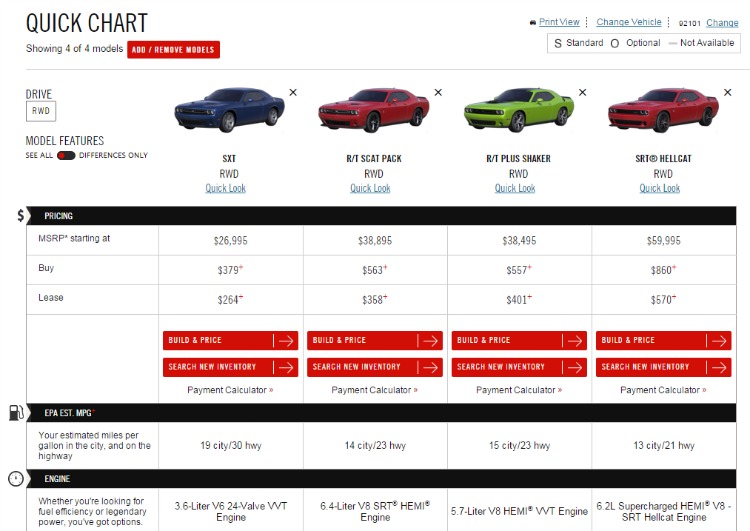 Dodge is offering an almost dizzying array of models ranging from the SXT at just under $30k to the big daddy of them all, the SRT Hellcat at a hair under $60k. Even the fully loaded Hellcat is going to only top out at $64,000 with a typical lease under $1,000 / month. For the R/T Scat Pack version that we tested, fully loaded, you are looking at about $46k and monthly payments of about $650 (buy) or $413 (lease).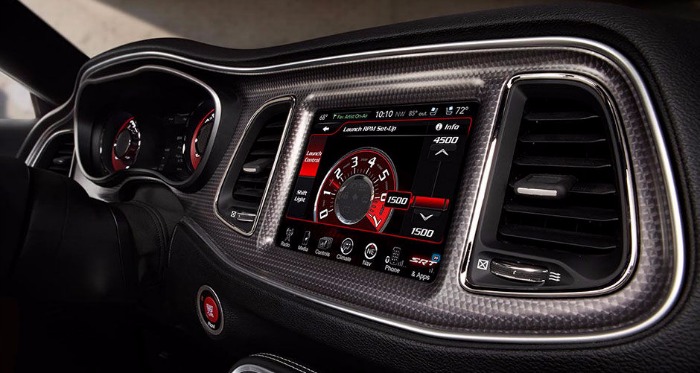 I knew this was going to be a beast of a car but what I didn't expect was a pretty respectable interior and something that was actually practical as an "everyday driver". Inside was all the technology that you would expect, including the Dodge Performance Pages app (part of UConnect) as well as hill start assist, electronic stability control, parking assist, forward collision warning, adaptive cruise control, and a rear backup camera.
The most unique of the features though was absolutely the Performance Pages, which provided all sorts of performance customizations from "launch control" to assist with getting you off the line faster and with more control, to sensors measuring everything from torque and g-forces to fuel consumption and engine temperature.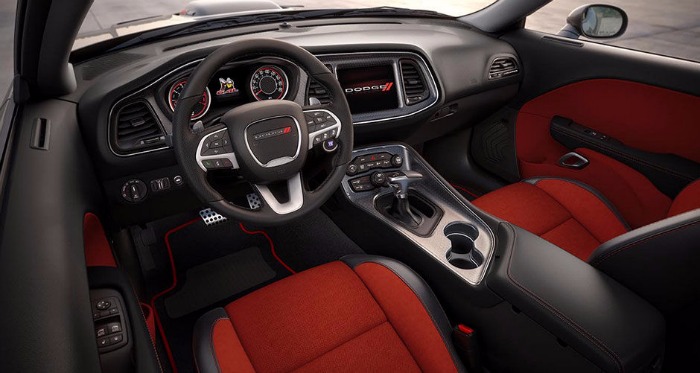 Inside, it was clear that this was a muscle car and not a luxury sports car - everything was tuned to be affordable, functional, and stylish. You aren't going to see wood trim and exotic materials - though you can get leather seats, aluminum pedals and paddle shifters. The dash however is the same elephant butt molded plastic that you'd find on the lesser models. Frankly, that's ok because the person buying this car is looking for a FAST car with a comfortable seat and good technology. That's what it delivers and does it really well.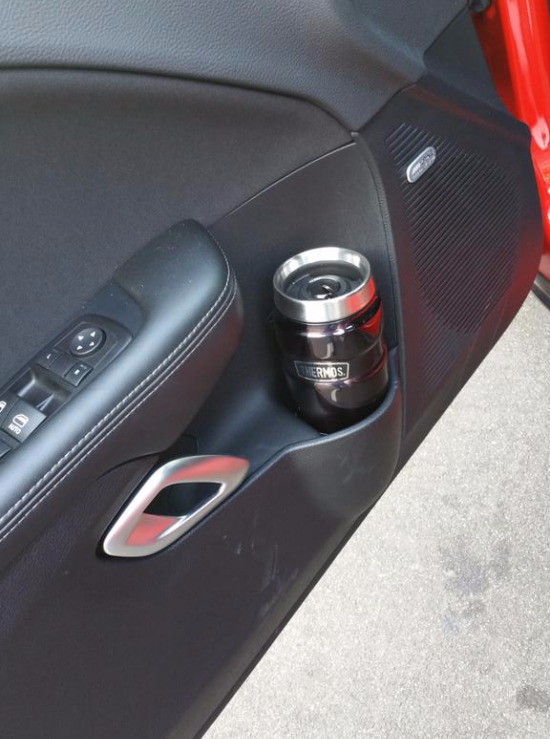 Even little things like the placement and size of the cup holders was appreciated. I can't tell you how many cars that I've tested that have tiny in-door pockets for a water bottle. The Challenger has one that is big enough for my water bottle as well as being easy to reach it without having to bend and stretch.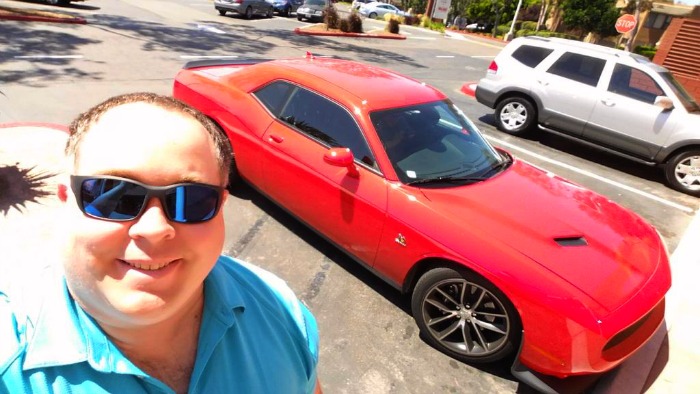 So, now it's time to take it for a drive!
For this trip, we took it from San Diego to Las Vegas to check out The D Hotel - a hotel with features inspired by Detroit such as the only American Coney location outside of Detroit and they are currently even running a sweepstakes to give awy the owner's Dodge Challenger Hellcat. I can't think of a better destination to take this car (and test it out on some flat, straight, desert roads while we were at it!) ...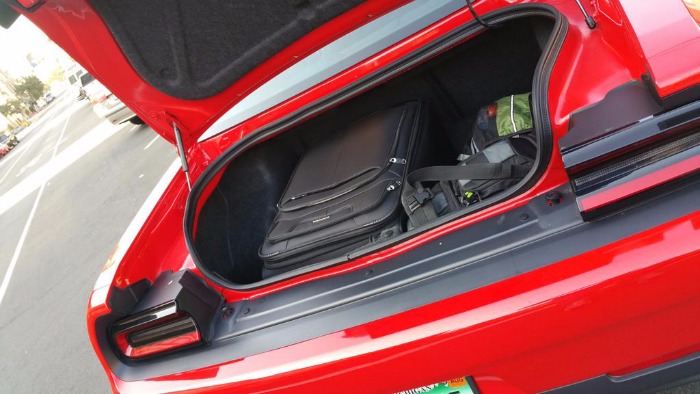 Surprisingly, the Challenger has a very large trunk that more than easily swallowed a full size suitcase and other bags without even a second thought.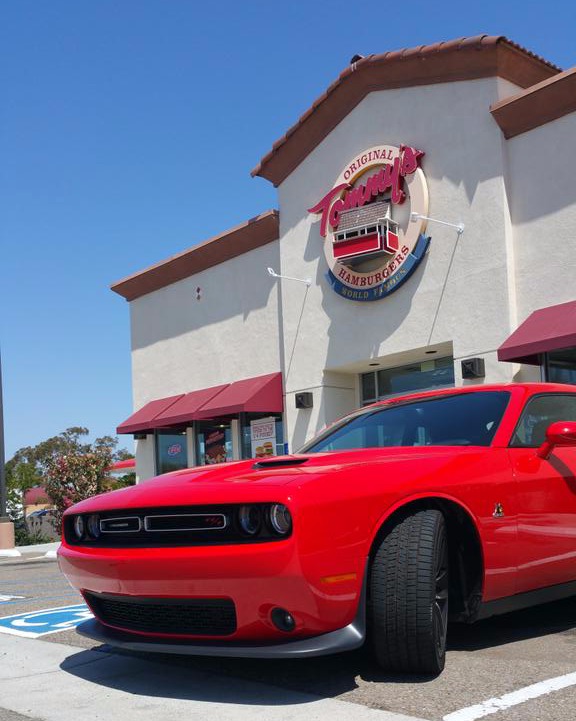 One of the things I noticed immediately was that this is a lifestyle vehicle that when you strap in becomes part of your personality. It isn't just a car that you "use" it is a car that will inspire heads to turn, thumbs to raise, and comments like "cool car!" to be uttered by passersby.
That isn't just me exaggerating, frankly it became a little weird to pull up at a stop light and have the driver next to you nod and smile at you and other Challenger drivers to make comments asking if this was the Hellcat.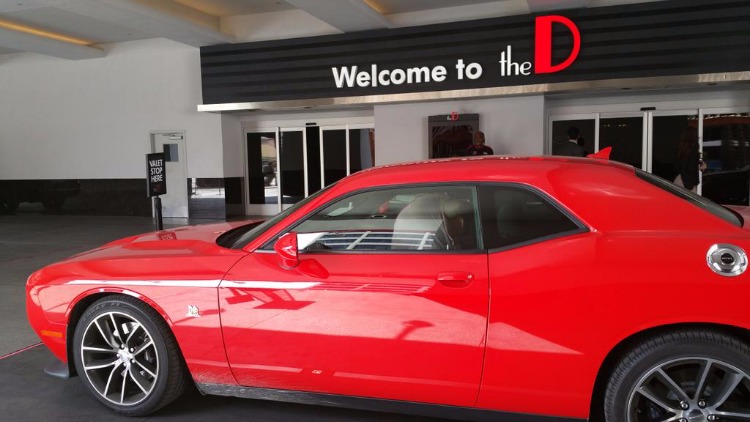 Even when we pulled up to The D Hotel, the valet was excited to check out the car and at one point we actually sat in the car as I walked him through the performance pages app.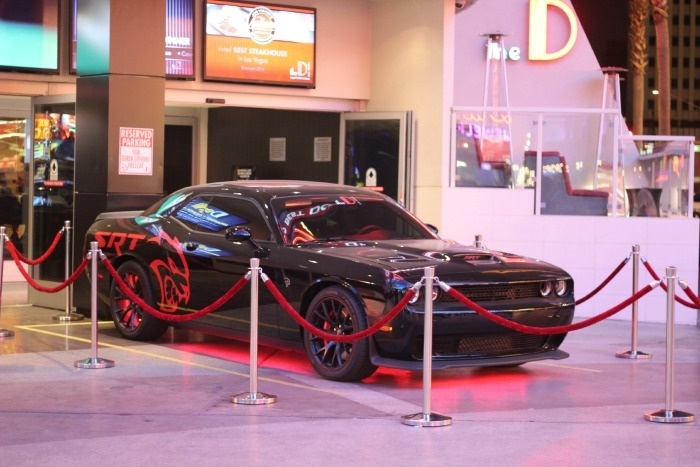 The Challenger is a legendary car that is simply special to own (or borrow for a week). As you can see, the SRT Hellcat is even special enough to draw a crowd of people into a casino to follow their dreams of owning one.
However, this really is a car that you can afford to own that will blast the hell out of anything else in your neighborhood.
The one remaining question you are probably wondering at this point is, "how fast did you go?" That's a secret but what I can say is that we didn't even come close to the car's limit. It wants to run, sounds amazing doing so and it was one of the best car experiences that I've had in a long time.
As Ferris Bueller once said about another car, "It is so choice. If you have the means, I highly recommend picking one up."