Any guy that has ever sat behind the wheel of a performance automobile has probably thought about gloves to help improve their performance, but what about shoes? We took a spin in a pair of moosehide driving moccasins that Minnetonka sent me to see what it was like wearing these instead of my classic cross-trainers or flip flops and while it is a different feeling - they are stylish and there are significant comfort and performance advantages.
What are Driving Shoes?
Driving shoes, and ultimately driving moccasins dates back to an era where gentleman typically wore hard-soled dress shoes when driving. In the 1960's the concept of a driving shoe became popular in both the United States and Europe. Initially, this was a shoe for the rich, after all - not many people have luxury sports cars deserving of their own special footwear.
The fundamental change here was that the shoes were light, made of flexible materials, and generally are made from materials such as leather or suede that help wrap around the driver's foot. This helps reduce the likelihood of your foot sliding around, it reduces the fatigue caused by moving from brake to gas. Additionally, the rounded heal with grip also helps with keeping the foot stable, something loafers, tennis shoes, and certainly my flip flops certainly don't.
In 1986, Minnetonka introduced driving moccasins, further adding to the more casual and comfortable nature of driving shoes and they've been among the most popular styles of driving shoes for the past 30 years.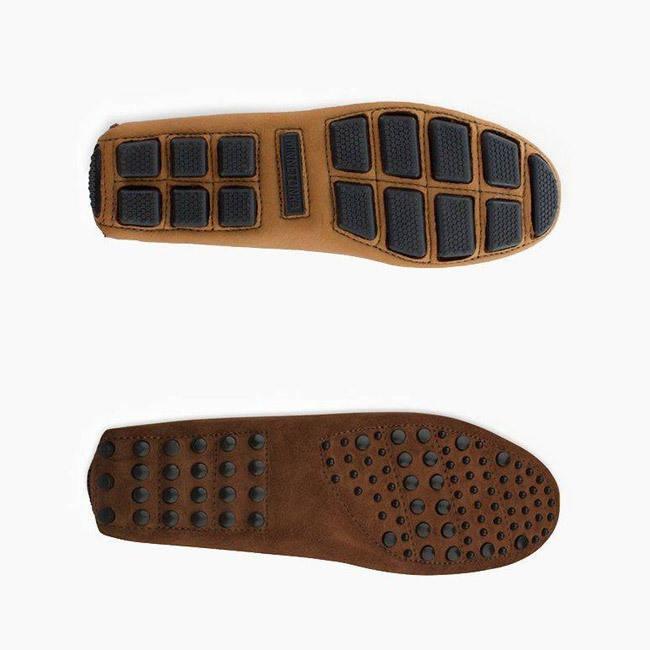 Minnetonka "Driving Mocs" ...
Minnetonka has driving moccasins or "Driving Mocs" available in three different styles - P.W. Driving Moc (the original, custom made), Double Bottom Driver (more rugged and balanced for on and off the road), Classic Driver (classic, original pebble tread pattern for maximum flexibility), and the Moosehide Driver (made of moosehide).
It was a tough choice, but I chose the Moosehide Driver style because well ... I've never had shoes made with moosehide and it makes a great talking point. After all, these are big masculine beasts and prized trophy animals so that's the direction I went in.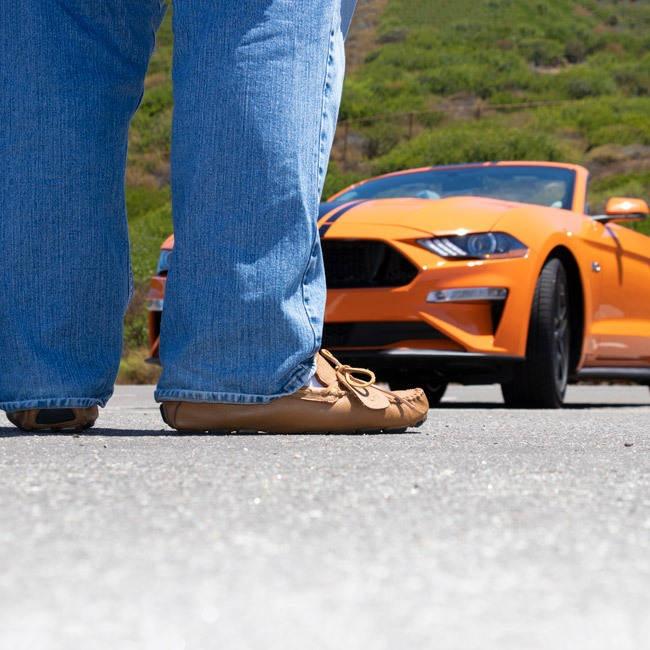 Minnetonka Moosehide Driving Moccasins
It's challenging to review a pair of shoes like this since I have nothing to compare it to. My normal "driving shoes" are a loafer that I just liked because it looked good when driving fancy cars and more flexible than the boots I wear when offroading.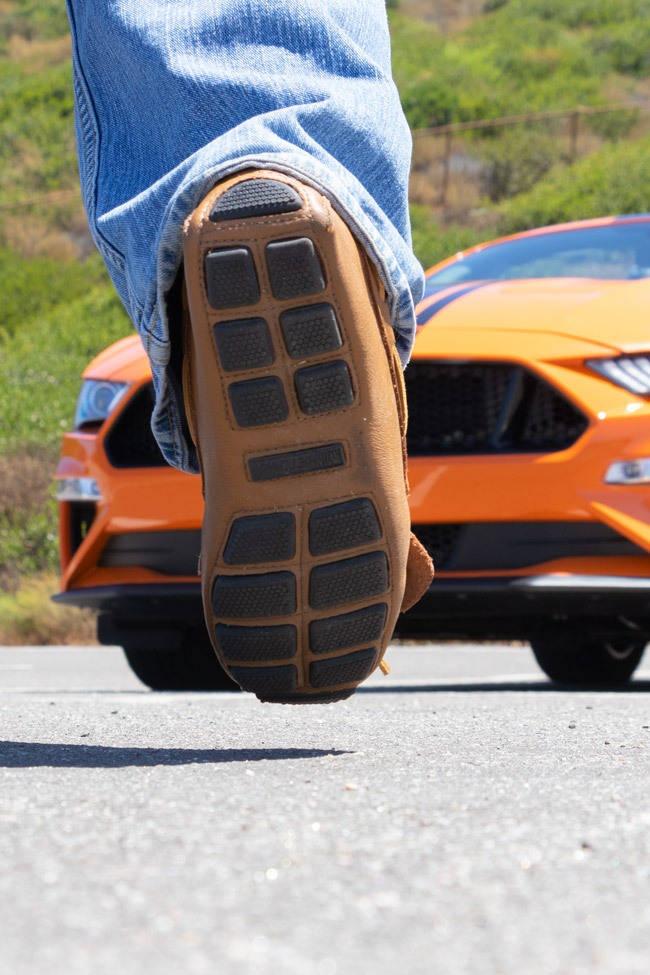 The first thing I noticed was that while typical shoes are essentially shells that you put your feet into, this one is designed to fit snug ... but stretch to hold your foot comfortably.
The second thing I noticed was that my foot seemed to fall over the edge of the sole since unlike a typical shoe, the sole doesn't go across the full bottom of the foot. This is specifically designed to allow for flexibility and comfort while driving. However, visually I just wasn't sure if it didn't fit or if that's how the style was supposed to be. The PR folks confirmed that it was right so I'm going to add that this is a really nice feature since as a guy with big feet I've had many shoes that just didn't fit comfortably and these did - even if maybe narrower feet would visually look better in them.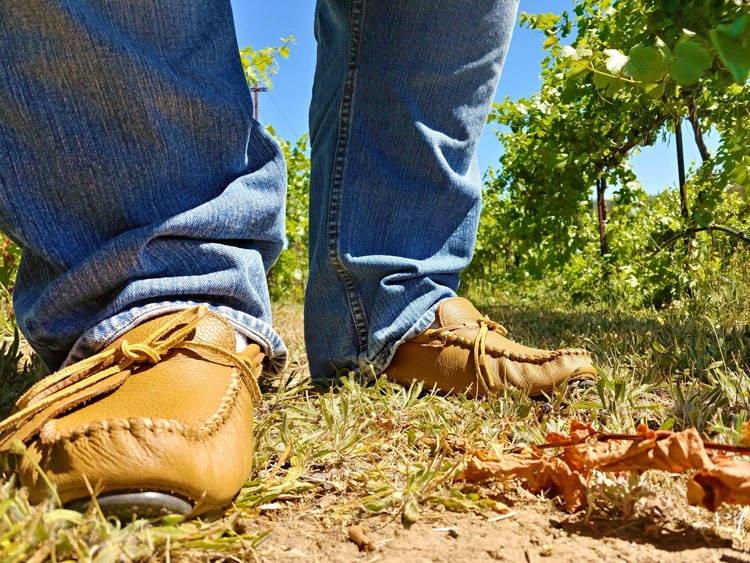 Driving Moccasins Are Comfortable Out of The Car Too
On this trip, we drove up into the mountains to visit our favorite winery and the Moosehide Driving Moccasins still looked sharp and felt comfortable walking through the vineyard.
While these shoes were extremely comfortable while driving the Mustang GT, and will be part of my standard kit when testing out other sports cars in the future, it should be noted they also work great as regular shoes too. While Minnetonka describes the nubs as "long-lasting", the rubber on these soles is fairly soft and might not be ideal if your out-of-car journey involves more than walking from the car to your table. While they are comfortable, I would probably wear normal cross-trainers for wandering around a grocery store or long walks for instance.
Did they improve my performance compared to the shoes I normally wear - no. Were they more comfortable and better at resisting fatigue compared to cross trainers, hard-soled boots, and my flip-flops? Yes, absolutely.
For most of you though, the idea of buying a pair of driving shoes will come down to the fact that you already love driving and now you have a great pair of shoes that connect you to the classic days of gentleman drivers and the romantic notion of the days of luxury and leisure while still looking sharp. However, these also make a great gift for a guy you know who loves to drive.
You can learn more about Minnetonka's Moosehide Driving Moccasins on their website. Priced at $87.95, the pair I got were "natural" color, size 12 but they also offer up to 16x, which is super impressive since I know there are guys out there who simply can't find a great pair of shoes in their size.