Buying a motocross bike and learning the first tricks was fun and now you're looking for more challenges? Racing on a motocross track might look like an easy thing to observers, but once you hit the track, you'll figure out how much training it requires to finish a motocross track race successfully. If you've never participated in a motocross race, but have a strong desire to try, in this article you're going to get very useful tips that will make you first motocross racing experience much better and easier.
Proper Bike Maintenance
Depending on the type of race, the chances are your bike is going to face a rough terrain filled with bumps, water, dirt, and ramps. Before joining the race, it's crucial to put time and money into bike maintenance and preparation for the race.
Here are a few maintenance tips that will drastically increase the likelihood of successfully finishing the motocross race:
Wash your bike
Tighten the chain and put some lube on it
Put the lube on every rotating, sliding or rubbing parts such as wheels and sprockets
Change the engine oil
Clean or change the air filter
Check the tire pressure and condition
Invest in quality dirt bike graphics to prolong the life of your motorcycle fairings
As you can notice, the maintenance for a motocross race is the same as that for a normal bike. Be sure to double-check everything before the race. Many professional drivers recommend maintenance up to 5 days before the racing day. Also, if your budget allows, there is nothing better than having two bikes - one for the race and one for practice.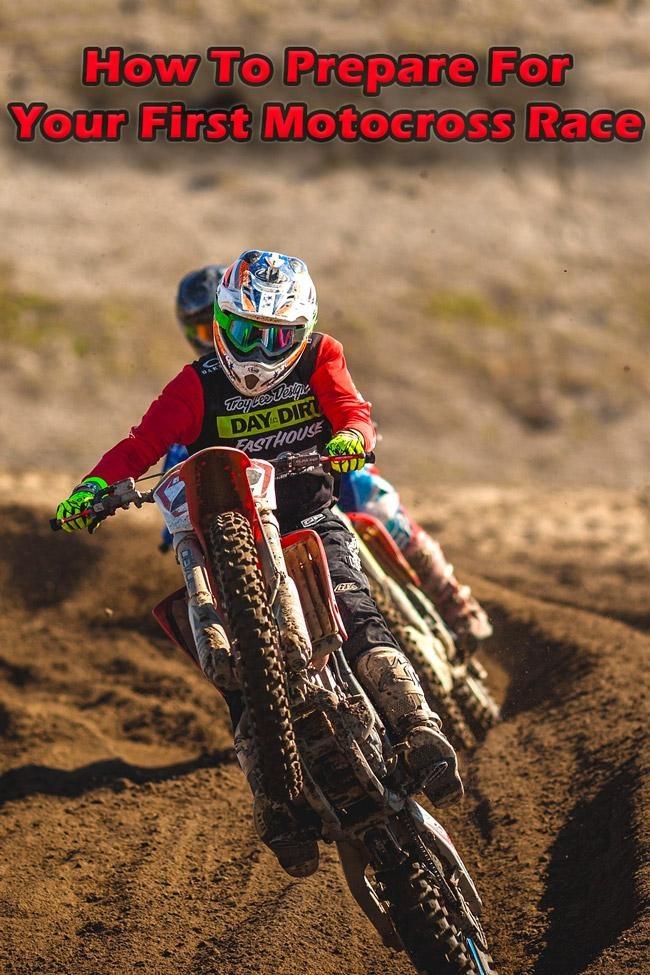 Picking the Right Workout Routine
Motocross is a physically demanding sport and it requires high levels of strength and endurance to complete any race. As you might notice, the majority of motocross tracks feature holes, jumping ramps, dirty and bumpy road which requires a proper level of physical preparation. If you've ever seen a professional motocross race then you've probably noticed that racers have a high level of fitness. For example, MX World Championship races last for 30 minutes and these require a level of endurance. Since the races are very challenging and demanding with various obstacles on the way, you shouldn't focus on building muscle mass, but instead, your focus should be on building muscle endurance. Probably the most effective and fastest way to build endurance is by doing HIIT (High-Intensity Interval Training). HIIT focuses on long sets featuring high repetitions and usually lower weights. Bodyweight training, sprinting and stair climbing sessions are just perfect exercises to prepare yourself for your first motocross race.
Also, another crucial fitness tip just before a race is proper stretching. Be sure to perform a systematic stretching routine 30 minutes before hitting the racing track. That way, you ensure the blood flow through the whole body, especially around arms and legs.
Observe and Practice for a Race
Observing the race gives you many valuable insights about the track, drivers and their approach to specific jumps or corners. Once you participate in the race as an observer you'll have a chance to walk around the track and talk with organizers and racers. It will give you a huge edge since you can get valuable information from people who've driven a specific track multiple times.
Like every competitive discipline, practice makes it perfect. Practice in motocross is probably one of the most important aspects of a sport so you have to ensure enough time for practicing and making your driving better. It's recommended to drive with professional drivers who have more driving skills than you since they can provide you with valuable feedback on your riding style, give you some tips about a certain track and you can learn from the best.
Another great way of endurance and technique practice is driving a mountain bike on rough terrain. That activity will build up your endurance and strength while at the same time increase the level of control and focus on the bike.
Invest in a Protective Motocross Gear
Since motocross is a dangerous sport packed with adrenaline-pumping action, you have to think about investing in proper protective gear that will make you safe during the races. The likelihood of getting injured is pretty high in professional motocross and the research shows that roughly 95% of professional drivers have experienced at least one injury during their career. Are you looking for valuable motocross safety advice? Head over to a Motocrossadvice, a dedicated website for motocross drivers and anyone who feels like it.
Here's the most important protective gear for motocross racing:
Helmet - don't buy just any helmet and put the time into proper research. Aim for ACU Gold Stamp if you're buying in Europe, or DOT, Snell, ECE standard for the USA made helmets. These markers are safety standards and you can be sure you're wearing a high-quality helmet. Some of the best helmet brands are Arai, HJC, MSR, Thor, Troy Lee Designs, Bell, etc.
Motocross boots - since the majority of injuries occur on a lower part of your body, boots protect your feet from dirt, ankles from twisting and knees from a jump impact. It's recommended to go for brands such as Axo, O'Neal, TCX, Thor or Forma for extra safety.
Goggles
Knee & elbow pads
Chest protector
Follow a Healthy and Diverse Eating Plan
No matter the sport you're competing in, a healthy and balanced diet will give you an edge over the competition. The balanced and diverse diet won't only help in maintaining high energy levels, but also increasing performance levels, muscle growth and repair periods. Since motocross racing is a physically demanding sport requiring endurance and fitness, a proper diet can only increase your performance during the training or race. On a race day, it's recommended to not eat heavy meals but instead focus on eating small meals that consist of high levels of simple carbohydrates such as energy bars. Also, it's extremely easy to get dehydrated once you're on a track, so don't forget to drink enough liquids such as plain water or energy drinks to ensure optimal body performance.
Here are a few tips that can game up your dieting as a motocross racer:
Consume enough vegetables and herbs to ensure enough fiber and minerals
Focus on a high protein consumption
Take supplements such as multi-vitamins, whey protein, and creatine to boost a recovery
Add more sodium in your diet to avoid dehydration (e.g. don't be skeptical of consuming a salty food)
Avoid eating heavy food on your competition day. Eat liquid food instead!
We hope these tips will help with preparation for your first motocross race. Please share any tips that make your preparation process easier and more optimized in a comment section.