Wireless charging stations have finally hit the mainstream but what most folks don't consider is that they are far from all being the same. Wattage and Amps are as essential to consider as good old fashioned visual design. While some thrive on chic looks and flashing lights, Intelli has chosen to simply pack as much functionality into the unit as they possibly can. Let's take a look ...
This POWERHUB is quite literally a "charge anything" solution that features a wireless charging pad, USB-C PD port, 2x USB-A ports, and even 2x A/C Outlets so you can plug things in that don't charge by USB also.

While some Qi compatible chargers are only 5W, this one has double that power. While far slower than the maximum of 20W that my Galaxy S21 Ultra can handle plugged in. having a fast wireless charging option is a wonderful feature on my desk so I can just rest it there to charge while I'm working. Unlike other chargers that I have where I need to lay it flat on the desk or sideways, Intelli's allows me to angle it so I can easily see updates and notifications that come in while I'm working and I can check to see who's calling without having to tilt my head.
Sadly, not all devices can charge wirelessly so they have included 3 USB ports including 2 USB-A (5Vdc2A), and 1 USB-C PD port that can provide up to 18W of charging power. This means you can use it to charge your phone or tablet quickly, but the PD format also works to power your laptop or pass power through another device too.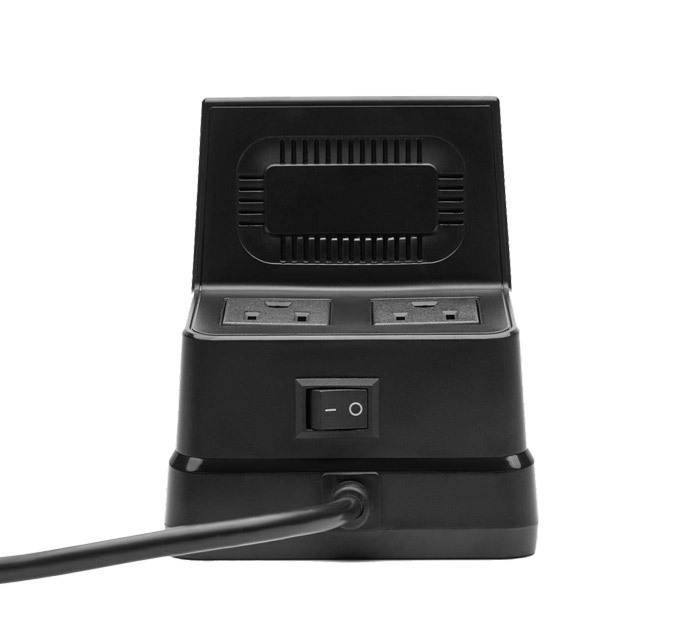 Finally, for those applications where you can't charge by USB, they have included two AC plugs that are spaced widely enough to accommodate power adapters. In my case, this makes it very easy to plug in the power adapter for my DSLR and a desk lamp, without tying up the wall outlet behind my desk.
We're pretty impressed with this product's features but also the feel of the unit itself. While some similar products can feel cheap, this one has the right weight and grip to avoid sliding around on my desk.
For more information or to purchase on yourself for $69.99, please visit Intell.co. At the time of writing, it is on sale for $49.99 and we think that's a great deal.