While I love horsepower and off road capability, there's something to be said for a practical car that is affordable, handles well, and has an amazing fuel economy. While a hatchback hybrid like the Kia Niro certainly isn't the sexiest car I've driven recently it performed incredibly well. Considering that it got more miles per gallon than the three trucks I'd be driving later in the week COMBINED, that was pretty impressive! While I knew the Niro would be perfect around town ... what about going over mountains with tight turns and steep grades?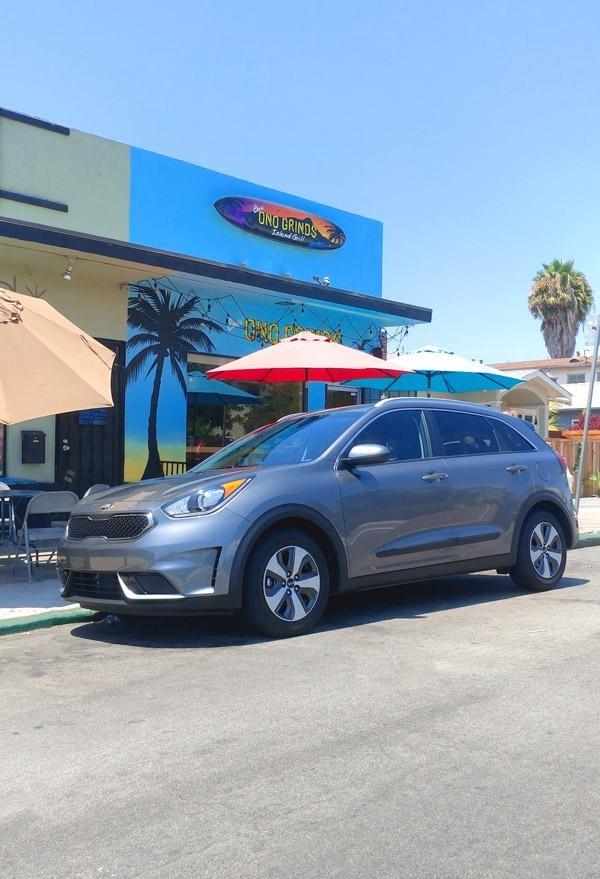 Our journey began with some "around town" driving and I loved that the car handled well in stop and go traffic with minimal hybrid lag. Shifting seemed smooth and while it may seem awkward to articulate, it didn't "look and feel" like a hybrid.
One of my biggest challenges with driving so many different cars is that it can get tricky to compare accurately since they exist at many different price points and ultimately everything is a compromise. This time around, we were provided with a 2017 Kia Niro LX which is one step above base and the important thing to realize here is that the Niro LX with some options was a $24,000 car with plenty of cabin space that is rated at up to 51 mpg city. That is simply fantastic! In our driving experience, we averaged about 45 mpg.
I love Kia for the fact that while they are laser focused on making practical cars with tons of value, they haven't lost sight of the fact that you should want to actually still love driving your car. Too many sedans are simply boring and WAY too many hybrids and EVs look and drive like you bought a hybrid - not just a great car that happens to get some crazy miles per gallon.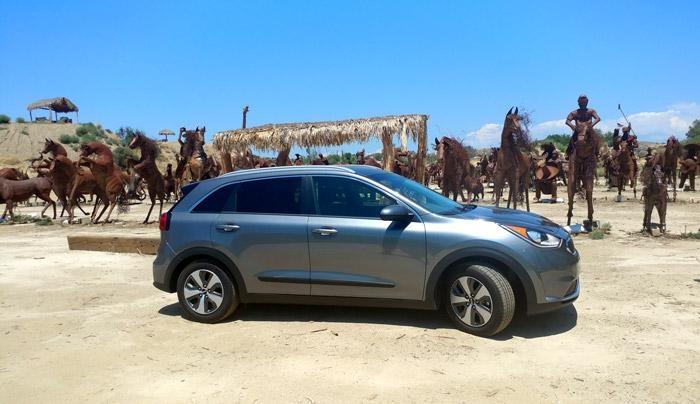 During our drive from San Diego to Palm Desert, we passed through Temecula where I discovered Ricardo Breceda's sculpture garden. I absolutely love these sculptures that I've explored out in the desert around Borrego Springs / Galleta Meadows but I didn't realize that you could actually buy them too. Well, if you had a spare $20,000 - $140,000 anyhow. He does sell some small ones for hundred $100 if you want a momento though. I actually discovered those sculptures initially on a trip out there with the Kia Sportage so it's sort of a divine coincidence that we stopped here on this trip too!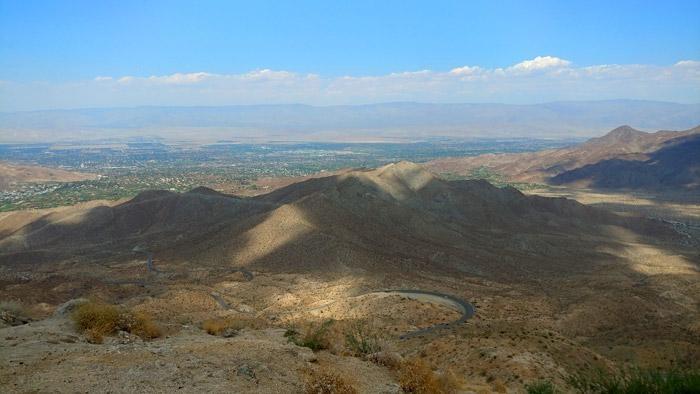 After a quick stop in the sculpture garden it was time to hit the road again and this is where I wasn't sure what to expect with the Kia Niro. After all, this wasn't a sporty car with lots of horsepower. As we climbed the mountain, I found that the car handled well - not great - but better than I expected. As a car optimized for miles per gallon, I found that the low resistance tires allowed it to slide around tight corners more than I would have liked and didn't have the oomph that I would have prefered.
If you are looking for a sport experience, this is clearly not your car. Despite this though, I did like the fact that you sit upright similar to an SUV and that posture provided excellent control and visability compared to sedan. Most importantly, despite it's low price point and relatively low compbined power (1.6L I4 104 hp + 43 hp electric motor - rated at 139 hp equivalent) - at no point did I feel like I was holding up traffic or straining the engine. I had the power I needed when I needed it ... just not much more.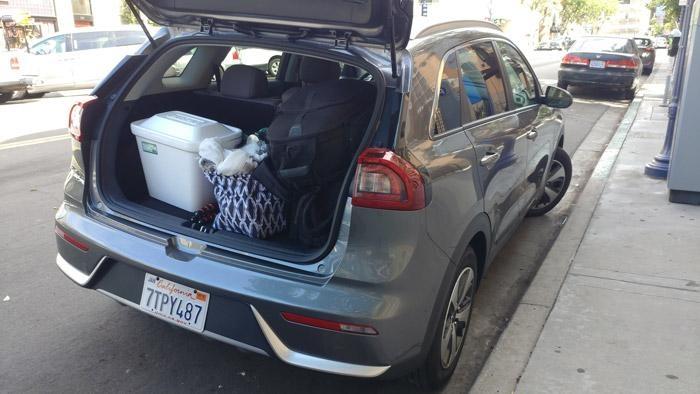 As a hatchback / subcompact SUV, the Kia Niro also has great interior space compared to a typical hybrid sedan. With two big guys sitting in front it was "tight" but not uncomfortable for the two hour drive and in back, we had space for all the gear that we needed for our trip including luggage, camera bags, and coolers.
Like most Kia cars, it also came loaded with all the safety and technology features you expect includeing Android Auto / Apple Car Play, adaptive cruise control, collision alert, rear view camera etc. (note: some features are options and not standard) While we were in the Kia Niro LX trim for this review with cloth seats and a relatively basic interior, you can get leather seats and a high-end Harmon Kardon stereo system on the Kia Niro Touring trim, starting at a still affordable $29.650.
This is clearly a great addition to Kia's lineup and I look forward to driving it again in the future.