Last month, I flew to Minnesota with Indian Motorcycle for my first King of the Baggers race at Brainerd Raceway, excited to learn what exactly bagger racing was all about. On the surface, the concept seems a little crazy, taking big, heavy motorcycles and racing them like they are sportsbikes. But after you see one whiz by you at 180mph and lean 50º into a turn, you start to look at it differently. And just like that, you're totally hooked.
For the uninitiated, a bagger is a larger cruiser of a motorcycle that has comfy seats, a wind-deflecting fairing to reduce drag, V-twin engines, and soft saddlebags or rigid compartments that hold a lot of stuff for long rides (hence the name "baggers"). These bikes typically appeal to older riders who value comfort over speed, designed for touring the back roads of America rather than racing down a track at triple-digit speeds.
But in the King of the Baggers series, race teams take these everyday cruisers, stripping them down and building them back up better than ever. They then take on some of America's most famous racetracks, with a group of seriously competitive riders pushing these frankenbikes to their absolute limits. And the results are pretty amazing, with these bikes delivering superbike like speeds and lap times.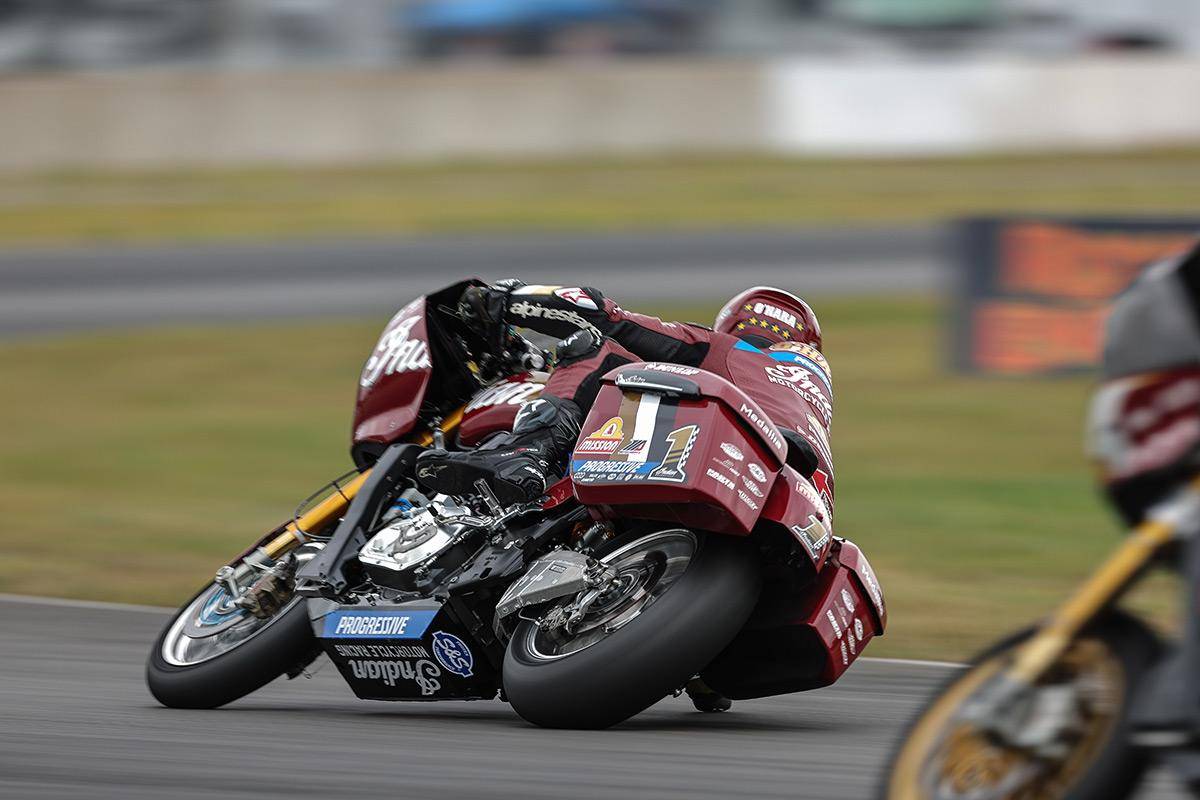 Photo Credit: Brian J Nelson
Naturally, my first question was "Where did this crazy idea of racing baggers come from?" To find out, I spoke with Chuck Aksland, COO of MotoAmerica.
"We were approached at one of our races by an industry person with two different ideas. One was riding like big twins on dirt. You know, like a Scrambler. The other one was about road racing baggers. We were like wow, the idea kind of caught everybody off guard. We asked that they show us one, since we can't really mentally picture that, right? And about eight months later, finally a guy comes up with a video of one going around a racetrack and we were like ok, let's put together an exhibition race on Laguna Seca."
"That race was held during COVID (2020), and it was really a bunch of bike builder companies, and parts and accessories companies associated with Drag Specialties, and they got a group of guys together and had our first race at Laguna Seca. And the uniqueness of that event, you know, really went viral on social media and YouTube, and the next year we did 3 races. And really it's gone from just a bunch of guys building bikes to a Harley-Davidson and Indian war."
"And you know, last year we really had to kind of reign things back and try and get it now so that instead of factory bikes and high level bagger racing, you know, we're trying to make it so that all the parts are mulligated, you want to build a race bagger, you can go down, you can order the parts and go build something and participate. What we were shocked about was, our first race was at Daytona, and we put rev limits on the bikes, we put restrictions on the type of parts they were using. Yet they went 10 miles an hour faster. They're doing 184 miles an hour on the bank, they weigh 620 pounds. So yeah, this is only place you can really watch bagger racing on that kind of a level you know?"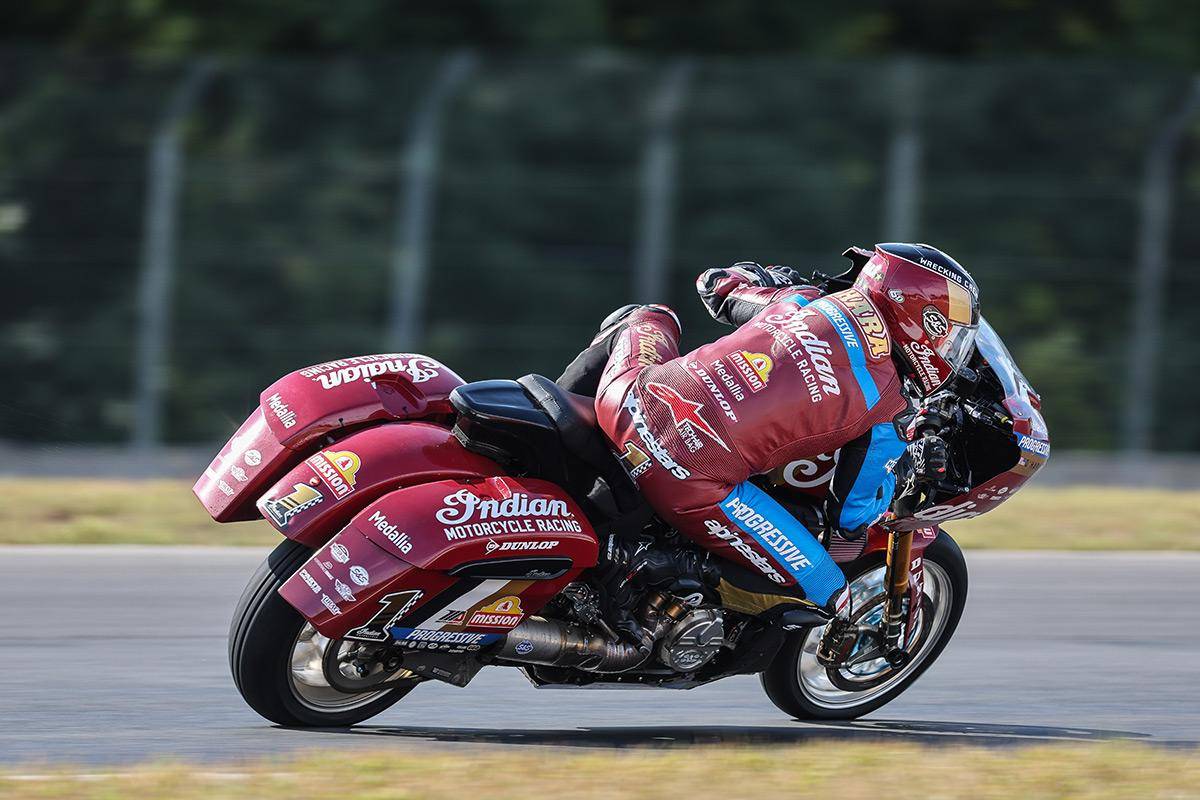 Photo Credit: Brian J Nelson
In that first race, it was initially thought that all of the baggers running would be Harleys. But S&S Cycle had secretly been working with Indian Motorcycle to prepare a Challenger (ridden by Tyler O'Hara), along with another Indian built by Roland Sands Design. Thus bringing the age-old rivalry between these two iconic motorcycle brands to life on the track, a true David versus Goliath story. And in the end, the victory was claimed by Tyler O'Hara on his Indian.
We had a chance to sit down with Tyler O'Hara, a professional motorcycle racer since 2005, and he gave us his take on bagger racing and why it's such a big draw:
"Bagger racing is the most authentic raddest thing in racing right now, if not America the world. I mean it's loud, it's a development race. Every time you come as a spectator, the bikes are different, and visually we're making different pipes and fairings and belly pants. So as a fan, if you really dive in, it's really fun to follow along because it's such a development race, especially with our competitors. But the sound and then obviously, the size of the bikes, as we're about 300 pounds heavier than a superbike, which is basically purpose-built race bike, whereas we're taking baggers, cruisers, and we're turning into performance baggers."
"Indian motorcycles are such a great platform to start with, and our bikes still have a lot of the stock DNA as far as the frame, swing arm. We have upgraded triple clamps, suspension and brakes and wheels. But for the most part, it's the same bike that a consumer can go buy the dealership, come and ride out to the track. So as a spectator, it's really, it just comes full circle, right? Because here as a fan, you know, I'm necessarily riding the same bike that you're right into the track, which makes people intrigued and interested."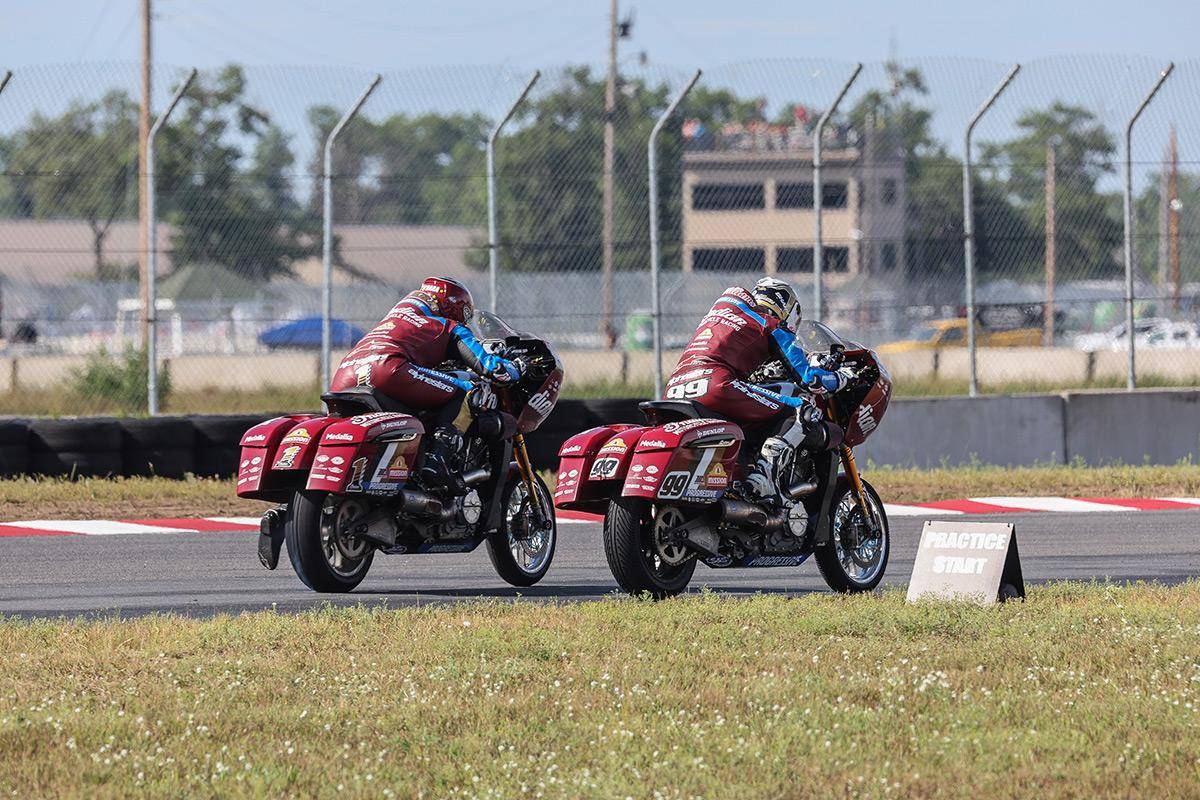 Photo Credit: Brian J Nelson
While the King Of The Baggers was supposed to be a single show-event, as Aksland explained, it went viral in a hurry and garnered 9.6 million views across social media. So naturally they expanded upon it, with a three-race season in 2021, an even bigger seven-race season in 2022, and seven races for 2023, held at some of the most famous racetracks in the country.
According to O'Hara, bagger racing has reinvigorated the sport. "Come for the baggers, stay for the superbikes is the trend." In fact, every MotoAmerica race that King of the Baggers has gone to, there's been a 40% increase in ticket sales. Laguna Seca saw 52,000 people in attendance for that weekend's race, the bike parking lot completely full of bikes, the whole place buzzing. People have grown bored of "boring superbikes" over time, but baggers have brought a whole new demographic of fans, both here and abroad, giving the sport a second lease on life.
There could be plans to expand the series even further to eight or nine races down the road, but for now it's still a new category (and not an inexpensive one), so they are trying to keep it a level that teams are happy with for their expenditure.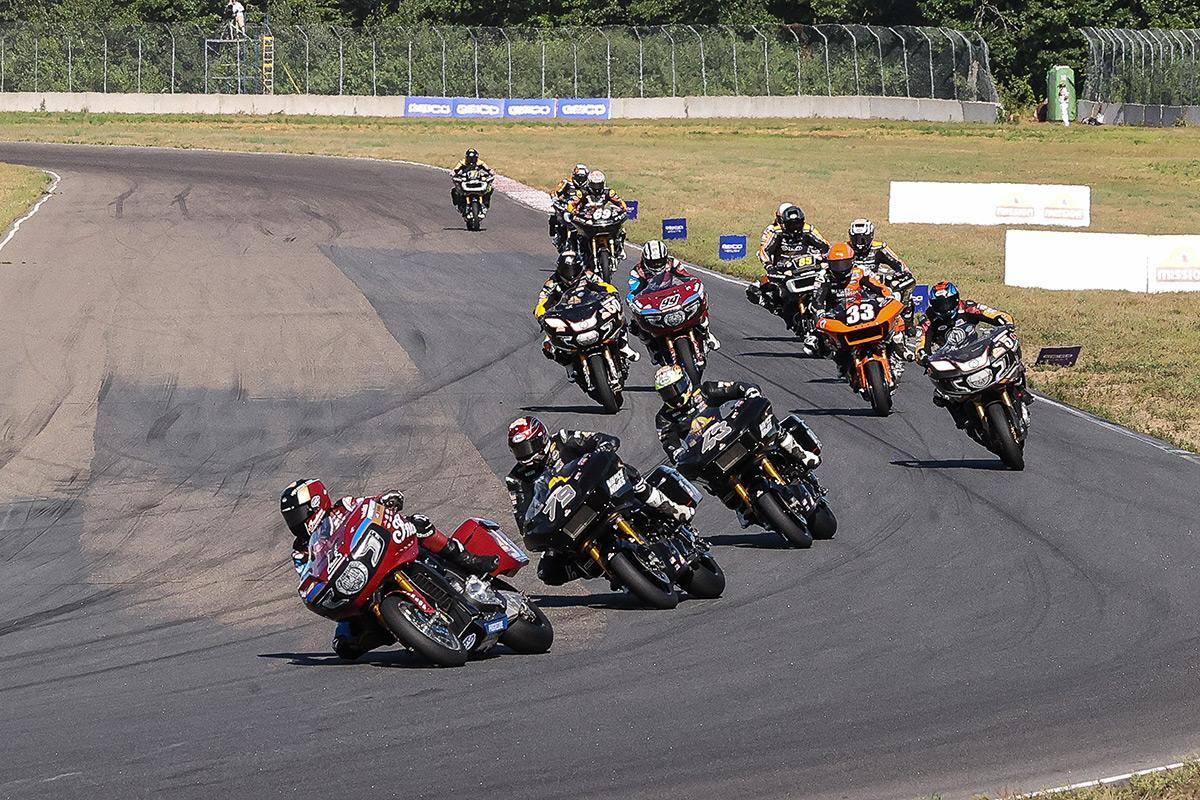 Photo Credit: Brian J Nelson
Part of the draw about bagger racing is that these are factory motorcycles, and you can build a similarly performing bike of your own, provided you have deep pockets. The Indian Challenger RR bike that Tyler O'Hara won the 2022 series with took the already stout PowerPlus engine on the Indian Challenger street bike and amped it up with custom S&S camshafts, 112 CID big bore cylinder/piston kit, CNC ported cylinder heads, S&S air intake w/78MM throttle body, billet adjustable rocker arms and a throaty S&S 2-1 race exhaust.
With 17" race rims combined with Dunlop race tires, Hayes rear caliper and dual Brembo M4 front caliper breaks all rested under Ohlins FGR250 front forks, this allowed for aggressive knee dragging cornering and responsive handling in all conditions. Additional modifications include TTX Ohlins rear shock, S&S chain drive conversion, S&S automatic chain tensioner, and S&S billet clutch cover above the custom belly pan.
Rounding things out are a fixed fairing with an aero windshield, Maxx fully adjustable ECM, an AIM DL2 data logger dash, and S&S fairing mount, along with a Saddleman raised seat, S&S rear set foot controls, adjustable handlebars, and a quickshifter kit. (Keep in mind, parts and settings change on these bikes pretty much in real time, as they are truly learning from each race and making changes as necessary)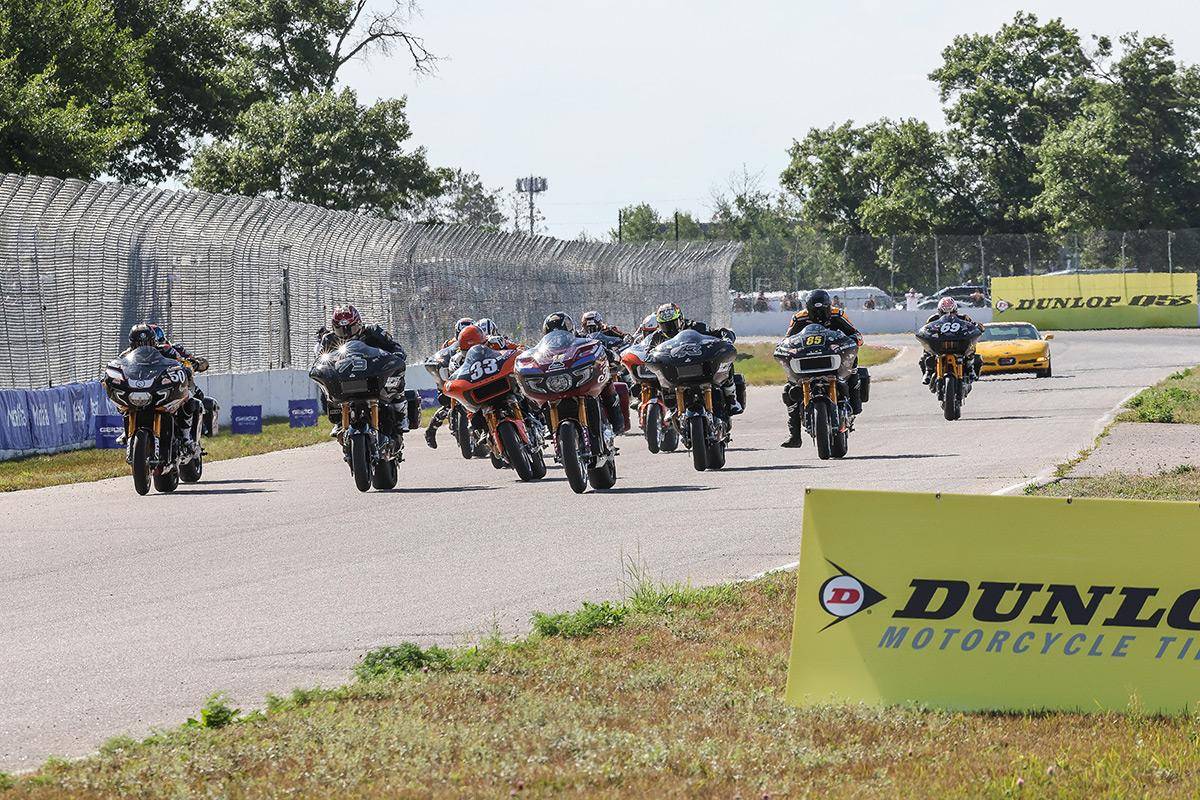 Photo Credit: Brian J Nelson
Most people won't actually go and build a bagger racer of their own, but it's pretty exciting to ride a Challenger street bike and see a version of that same bike tearing it up on the racetrack. It also plays into that whole "Win on Sunday, Sell on Monday" mentality, potentially bringing new customers to the brand who might not have been on their radar beforehand.
But that doesn't mean bagger racing won't bolster the aftermarket for V-twin motorcycles, as people look to upgrade their rides and squeeze out a little more performance and such. And that was actually part of the motivation behind King of the Baggers initially.
"These races are dynamic platforms to showcase the performance capabilities of our baggers," said Gary Gray, Vice President – Racing, Technology and Service for Indian Motorcycle.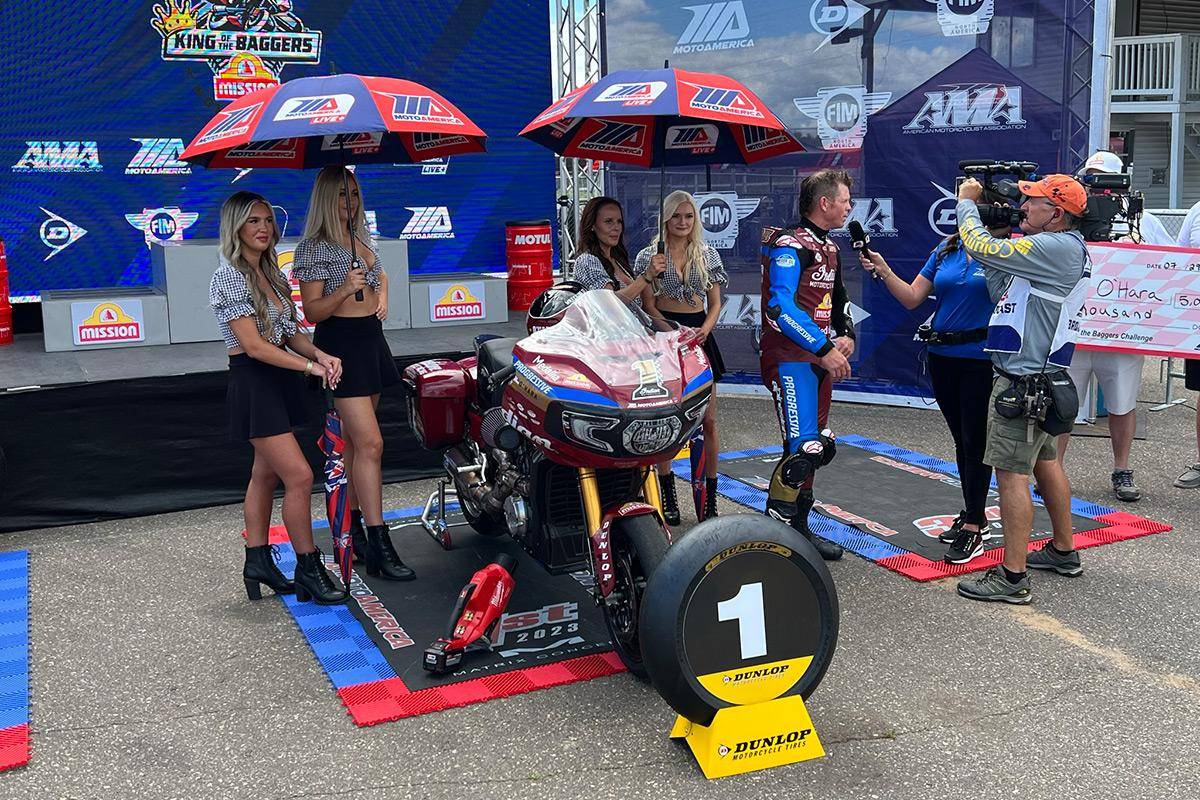 Photo Credit: Brian J Nelson
The races themselves are a lot of fun. Unlike traditional auto racing which spans hundreds of laps (and hours upon hours), bagger races are really quick, with most races running 15 minutes or less. Most times, riders won't even pit. Over the course of the weekend, there was a practice, two qualifiers, and two races. In addition, there was a 3-lap Challenge, which was pretty neat.
Do the math, and that's not a ton of time on the track. That's great for those people streaming the race from home, as it's not a huge time commitment at all. But if you're attending the race in person, there's a lot more that you can see and do, even if you're "just here for the baggers."
Much like with NASCAR, many people bring RVs or campers and make a full weekend out of it, with plenty of activities to keep them occupied. At this race, MotoAmerica had six classes of road racing – Superbikes, Supersport, Stock 1000, Junior Cup, King of the Baggers & Royal Enfield Women's Build.Train.Race. They also had a stunt show, bike show, mud truck racing, motorcycles & snowmobiles dragstrip racing, freestyle snowmobiles on the pond, live music, and even a petting zoo. It's fun for the whole family.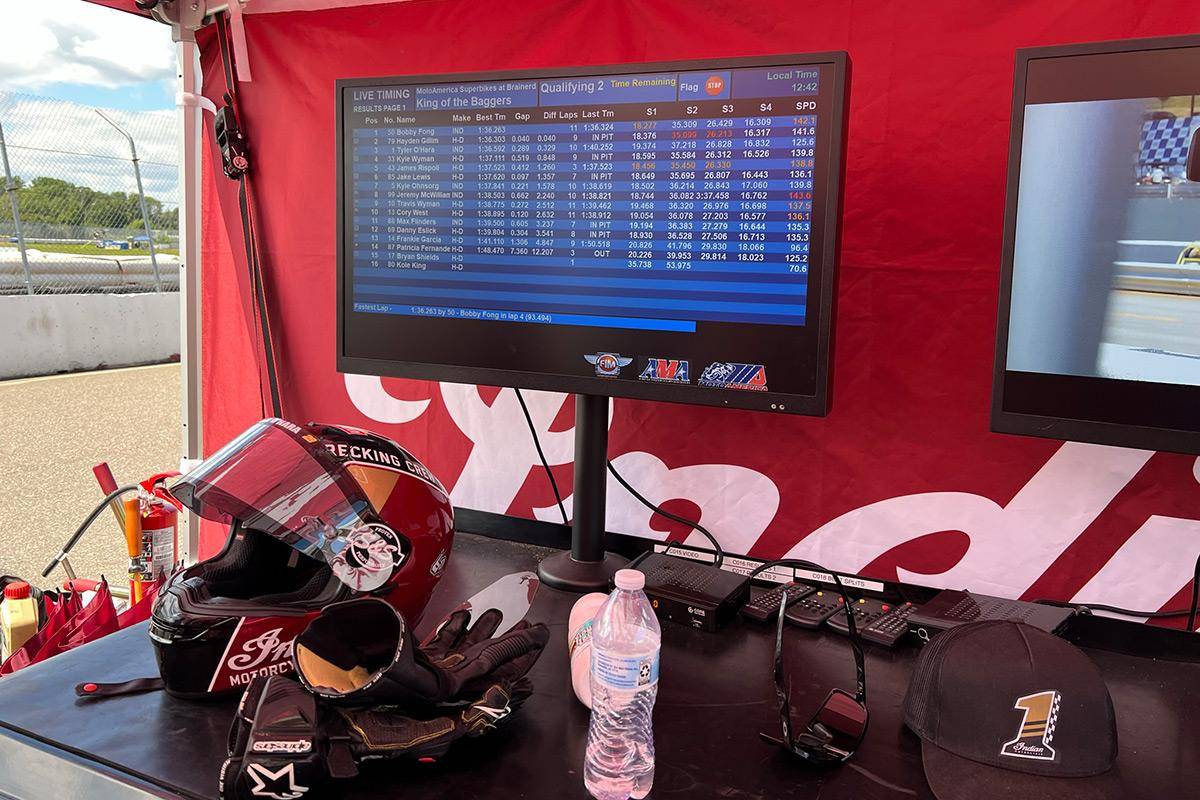 If you were rooting for the Indian Racing team this weekend, it was a bit of a mixed bag. Tyler O'Hara came out swinging, topping the field of 16 riders in the first qualifier Friday afternoon. But due to the wet conditions, his record lap time of 1:53:543 wouldn't hold up the next day when it was dry and sunny. The following day at the second qualifier, he ended up in third position, just a few hundreds of a second behind Fong and Gillim at 1:36.592.
While Tyler O'Hara took an early lead seemed like a sure thing in the first race, a mechanical failure with just a few laps to go forced him to leave the race. The following day (after the team wrenched away on his bike well into the night), Tyler rode hard but just couldn't catch Gillim, coming in third place. But it wasn't a total loss for him, as he did manage to win the three-lap Challenge dash-for-cash earlier on Saturday, pocketing $5,000 in the process.
Mechanic failures are just part of the deal, as these motorcycles are essentially prototypes, and things can and will break, often at the most inopportune times. As you can imagine, the spirits in the pits went from joyous elation to somber silence in a matter of seconds when O'Hara's bike failed and he went off-track.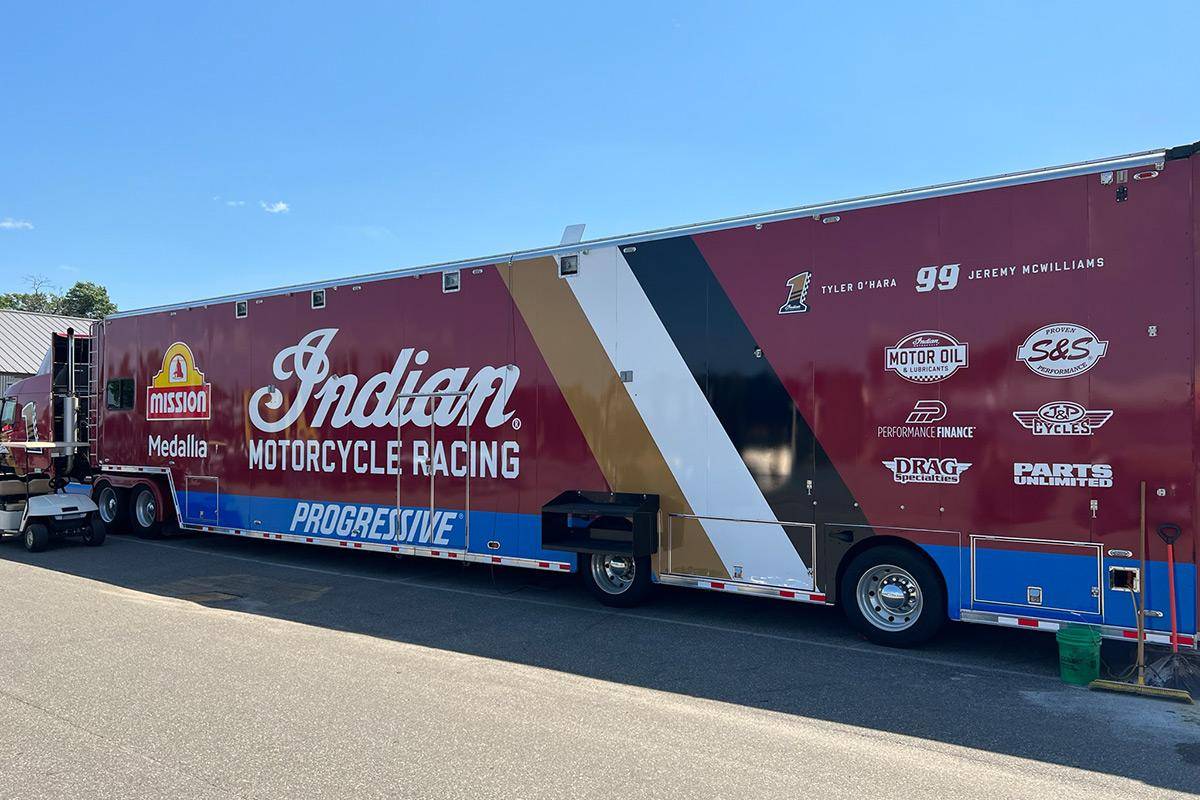 Harley Davison versus Indian is one of America's oldest rivalries, with Indian founded in 1901 and Harley founded in 1903. While Indian fell on hard times after World War II and shut down in 1953, they came back in 2011, putting out some great bikes and getting back into racing.
Now to face off against their larger, more well-funded rival at King of the Baggers and come out victorious (with Tyler O'Hara winning the KOTB title in both 2020 & 2022), it's a bit of a Cinderella story. But HD isn't giving making things easy, proving to be very competitive and keeping Indian on their toes. It's a fun battle to watch play out.
Tyler O'Hara is an incredible rider, and his technical knowledge and insights from his vast racing experience have proven to be invaluable in this series. While he's ridden all kinds of bikes throughout his career, he genuinely loves bagger racing, and watching him make these bikes do things they never should be able to do is really something else.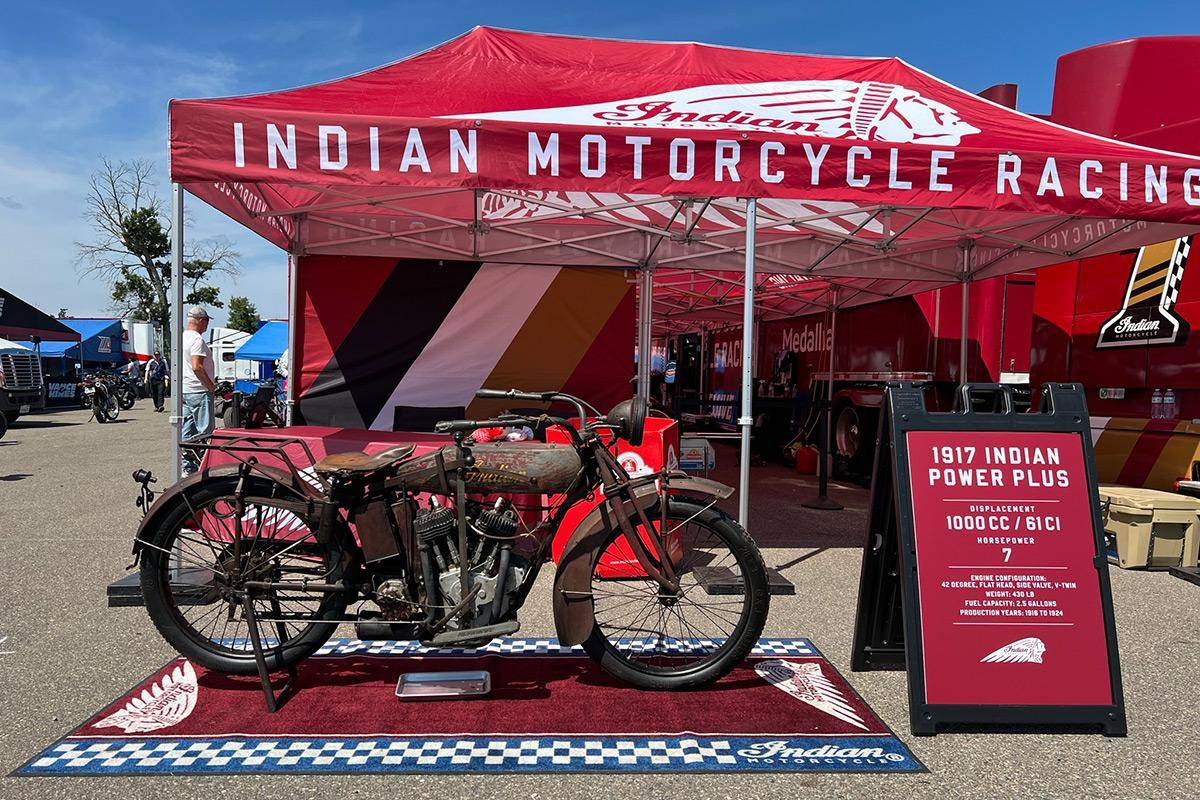 If you want to check out a King of the Baggers race, there are a number of ways to do so, both live and delayed programming. MotoAmerica Live+ ($$) is probably the most comprehensive coverage (qualifying, races, interviews, behind the scenes stuff), but there's also live coverage on MAVTV, MTRSPT1, and YouTube. In addition, there's one-hour delayed programming on FOX, or a one-week delay program on FOX Sports One.
But if a race is coming to a city near you, there's no better way to experience bagger racing at its finest. With your ticket, you get full access to everything - The race paddock is open, so all of riders are accessible. You can walk over and watch the mechanics working on the baggers. And there are all of the other races and festivities going on as well. And the people are great, motorcycle enthusiasts just having a good time. What more could you ask for?
A huge thanks to Indian Motorcycle, MotoAmerica, Tyler O'Hara, and everyone else who made my first King of the Baggers race such an epic experience. I'm absolutely hooked on this series now, and I can't wait to tune in for the next race. Check it out for yourself, I promise you won't be disappointed!