Sometimes it is silly fun games that are the best distractions. You know, those games where you simply pick up the controller and connect with a friend and play for half an hour and then go back to work. That's the experience that I had when checking out Monster Truck Championship recently and it renewed my passion and interest in racing games ... something I had lost many years ago due to them being overly complicated.
Monster Truck Championship is now available for pretty much every gaming platform on Earth (except next-gen though they are probably working on that too). This includes PlayStation 4, Xbox One, Steam PC, and as of today, the Nintendo Switch ... just in time for those Black Friday shoppers!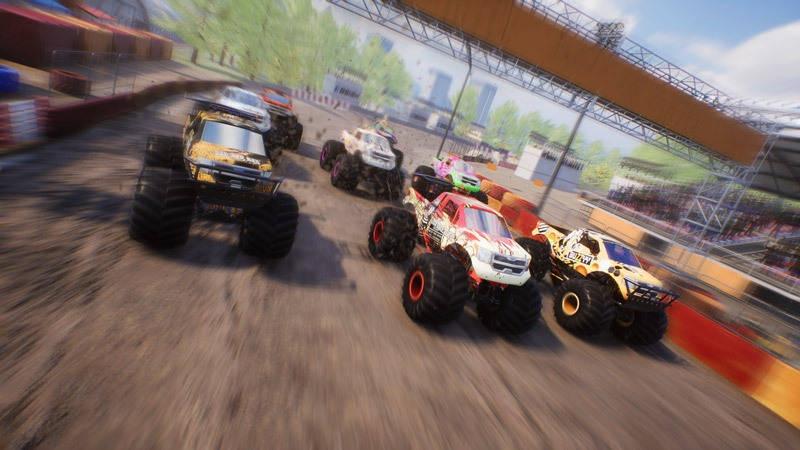 Monster Truck Championship is a unique simulation where players take part in different competitions in 25 stadiums and circuits across the United States. Don't expect to perform impossible aerial stunts by simply pushing down the accelerator: players need to master the vehicle physics to try and set new race records and pull off realistic tricks. Monster Truck Championship faithfully reproduces the unique feeling of driving these powerful motor vehicles: independent front and rear wheel control, mass transfer anticipation in bends and predicting bounces after jumps.
There are five types of event in Monster Truck Championship: Race, where you try to finish in first place after completing a certain number of laps against eight other drivers; Time-Trial, in which you try to set new time records; Drag Races, where you compete against one other driver on a small section of the track; Freestyle, in which you try to perform as many spectacular tricks as possible; and Destruction, which rewards you for destroying every obstacle you can!
Monster Truck Championship also has a career mode where players take part in different tournaments, upgrade their vehicles after wins, and manage their team and finances. The aim is to take home the ultimate prize: become the Professional League Champion at the Monster Truck Finals!
Players can take the wheel of 16 vehicles, each with many customization options: change the engine for better acceleration and higher maximum speed, switch tires to adjust the traction or choose the best suspensions for the most impressive tricks you want to pull off! All these elements can also be finely tuned to ensure the vehicle is tailored to the different challenges available. Other details can be modified, such as the vehicle's color, front and rear accessories, and stickers. Over a dozen elements are customizable in total, so all drivers can show off their skills with unique style and handling, in single-player mode and in online competitions for up to eight players.
For deeper immersion, you can use the cockpit camera and experience the exhilarating feeling of overlooking the arena from up high. After performing a trick, the camera is placed so you can admire your moves at the best angle, and you sometimes get slow motion for an even more impressive view!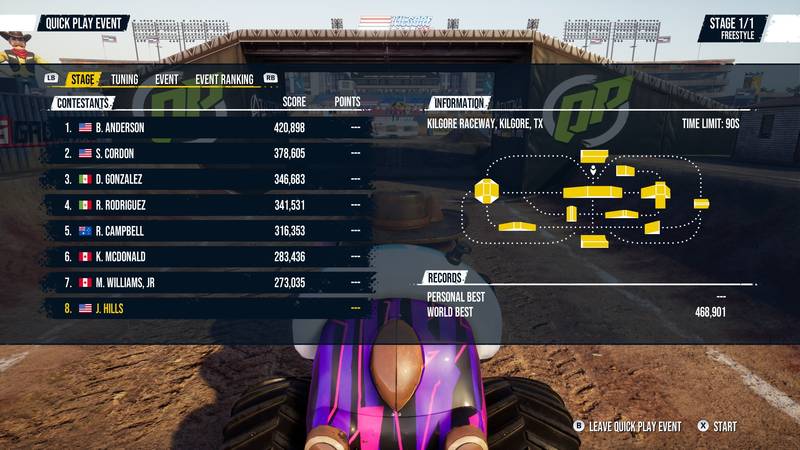 Monster Truck Championship Features:
25 circuits in different cities across the United States
5 types of event: Race, Time-Trial, Drag Races, Freestyle and Destruction
16 customizable vehicles with over 50 options
Realistic driving and physics, including independent front- and rear-wheel control, and adjustment of different mechanical elements, such as suspensions, gearbox and engine
An online mode for up to 8 players in monster-sized races
A Career mode where you manage the vehicle, sponsors and technicians to improve your performances and earnings
Ultimately the game is a fun experience with a moderate learning curve that I was able to overcome fairly quickly. While you can do a career mode and deeper levels of competition in the game, for me personally it was all about the multi-player Quick Play tracks. Too many games require too much time and emotional investment so to see something, where I could have fun in just a few min and then get back to work, was refreshingly fun.