Ford's Mustang is one of the most iconic vehicles on the market today. Very few vehicles have survived the generations the way this one has and chances are that you father and grandfather lusted after one the way you do now. While there have been good design years and bad years, the current generation 2019 Mustang is clearly a winner. With looks to kill, a super comfortable interior, and a distinct engine / muffler noise that can be modulated from quietly start out of the garage in the morning ... to a F&$@ YEAH! I'm in a Mustang roar that will wake up the neighborhood.
One thing that's obvious to anyone who spends even just a few moments with a Mustang is that it's more than "just a sports car". While other "sports cars" go for luxury and refinement and muscle cars go for raw power, this Mustang hits both needs while still being practical to buy. It is
What You Get!
At a sticker price of just under $50,000 as tested for the GT Premium Fastback, you are getting a hell of a lot of car. This includes a 460 hp engine with 420 lb-ft of torque and a 10-speed automatic transmission that is super fast for accelerating on entrance ramps - or simply beating someone off the line at a stop light. Additionally, you are getting a great interior that - while not a luxury car - feels and looks great. This includes leather-trimmed heated and cooled front seats, heated mirrors and a 9-speaker stereo system, a 12" LCD Digital instrument cluster, and heated steering wheel.
With the GT Performance package, you're getting 19" tires, Brembo brakes, heavy-duty front springs, and all around improvements for performance.
Of course, while you want a bad-ass car, you've still go to make sure it's a safe one to drive too! With the Ford Safe & Smart package you get adaptive cruise control, auto high-beam headlamps, lane-keep alert, collision assist and pedestrian detection with automatic emergency braking.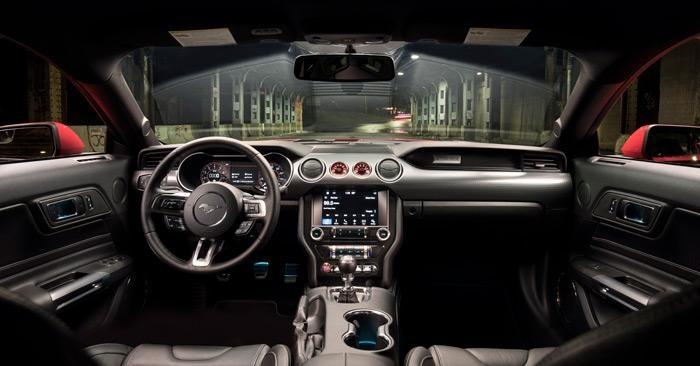 Why The Mustang GT Fastback is Awesome!
In many ways this car is one that begs you to be a bit naughty. The endorphin rush of turning the exhaust to "Track Mode" and flooring it (even if you are going one block before a stop sign) is almost irresistible. The same is true for the awesome Track Apps that are included and in particular "Line Lock".
Track Apps
You don't get a Mustang to just go back and forth to the store. Even if it is your daily driver, chances are you are going to show off a bit and that's where Track Apps come into play. At the most basic level, it includes performance metrics like accelerometer, acceleration times, lap times, and countdown starts. However, it also includes Line Lock, a feature they make sure to say is for "Track Use Only". If you've ever wanted to do a burnout then this is one of the easiest ways to do it. Simply engage the electronic line lock feature and it keeps the front brakes locked while the Mustang is in gear to warm up the rear tires. While that's great for racing ... it's also just cool to show off.
FordPass
FordPass is a mobile app available for Android and Apple devices that allows you to remotely lock, unlock, and start your vehicle. It also has other features such as allowing you to provide your service technician with key vehicle info and to schedule service.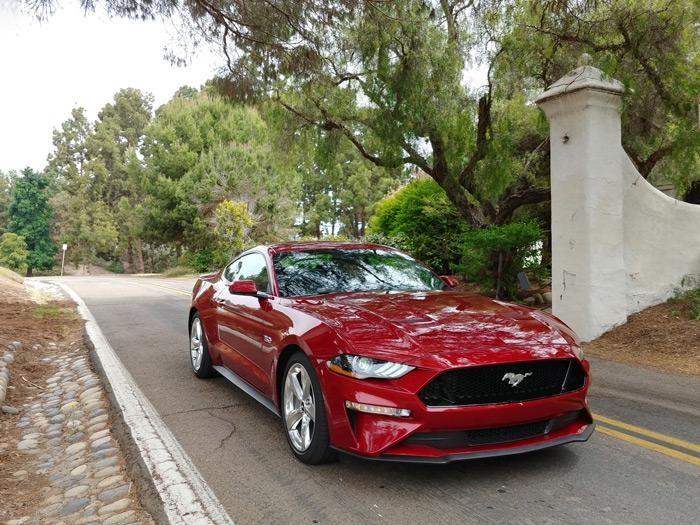 Active Valve Performance Exhaust
While I think the roar of a Mustang engine is awesome - as someone who lives in an urban area, I can attest that it is less awesome when I'm trying to sleep. This happens nightly with someone roaring down my street setting off car alarms - don't be that guy! Luckily, Ford's Active Valve Performance Exhaust will modulate that noise, including offering a quiet start mode. Don't worry though, you can switch it back in just a few button presses.
It's FAST and QUICK!
With 460 horses, the engine has oomph but when paired with the 10-speed automatic it's quick. The official numbers say that it can do 0-60 in under 4 seconds and under 12 second quarter mile times at just shy of 120 mph! Those numbers are FASTER than what other testers have been able to get in manual - though very replicable with the 10-speed automatic transmission. While I wasn't able to take the car to a track during the time I had the loaner from Ford, I can say that in practical terms it's so fast and quick to accelerate that I probably would have gotten a ticket if I had it for longer than just a few days.
It's "Almost Practical" ...
It is simply a joy to strap into and go! With a trunk that was big enough for suitcases or probably even golf clubs and a back seat that while a challenge for two adults, was comfortable for my dog to get in and out and likely for kids as well, this could be a great family car too. I'm going to leave it at that since calling the Mustang GT a good family car takes too much of the cool factor away - but it's true.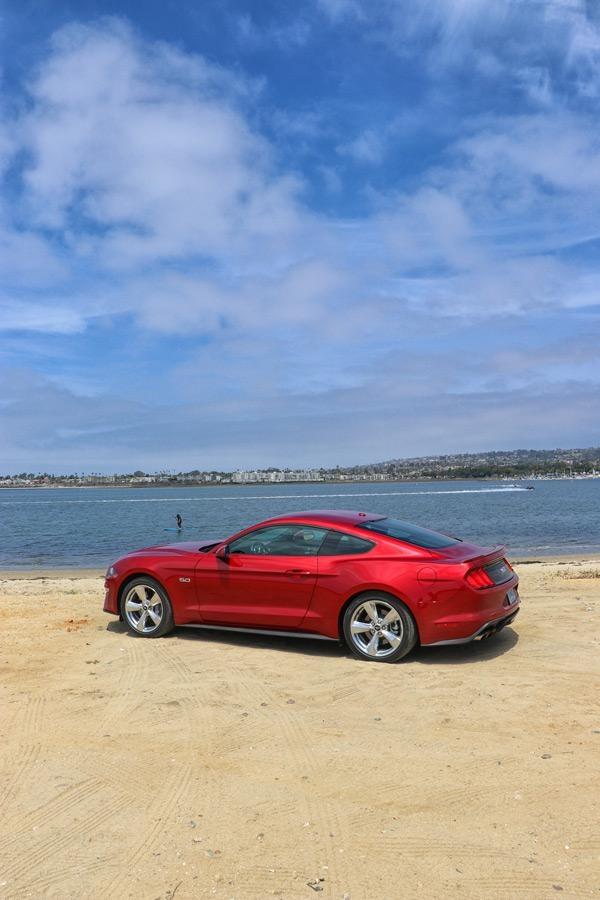 The nice thing though is that it is more than simply a one-trick-pony. Owning a Mustang GT is about more than just having a flashy car ... it's so good that it's great to simply just cruise around in or park at the beach and enjoy watching the waves.