Electric Vehicles have been something I've been enamored with for the past several years. Ever since I got my first tasted during a launch of event for the Kia Soul EV back in 2014, the promise of smooth, quiet, rapid acceleration has been a dream that would one day finally be practical. Back then, we were excited to have an approximate 90 mile range and the concept of "range anxiety" has continued to be a major obstacle to EV adoption. Vehicles such as the Mustang Mach-E though are beginning to prove that EVs can be practical and compete head to head with ICE cars and that makes me very excited!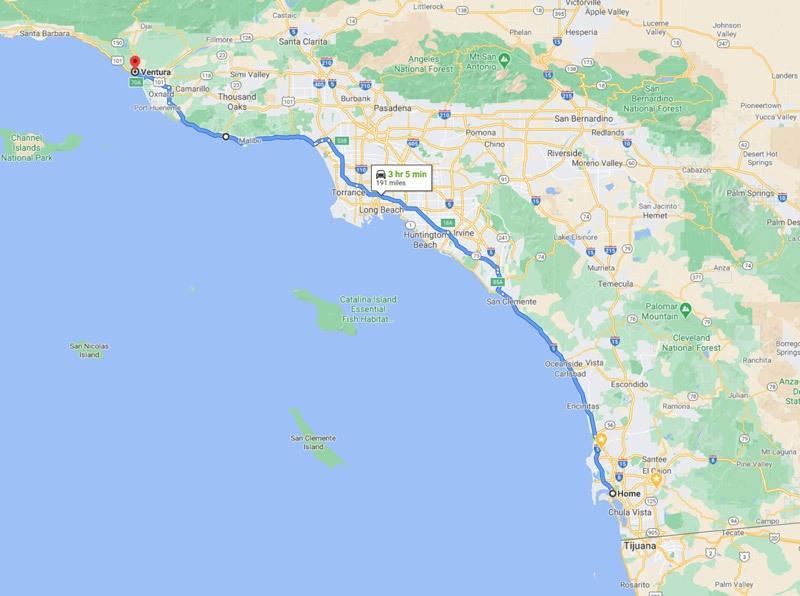 To be clear, we're not there yet and when it comes to long road trips there are some very challenging obstacles that EVs of all sorts need to be able to overcome. Despite this, I was pretty excited that our weekend getaway to Ventura, California - about 200 miles from San Diego went as smoothly as it did. This is a huge estimate to both the leaps in both technology and design that Ford has made, as well as the willingness of municipalities and land developers to accommodate a different type of transportation than what we've been living with for the past 100 years.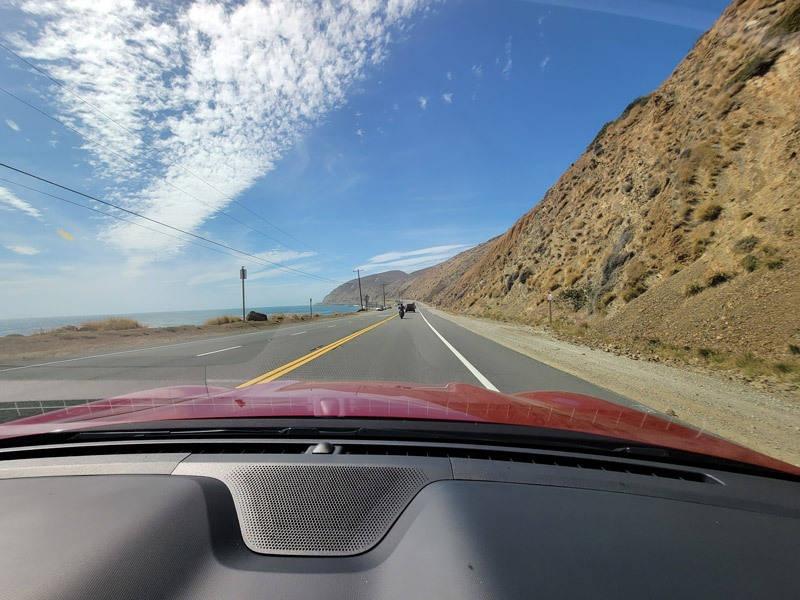 Range Anxiety Is Real - But It is Something Owners Will Adapt To
I'll admit, every time I get an EV I get nervous. I feel limited, I feel like I need to carefully plot my journey and I need to be careful not to run out of juice. Unlike with a ICE (Internal Combustion Engine), there aren't always charging stations close by or available, and those that do exist often are Level 2 stations that require hours of time to fully charge your batteries. Even worse is that while you might have an EVGO, ChargePoint, Electrify America, and some other charging network card in your wallet ... maybe that station is SemaConnect and now you need to set up YET ANOTHER charging account to use that plug.
While it is far from perfect (we experienced lags, crashes, and other problems), Ford has created a mobile app and a financial overlay that covers most of those networks that I mentioned above. This means that there's no more fumbling for fobs or trying to recall what your password is. With Electrify America stations the plug and the car did a handshake automatically, for the other stations though, you had to initiate it on the app. Payment though was seamless and comes out of your account setup on FordPass. The app will even help you to identify stations close to you and filter by fast chargers.
The model that we were provided with has the extended range battery (88kWh) which claims a maximum range of 305 miles. In practical use though, that range was closer to 220 at 100% charge based on driving conditions and weather here in Southern California.
While we could have done the approximately 190 mile trip from San Diego to Ventura without charging, being an EV owner requires new ways of thinking about fueling up.
For instance, instead of thinking about driving your car from 100% to 10% and filling up, think about how you use your mobile phone. Whenever you have a chance to charge up, you take that opportunity and the result is your phone is always ready to do what you need from it. The same is true for EV cars as well. In our case that meant stopping in Huntington Beach (about 90 miles from San Diego). We stopped and grabbed lunch and then sat on a charging station for 30-40 minutes while eating and by the time we were done, the car was ready to get back on the road again and so were we.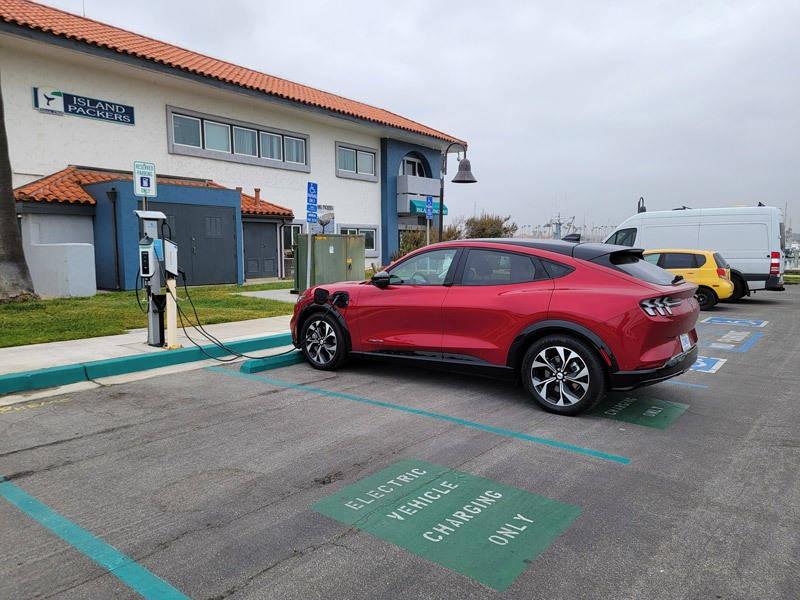 Ventura, CA Is A Perfect Example Of An EV Friendly City
Not all cities are friendly for EV users yet and that's true for San Diego as well. While San Diego has changed a lot in the past few years, most of the charging ports are still hidden inside parking garages where you would need to pay a fee just to charge up. Ventura on the other hand is a model for how EVs can be practical. While there were fast chargers available at a nearby mall in Oxnard as well as car dealerships, we found a group of four ChargePoint Level 2 plugs in the free parking garage downtown, there were also two SemaConnect Level 2 stations that we used by Island Packers boat dock on the harbor, and there were two more at the beach. There was even a charging station a couple blocks away from where we ate breakfast on the last day.
What this meant is that there was almost no reason to have range anxiety driving locally. Even on the road, the FordPass app made it easy to find fast charging spots so we could pause, charge, and get back on the road again quickly.
My fear of "being stuck charging" evaporated quickly when I began to realize that there are loads of places where you will naturally be parking your vehicle. For instance, a four hour whale watching cruise, a dinner downtown and then walking around sampling some local breweries, and even just a short one hour charge while eating breakfast can add 10-20 miles of range.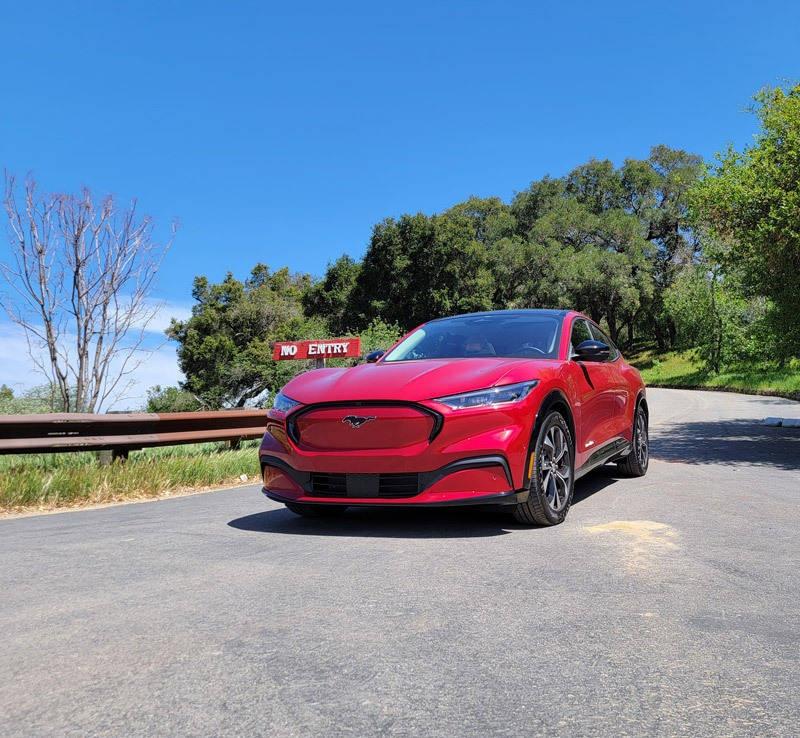 On The Road Is a Tale Of Two Driving Styles
From the perspective of a road trip vehicle, the Mustang Mach-E excelled at both long stretches of highway travel as well as around town driving and was even more fun on mountain roads. The biggest question I got from friends when they saw I had the car was, "is it a Mustang?" I've answered my thoughts previously based on the experience I had last year at the Chicago Auto Show doing a preview of the vehicle and my opinion hasn't changed.
It is unfortunate that this vehicle bears the Mustang name badge because Mustang represents big loud V8 engines and raw horsepower producing speed through brute strength. This car is exactly the opposite. However, after a week of driving the Mustang Mach-E, it is clear that Ford's engineers and designers weren't just slapping a Mustang badge on the vehicle just for the hell of it. This vehicle is different for sure ... but it is a Mustang.
Beyond the muscle car personality that exists today, Mustang was about being practical. It was a car that always had a big trunk, was comfortable to drive, and represented freedom and the thrill of driving.
I have not experienced a vehicle that embodies all of those the way that the Mustang Mach-E does. To be equally adept at cruising down LA freeway at 70 miles per hour with technology helping to take the hard work off the driver so he can relax and enjoy the experience, while also being able to take corners and pour smooth rapid power into turns on a mountain road is an exceptional feat. Mustang Mach-E does this better than even the Mustang GT. Instead of raw power where you have to hold the reins tightly, this is a racehorse that can deliver power when and where you want it.
For instance, when you mash the pedal the car rockets forward with an 6.1 seconds 0-60 timing and does so without hesitation or torque steer to pull you to the side forcing you to wrestle with the wheel. On the road it's smooth and quite which allows your music and conversation to be that much more enjoyable as well. There will be future versions such as the upcoming GT that best that with a 0-60 time of only 3.5 seconds, which beats the 4.2 second time of even the ICE Mustang GT. So yeah ... it's got plenty of power.
I honestly can't say enough good things about the Mustang Mach-E and I look forward to spending more time with it soon.
At a starting price of $42,895 ($35,395 after Federal Tax Credit), the Mach-E should be on the list for anyone dreaming of joining the Electric Vehicle revolution. While our Premium model topped out at just over $50,000, this is the first time where the experience was so good that I stopped considering it an EV and started just simply enjoying what the vehicle had to offer.