Meal planning is an important part of any guys trip - you have multiple guys with multiple different preferences for meats - and there's always that one guy that is vegetarian or only does keto. In the past, we've just planned to stop at a grocery store once we were on site wherever that might be but if you are doing just a quick weekend guys trip - for instance to a lake house or hunting cabin - it's way easier to go shopping before you leave. In the past that's meant throwing piles of packaged meats and veggies into the cooler and there's probably been leftovers that go to waste. Now though, with the INKBIRDPLUS vacuum sealer, you can plan those meals ahead of time and package exactly what you need for each guy.
As you know, we've been fans of INKBIRD across a few different products that they've sent us to check out recently - including their 5Ghz WIFI Meat Thermometer and the Indoor Air Quality Monitor. Now, they are introducing a sub-brand, INKBIRDPLUS and so we are excited to share with you our thoughts about their new vacuum sealer.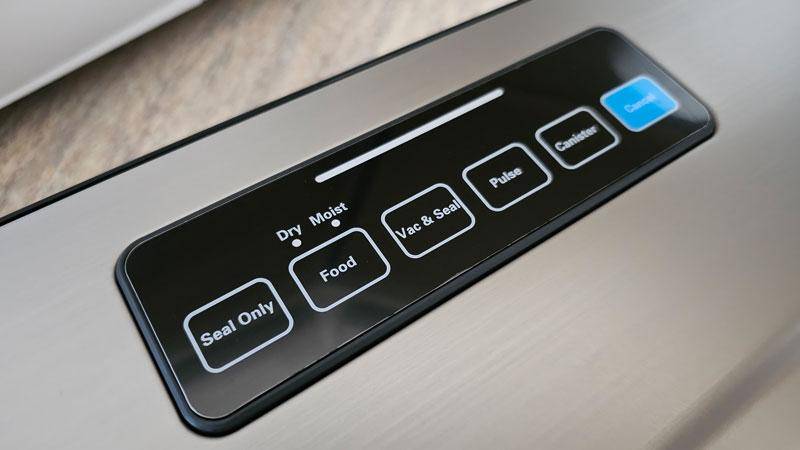 What Is A Vacuum Sealer Anyhow?
The INKBIRDPLUS vacuum sealer is a device that removes air from a package and then seals it to preserve its contents in an air-tight package. This process is commonly used to extend the shelf life of perishable goods, prevent freezer burn by eliminating humid air, and reduce the volume of items for storage. There are a variety of sizes out there but this one by INKBIRDPLUS is the perfect size for countertop use as well as traveling. Here's a step-by-step explanation of how a vacuum sealer works:
Preparation of the Bag: Before the sealing process begins, the food or other items are placed inside a specially designed plastic bag. In the case of the INKBIRDPLUS vacuum sealer, it includes a cut-to-size roll of bags that are tucked away inside of the device but you can also use other vacuum sealer bags too (the packaging includes a few samples). These bags are typically made of a multi-layer material that's durable and impermeable to air and moisture.
Insertion into the Sealer: The open end of the bag is placed into the vacuum sealer's sealing chamber. INKBIRDPLUS's also has an external port for canning purposes that could potentially also be used with bags that have an external port vs the traditional style with the entire end of the bag open.
Air Extraction: Once the bag is in place, the machine starts the vacuum process. A pump inside the sealer removes air from the bag. This creates a vacuum inside the bag, which prevents the growth of bacteria, mold, and yeast – all of which require oxygen to grow.
Heat Sealing: After the air has been removed, the machine uses a heated sealing bar to melt the open end of the bag, creating an airtight seal. This ensures that no air can re-enter the bag.
Completion: Once the bag is sealed, the vacuum sealer stops, and the sealed package can be removed. The contents are now ready for storage.
Some other vacuum sealers that we've tested in the past make things complicated with too many different parts and modes but this one is super simple and we dig that!
Why Every Man Needs A Vacuum Sealer:
In talking with some of our friends and fellow bloggers, it was clear that most guys really don't know that much about vacuum sealers or how they work. However, after a few moments playing around with this one from INKBIRDPLUS, I'm hooked. Having a vacuum sealer onhand for food prep as well as other uses is quite honestly something I never knew that I was missing!
Meat Lasts Longer when Vacuum Sealed
Meat as you buy it from the store will only last about 3-5 days in your refrigerator but if you vacuum seal it - even if not frozen - it will last up to 10 days. You still need to check it for freshness once you reopen it though since beef will last the longest, while pork and fish have the shortest shelf life. Plus, clearly fresher meat will last longer than proteins that are already about to turn bad.
Vacuum Sealed Food Allows For Better Planning And Portion Control
However, when it comes to something like a week-long getaway to the beach house or even a ski trip sometime this winter, being able to vacuum seal your proteins before you leave is going to make meal prep faster, easier, and fresher than simply tossing the retail packages in you cooler and hoping for the best.
Vacuum Sealed Meats Are Sous Vide Ready
Another benefit of individually packing your steaks and chops is that they are ready to sous vide without doing any more prep. Simply season your steak using your preferred spices - salt, pepper, garlic etc. and include some butter and avocado oil if you want, then use your INKBIRD Food Sealer to close things up.
Once you're ready to take the meat out of the refrigerator you can prepare it in the sous vide and finish one the grill or take it right to the grill and cook it there.
The benefit here too is that even if you don't use the vacuum sealed protein in the sous vide for the perfectly temperature controlled cooking experience - just having the steak resting with the rub for a few days will help improve the flavor.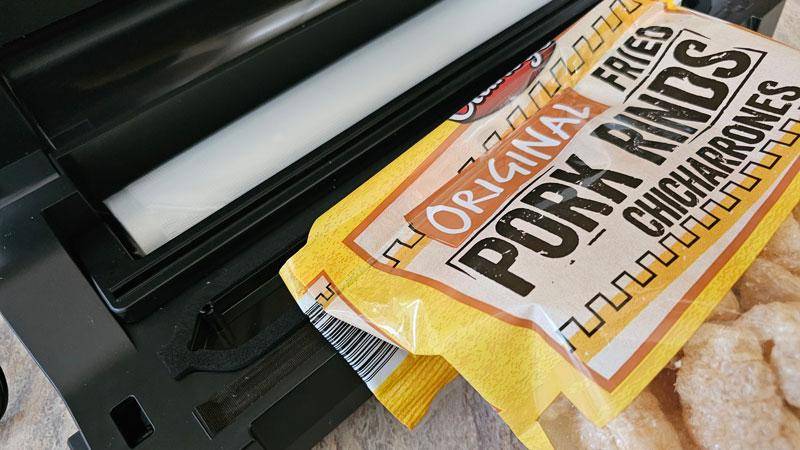 You Can Also Seal Other Items That You Want To Protect
While the intended use of a vacuum sealer is for food preservation, we've discovered that you can actually reseal bags of chips too (though depending on the different kinds of plastic packaging, this might not work for all bags). Additionally, for those of you who are going hiking or putting together an emergency pack for hurricanes and other natural disasters, sealing up some matches, batteries, and user manuals to get your generator and other appliances working again is a great way to use this technology too.
Overall, I think most guys will find that this is not merely a kitchen appliance but rather something that has a variety of uses that are important for protecting your family as well as keeping bellies happy on a guys trip.
The INKBIRDPLUS Vacuum Sealer Makes Things Easy
The INKBIRDPLUS vacuum sealer makes this easy and has some great features that we like.
First, it is aesthetically attractive as well as compact. Measuring 14.7" x 6.1" x 3.15", it will both fit - and fit in - with your other kitchen appliances as well as being compact enough to be tucked away in a cabinet or a shelf in the pantry when not being used.
It offers both moist and dry modes - this means that you can prevent dry goods from going stale or getting moldy - think about time your bread started to get green spots after only a few days because it was so humid on vacation, vacuum sealing can't prevent mold but it will help inhibit the growth and protect it from exposure.
In fact, with regards to delicate items like bread, bags of lettuce, and veggies … the INKBIRD Food Sealer offers a -85KPA suction, so it is plenty powerful to pull all the air out of the bag without being so powerful that it might damage delicate items. While we know you guys love your proteins - soggy lettuce is no good for salads and spoiled peppers are no fun to grill with.
Also, it comes with a roll of 11.02" x 118.11" sealing material so you can begin creating your menus the moment your box arrives.
Finally, for busy men that just want to press a couple buttons and go - this unit is super simple to use. Just place the food in the bag, insert it into the vacuum sealer, select if it is wet or dry food and if you want to seal or vacuum and seal. There is also a pulse and canister option as well.
That's it and you're ready to go!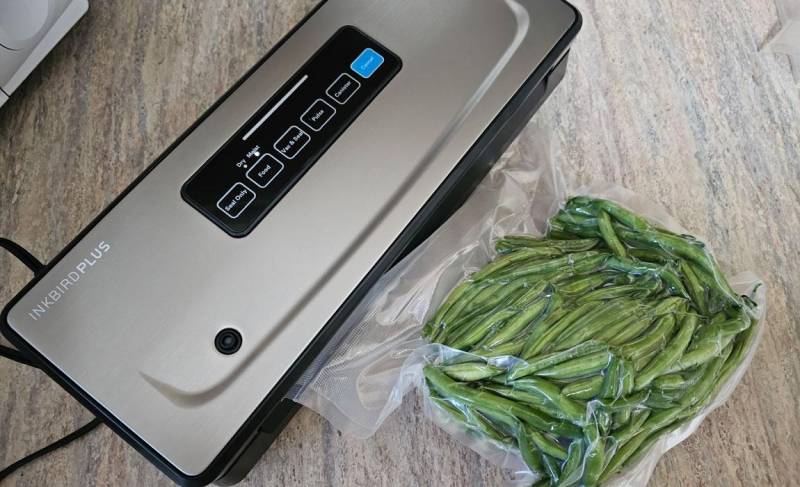 Travel Friendly For Bringing Back Your Favorite Food and Drink
Two other factors that I didn't consider when I first started this review of the INKBIRDPLUS vacuum sealer was that since it is pretty compact and self contained - the roll of bags tucks away inside the machine so you can cut-to-fit - this machine is actually something that will work well on trips where you want to bring food back with you too.
Since it will work well with most car AC adapters or built in power plugs and since it draws a relatively low wattage, it could work well even with battery packs that offer ac plugs.
Combine that with the small size, it means that it is easy to stick in your luggage or under the seat of your truck to preserve fresh caught fish or game meat after field dressing your deer. It also means that if you wanted to stop at a farm stand and grab some green beans vacuum sealing it can keep them fresh an extra few days till you get home.
Finally, I discovered that it can also vacuum seal bottles of wine to make them more travel friendly. (this will also work with cans of beer as well)
Clearly, if you were to physically puncture the bag then it will leak - but one of my fears when traveling with glass bottles has always been "what if it leaks". Wrapping the bottles in multiple plastic bags and even extra large freezer bags to help contain leaks is a pretty poor solution but running two bottles through the INKBIRDPLUS vacuum sealer will absolutely contain any leaks caused by cracked bottles.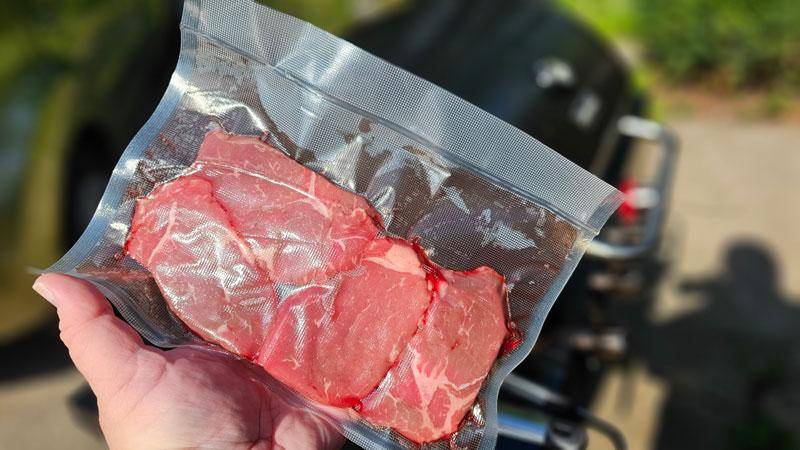 With INKBIRD's Vacuum Sealer You're Going To Be The Food Hero!
It might take a little bit of extra planning to get stuff set up in advance, but creating these packs of chops in advance will be a time saver once you are on vacation since all you'll need to do is slice the bag open and start grilling.
Plus, there are so many other benefits at home here such as being able to store coffee for months instead of having it go bad weeks after opening the canister or for preserving game meat rather than having it go bad in the freezer because you didn't preserve it properly.
If you are ready to check this out and be the food hero on your next trip, make sure to visit the INKBIRD website or buy it on Amazon.com today.