It's the middle of winter and you probably have some friends who headed south to avoid the ice and snow up north. For retired guys and those who are self-employed and can work remotely, the idea of becoming a snowbird is a pretty attractive dream. While new RV's and motorhomes can be an exciting purchase, getting one that is slightly used can be a great option for those looking to save a bit of money. Just like with a car - the moment you drive it off the lot your purchase begins to depreciate. Here's what you need to know to make that used motorhome purchase a smart one!
Purchasing a motorhome or RV can be a big investment and that's especially true for first-time buyers, that's why you should know the basics on RV financing. On some levels, it would seem to be a similar process as buying any used car or truck. However, in reality, it has all of the complexities of buying a used car and a house ... all wrapped up in one. Let's take a look at some things you should examine before making a purchase of a used motorhome.
Never Buy a Used RV or Motorhome Without Physically Inspecting It
While there are lots of great sites available online to buy a used RV today, there are a lot of factors that you'll need to take into account. This includes not just ensuring that the engine and drivetrain are functioning well but also looking at piping for water and septic, wiring for heating, cooking, and powering appliances, as well as all the elements visible on the surface such as upholstery, dents, dings, scratches etc.
Ask The Owner For a History of the Vehicle
You will want to know why the owner is selling it and are there any specific disclosures you need to know about. While many owners are completely transparent about the good - and bad - parts of the motorhome you are buying, that isn't always the case. That's why it's important to also use tools like FAXVIN to check the history of your new RV or Motorhome. You can even do a trailer vin check on a camping trailer, you don't have to have a motor for the vehicle to have a VIN number. Ideally, the current owner will have a maintenance logbook for you to review as well.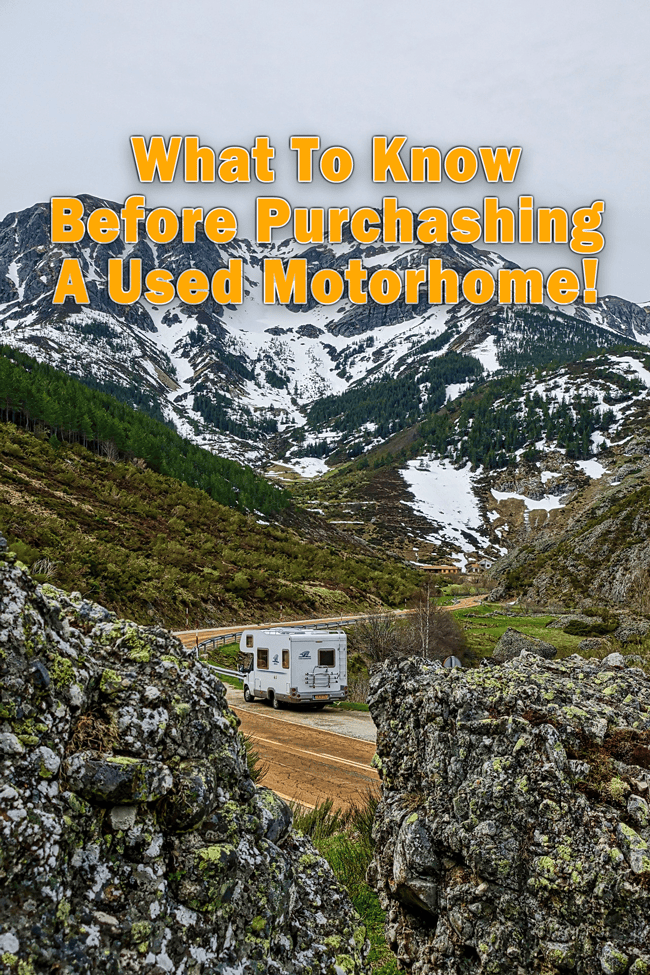 Checklist Of Areas To Examine Before Purchasing a Used RV
Depending on the type of motorhome or RV in question, it may be valuable to engage a mechanic specializing in motorhomes to do a professional inspection. However, here are the most common areas that you should check before buying a used motorhome:
Water Damage - visually inspect the entire vehicle for visible water damage. You should look for both leaks from outside water coming in as well as potential leaks around the sink, shower, toilet, and holding tanks.
Rust Damage - similar to visually inspecting for water damage, rust damage should be a quick indicator of the overall condition of the vehicle.
Mold - inspect all seams, corners, and other areas where mold might have formed. This is not just an issue for the bathroom or kitchen, but also around windows and even cushions since mold can form anywhere that has been exposed to moisture.
Lights and Buttons - examine all buttons on the dashboard and control panels to ensure that they light up, switch on/off, and generally do what they are supposed to do.
Electronics, Appliances, and Outlets - it is important that you check all embedded electronics, built-in appliances, and especially that you check all power outlets as well as the circuit board. You are looking for outright functionality as well as if there seems to be any current stability problems or scorch marks around outlets that might indicate a current or previous issue with surges.
Floors and Ceilings - make sure that you inspect both the ceilings and floors closely. You'll be looking for any warping, sagging, or discoloration that may indicate hidden damage below the surface.
Test Drive The RV Before Buying It
During your motorhome test drive, you are going to be looking for three different things.
Does the engine and transmission work as expected?
Does the motorhome have any strange noises, vibrations, or swaying motions that may indicate a potential issue?
Do you feel comfortable driving the motorhome?
This last factor is a personal issue that you must be comfortable with if you are going to enjoy being an RV or motorhome owner. For instance, not only does your new purchase function properly but are you as the pilot going to feel comfortable in the seat for long periods of time and do you feel comfortable with the size and style of driving.
Make A Fair Offer And Hope It's Accepted!
If everything checks out then it's time to make an offer on the vehicle. You should never be afraid to ask for concessions on the price if you have maintenance concerns or simply want to haggle.