Volvo used to stand for one thing only - safety. I remember a story from when I was a kid growing up where a truck carrying cinderblocks overturned on a family driving a Volvo and they all survived. This was the car if you didn't care about looks but wanted a well designed safe car for your family. Flash forward a few decades and Volvo got sold to Chinese automaker Geely and I had my doubts on if the brand could survive. Thankfully, it has and the Volvo XC90 T8 that we drove last month still maintains that safety reputation but it is now fun to drive and has a uniquely Scandinavian luxury design, especially in the cabin.
Volvo's are really never the most aesthetically attractive vehicles on the market. They tend to both be smooth and boxy at the same time and while their American cousins embrace that boxy look with garish grills, Volvo is rather sedate in comparison. Thankfully, you can enhance the look to make the design look more like whatever you might want with some Volvo accessories that will provide you a more custom look.
I feel like there are two types of luxury cars on the market right now, the brands people buy to say "I'm driving a ..." and the ones people buy because they simply want the safety, comfort, and security of knowing they are in a fantastic automobile. Volvo's XC90 falls clearly in that second camp though unlike the Volkswagen Atlas that we had just before this review, the conservative exterior acts almost to hide a very stylish and unique interior. Where the inside of the Atlas had a minimalist conservative look, Volvo is using unique materials such as denim to create an interior experience that just begs you to take the long way home.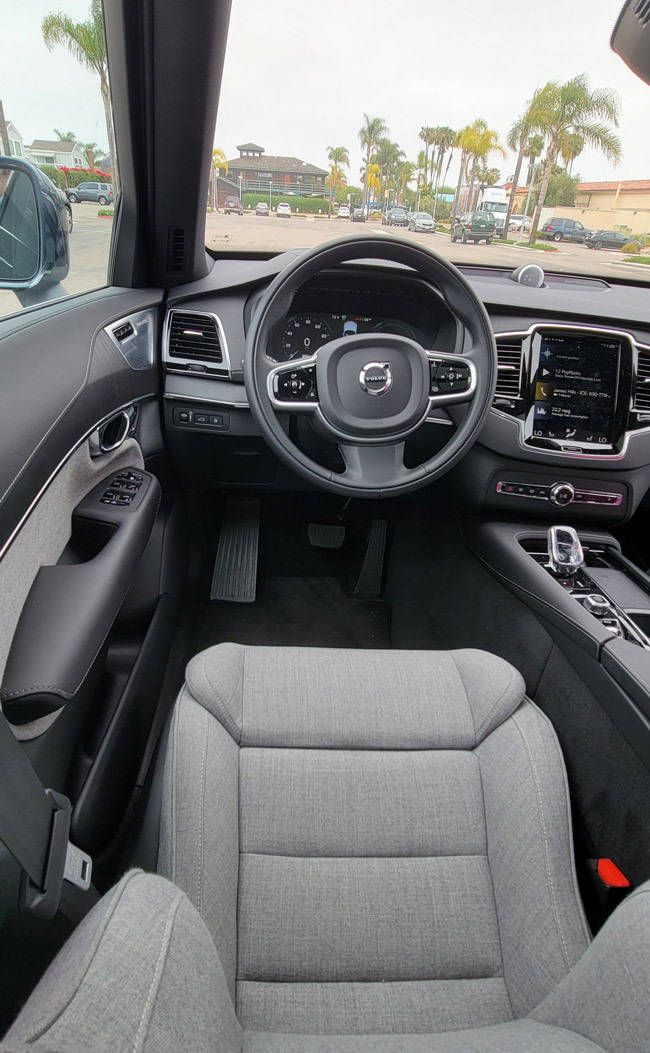 At first I was a bit suspicious of the denim interior since I'd previously only seen it offered on vehicles that were far less expensive. However, I really liked it and it felt extremely comfortable when wearing shorts since all too often leather can feel sticky if you sweat. I would assume there are similar advantages in winter where leather would feel cold to the touch when first entering the vehicle. Similarly, the side and skooch process of getting into the vehicle also felt more comfortable on this surface.
I have reservations and questions as to how well the seats will hold up in terms of stains and odor from sweaty butts but I suppose only time will tell.
On the technology side, the vehicle has pretty much every safety and tech feature you can imagine. However, I found the infotainment screen a bit overwhelming initially. It is set up with various cards sort of like a smart phone but it took a bit of getting used to.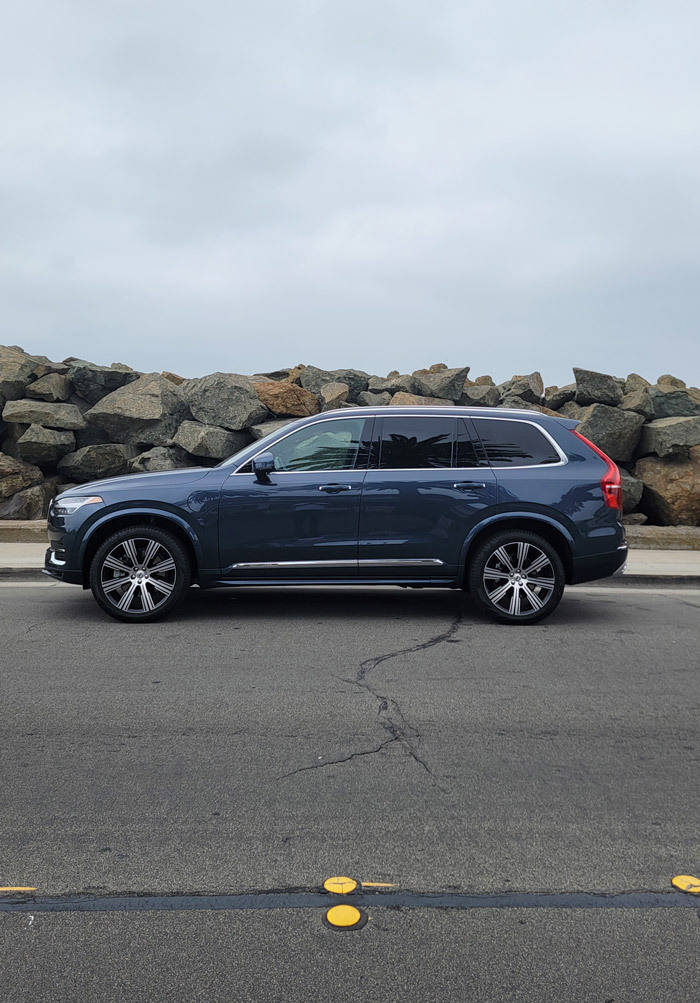 The model we had was the 2021 Volvo XC90 T8 plug-in Hybrid, powered by Volvo's Twin Engine AWD that can deliver as much as 407 hp. It's an interesting no-compromises solution to allow the driver options on how they want to travel. For instance, if you want to drive in 100% EV mode around town, you can do that. However if you want acceleration and power, the EV motor can work together with the petrol one to create zoom. Most folks however will probably prefer to just leave it in the normal hybrid mode where you can get up to 55 mpg. Otherwise, with just EV mode you'll get about 24 miles of driving range.
While there are a lot of advantages to having a PHEV and Volvo has produced one of the best that I've driven, even 24 miles of range doesn't satisfy California's upcoming regulations. That being said, one of two vehicles that would qualify is from Volvo's EV-performance division - the Polestar1.
I think the future is more likely to go full EV but products like this that allow Volvo to transition are a great asset while that happens.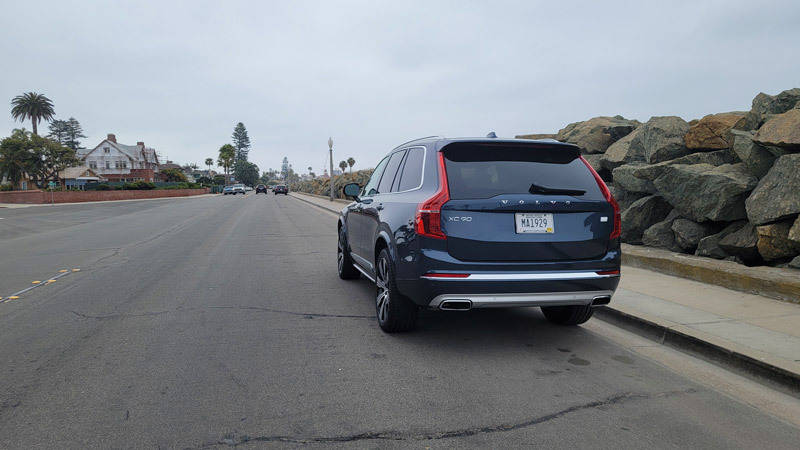 With a starting price just under $65,000 and topping out just under $90,000 with all the options, the Volvo XC90 T8 Is a great option if you are looking for something fun, sporty and safe for your family. While it offers space for seven passengers, it feels much better on the road than other three-row SUVs that we've tested. This in part I feel is due to the fact that with hybrid mode engaged so you have both motor and engine working together along with a relatively low center of gravity and excellent balance due to the motor being placed mid vehicle along with the battery pack.
However, what really sets this car apart from anything else out there is the interior. It just feels special and makes the driver excited to get back on the road.