A fine blade is something that warriors have always prized. It's not merely a tool, but something that fuses with the man who wields it. While most of us no longer survive based on our prowess in sword fighting or using a knife to defend ourselves in combat, there's still great honor in owning a custom blade. While that prospect can be fantastically expensive in some instances, French company Deejo offers some great custom knives at under $70.
The two men that created Deejo - Luc Foin and Stephane Lebeau have been forging cutlery and producing outdoor gear since 1995. With Deejo they are focused on crafting hand-made knives with a blend of both natural (wood, horn, high-performance stainless steel) and modern materials (plastics, resins, nylon). The result is a collection of blades with unique designs that look great wherever you use them. This might be on the top of your desk or being taken out of your pocket to cut a fishing line or carve a piece of sausage while sitting around the campfire.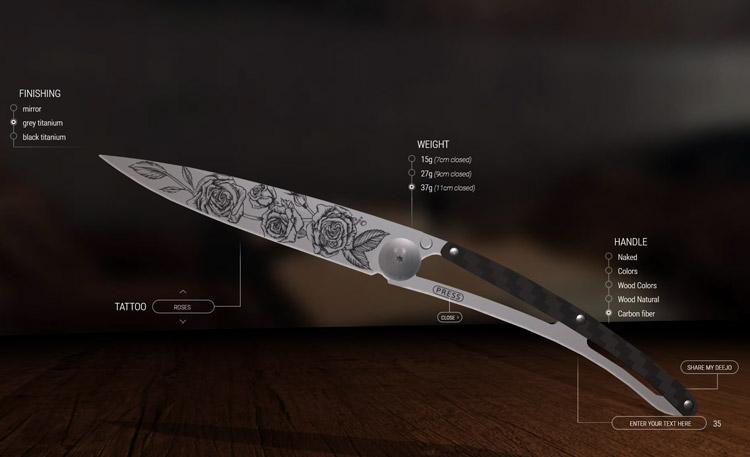 There are two different ways to get a knife from Deejo - create a custom blade based on options, or select a pre-configured style. Let's take a look ...
Create a Custom Deejo Knife
This is absolutely the most fun and Deejo has a super cool custom knife builder app on their website. It allows you to cycle through four different options - Handle, Weight, Tattoo, and Finishing. For instance, if you like the Roses tattoo, you can get that with a naked steel handle, wood, or carbon fiber. Then select the finishing of the blade from mirror, black titanium, or grey titanium like you see above.
Personally, I like the contrast of roses and carbon fiber - it matches my internal conflict between nature and technology. However, ultimately I'd probably go with something more activity focused since I know I can always use a good knife while camping or fishing.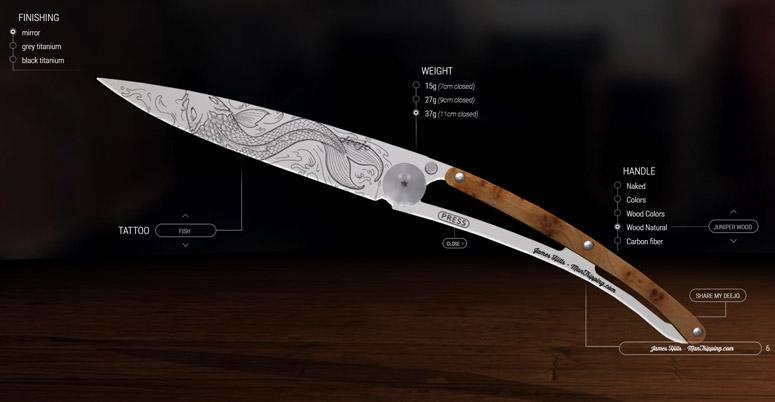 So here's the Fish knife with mirror finishing and a natural Juniper Wood handle. To finish things off and make it that much more special, I chose to have them engrave it with my name and website.
You can do whatever you want here, including creating his and her's knives or even build a bunch of orders as groomsman gifts.
While a little more expensive than flasks or hats, a custom knife like this - designed just for your guys truly makes a statement.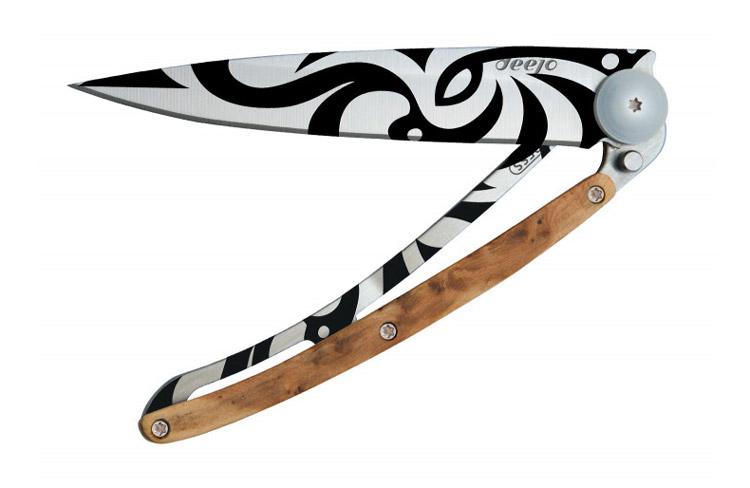 Of course, if you don't want to spend the time to build your own custom knife, then Deejo has a gallery of designs ready to go. For instance, this Tribal Tattoo knife with a natural Juniper Wood handle is quite striking. As is this Japanese Dragon and Ebony wood knife (below).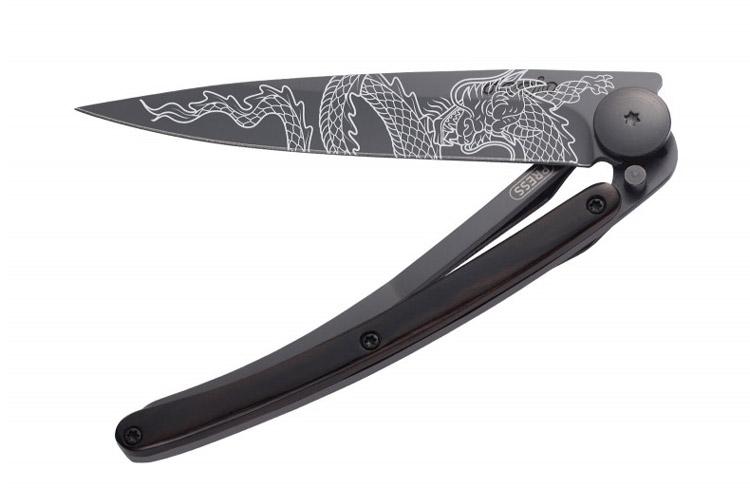 While most of the knives offered by Deejo fall into a fairly easy to afford price range - of $45-$70 for the 37g size and even less for the 15g and 27g sizes, there are exceptions ...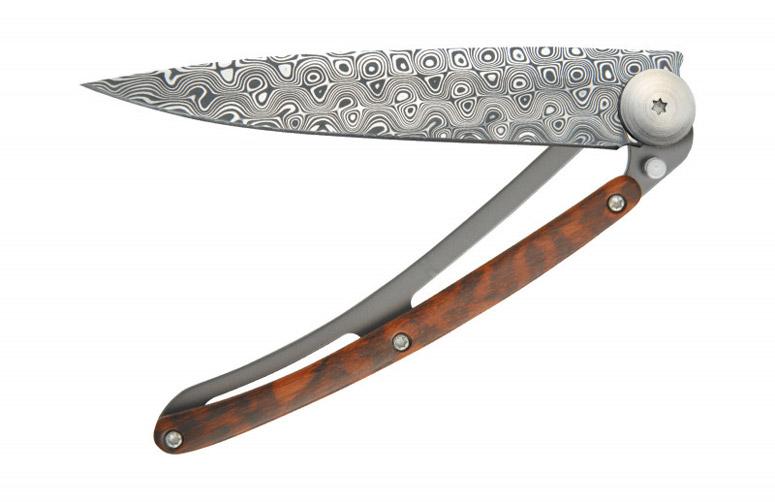 Deejo Exception Collection
Most of the knives offered by Deejo are high-performance stainless steel. For the man who needs the ultimate expression though, they offer the Deejo Exception Collection made from even more premium materials. For instance, this knife features Damascus steel and a snakewood handle with a $449 price tag.
They also offer two models with a "giant" 390g stainless steel blade and olive wood for $229 for the guy who wants to make a statement about size.
Whatever your preference, there's something for everyone here on Deejo. Anyone shopping for gifts for guys in their lives from brothers and fathers to groomsman gifts or father's day should check these guys out.