Good shoes are one of the most important things to bring with you on any cruise. While people think first of jackets for Alaska cruises and swimsuits for warm weather voyages - a good solid pair of shoes for wearing around the ship is essential. While cruise lines do an excellent job of making sure that wet surfaces are dried quickly ... damp outdoor decks are subject to weather and the area around pools is notoriously slippery due to dripping wet swimwear. Ultimately though, the challenge is finding a great pair of shoes that is stable enough for these situations that is also comfortable enough to wear all day long and yet still be appropriate to wear to dinner.
This review originally appeared on CruiseWestCoast.com.
Luckily, we found just that in these Huk Classic Brewster deck shoes!
With Grip X Traction and non-marking outsoles, these shoes were stable while walking around the open decks on our recent Disney Wonder cruise to Cabo San Lucas. We'll be wearing them again next week as we travel back to the Mexican Riviera on Holland America Line Koningsdam.
I also liked that these shoes were very lightweight and because they are canvas, they also fold nicely to fit in your suitcase easily.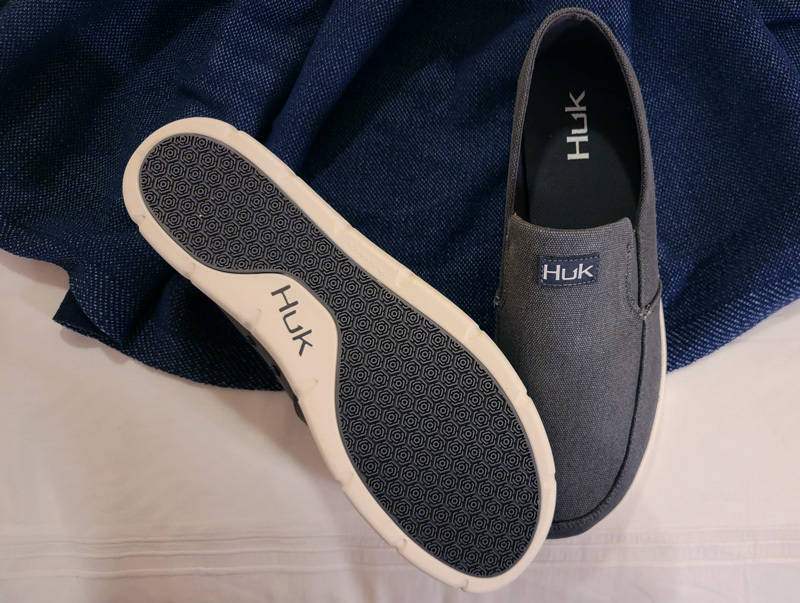 These shoes come in four different colors - Grey, Moss, Sargasso Sea (blue), and Volcanic Ash (the pair I am reviewing). They also offer a Mossy Oak Bottomland "camo" pattern that would be great for wearing around your hunting cabin.
Comfort-wise, it's hard to complain about these Huk Classic Brewster shoes. While they are lightweight and the shoes don't feature advanced materials as you might find in cross-trainers, they are very comfortable for walking around. The soles are flexible enough when walking up stairs as well as ramps. While I did wear these on an excursion walking around the port area in Cabo San Lucas, I'm not sure they make the best walking shoes unless you are wearing socks.
Sizing is my only disappointment here, and I could only wear them comfortably with bare feet. I wear a 13 and prefer wide sizes, though can usually be comfortable in a standard width. With these, though, it was a bit challenging to fit my larger foot into the shoe without socks and with them on, neither foot was comfortable.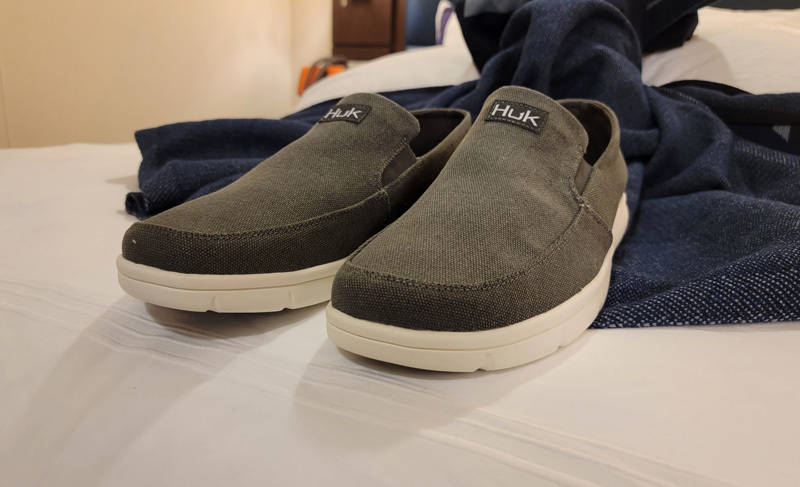 I suspect though, that this will be less of an issue as I wear them more and they get broken in. Canvas in particular, tends to stretch nicely, so I'm looking forward to that and these shoes are worth the effort.
Huk Classic Brewster has a MSRP of $60 and is available for purchase on their site, or you can buy them on Amazon.