North Dakota isn't the easiest state to get to, but that doesn't mean that there's nothing to do there.
In fact, if the great outdoors is what you are looking for, North Dakota has that in spades - fishing, hiking, camping, hunting and the authentic "Wild West" experience too!
Beer and wine tasting
What guy doesn't like beer? Microbreweries have been very successful in North Dakota and there's a bar stool waiting for you. Ten breweries across the state offer everything from stout to cider, and there's always the option to grab a growler to-go. Add some sophistication to the trip and take a winery tour as well. Nestled throughout rural North Dakota, the gorgeous views pair with the unique local wine varieties.

Fishing / Ice fishing
Lake time is year-round in North Dakota, whether you're boating on it or walking on it. Devils Lake is the largest natural lake in the state and has been named one of the top 5 fishing lakes in the nation. That bodes well for a fishing getaway. Woodland Resort on Devils Lake has guided fishing and ice fishing tours, boat and ice house rentals, and great lodging options for the guys to kick back and talk about whose catch was bigger. Or, if you're really up for a challenge, take a "stab" at dark house spearfishing. The season runs December through mid-March. North Dakota has plenty of other lakes and rivers to take advantage of, too, including Lake Sakakawea, with more shoreline than the entire state of California, and the Missouri River once famously traveled by explorers Lewis and Clark.

Extreme sports
North Dakota's Maah Daah Hey Trail is 140 miles of adventure through the Badlands in the midst of Theodore Roosevelt National Park. Hiking, biking, horseback riding, you name it. The trail will push you and show you some of the most beautiful views in the whole state. Looking for different kinds of fun? In addition to the MDH 100 trail riding race on the Maah Daah Hey, ENDRacing (Extreme North Dakota) also hosts the Iceman Triathalon and the grueling mud run. If you and the guys still want to go extreme but not that extreme, you can race alongside 10,000 fellow runners for the annual Fargo Marathon.
College Sports
National champions, passionate fans … and a cheaper ticket. Collegiate sports in North Dakota are second-to-none, welcoming ESPN College Game Day for a rare back-to-back year appearance. Football and hockey are king here with the two of the best teams in the nation for each sport only an hour apart. More than 11,000 University of North Dakota hockey fans pack the $104 million Ralph Engelstad Arena, named by most collegiate players as the best arena in the nation. To the south at the Fargodome, North Dakota State University football fans host one of the top ten tailgate experiences in the country. With the team's 4-peat as Division I FBS National Champions, you're guaranteed a great game.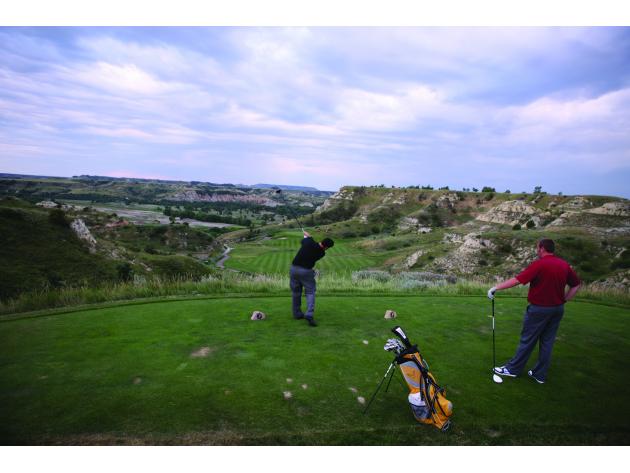 Tee Up
World-class golf is calling your name. Tee off over the Badlands, steer clear of black fly-ash sand traps, or put your aim to the test on one of our grueling links-style courses … oh, did we mention it's windy here? From Bully Pulpit and The Links on the western side of the state, Hawktree and Painted Woods in central North Dakota, and the Arnold Palmer-designed King's Walk on the eastern boarder all provide beauty, challenge and a great day of golf.
Out on the town
No, we're not talking about the Coen brother's film or its new spin-off FX show. This is the real Fargo: urban, artsy, historic and filled with eclectic bars, restaurants and live music. Würst Bier Hall's laundry list of German and Belgian beers, the HoDo's edgy martini list, Rhombus Guy's anything-but-typical take on pizza and Juano's upscale Mexican food make downtown Fargo a foodie's dream. Take it up a notch at Mezzaluna or Monte's, both high-end dining options with impeccable service. Or, be casual at Drunken Noodle for Thai food or at Vinyl Taco, or grab a slice at Spicy Pie. If you're listening to more than your stomach, try Hennessy's Irish Pub or Shotgun Sally's Rock & Roll Saloon for live music. To look the part, stop in to Aendee for handcrafted neckties, bowties and "upcycled" accessories, or try Fowler's Heritage Company, Halberstadt's or Outermost Layer for men's wear.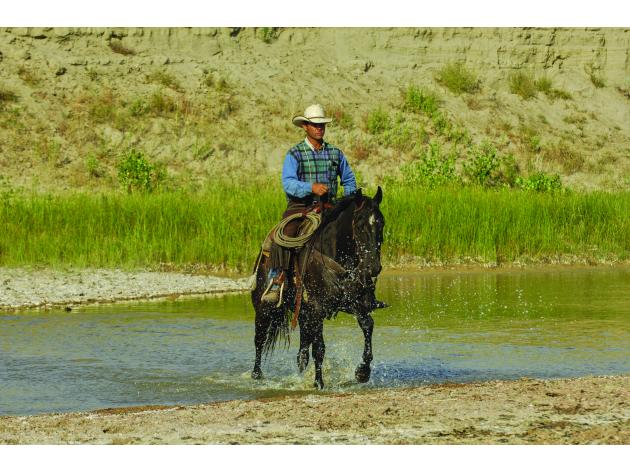 Wild West
Channel your inner John Wayne and cowboy-up in the West. Take a trail ride around historic Medora, the Western-themed town on the edge of Theodore Roosevelt National Park. Putting the "wild" in Wild West, in areas of the park you can get up close and personal majestic bald eagles, bison, bighorn sheep, bison, fleet-footed deer, pronghorn and elk. Get your hands dirty as a ranch hand on Logging Camp Ranch, where you can try everything from branding to inseminating beef cattle. After a hard day's work, you'll need a good meal. At the Pitchfork Steak Fondue in Medora chefs load steaks onto pitchforks and fondue them western style. Savor your steak as you overlook the picturesque badlands from atop a bluff at the Tjaden Terrace.

On the Water
Canoe Lake Metigoshe, take a kayak across Lake Sakakawea, paddle board down the Red River (which really means going north) or cruise your pontoon down the Missouri River to a sandbar. Enjoying the water is a top summer pastime in North Dakota and whether you bring your own watercraft or rent it here, there are plenty of ways to get in on the action. Get out on the water for a day and relax in your hotel hot tub in evening, or pack your camping gear and float to a different destination each night.

Mandan Rodeo Days / Capitol 4th of July
Did you know fireworks are legal in North Dakota? There is no better celebration of Americana than 4th of July weekend here, with some amazing action lighting up the skies. In central North Dakota, Madan'srodeo days features outstanding rodeo riders and one of the top-rated 4th of July parades in the country. There's also a 5K along the parade route in the morning if you're feeling active. That night, head across the river into Bismarck for a fireworks display on the lawn of the State Capitol. Or, feel free to purchase your own fireworks – just remember, you can't light them off in city limits.
Outdoor Concerts
B.B. King, Janis Joplin, Muddy Waters … great blues music lives on in downtown Grand Forks on the banks of the Red River. The monthly outdoor summer concert series Blues on the Red features bands from all over the U.S., and it doesn't hurt to have great food and beer to enjoy along with it. Pair a blues concert with more outdoor music at the North Dakota Museum of Art, also in Grand Forks. The summer concert series features rock, funk, acoustic, jazz and other bands from all over the country. There's plenty of beer and burgers, too!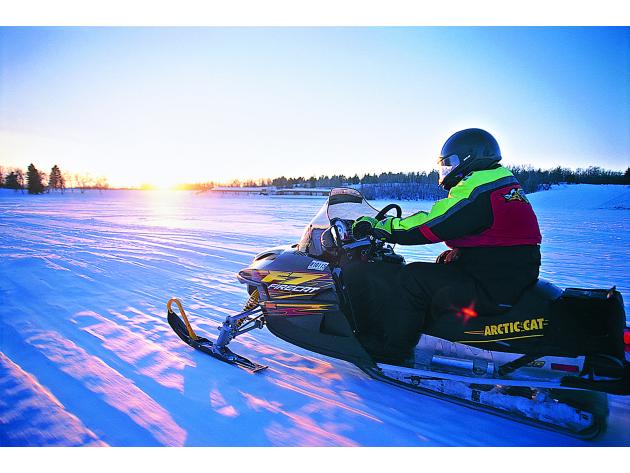 Snowmobiling
Snowmobile trails dot the landscape across North Dakota, allowing you to ride through the Turtle Mountains, the International Peace Gardens, along the Red River, around Lake Metigoshe State Park, or to jump on the Canadian trail system. You can plan your snowmobile man trip on your own, or take advantage of organized group rides like the annual Pink Ribbon Ride to raise money for breast cancer, or International Ride that goes between North Dakota and Saskatchewan, Canada.