One of my favorite parts of traveling to a new area is trying new foods and traditions around dining. What I found while visiting the state, sponsored by Arkansas Tourism, frankly was confusing and exciting at the same time. While I expected BBQ and soul food, what I found alongside those staples was completely unexpected such as cheese dip, fried tamales, and chocolate gravy!
Like the music that came from the Arkansas Delta region, it's food too is a mixture of influences from different areas of the country as well as the blending of historically white and black traditions combined with innovation that comes from necessity to create delicious dishes that don't cost a lot of money.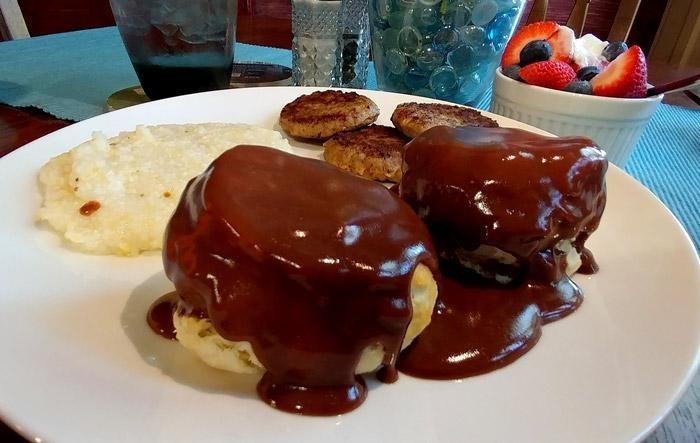 Chocolate Gravy and Biscuits
Let's just start right here. The concept of putting chocolate on your biscuits might sound repulsive and when the idea was suggested to me initially, I thought my host was just kidding. Apparently though it is a tradition tracing it's origins back to the people in Arkansas's Ozark Mountains region as a treat for Sunday morning breakfast. It is essentially a thick chocolate sauce that is poured over biscuits and sometimes people add crumbled bacon or other items as well.
When we had it at the Edwardian Inn it was a fantastic treat that frankly tasted very similar to a not too sweet chocolate donut. Absolutely this is something you should try at least once while traveling through Arkansas!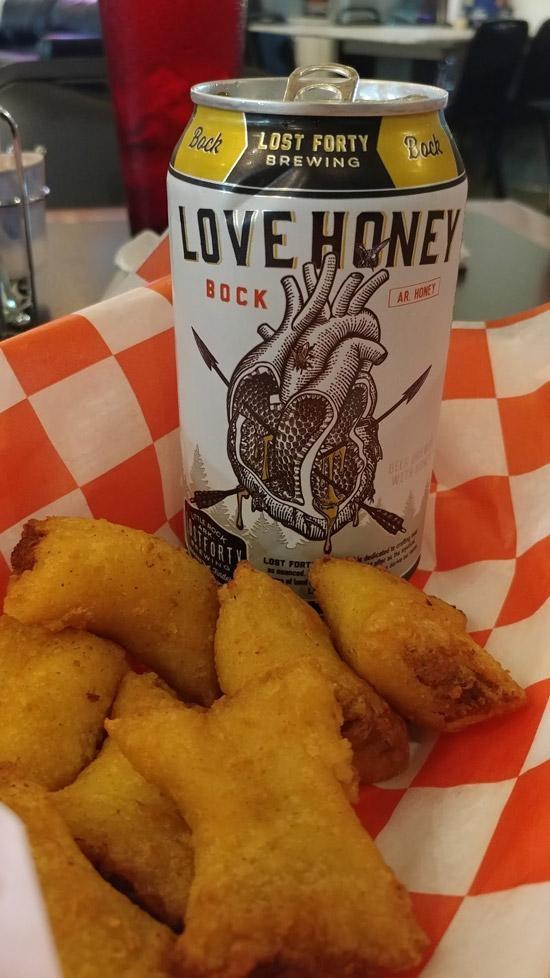 Fried Tamales
I'm a huge fan of tamales and I'd always associated it with Mexican immigrants and something often times purchased out of the back of a truck or stand. In Arkansas though, virtually every restaurant we went to (especially bars) offered a variation. While a couple places offered it as "fried tamale" bites, another served it smothered in brown gravy. At no point did any of them have the standard corn husk that is so familiar in the rest of the country.
Another major difference compared to traditional tamales is that these were smaller and had less masa and more meat as a percentage of volume. They were also typically smaller and in the case of "tamale bites" were chopped up resembling tortino pizza rolls. While there is significant variation from one place to the next I'm told that Delta-style tamales are also made with corn meal and simmered in spicy water rather than steamed in a corn husk.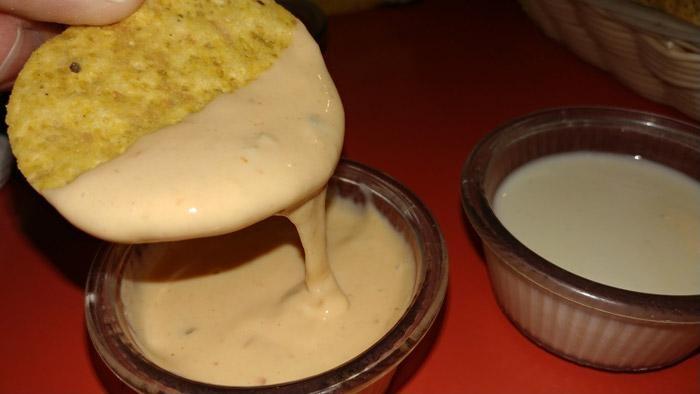 Cheese Dip
Cheese Dip is famous in Arkansas to the point where the Arkansas Tourism page actually has organized a "Cheese Dip Trail". In our experience though, these cheese dips that we tried - while good - weren't really different than anything you'd find in any Mexican restaurant around the country simply labeled as "queso". That being said though, I love queso! So congrats Arkansas, here's one more reason to visit this great state.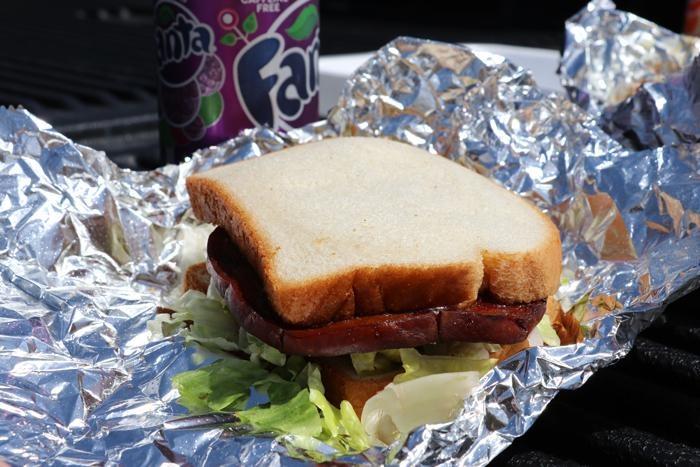 Fried Bologna Sandwiches
OK, so this is something pretty common throughout the south as a cheap food that makes a super tasty lunch. We found a truck serving this along with other BBQ items on the side of the road one day because we did a double take after driving by the first time.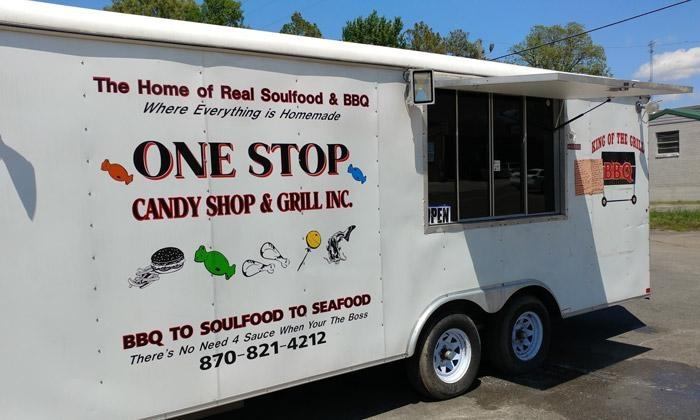 Yes, you read that correctly - One Stop Candy Shop and Grill. Being one that loves exploring, I was forced to stop and order lunch here. What I found inside was fantastic. In a land known for BBQ and famous "must visit" shops dotting the landscape, this was hands down the best ribs and a perfect fried bologna sandwich with a nice thick piece of meat.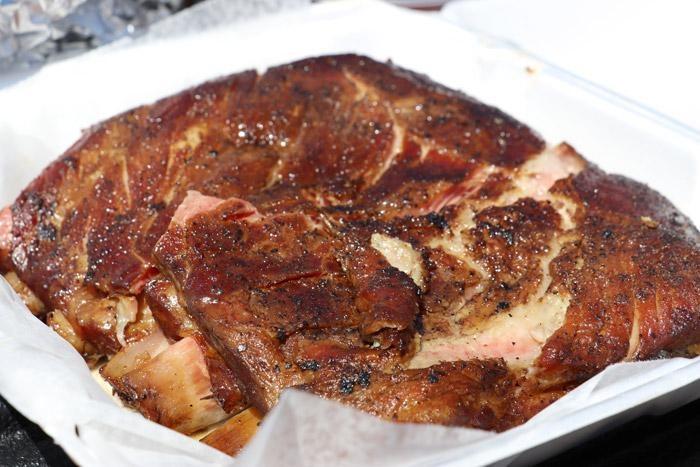 BBQ Ribs
At different parts of the state you are going to find different styles of BBQ since Arkansas sits between different traditions. In the Eastern part of the state, the Delta region typically has a style of ribs referred to as "black ribs". No, that's not a racial influence, but rather it has a mix of dry rub and sauce that has been reduced to a glaze and caramelized, giving it a dark color.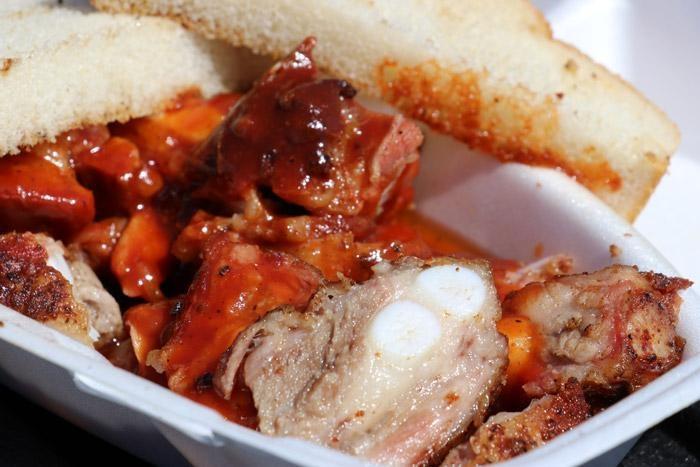 That being said, every place does things a little different and our rib tips at another BBQ joint had a similar "glaze" but were also soaked in a thin BBQ sauce. That's sort of the fun of BBQ - every does things a little bit differently.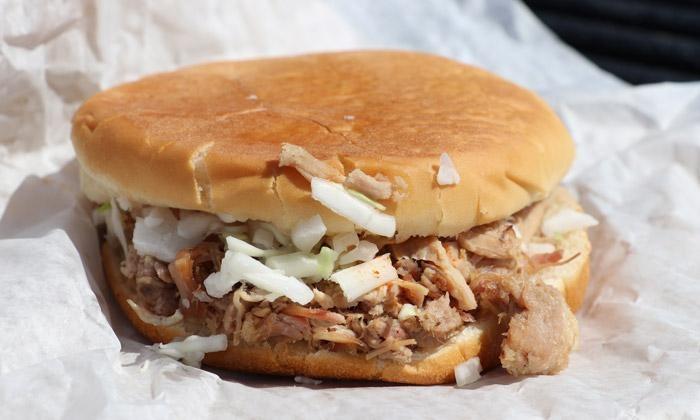 BBQ Pork Sandwiches
The one thing that was consistent with BBQ across the state was their love for pulled pork sandwiches. These were all fairly similar with minor variations. However Kreme Kastle in Blytheville does deserve a shout out for a very simple but excellent version. Theirs featured coleslaw and hot sauce instead of BBQ sauce so it had a nice clean flavor with the perfect accent of heat.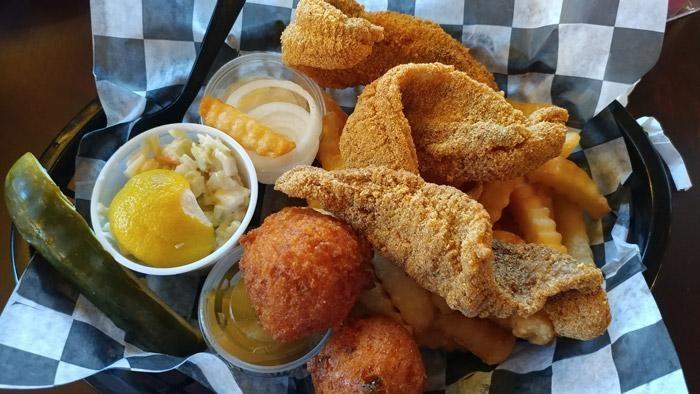 Fried Catfish
If there's one thing besides biscuits that every southern cook knows how to do well - it's fry stuff. Arkansas is no different, but we experienced one of the best friend catfish dinners I've ever had here at Katfish Kastle also in Blytheville and by the same owner.
The fish was perfectly cooked, with a light breading that was crispy but not greasy at all.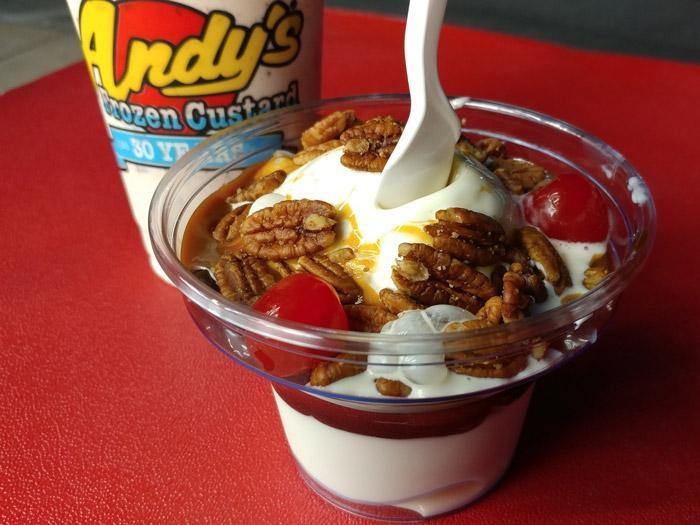 Ozark Turtle Sundae
Once again, there was a surprise here ... while it wouldn't be shocking to have ice cream shops throughout the state, I wasn't expecting custard to be popular. However there it was ... during our visit to Jonesboro we came across Andy's Frozen Custard and had to stop.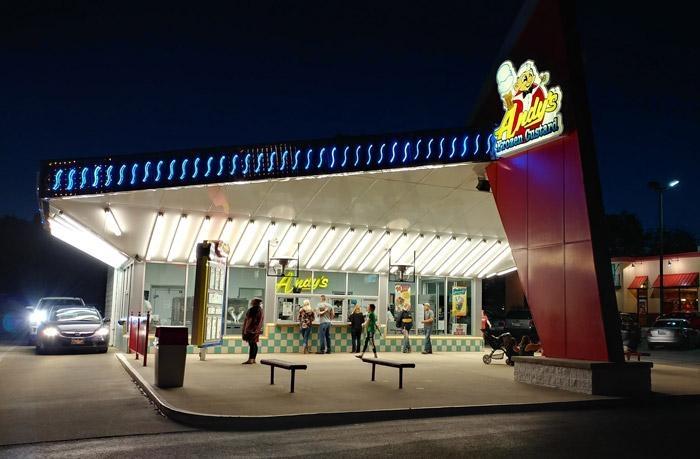 While it turned out that this is actually a national chain with locations 10 states I'm still going to include it here because it was darn good and made for a fun stop. It reminded me of the old timey custard shops you'd find in Milwaukee like Leon's but with a modern twist.