You may think you've seen it all, but if you haven't set foot in the Philippines, you're missing out on a treasure trove of experiences! Whether you are traveling solo or on a guys trip with a group of other bachelors, as a single guy, this tropical paradise offers an unparalleled blend of adventure, relaxation, and cultural immersion.
Picture this: bustling city life in Manila, breathtaking landscapes on Luzon Island, and beach resorts that are nothing short of spectacular. But before you pack your bags, it's crucial to know what to watch out for to ensure a smooth journey.
So, ready to dive into this tropical haven? In this article, we'll be your trusty guide, unveiling the best spots to explore, the most exciting activities to try, and potential challenges to be wary of in the Philippines.
Hold on tight, as we are about to embark on an unforgettable journey to discover the wonders the Philippines has in store for you.
Key Takeaways
The Philippines offers a wide range of experiences for single men, from adventurous activities like diving with whale sharks to exploring unique attractions.
Manila and Luzon Island provide vibrant nightlife options, jungle survival training, volcano trekking, and street food tours.
The country boasts some of the world's best beach resorts, such as Boracay Beach and Alona Beach, offering watersports, local cuisine exploration, and vibrant nightlife.
Cebu Island's resorts and Mactan Island are tropical paradises with crashing waves, palm leaves, local wildlife, and must-try seafood. Island hopping and snorkeling are popular activities in Cebu, while Mactan Island showcases traditional crafts and a blend of modern and traditional architecture.
Why The Philippines Is A Great Destination For Single Men To Visit
You'll find the Philippines to be an incredible destination as a single guy, brimming with stunning beaches, vibrant nightlife, and a friendly local culture that's always ready to welcome you with open arms.
The Philippine culture is a unique blend of Asian and Spanish influences, resulting in a rich tapestry of traditions, food, and music. You'll be amazed at the level of Filipino hospitality, which is ingrained in their culture and widely known across the globe.
Moreover, the Philippines is an affordable travel destination. It means you can explore to your heart's content without worrying about burning a hole in your pocket. The local cuisine, accommodations, and internal travel are pretty budget-friendly. And let's not forget the adventurous activities you can indulge in. From diving with whale sharks in Oslob to trekking through the Banaue Rice Terraces, there's something for every thrill-seeker.
The country is also teeming with unique attractions, both natural and man-made. From the mesmerizing Chocolate Hills in Bohol to the historic walled city of Intramuros in Manila, the Philippines offers a myriad of sights that you won't find anywhere else.
So, pack your bags, and gear up for a memorable adventure.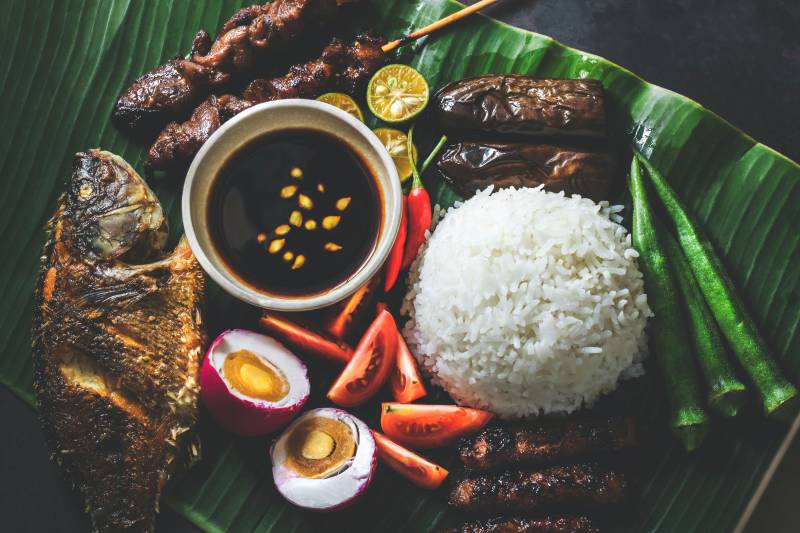 Manila And Luzon Island Is A Great Destination For Single Men
Ready to unleash your adventurous side? Manila and Luzon Island, in the Philippines, offer an exciting array of activities for single men.
From immersing yourself in the energetic clubs and nightlife of Manila, training your survival skills in the jungle at JEST Camp Subic, climbing to the top of the awe-inspiring Mount Pinatubo volcanic crater lake, to tasting your way through the city on a street food tour, and even trying your luck in the flashy casinos, you're in for an unforgettable experience.
Clubs And Nightlife In Manila
Paint the town red in Manila's vibrant nightclubs and enjoy the city's pulsating nightlife, where top-notch DJ equipment, VIP areas, and the latest EDM music await you.
Dive into Manila breweries for a taste of local brews, or serenade the crowd at Karaoke bars. For a refined evening, Jazz venues offer smooth tunes, while Comedy clubs provide hearty laughs. Don't miss the rooftop lounges for panoramic city views and a cocktail in hand.
From House Manila's luxury atmosphere to Black Market Manila's industrial concept, each club offers a unique experience.
Whether you're in the mood for a high-energy dance party or a relaxed night out, Manila's nightlife scene has something for every single guy looking for an unforgettable night in the Philippines.
Jungle Survival Training At JEST Camp Subic
'Ever dreamed of being the next Bear Grylls? At JEST Camp Subic, they can make it happen with their jungle survival training courses designed for all ages from kids to adult. This camp helped train soldiers to survive the jungles of Vietnam and today has a wide variety of training courses including some that are retricted to uniformed military only. However, they have some rugged courses that are available for guys that want to test their survival skills against some of the most wild terrain on Earth.
Try the Camper's Hunt course, offering wilderness navigation and fire making techniques. Or, go for the ultimate challenge with the Camper's Survival course, a 72-hour intensive program teaching you edible plants identification and more.
For a more relaxed experience, check out their day courses like Wildlife Walkabout or Camp Craft.
So, gear up and head out to JEST Camp Subic for an unforgettable adventure.'
Climb To The Top Of Mount Pinatubo Volcanic Crater Lake
Brimming with natural beauty, the climb to the top of Mount Pinatubo's volcanic crater lake is a breathtaking adventure that's not to be missed. Did you know that this volcano's eruption in 1991 was the second largest of the 20th century, causing worldwide temperature drops of about 0.5 degrees Celsius?
Get ready for an amazing day of volcano trekking, where you'll learn about Pinatubo's history and the eruption aftermath, gaining fascinating geology insights along the way. Keep an eye out for local wildlife as you navigate the landscape.
Witness the awe-inspiring crater lake, a testament to nature's power and recovery
Explore the verdant landscapes regenerated after the eruption
Immerse yourself in the eerie beauty of the ash-covered surroundings
Trek through lahar-covered valleys, a unique geological phenomenon
Revel in the exhilarating sense of freedom as you conquer the summit.
This adventure promises to be an unforgettable encounter with nature's raw power and beauty.
Taste Your Way Through The City On A Street Food Tours In Manila
After conquering the heights of Mount Pinatubo, descend into the bustling streets of Manila for a different kind of adventure. Embark on a gastronomic journey that'll give you a taste of the city's rich street food history. Savor exotic delicacies at every corner, each one a testament to Manila's vibrant culinary traditions.
From the smoky allure of Isaw to the sweet temptation of Halo-Halo, your foodie adventures will be nothing short of thrilling. Dare to try the Balut, a delicacy that defines the Filipino palette.
Wander through night markets, where the air is thick with spices and fried goodies. Unearth the secrets of Manila's street food scene.
So, get ready for a roller-coaster ride of flavors, it's time to explore Manila, one bite at a time.
Casino Gambling
If you're looking for high-stakes thrills and glamour, Manila's casino scene won't disappoint. The city is a gambler's paradise, offering a mix of traditional and contemporary games.
Here are some important things to remember:
Gambling Laws: The minimum age to gamble in the Philippines is 21, and certain government officials and armed forces members are prohibited from entering casinos.
Casino Etiquette: Always respect other players and staff. It's essential to understand and follow the rules of each game.
Responsible Gambling: Bet within your means and know when to walk away. Casinos in Manila promote responsible gambling.
Betting Strategies and High Roller Experiences: Each casino offers different experiences, whether you're a seasoned high roller or a novice.
Enjoy the thrill of the gamble and the vibrancy of Manila's nightlife.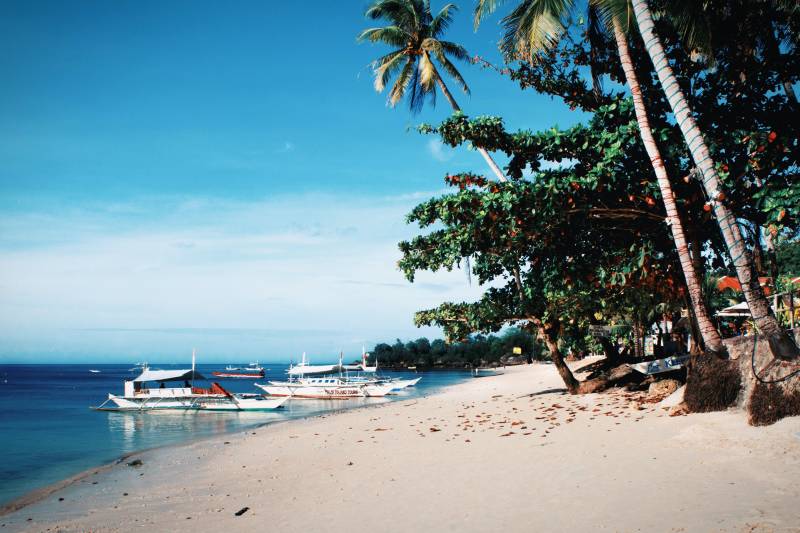 Best Philippines Beach Resort Destinations For Single Men
If you're a single man looking for an unforgettable tropical adventure, the Philippines offers some of the world's best beach resorts.
Picture yourself lounging on the pristine sands of Boracay Beach, diving into the crystal clear waters of Alona Beach in Bohol, or exploring the luxurious island resorts of Cebu and Mactan.
And, if you're up for a unique underwater experience, diving with the sharks in Malapascua Island is a must-try.
Borocay Beach
Despite the occasional overcrowding, Boracay Beach's crystal clear waters and white sands are too irresistible to miss for any single guy exploring the Philippines.
Here, you can:
Dive into Boracay watersports. From parasailing to kiteboarding, the adrenaline rush is incredible.
Embark on a local cuisine exploration. Savour Filipino delicacies like Adobo and Sinigang, and don't forget to try the stunning seafood dishes.
Experience Filipino cultural immersion. Interact with locals, learn about their traditions, and maybe even pick up some Tagalog phrases.
When the sun sets, the Boracay nightlife comes alive. Dance to pulsating beats at beachfront bars, or enjoy a quiet drink while soaking in the serenity. And if you're up for more adventure, island hopping adventures await.
Freedom is yours in Boracay.
Alona Beach Bohol
After soaking up the sun and partying hard on Boracay Beach, it's time for a change of pace and scenery. Why not head over to Alona Beach in Bohol?
With a variety of Bohol accommodations to choose from, your comfort is guaranteed. Here, you can feast on Alona's famous seafood, fresh from the ocean and cooked to perfection.
If you're up for an adventure, try island hopping and discover hidden gems like snorkeling spots teeming with vibrant marine life. And if you time your visit right, you might even get to experience one of Bohol's lively festivals.
Bohol isn't just a beach destination—it's a pulsating, breathtaking journey filled with rich cultural experiences and natural wonders. So, get ready to immerse yourself and create memories that will last a lifetime.
Cebu Island Resorts
Cebu Island's resorts are a tropical paradise where you'll find yourself lost in the symphony of crashing waves, rustling palm leaves, and the sweet melodies of local wildlife. You're a single guy ready for adventure, and Cebu has much to offer.
Cebu Cuisine: Indulge in the island's exotic dishes, like Lechon and Sinigang, a treat for your taste buds.
Snorkeling Spots: Dive into the crystal-clear waters and explore the vibrant marine life.
Historical Landmarks: Visit the Basilica del Santo Niño and other significant sites, soaked in history and culture.
Festival Celebrations: Witness the grandeur of Cebu's Sinulog Festival, a riotous mix of colors and dance.
Don't forget Island hopping - it's a thrill you wouldn't want to miss! Cebu, with its multitude of experiences, is waiting for you.
Mactan
On the eastern shores of this tropical nirvana, you'll find the island of Mactan, a hidden gem shimmering with untold secrets waiting to be unearthed. Steeped in rich Mactan history, it's a place where you can savor both the past and the present.
Wander through the streets during a Mactan Island festivity and feel the pulse of the vibrant local life.
Mactan Island's cuisine is a must-try. Sink your teeth into the freshest seafood and traditional delicacies that'll leave you craving for more.
Don't forget to pick up Mactan's traditional crafts, each one a testament to the islanders' skill and creativity.
And as you roam, marvel at the Mactan Island architecture, a harmonious blend of modern innovation and timeless tradition.
Mactan is indeed a treasure trove just waiting to be discovered.
Diving With The Sharks On Malapascua Island
Imagine taking the plunge into the azure waters of Malapascua Island, where you'll get up close and personal with the majestic thresher sharks. This rare shark species is a sight to behold, a spectacle that will leave you in awe.
With proper safety measures in place, you can dive without fear. Capture this epic encounter through underwater photography, creating unforgettable memories. However, a scuba certification is required to ensure you're well-prepared for the dive.
This adventure doesn't just thrill, it educates. You'll learn about marine conservation efforts to protect these magnificent creatures.
So, if you're a single guy seeking freedom and adventure, exploring Malapascua Island's underwater world is an experience that will satisfy your thirst for the extraordinary.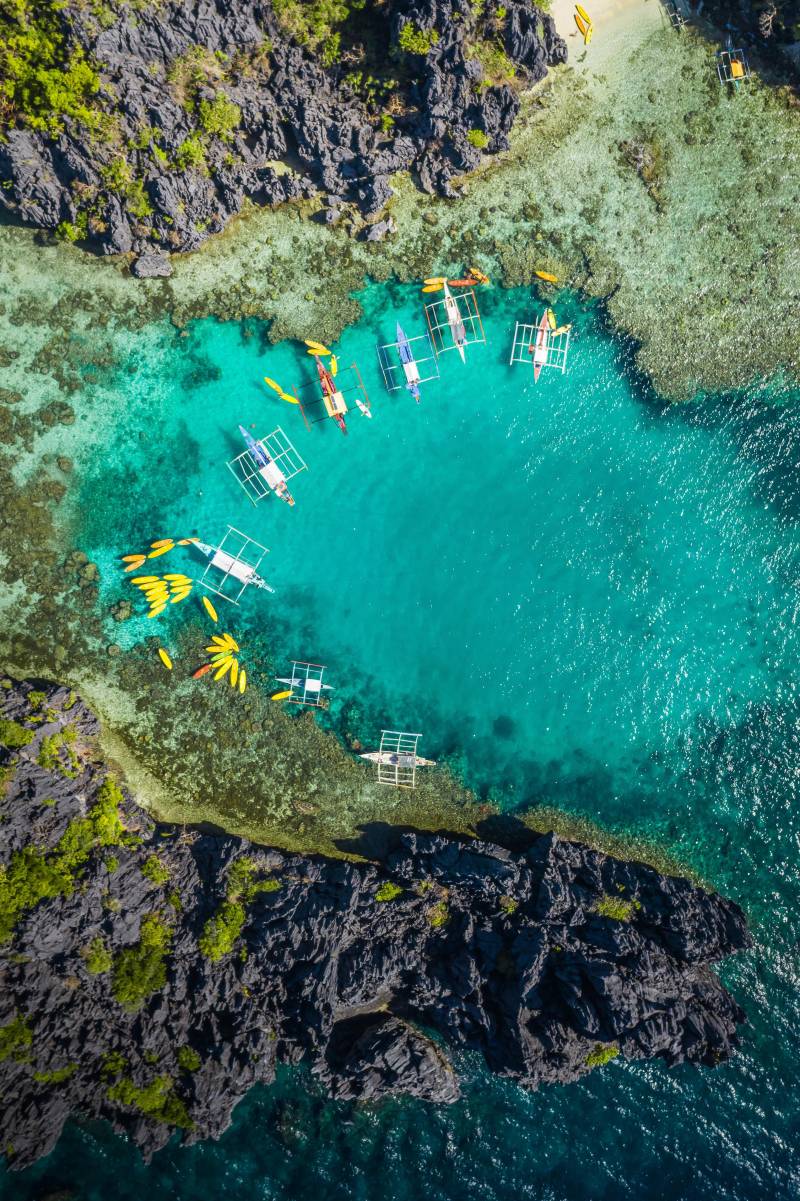 What Single Guys Should Be Cautious Of When Visiting The Philippines
While soaking in the vibrant beauty and lively culture of the Philippines, you'll need to keep your wits about you to ensure a smooth and enjoyable experience. Keep in mind that it's not all about the fun and games this beautiful country comes with its own set of challenges that you should be prepared for.
Safety Precautions: The Philippines is generally a safe country, but exercising caution is always a good idea. Avoid isolated areas at night, keep your valuables secure, and be aware of your surroundings.
Cultural Etiquette: Respect the locals and their customs. For instance, Filipinos place high importance on respect for elders, so using the honorific titles 'po' and 'opo' when speaking to older people is appreciated.
Travel Scams: Be wary of common scams like overcharging taxis, deceptive tour guides, and so-called 'helpful' strangers.
Health risks are also worth noting. Keep your vaccinations up to date and consume food and water from reliable sources. Remember to consider legal considerations too - understand basic local laws to avoid unwanted trouble.
One thing that is especially important to discuss here in terms of single men visiting the Philippines is that this country has developed quite a reputation among men from around the world who are just looking to date the women and have some fun on vacation. While men as well as women in the Philippines are extremely friendly and hospitality oriented, this is not a place where you should come and flash your money around hoping for a sex retreat vacation with different girls each night.
Certainly that reputation exists for a reason and yes in the major cities such as Manila you will find plenty of opportunity to meet beautiful women looking for some male companionships but this country offers so much more than just "dating", so keep your ears alert and eyes open for the true beauty that this land offers single men to explore.
As you navigate this exotic destination, stay alert, embrace the culture, and enjoy the freedom that each adventure brings.
Conclusion
So, you've discovered that the Philippines holds a world of excitement for single guys like you. With a staggering 7,641 islands to explore, endless beach resorts to unwind in, and vibrant cities like Manila, it's a paradise waiting to be explored.
But remember, while enjoying, stay alert and respect local customs. Now, pack your bags and dive into an unforgettable adventure. Trust us, it's more fun in the Philippines!