Are you planning a solo trip to Europe? Despite recent changes to the process that Americans need to follow when visiting the continent, it still represents an absolutely fantastic destination of solo travelers and in particular single men looking for fun, food, drinks, vibrant nightlife, and other adventures. Plus, Europe is home to some of the world's top party spots and is a nexus for other solo travelers from around the world - so that means it is plenty of easy access to affordable lodging and travel companions.
For Americans of European descent, the capitals of Europe have represented a pilgrimage destination for decades as artists, philosophers, and writers search for answers and inspiration. While there's nothing wrong with planning a solo trip to Ibiza with the goal of laying out in the sun during the day and partying all night long - there are other options to explore as well.
Europe is easy to get to since (along with London's Heathrow Airport), nearly every major global airline offers connections through cities including Paris, Frankfurt, and Istanbul.
For guys coming to Europe from most countries, immigration control is also pretty streamlined. While more than a billion people from 60 visa-exempt countries do not need to have a visit, starting in 2024, most visitors will need to file a "travel authorization" or ETIAS to enter the region.
Additionally, passports should be in good condition and have at least two blank pages. Thankfully the US Department of State is starting to catch up on the back-log of passport renewals but if you need something faster, there are companies that offer expedited passport services.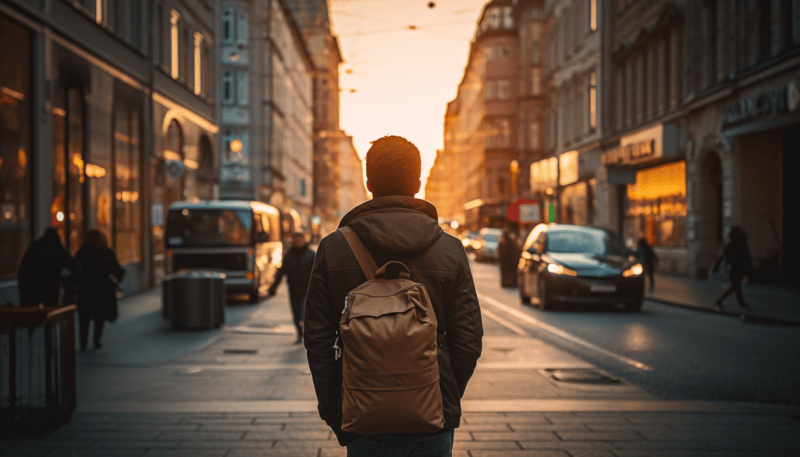 10 Best European Cities For Single Guys To Solo Travel
Traveling alone is a sure way to get to know yourself better. It forces solo travelers to break out of their cocoon, interact with others, and question your views on life. Plus, it lets you do what you want because you're not following a shared itinerary.
So, with all of that being said, let's take a look at our picks for the best cities in Europe for single guys to visit in 2024!
Berlin, Germany
Berlin is one of Europe's best cities for single guys looking to travel solo for a multitude of reasons. Firstly, it is renowned for its vibrant nightlife with a diverse array of bars, clubs, and live music venues that cater to different tastes and preferences. This makes it an excellent place for socializing and meeting new people from all over the world.
Secondly, Berlin is known for its rich history and culture, with numerous museums, art galleries, and historical sites to explore. This provides a great opportunity for solo travelers to immerse themselves in the city's unique heritage and learn about its past.
Thirdly, the city is well-connected with an efficient public transportation system, making it easy to navigate and explore different neighborhoods. This is particularly beneficial for single travelers who want to experience the city at their own pace.
Another appealing factor is the city's openness and inclusivity. Because of it's liberal attitude and acceptance of different cultures and lifestyles, Berlin is one of the best cities in Europe for single guys to visit. This attitude also makes it a comfortable place for solo travelers to feel welcomed and accepted. This city also has a legendary sex worker and erotic club community.
Lastly, Berlin offers a wide range of affordable accommodation options, from hostels to budget hotels, making it an economical choice for solo travelers. The city also has a thriving food scene, with an abundance of restaurants offering cuisines from around the world at reasonable prices.
Copenhagen, Denmark
You might have noticed that many travelers seem to have a soft spot for this capital city. But does it live up to the hype? It does! This historic city ranks as the world's happiest city, seeing as it has bagged the title of the city of fairy tales. Plus, it is home to Hans C Andersen, a children's books writer who captured worldwide attention.
While in the city, solo travelers can indulge in its excellent cuisines, take a canal cruise, or spend the day tasting the local breweries. You'll likely easily meet people as the city has a community spirit that draws both locals and tourists. Let us not forget the theme park where you can take pictures, make memories, and revel in the happy vibes.
Budapest, Hungary
When people talk of safe cities, they usually do so in reference to daytime. But how many cities are safe at night? Well, Budapest is! You can go out alone in the wee hours of the night without fear of getting mugged or worse.
Besides safety, this capital, also dubbed Pearl of the Danube, has a rich history and amazing art culture. So, if you enjoy historical tours, you can visit the churches and castles and learn about the country's origins. They are also great spots for taking captivating photos and videos. If history does not call to you, perhaps you will enjoy the baths, thriving nightlife, and beautiful architecture.
And the locals are very welcoming!
Stockholm, Sweden
Stockholm, Sweden earns it's place on our list one of the best cities in Europe for single guys to visit on a solo travel vacation for several reasons. Firstly, Stockholm is a city of culture and history, with an array of museums, art galleries, and historic sites that offer a rich and immersive experience. This makes it an ideal destination for solo travelers who want to explore and learn at their own pace.
Secondly, the city has a vibrant nightlife with plenty of bars, clubs, and restaurants to choose from. Whether you're looking for a quiet place to relax or a lively venue to meet new people, Stockholm has it all. The city is also known for its friendly and welcoming locals who are open to making new friends, making it easy for solo travelers to socialize and feel at home.
Thirdly, Stockholm is a city that values health and fitness. There are plenty of parks, fitness centers, and outdoor activities available for those who enjoy staying active. You can rent a bike and explore the city, join a local running group, or even take part in one of the many sports events that take place throughout the year.
Lastly, Stockholm is a very safe city, which is an important factor for solo travelers. The public transportation system is efficient and reliable, and the city is generally clean and well-maintained. This allows solo travelers to explore with peace of mind.
Bruges, Belgium
Can you truly explore Belgium without stopping at this city? After all, where else can you embark on a self-guided chocolate tour where you taste some of the finest chocolate in the world? That's a dream experience for most people. And when you're done sampling the chocolates, you can tour the canals, which make for amazing picture backdrops.
Bruges also ranks high in architectural beauty. Not only are its buildings quite stunning, but also its cobblestone alleys are quite captivating. And it is also home to art galleries with fine pieces.
Zurich, Switzerland
People know Zurich for many things – its amazing chocolates, the luxurious lifestyles, the banking aspects, and the incredible shopping experiences. But did you also know it's an amazing tourist destination for solo travelers? Part of this popularity owes to access to the best amenities, watches, and chocolates.
But another key contributor is the city's natural beauty. You can explore the glaciers, take pictures by the clear lakes, tour the alpine meadows, indulge in the culture, and tour the museums. Thus, it is one of the most wholesome travel experiences where you can have the best of both worlds!
Amsterdam, Netherlands
Amsterdam is on our list of best cities in Europe for single guys traveling solo due to a variety of reasons. Firstly, the city is known for its vibrant nightlife, with a multitude of bars, clubs, and music venues catering to all tastes. Whether you're into techno, jazz, or anything in between, you'll find a place that suits your vibe.
Secondly, Amsterdam is renowned for its friendly and welcoming locals. The Dutch are known for their open-mindedness and tolerance, making it easy to strike up a conversation and potentially make new friends or connections.
Thirdly, the city is packed with cultural and historical attractions. From the Van Gogh Museum to the Anne Frank House, there's plenty to see and do during the day. The city's stunning architecture, canals, and parks also make for great exploration and photo opportunities.
Lastly, Amsterdam is also famous for its liberal attitudes towards things like sex and drugs. The Red Light District and the city's coffee shops are popular attractions for many visitors, offering unique experiences that may not be found in other cities.
Mykonos, Greece
Yet another location that has tourists boarding flights and renewing their passports for another chance to tour it. After all, it is known as the party island. But for tourists who want a quiet getaway, there is another side of Mykonos.
A side that boasts opulence, slow days by the beach, and exemplary spa and culinary services. And for history and art lovers, there is always an opportunity to tour the monasteries and churches which date back centuries ago.
Edinburgh, Scotland
There are so many things which stand out about this city. But the historical aspects and the friendliness of the locals top the list. It's hard to be in the city without almost breaking your neck as you try to take in its sights and sounds. And while you do so, you will encounter happy and smiling people around you. Oh, and its restaurants – award-winning settings serving the best delicacies! Add the festivals and booming nightlife; you might never want to leave.
Prague, Czech Republic
The final city on our list, Prague, Czech Republic is a fantastic choice for single guys looking for solo travel adventures in Europe for a multitude of reasons. Firstly, the city's vibrant nightlife is a major draw for single guys. With a plethora of pubs, clubs, and bars, you'll never run out of places to explore once the sun goes down. Whether you're a fan of live music, DJ sets, or just a quiet pint in a cozy pub, Prague has it all.
Secondly, the city is renowned for its beer. Czech Republic is often dubbed as the beer capital of the world, and while Pilsen (about 2 hours south west of the capital) is the birthplace of Light Lager, Prague is the heart of it for beer lovers. Beer tasting is a popular activity in the city, with many breweries and pubs offering tasting tours. You can sample a variety of local beers, learn about their brewing process, and even meet fellow beer enthusiasts.
Lastly, the architecture in Prague is nothing short of spectacular. The city is a treasure trove of architectural styles, from Gothic to Renaissance to Baroque. Walking around Prague is like stepping back in time, with each building telling its own unique story. The city's iconic landmarks like the Prague Castle, Charles Bridge, and Old Town Square are must-see sights.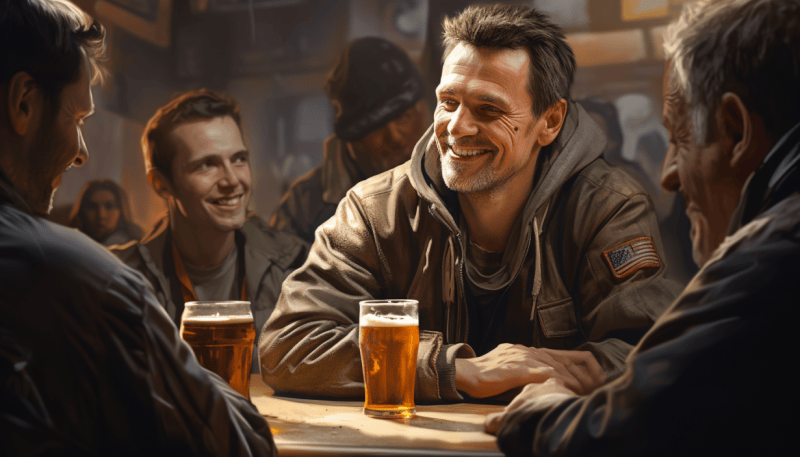 Conclusion: Choosing Your Ideal European City For Single Guys Looking For Solo Travel
Europe is a huge region that while often referred to in the same way we talk about countries like the United States, is in fact a diverse collection of independent countries with their own unique traditions and culture to explore. That's one reason why putting together a list of the best cities in Europe for single guys is a bit of a challenge. After all, while some guys are looking for 24-hour parties … others are happy sipping beer in a Prague pub talking about the fabulous art displays with friendly locals.
This presents extraordinary opportunities for single people to have the adventure of a lifetime.
It also requires that solo travelers take the time to do proper research and pick a destination city that appeals to your interests. While the trope of a "Grand European Tour" can still be done through tour companies and river cruises, as well as doing a European road trip - or even a train trip, it's usually best to pick a city to explore and then venture out from there on quick day trips.
Here are some highlights of different European Cities that will appeal to specific things that guys might be looking to explore:
First things first, what floats your boat? Are you into history, nightlife, food, or sports? Let's break it down:
History Buffs: Rome, Athens, and Berlin should be on your radar. Each city has a rich history and numerous landmarks.
Nightlife Enthusiasts: Barcelona, Ibiza, and Amsterdam are renowned for their vibrant nightlife.
Foodies: Italian and French cuisine are world-class. Consider Rome, Florence, Paris, or Lyon.
Sports Fans: Football is huge in Europe. Barcelona, Madrid, and Manchester are must-visits.
The biggest piece of advice here is to not over do it. Enjoy your single travel trip and have fun. Don't feel like you need to do everything all at once. European cities have been around for thousands of years and they will be there for you when you are ready to come back again!