Brussels, the capital of Belgium, is renowned for its rich history, stunning architecture, and delectable chocolates. But if you've planned a guys' weekend getaway to this vibrant city, there's more to explore beyond the typical tourist attractions. Dive into the heart of Brussels and experience the city like never before with these exciting activities that promise unforgettable memories.
Brussels Chocolate Tour:
Indulgence awaits as you embark on a journey through the heavenly world of Belgian chocolates. While I won't place this in the heading, I must emphasize the significance of a Brussels chocolate tour. Belgium is celebrated globally for its exquisite chocolates, and Brussels is at the epicenter of this sweet legacy. As you explore the city, make sure to include a visit to renowned chocolate shops like Neuhaus, Godiva, and Leonidas. You can even join guided tours that provide insight into the chocolate-making process and offer generous tastings. It's an absolute must for any chocolate enthusiast.
Craft Beer Tasting:
Belgium is equally famous for its beer as it is for its chocolates. Gather your pals and embark on a beer-tasting adventure through the city. Brussels boasts an array of traditional pubs, breweries, and beer bars, each offering an extensive selection of Belgian brews. Try iconic Belgian beers like Trappist ales, lambics, and gueuze. For an authentic experience, explore the Brussels Beer Project, a craft brewery known for its innovative creations and cosy atmosphere. Raise your glasses and savour the flavours of Belgian beer culture.
Explore the Comic Strip Art:
If you and your friends are fans of comics, Brussels is the place to be. The city is famous for its comic strip heritage, with characters like Tintin, Asterix, and the Smurfs originating from here. Take a stroll through the Brussels Comic Book Route, where you'll find over 50 murals featuring beloved comic characters. Don't forget to visit the Belgian Comic Strip Center, a museum dedicated to the art form, showcasing original drawings, sketches, and exhibitions. It's a unique way to immerse yourself in the world of comics.
Visit the Atomium:
For a dose of futuristic architecture and breathtaking panoramic views, head to the Atomium. This iconic structure, resembling an enlarged iron crystal, was built for the 1958 Brussels World's Fair and has become a symbol of the city. Take an elevator ride to the top sphere for a spectacular view of Brussels. Inside, you'll find exhibitions dedicated to the history of the Atomium and its design. It's an excellent spot for group photos and a unique perspective of the city.
Gastronomic Delights in Sainte-Catherine:
Brussels is a gastronomic paradise, and the Sainte-Catherine neighborhood is a culinary haven waiting to be explored. Known for its seafood restaurants, this area offers an array of dining options. Dive into a seafood platter at a traditional Belgian brasserie, savor fresh mussels, and sample classic Belgian dishes like waterzooi and stoofvlees. Pair your meals with local beers for the ultimate dining experience. Sainte-Catherine is perfect for a memorable group feast.\
Discover the European Quarter:
Brussels is not just the capital of Belgium but also the de facto capital of the European Union. The European Quarter is home to numerous EU institutions, and you can explore the EU Parliament, the European Commission, and the European Council buildings. While it might sound serious, it's an intriguing experience to witness the heart of European politics and governance. Guided tours are available to provide insights into the EU's functioning.
Comic Strip Museum:
If you're still keen on diving into the world of comics, don't miss the Belgian Comic Strip Center, also known as the Comic Strip Museum. Housed in an Art Nouveau building designed by Victor Horta, this museum is dedicated to the history and art of comics. You can admire original comic book artwork, learn about the creative process, and even try your hand at creating your comic strip. It's an engaging and artistic experience that pays homage to Belgium's significant contribution to the world of comics.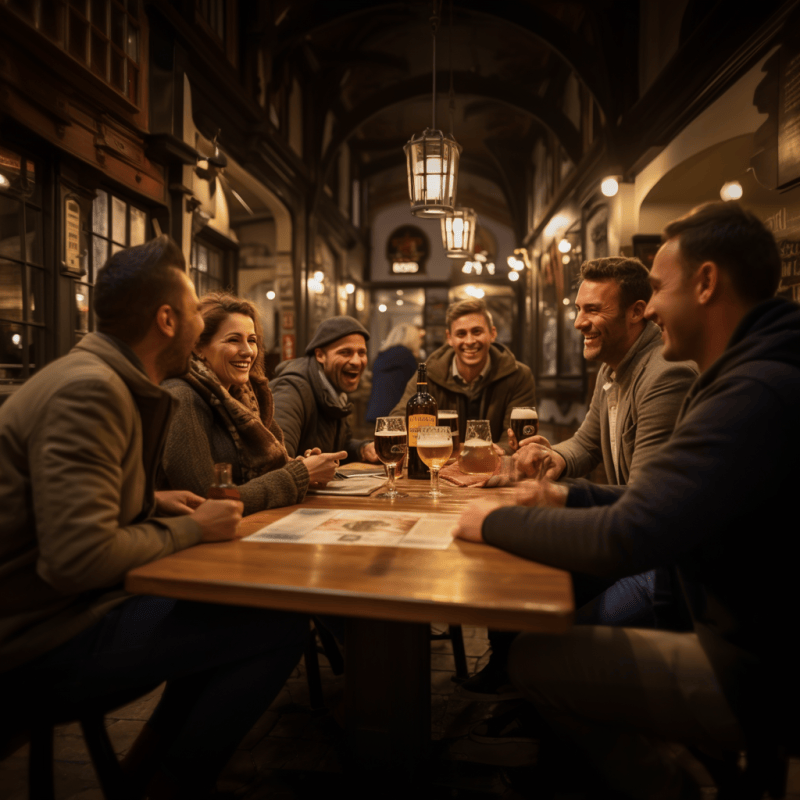 With these diverse activities, your guys' weekend in Brussels will be a delightful mix of culture, adventure, and indulgence. Whether you're savoring chocolates, exploring comic book art, or raising a toast with Belgian beer, the city has something to offer every taste. So, get ready for an unforgettable trip to Brussels, where tradition and modernity blend seamlessly to create a memorable experience for you and your friends.