It's that time of year again - after a long hard winter the "boys of summer" are getting warmed up again in Arizona and Florida. If you have ever dreamed of experiencing professional baseball up-close then this should be on your bucket list.
Known as the Cactus League for it's home base in the greater Phoenix area, and for almost 60 years it has played host to a number of teams at various venues with Scottsdale pretty much a perfect center point between all of them.
With these teams spread out across 10 different stadiums, it is critical to pick a "home base" since if you are making this pilgrimage you are probably going to see more than one game each day so you want to stay somewhere that is easy access to everything.
Getting Around Phoenix During Spring Training
As you can see from this map, Cactus League spring training is clustered around Scottsdale, but it is really quite spread out across the greater Phoenix area.
Luckily it should only take about 30-40 minutes to cross the city, but if you plan to stay in Scottsdale, the town has organized a series of free trolleys that connect various resort areas.

Click here for the interactive spring training facilities map.
Cactus League Baseball Teams
Click on the links below for ticket info and facts about each team's spring training facilities. One of the fun things about Spring Training stadiums is that while you are obviously in the heart of the Arizona desert, each stadium tries to bring a piece of home down there with them.
Additionally, while this is SERIOUS stuff - the games here tend to be more fan-oriented and have fun activities similar to what you might find at minor league parks during the regular season.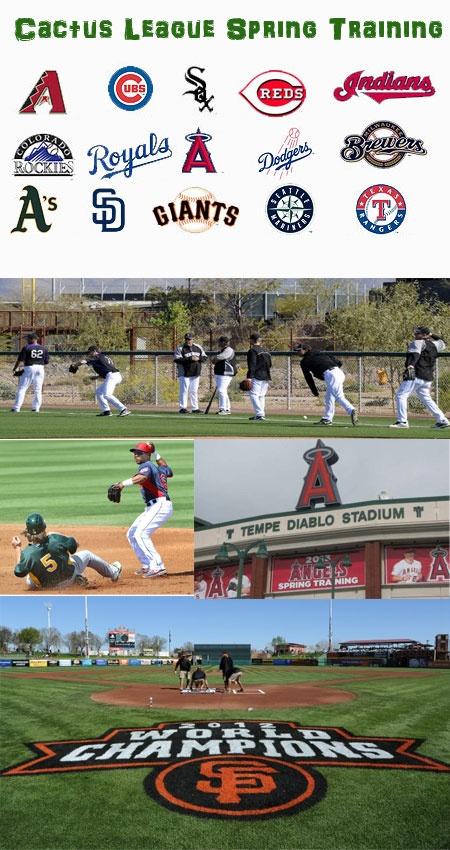 With these teams spread out across 10 different stadiums, it is critical to pick a "home base" since if you are making this pilgrimage you are probably going to see more than one game each day so you want to stay somewhere that is easy access to everything.
Scottsdale offers a great spot to stay since it is the home of a number of resorts and hotels as well as being "the home" of the Giants, Diamondbacks and the Rockies as well as being an easy drive to Peoria, Mesa, Phoenix. Even the Indians out in Goodyear, AZ are only a 40 min drive from Scottsdale.
Spring Training Tips:
Plan Your Schedule - Look at the schedules ahead of time and plan your games ahead of time, including potentially doing more than one game in the same day.
Some Teams Have Multiple Squads - Unlike the regular season, several Cactus League Spring Training teams have multiple teams playing from the same MLB team. For instance, the Chicago Cubs may have two games in the same day or different squads on different days. As a result, you can't guarantee to see all your favorite players at the same game. You can generally look on social media and various fan sites though to see the differences between different squads but like everything in Catcus League Spring Training --- this is practice time and tweaks and modifications are constantly happening.
Pack appropriately - while spring weather in Phoenix is one of the draws, it can still be HOT. While I've enjoyed cool Arizona days in the 60's, I've also experienced hot ones under the direct sun approaching 100. At night, you'll find that it cools off quickly. This makes it essential that you pack plenty of water, hats, neck and face gators, as well as sunscreen and ice to keep drinks cold back in the car. Once you get to the stadium, while restrictions are less intense than you might find at a regular-season MLB game, you should always make sure to bring a clear stadium bag with your gear and if you can avoid it entirely, just bring your wallet and camera so it is easy to pass through security.
Come to the Game Early and Stay Late - Every player is different and some are more friendly than others. However, attending a Cactus League Spring Training Game is a fantastic time to get autographs, photos, fist bumps and other interactions with your favorite players. While we all might dream of a chance to say Hi! to Fernando Tatis Jr or Mike Trout, look for the new guys too. After all, many of these guys are just a couple great plays away from catapulting from a season in the minors to the hot new prospect for the majors. If you are doing a Father and Son guys getaway then this is a great opportunity to introduce your son to some of your favorites and players will give WAY MORE attention to kids than adults, including handing out balls, broken bats and other items. Each stadium has different patterns but the best times for meeting players is before or after the game. Stakeout a spot next to the dugout or look for exit areas to catch them as they leave the stadium
Spring Training Packages in Scottsdale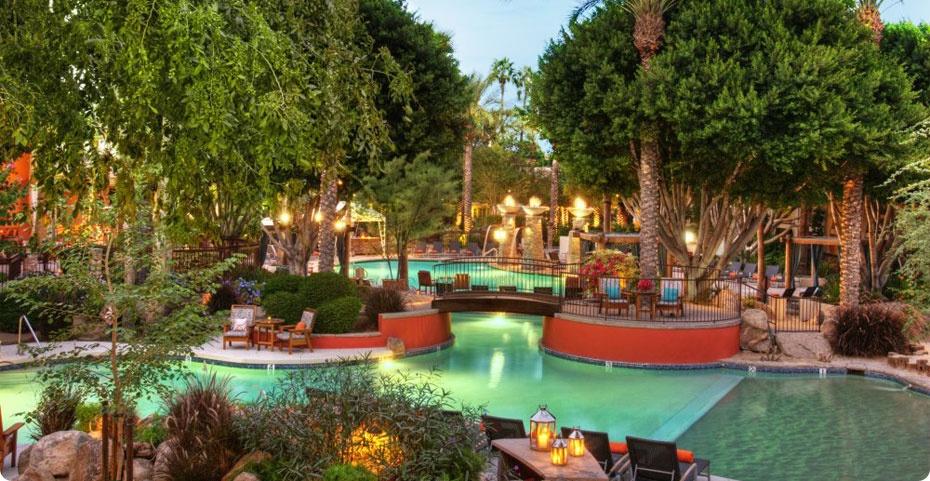 FireSky Resort & Spa
Stay in a luxurious resort just minutes away from Scottsdale Stadium and Salt River Fields. FireSky Resort & Spa's spring training package is aptly named "7th Inning Stretch." Upon arrival, enjoy a flight of craft beers from local favorite, Four Peaks Brewery. Bring your complimentary bag of peanuts to munch on during the game. Afterward, bring your game ticket to Taggia and receive 20 percent off coastal Italian fare at the restaurant and lounge. Room rates start at $225 during the month of March.
The W Scottsdale
Just a brief walk from Scottsdale Stadium, the W Scottsdale offers a younger hipper luxury experience. Take advantage of the hotel's "Spring Training Package," which includes "slugger swag" including two cocktails each night of your stay and Cracker Jacks and peanuts upon your arrival. Plus, you'll get a baseball to bring to the games and practice fields for autographs. Pricing starts at $323 per night Feb. 26 through March 30.
The Hermosa Inn
This may be a better destination if you bring the girls so they can do their thing during the day and you do your thing with the guys before meeting up at night as the Hermosa Inn is a beautifully romantic hotel that offers a "Play Ball Package". From Feb. 22 through March 30, The Hermosa Inn will offer spring training fans 10 percent off the best available rate, a Hermosa Inn baseball hat, a game schedule, two drink tickets to The Last Drop Bar, and sunscreen. Forget buying peanuts and Cracker Jacks at the game; The Hermosa Inn has you covered.
Omni Montelucia Scottsdale
The Omni Scottsdale Resort & Spa at Montelucia is offering three different spring training deals for every type of fan. The "Major Leaguer" package offers fans suite accommodations, two tickets to their choice of spring training game, hand-rolled local cigars, $50 credit to CENTRO and roundtrip transportation to and from the airport for prices starting from $899. Starting from $1499, "The Perfect Game" adds on to the "Major Leaguer," also providing guests an in-room specialty bar and a poolside cabana. And when folks stay for three nights at the resort, they'll get a fourth night free and $50 credit to CENTRO when they ask for the "Home Run" package.
Other hotel deals are available on the Experience Scottsdale Spring Training Site.

Insider Tips for the Ultimate Spring Training Experience
Take a walk through Scottsdale's Spring Training Legacy Trail featuring various restaurants and bars hosting memorabilia from the past half century of baseball history as well as hotspots where aspiring players are known to hang out.
Visit the Charro Lodge at the Scottsdale Stadium. It is a private facility within the stadium but offers a VIP experience with patio-style seating, all-inclusive food and drinks and of course a fantastic view of the game from right next to the Giant's bullpen. Passes are $80.
The Chicago Cubs stadium in Mesa is the newest and largest ballpark in the Cactus League but it is designed to bring the spirit of Chicago's famous Wrigley Field to Arizona including authentic Chicago-style hot dogs and the still-to-be-built "Wrigleyville" neighborhood concept featuring shops ad a Sheraton hotel. On-field features of the park include a replica f the Wrigley Field Marquee where fans can pose for a photo, a green scoreboard with the Wrigley Field-style clock.
Visit Bogey's at The Boulders Golf Club and you can order dogs paired with beers from various teams home states including: the Chase Field Diamondback Dog - a foot-long all-beef hot dog covered in chorizo sausage, nacho cheese, and tortilla strips. The "Coors Field Rockies Dog - a foot-long Hebrew National dog with grilled peppers, sauteed onions, and sauerkraut. Finally, the AT&T Park's Tres Agaves Dog is a street-cart dog wrapped in bacon and dressed in a spicy chipotle mayonnaise with grilled onions, jalapenos and cucumber pico de gallo.
More Resources for Planning a Cactus League Spring Training Trip:
Experience Scottsdale Spring Training Site
Visit Arizona Spring Training Site